→ See more of our coronavirus coverage, including community resources and personal stories.
Rhode Island (Updated Jan. 15, 2021)
New cases: 901
7-day positivity rate: 5.7%
Hospitalized: 384
Total deaths: 2,005 (9 new)
Vaccinated: 41,977 received first dose; 9,243 received second dose (fully vaccinated)
New cases, deaths and hospitalizations are for the previous day.
Massachusetts (Updated Jan. 15, 2021)
New cases: 5,074
7-day positivity rate: 6.5%
Hospitalized: 2,201
Total confirmed deaths: 13,231 (75 new)
Vaccinated: 206,190 received first dose; 32,984 received second dose (fully vaccinated)**
**As of Jan. 14. Data updated weekly.
RI numbers are updated on weekdays after 1 P.M. MA numbers are updated after 5 P.M.

Vaccination Tracker



The Latest
Lifespan, Rhode Island's largest health-care network, is

enrolling

participants in a clinical trial of a COVID-19 vaccine manufactured by Maryland-based company

Novavax.

Dr. Karen Tashima, Director of Clinical Trials at Lifespan's Immunology Center, said

the vaccine

showed promise in early trials. One third of participants will receive a placebo, but Tashima said participating in the trial would not prevent them from getting a different vaccine if it was available. Novavax is aiming to enroll 30,000 participants at over 100 sites in the U.S. and Mexico, with the goal that 15% will be African-American, 10 to 20% will be Latino, and 25% will be over age 65.
Rhode Island's COVID-19 infection rate has spiked to more than 100 cases per 100,000 people, the

highest per capita infection rate

in the Northeast, according to data from the U.S. Centers of Disease Control and Prevention. The infection rate is the highest since the first week of December, after Thanksgiving holiday, when Gov. Gina Raimondo shut down gyms and fitness centers and reduced indoor dining capacity as part of a two-week "pause." Since then, more than 31,000 residents have received their first does of the COVID-19 vaccine, including just over 4,640 who have been fully vaccinated, according to state health department data.
Rhode Island's Department of Health is now partially automating contract tracing for new COVID-19 cases. People who check their test results on the state's online portal and find they've tested positive will be asked to provide the names and phone numbers of people they had close contact with. Those people will get a text message telling them to quarantine. "Since we launched this system late last month, we've been able to direct more than 1,200 Rhode Islanders into quarantine via a rapid, automatic text message," Health Department Director Dr. Nicole Alexander-Scott said Jan. 8, "meaning we have more time to devote to complicated case investigations and contact tracings."
Rhode Island health officials said Jan. 8 that the state recently saw an increased number of cases of Multisystem Inflammatory Syndrome in Children, a condition that is linked to the coronavirus. Within one week in December (12/18-12/26), six Rhode Island children were hospitalized with MIS-C, all of whom recovered. Previously, just one child in the state had been hospitalized with the condition since the start of the pandemic. Health officials attributed the cases to the spike in coronavirus cases in December, and said they had been in contact with the Centers for Disease Control and Prevention.
Beginning the week of Jan. 11, Rhode Island is expanding it's vaccination eligibility groups to include those working in laboratories doing COVID-19 testing, and in college health services. Primary care and outpatient providers, dentists, funeral home workers and others are projected to begin getting vaccinated the week of Jan. 25. "We can assure you, there is no one sitting around, just letting vaccine be wasted in any way," said Dr. Nicole Alexander-Scott, director of the RI Department of Health. "We have a system in place to make sure, as we get it, it's getting redistributed and safely administered." As of Jan. 8, 2.8% of the population in Rhode Island has gotten at least one vaccine dose. The incoming Biden administration has said it may lengthen the period of time allowed between vaccine doses, which state health officials say could speed delivery of a first dose to more people.
The VA Providence Healthcare System began giving patients the Moderna COVID-19 vaccine on Jan. 6. In a statement, the VA Providence said staff would "actively contact patients at high risk of severe illness from COVID-19 to schedule their vaccination appointments," with the goal of eventually offering the vaccine to all Veterans and employees.
Maps & Figures


In case you missed it:
Central Falls residents are set to begin receiving COVID-19 vaccines on Wednesday, Rhode Island health officials said during a Tuesday press conference. Nearly a sixth of the largely Latino city's residents have tested positive for the coronavirus, and the city's hospitalization rate leads the state. Central Falls residents will be included in the first phase of vaccinations, alongside health care professionals, nursing home residents, and first responders. "This is all in keeping with our focus on vaccinating in a way that minimizes disease, minimizes fatalities, and reduces the burden on our health care system," said Dr. Nicole Alexander-Scott, director of the state health department. "And our focus while doing it will continue to be centered on equity, which means vaccinating in a way that's responsive to the reality that certain communities have been hit harder by COVID-19." Alexander-Scott said the state plans to work one zip code at a time to vaccinate residents of other hard-hit communities.
Rhode Island nursing home staff and residents began receiving coronavirus vaccine on December 28. Nursing homes in Rhode Island were hit particularly hard during the early months of the pandemic, and more than 1,090 nursing home residents in the state have died as a result of COVID-19. State health officials expect 17 nursing homes to receive the vaccine by the end of the week through a federal partnership with CVS and Walgreens. All 82 nursing homes are scheduled to get the vaccine within the next three weeks, and assisted living facilities and other congregate care settings will follow. A spokesperson for the state Department of Health said nursing homes in communities with higher rates of infection -- including Providence, Pawtucket and Central Falls -- will be prioritized.
Prison staff and inmates in Rhode Island began receiving the coronavirus vaccine on December 26. Within two days, the Department of Corrections reported that 107 staff members and 97 inmates had received a vaccine. J.R. Ventura, a spokesperson for the DOC, said the aim is "to target high-risk individuals in high-risk congregate settings." More than a third of all those incarcerated at the Adult Correctional Institutions have tested positive for COVID-19, and two inmates and one correctional officer with COVID-19 have died.
Rhode Island's three-week economic "pause" ended December 21, after data showed that infection rates have declined and hospitalizations were leveling off, Governor Gina Raimondo announced at a press briefing Friday. The state will slowly "dial up" the economy. (Details will be posted on

reopeningri.com

.)

Raimondo also urged residents to stay with their own household and also to get tested before and after the holidays. Tests are free for all residents. The state also will open free tests at "pop up"

testing sites

around Rhode Island including at shopping malls, gyms, Stop & Shop supermarkets.
Rhode Island health officials have learned that the state's allocations of the Pfizer vaccine for the week beginning Dec. 21 was cut 36%, according to a statement released by Governor Gina Raimondo. Rhode Island was expected to receive 6,825 doses, she said, down from 10,725 doses. Rhode Island is among a growing number of states which were told to expect far fewer doses of the Pfizer-BioNTech COVID-19 vaccine in its second week of distribution, prompting concerns about potential delays in shots for front-line health care workers and others a high risk for contracting the virus.
Rhode Island's largest hospital system may be able to vaccinate nearly 600 more staff against COVID-19 than anticipated. Lifespan officials discovered that the vaccine vials they received this week from Pfizer which were supposed to contain five doses are each yielding six or even seven doses, Lifespan spokeswoman Christina O'Reilly, said in an email. Lifespan officials had thought they were receiving about 3,000 doses of Pfizer's COVID-19 vaccine as part of the first phase of the state's distribution plan. The discovery of the extra vaccine in the vials has been

reported

by hospital officials around the country.
Rhode Island's largest hospital system, Lifespan, started vaccinating staff against the coronavirus on December 14. Lifespan officials said they began inoculating employees at Rhode Island Hospital that afternoon, including housekeeping, nursing, respiratory therapy, intensive care, and emergency medicine staff who have direct contact with COVID-positive patients and materials. State health officials expect all hospitals to receive the Pfizer-BioNTech vaccine by the end of this week. Emergency medical services and home health workers could begin receiving the vaccine next week, and nursing home staff and residents are expected to be vaccinated beginning December 28.



Rhode Island on November 30

opened

the first of two field hospitals to care for an overflow of COVID-19 patients. A

353-bed field hospital in Cranston received its first of two COVID-19 patients from Kent Hospital in Warwick shortly after 7 PM,

Raina C. Smith, a spokeswoman for the hospitals' operator, Care New England, said in an email. A

594-bed field hospital at the Rhode Island Convention Center began accepting patients the following day.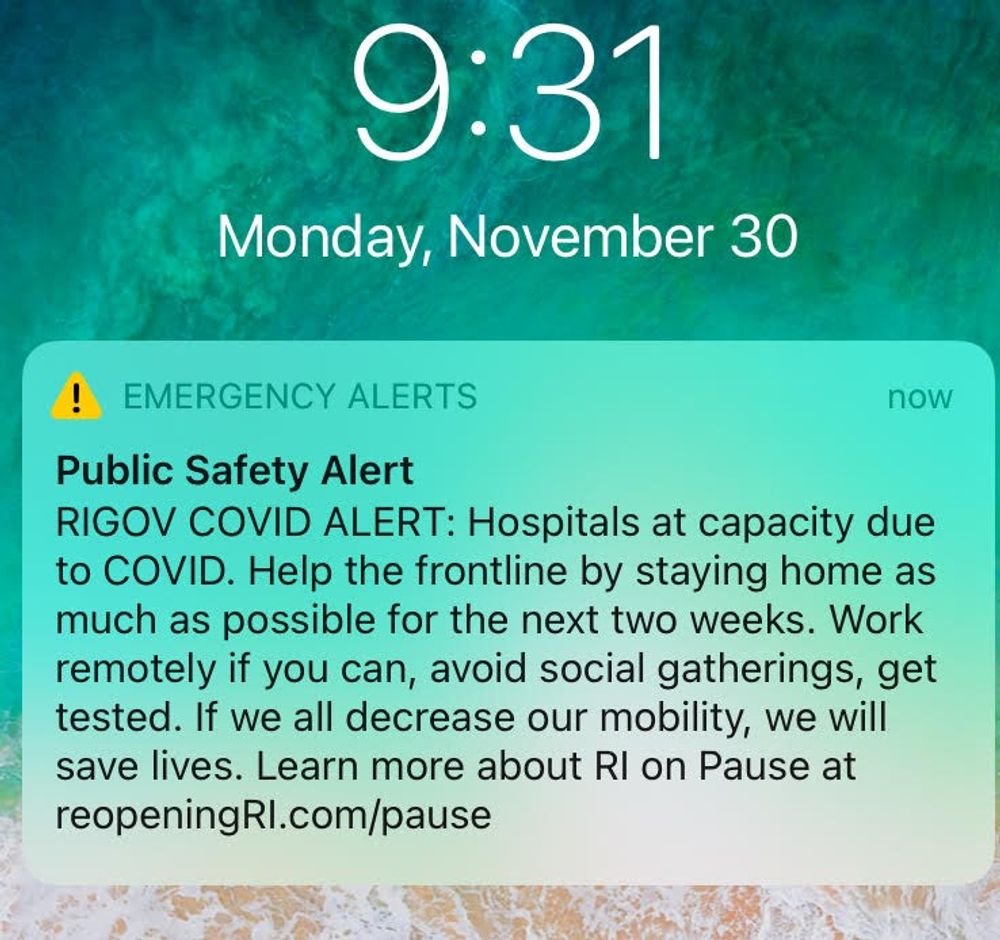 Rhode Island is one of four states set to take part in a COVID-19 vaccine pilot program. Drug company Pfizer announced it will be providing logistical support for vaccine distribution to Rhode Island, New Mexico, Tennessee and Texas. The vaccine, which has been shown to be 90% effective at preventing COVID-19, poses significant logistical challenges in part because it must be stored at - 94°F. The pilot program does not grant Rhode Island early access to the vaccine. The announcement was short on specifics about the kind of support the company would offer, and a spokesperson for the company declined to elaborate. Pfizer still needs to get emergency use authorization from the Food and Drug Administration before it can begin distribution.
Gov. Gina Raimondo and Health Director Dr. Nicole Alexander Scott are urging residents with no symptoms but who work in "high contact" jobs -- including teachers, bus drivers, restaurant workers, factory workers and members of the clergy -- to get tested for COVID-19. Free testing for asymptomatic residents is available at

portal.ri.gov

.
To get tested in Rhode Island: If you're a student, teacher or school staff member, you can schedule a test by calling the PreK-12 Test Scheduling Service at 844-857-1814. If you're not associated with a school, you can schedule a test by calling your doctor or a community health clinic. And if you don't have any symptoms but work in a high-contact business, recently traveled to a state on Rhode Island's quarantine list, or are between the ages of 18-39, you can schedule a test at portal.ri.gov.
Children 12 years and older are eligible for COVID-19 testing at one of 14 drive-thru testing sites in Rhode Island operated by CVS Health. A parent or legal guardian must complete the

online registration

at CVS.com; children ages 12 -15 must be accompanied to the test by a parent or legal guardian. Parents or guardians also are advised to consult with a pediatrician about testing options.