Rhode Island Hospital's emergency department has been so packed with COVID-19 patients in the past few weeks that doctors treat patients in hallways, and arriving ambulances idle in the parking lot while hospital staff triage incoming patients.
At Kent Hospital in Warwick, a half-dozen or so patients wait in their cars because the emergency department is too crowded to maintain the proper social distance. And at Our Lady of Fatima Hospital, in North Providence, a dozen patients are kept in the emergency department because the hospital has no open beds.
Hospitalizations for the coronavirus have more than doubled in Rhode Island during the past month, state data shows, and are now at the highest since mid-May.
On Wednesday, state health officials reported a record 1,280 new COVID-19 cases, the highest single-day total since the start of the pandemic. At the current pace, hospitals are expected to run out of beds in a few weeks. A former bank building in Cranston has been converted into a field hospital to treat overflow patients.
It's happening again. Only this time, it's different.
Last spring, during the virus' first wave, hospitals cancelled elective surgeries, freeing up hospital beds and staff. Emergency department visits plummeted -- as much as 42% nationwide during the first four weeks in April - as people obeyed shelter-in-place orders and heeded warnings to stay away from the ER to avoid exposure to the virus.
Now, as new cases of COVID-19 climb, open hospital beds are harder and harder to find.
"The other day, I came into work, and there were over 40 patients at 7am, waiting for beds,'' said Dr. Heather Rybasack-Smith, an emergency medicine physician at Rhode Island Hospital. "I was seeing patients out in the waiting room and in the triage area. We're literally putting patients in alcoves in the hallway."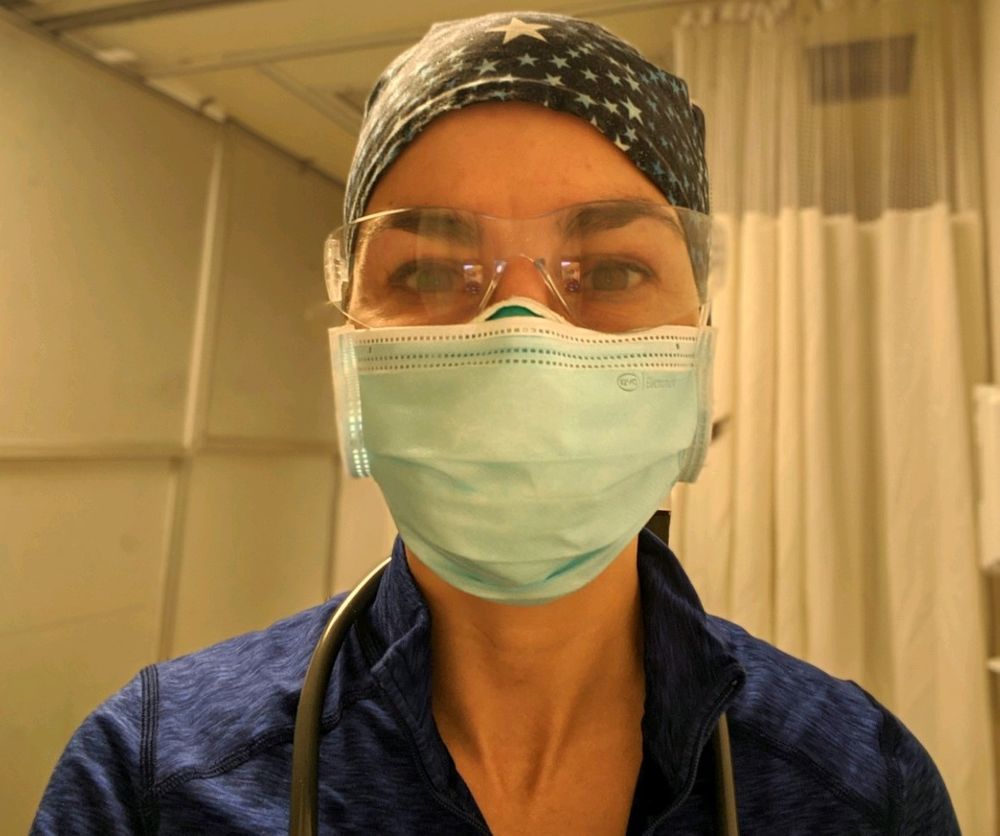 The state's only Level I trauma center, Rhode Island Hospital last Friday reported 30 patients "boarding" in the emergency department, meaning waiting for an open hospital bed, Kathleen Hart, a Lifespan spokeswoman, said in an email.
One patient at Rhode Island Hospital's ER last week had a "gigantic forehead laceration," Rybasack-Smith said. All of the emergency room beds were filled. So she staked out a spot in the hallway and stitched up the man's forehead, "because if I hadn't done it in the hallway, it wouldn't have gotten done for hours."
Emergency rooms are like a hospital's intake valves; the hospital's capacity to absorb the influx of new patients depends on how quickly the ones already admitted can be discharged.
The ER crowding is partly due to the extra time it takes to clean rooms between patients. "Normally we'd be able to turnover a room in a few minutes,'' said Dr. Vincent M. Varamo, an emergency medicine physician at Kent Hospital. Now, he said, to guard against the virus rooms have to be decontaminated "over the course of an hour."
Rhode Island Hospital has been holding anywhere from 10 to 30 inpatients on a given day in the emergency department since August, because no inpatient beds are available, Dr. Jeremiah Schuur, Lifespan's physician-in-chief of emergency medicine, said in a statement. A main driver of the emergency department crowding, Schuur said, is "delays in discharging inpatients from the hospital" to a nursing home or other congregate living facility.
Nursing homes have in some cases refused to accept patients if they have not had two negative COVID-19 tests.
"We're at a point now where we need every available bed,'' Raimondo said during a Nov. 10 briefing. "So if there's somebody in a hospital (who is) is able to be discharged to a skilled nursing facility, we need the skilled nursing facilities to go ahead and accept those patients so we can make space in the hospitals."
State health officials previously advised that patients have two negative COVID-19 tests before they are discharged to a nursing home. But the state guidance, updated Aug. 28, now calls for one negative test for hospitalized patients who have no symptoms of COVID-19 and did not previously test positive for the virus. (All patients are instructed to self-quarantine at the nursing home for 14 days.)
"The reason for the change was that COVID-19 positive people can persistently test positive for months, which is due to shedding of dead virus,'' Joseph Wendelken, a health department spokesman, said in an email. "Viable or live virus has not been demonstrated after 10 days (or after 20 days in people with compromised immune systems)."
Nursing home leaders oppose the state's new directives, saying they put their residents at risk. In a Sept. 10 letter to the governor, Scott Fraser, president and CEO of the Rhode Island Health Care Association, called the directive a "dangerous policy" that could put nursing home residents at risk. And he called on Raimondo to withdraw the directive.
Staffing shortages also are exacerbating the lack of available hospital beds. As the virus rages across the country, hospitals are competing for a diminishing pool of travel nurses, who take out-of-town assignments on short-term contracts, to staff all of their beds. On any given day, some wards of the 359-bed Kent Hospital can't open, Veramo, the emergency physician, said, "because you just don't have the nurses" to staff them.
Raina C. Smith, a spokeswoman for the hospital's operator, Care New England, said in an email that "Kent Hospital is using a combination of its own employed nursing staff, as well as supplemental agencies, to meet the needs of its patients.''
At Rhode Island Hospital, 683 of the hospital's 719 licensed beds are staffed, Kathleen Hart, a Lifespan spokeswoman, said in an email. The remaining 36 beds are not being used. (Licensed beds do not include those in the emergency department.) Staffing for additional beds, Hart said, changes daily and is dependent upon available staff and the type of care needed.
Fatima Hospital in North Providence is licensed for 312 beds, but about 20 in the unit known as "4 Pavillion" are not used because the hospital does not have enough nurses to staff them, Lynn Blais, president of United Nurses & Allied Professionals (UNAP) Local 5110 at Fatima. On Monday, 12 patients were being held in Fatima's emergency department, Blais said, because of a shortage of staffed beds in the rest of the hospital.
Fatima's bed capacity problems are similar to those of hospitals in the region and around the country, R. Otis Brown, a spokesman for the hospital's operator, CharterCare Health Partners, said in an email. Since the latest coronavirus surge, he said, Fatima and Roger Williams Medical Center in Providence have been operating at "near capacity" and using "all beds we can open and accessing all available staff."
Brown said the new discharge protocols for nursing homes, and other facilities also are contributing to patients waiting in ERs.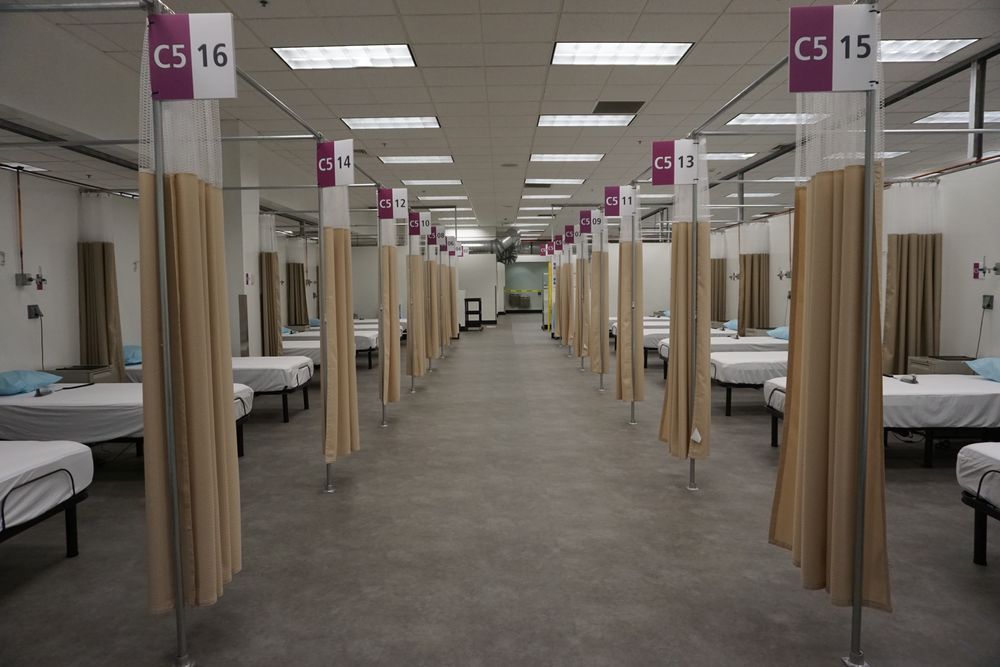 Raimondo has said the state is prepared to open the 353-bed field hospital in Cranston to accommodate an overflow of patients. And she is urging retired health care providers to sign up to help staff the hospitals at SkillsForRI.com.
But Blais, the nurse at Fatima Hospital, said she is not convinced that the field hospital is a solution. "If we can't staff our own hospitals,'' Blais said, "how do we staff a field hospital?
Lynn Arditi, health reporter at The Public's Radio, can be reached at larditi@thepublicsradio.org