Officials at Rhode Island Hospital said Wednesday they plan to ask the Pentagon to extend the help of military medical personnel to cope with ongoing staffing shortages.
President Biden deployed two military medical teams to help hospitals in Rhode Island earlier this month.
Twenty-three troops began a month-long stint at Rhode Island Hospital last week, working in the emergency department, intensive care unit, and medical surgical units. The team includes critical care nurses and emergency care physicians who are embedded with hospital staff.
"This 30 day mission is incredibly important to us because we are just past the peak in the surge, and our numbers are beginning to decline," said Rhode Island Hospital president Dr. Saul Weingart. "So this is exactly the right time when our staff needed the help."
Another 19-person military team began working at Kent Hospital last week and is slated to remain there until the end of the month.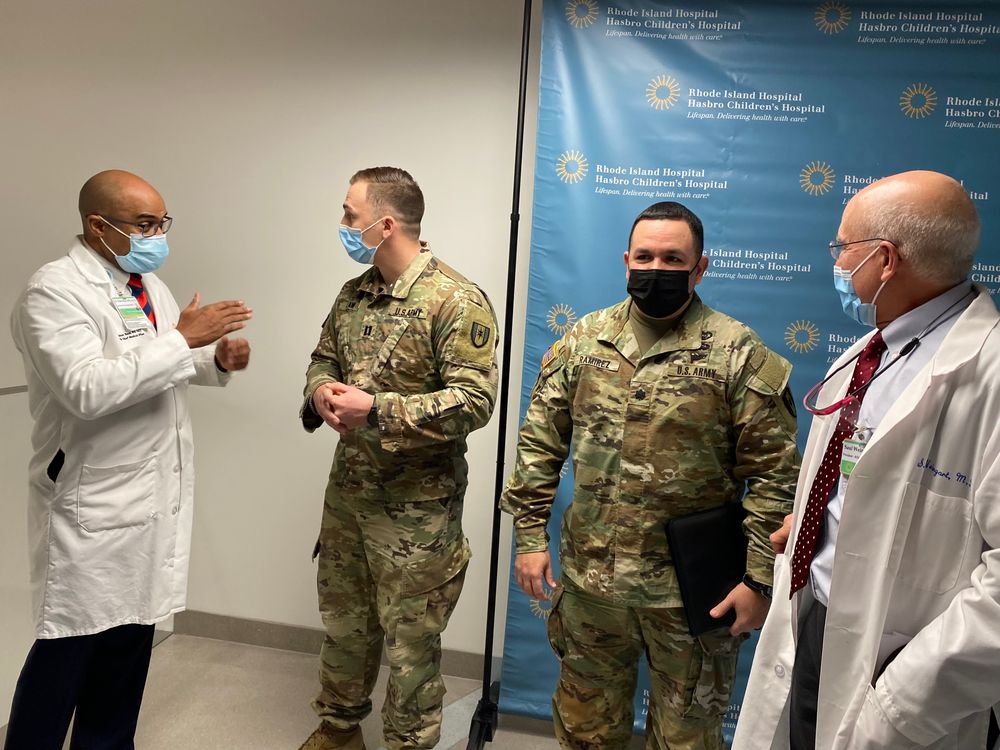 Rhode Island Hospital has seen an "800 percent increase" in patients with COVID-19 compared to early November, Weingart said.
"This has challenged our staffing and our ability to staff beds, in part because our staff have also acquired infections," Weingar said. "That's reduced our ability to staff beds. We had as many as 100 beds out of circulation."
Severe staffing shortages also prompted the hospital to postpone surgeries. In recent weeks, just seven of the hospital's 30 operating rooms were in use, Weingart said. That number is now up to 11.
The lack of staff remains a problem.
"We've run somewhere between 25- to 35-percent staff shortages," said Dr. Dean Roye, Chief Medical Officer for Rhode Island Hospital.
He said the situation is improving slightly, but the hospital – and the medical system nationally – needs an influx of nurses and other health care providers.
"It's going to be a long, long time before I think we're back to normal," Roye said.
Lifespan, which runs Rhode Island Hospital and is the state's largest hospital group, has over 2,000 open positions it is working to fill, according to a spokesperson.
Roye said the hospital is planning to ask the federal government to extend military support beyond the initial 30 days. Hospital officials are looking into that process, Roye said, and "we think that there will still be an ongoing need."
Earlier this month, Rhode Island Gov. Dan McKee deployed 60 National Guard members to assist Butler Hospital.
--
Have you had a surgery delayed due to COVID-19?
If you or a loved one has had a surgery canceled in January, we want to hear from you. And if you found another hospital to do the surgery, tell us about it. Email us at COVID@thepublicsradio.org. Please include your full name and a phone number where we can contact you.
--
Reporter Sofie Rudin can be reached at srudin@thepublicsradio.org.