Rhode Island will require all employees of nursing homes, hospitals and other state-licensed health care facilities to be fully vaccinated against COVID-19 by Oct. 1., Gov. Daniel J. McKee said Tuesday.
Until then, workers at those facilities who are not fully vaccinated will have to be tested twice weekly, McKee said, in addition to complying with the masking already required for both vaccinated and unvaccinated health care workers.
The move followed Massachusetts and Connecticut which last week announced vaccination mandates for all staff in nursing homes and other long-term care facilities in those states. In Rhode Island, Lifespan and Care New England, the state's two largest hospital systems, said earlier this month that they will require their employees be vaccinated by September.
Rhode Island nursing home employees have the eighth highest vaccination rate in the country, with a statewide average vaccination rate of 75%, according to data from the Centers for Medicare and Medicaid Services (CMS). But vaccination rates vary widely between nursing homes.
More than a quarter of all nursing homes in Rhode Island reported fewer than 70% of their employees were fully vaccinated as of Aug. 5, according to an analysis of CMS data by The Public's Radio. And four nursing homes in Rhode Island reported fewer than 50% of their staff had been fully vaccinated.
Nursing homes in areas with some of the highest infection rates last year initially found their staff reluctant to be vaccinated. But Jeffrey Jacomowitz, a spokesman for Centers Health Care, which operates three nursing homes in Rhode Island, said Wednesday that their employee vaccination rates have increased significantly since the data published by CMS. The current employee vaccination rates for their nursing homes, he said, are as follows: Bannister Center 71%; Oak Hill Center 70% and Kingston Center 82%.

McKee did not say what would happen to nursing home staff who do not have medical excuses but refuse to be vaccinated. "We'll deal with that if, in fact, that happens,'' he said. "I'm not expecting that it's going to happen.'
The move comes as the fast-moving Delta variant of the coronavirus has driven a more than 200% spike in Rhode Island's COVID-19 cases during the last few weeks. State health officials now estimate that 75% of the new cases in Rhode Island are tied to the Delta variant, state Health Director Dr. Nicole Alexander-Scott said. "Before you might infect one or two people'' if you have COVID-19, Scott said. "Now, with the Delta variant that same person could infect six or seven people."
So far, COVID-19 related deaths, which are a lagging indicator, have remained relatively flat in Rhode Island. Nationally, experts have often referred to the latest surge driven by the Delta variant as a "pandemic of the unvaccinated,'' since they are the ones who are being hospitalized and dying from the virus.
About 62% of all Rhode Islanders are fully vaccinated, including about 73% of all adults (18+), state data show.
"There's no reason why in Rhode Island we can't get 90, 95 to 100 percent vaccinated,'' Dr. Alexander-Scott said.
But whether the state will be able to get there without more mandates remains to be seen. McKee said he does not support a vaccination mandate for teachers and other school employees. He said that "ninety-percent of teachers and staff are vaccinated" against COVID-19, and urged students to "follow teachers' lead."
McKee also said he does not support mandatory masking in schools, though when pressed he said, "I would expect the superintendents to follow the CDC guidance," which is for universal masking in schools K-12. Even so, the governor has left it up to school districts to decide.
The Rhode Island chapter of the American Academy of Pediatrics urged universal masking of all students and school staff in an Aug. 8 letter to Rhode Island's superintendents.
"No one at this table is suggesting that the state impose a mask mandate,'' McKee said Tuesday. "What we are saying is, you or your family need to know the risk of the Delta variant. And then if you are vaccinated, make the decision that's best for you. If you want to wear a mask in public, wear a mask in public."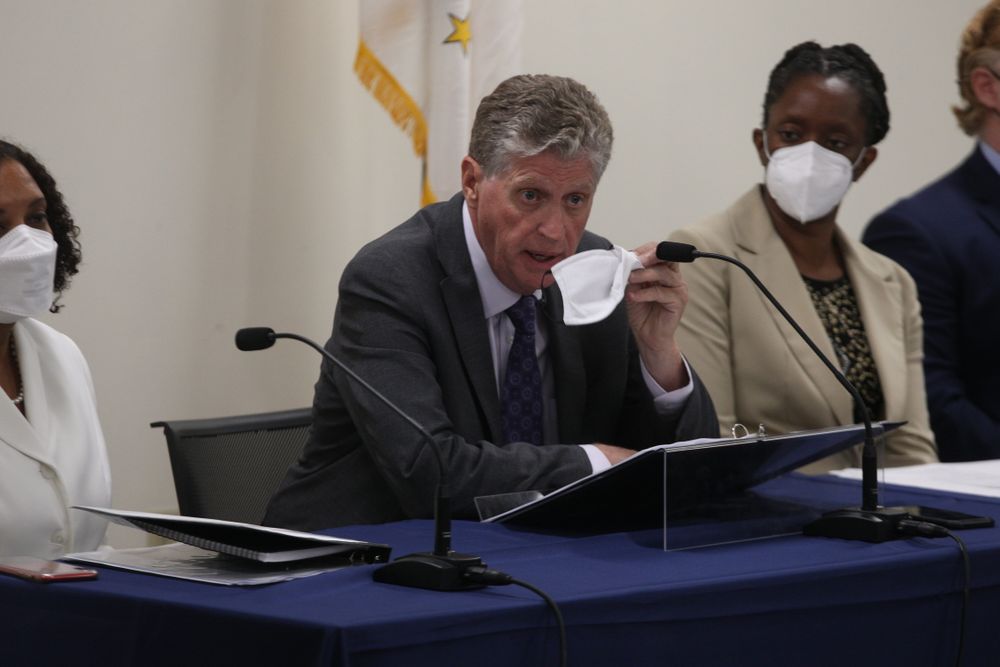 McKee appeared at the weekly news conference, unmasked, flanked by Lt. Gov. Sabina Matos, state Health Director Dr. Nicole Alexander-Scott and Tom McCarthy, head of the state's COVID-19 response. All of the other administrators at the conference tables wore masks, which they removed when they were speaking. At one point while responding to a reporter's question about his own lack of masking, McKee held up his own mask and said that he'd brought one with him.
This story was updated Wednesday at 10:29 a.m.
Health reporter Lynn Arditi can be reached at larditi@thepublicsradio.org. Follow her on Twitter @LynnArditi