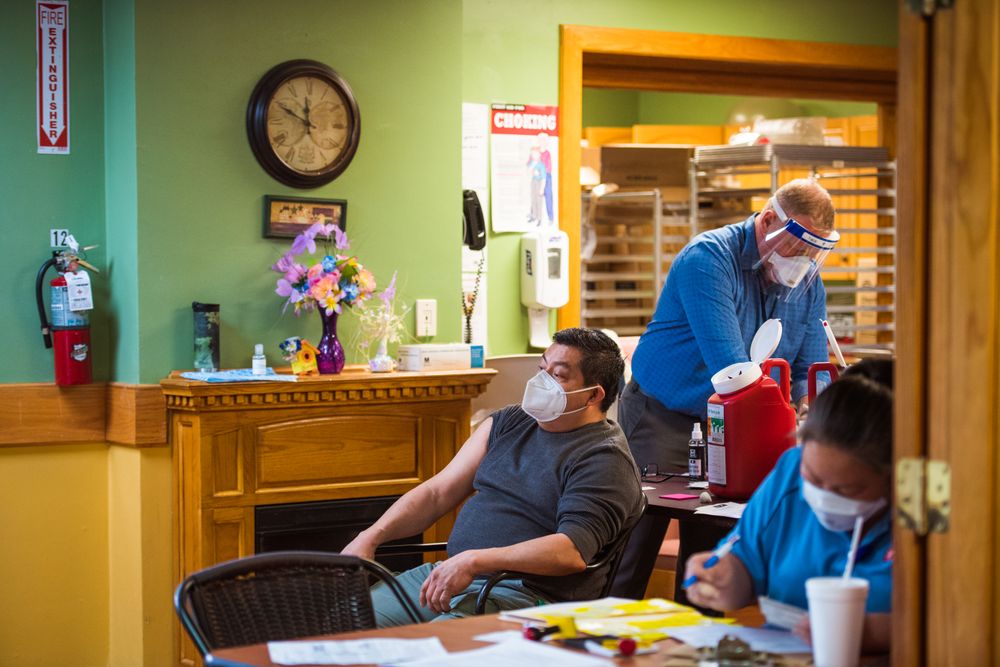 A Walgreens pharmacist had just thawed a new vial of the COVID-19 vaccine at the Elmwood Nursing and Rehabilitation Center, in Providence, when she realized she had run out of people to vaccinate.
The Pfizer-BioNTec vial had four doses leftover. If the doses weren't used within six hours, they would expire. So on this mid-January afternoon, the nursing home's administrator, Josh Segal, put a call out over the intercom.
Attention staff, anyone who has not received the vaccine, but is interested, maybe you've changed your mind since this morning. You can come down to the dining room as soon as possible….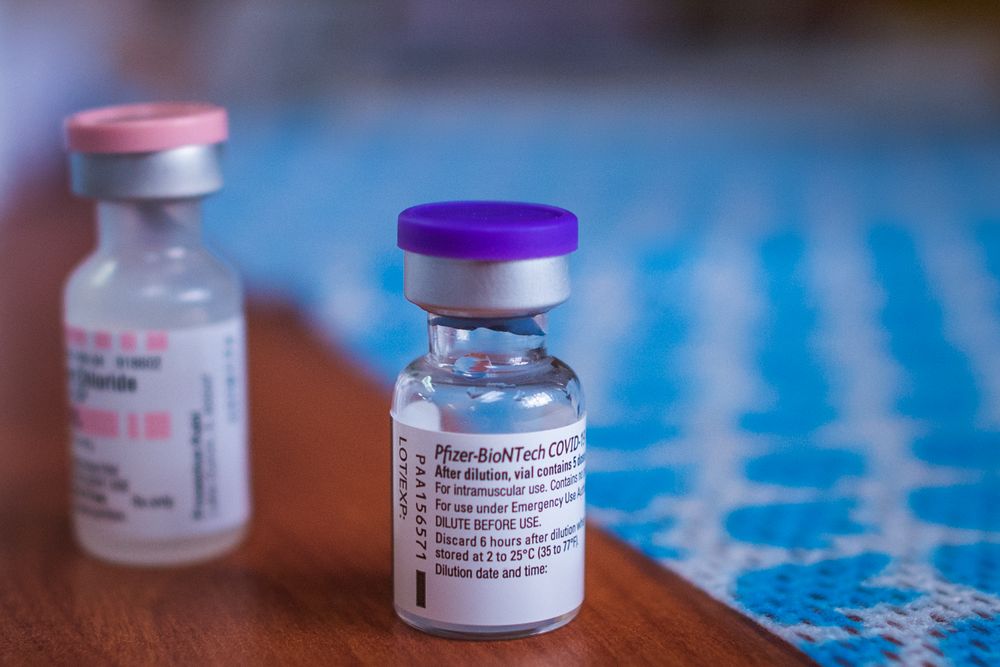 No one did. The four leftover doses of vaccine would be taken back to Walgreens pharmacy to use for other frontline staff.
Elmwood is the type of place you might expect people would be lining up to get vaccinated against the coronavirus. The infection rate in the nursing home's zip code is more than 200 times the statewide average. But the nursing home's operators say that only one-in-four of Elmwood's staff has taken the shot.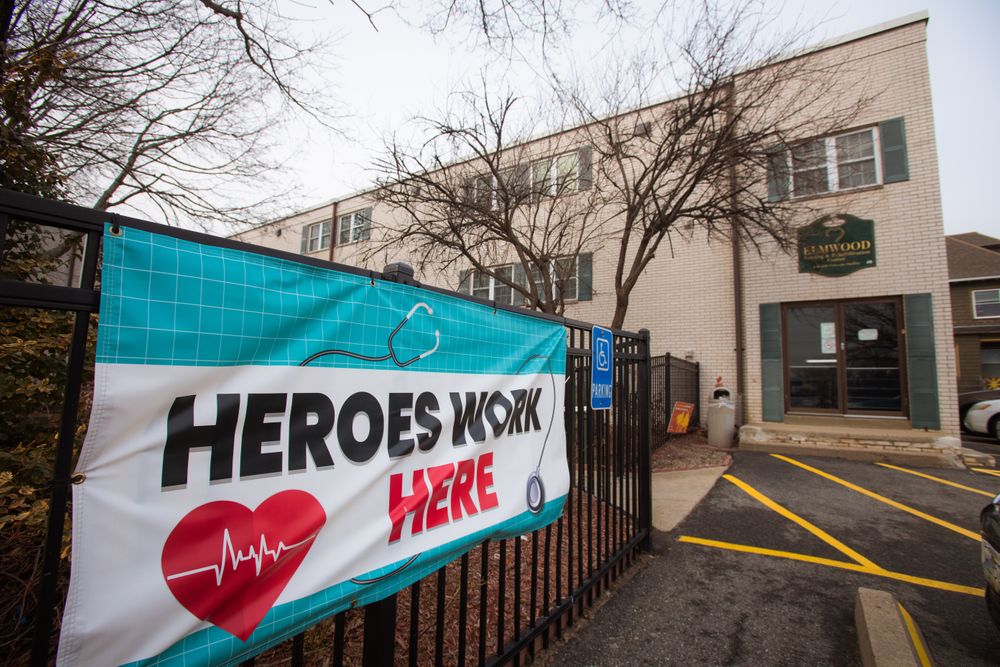 Ivan Ramirez, 52, an immigrant from Guatemala, works in maintenance. He decided to get the shot. But he says a lot of his co-coworkers are scared. "They want to wait for the second round," he said. "They want to see the reaction from everybody..."
Some staff said their own families are split over whether or not to get vaccinated. Rasaq Alabede, 51, a registered nurse at Elmwood, said his wife begged him not to get vaccinated. "I didn't tell her I'm getting it,'' said Alabede, an immigrant from Nigeria. "She said, 'Oh, you don't get it! Don't get it!' She didn't even know I'm gonna get it today."
Elmwood's staff -- nursing assistants, dietary aids, medication technicians and housekeepers -- are predominantly Black, Latino and Asian American. Many of them live in multi-generational households where the virus has run rampant. The most lethal outbreaks have been in nursing homes. In Rhode Island, nursing homes account for 67% of all the state's COVID-19 deaths.
Between May and July of last year, about 70% of Elmwood's staff contracted the virus, Segal, the nursing home's administrator, said. Many of the staff were asymptomatic, he said. As many as 49 of Elmwood's residents contracted the virus, according to state health department data. The state reported between five and nine residents' deaths were attributed to COVID-19.
Pharmacists from Walgreens and CVS recently completed the first of three rounds of COVID-19 vaccinations at Rhode Island nursing homes. So far, about 55% of nursing homes residents and staff have been vaccinated, according to state health department data. But state health officials could not yet provide a breakdown of vaccination rates for nursing home staff, Joseph Wendelken, a department spokesman, said in an email.
"The goal for these nursing home administrators should be at least 75% of your staff vaccinated,'' said Dr Morgan J. Katz, an assistant professor at Johns Hopkins University School of Medicine. She said the 25% staff vaccination rate reported by Elmwood's administrators is concerning. "As a nursing home administrator,'' Katz said, "that would light a fire in me that we definitely, definitely need more directed education."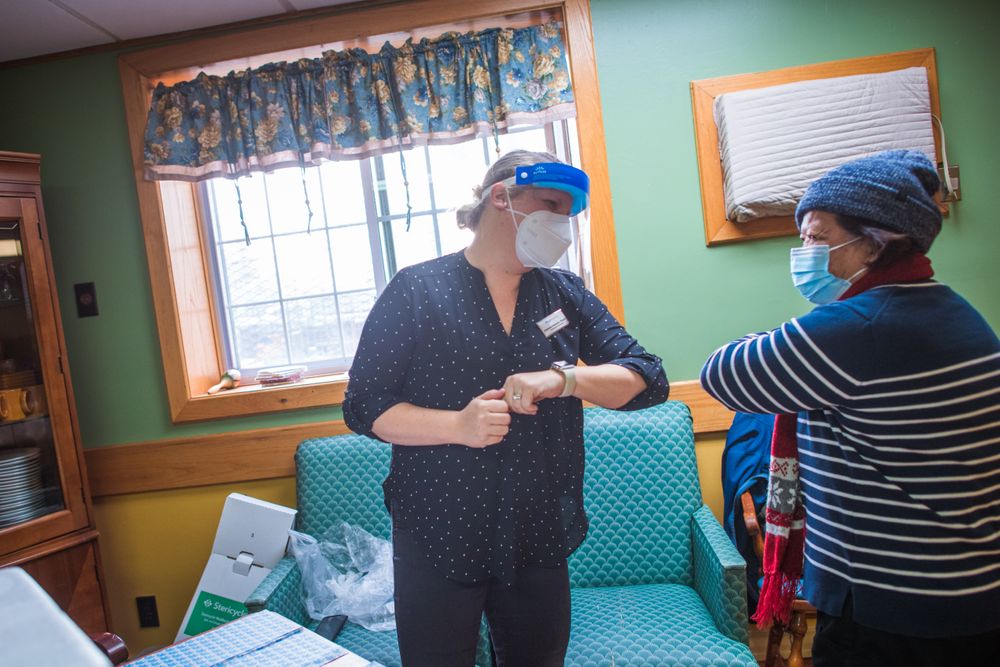 Rhode Island for years has been a vaccine leader. The state has among the highest influenza vaccination rates in the country. And state health data shows about 85% of Rhode Island's nursing home staff get vaccinated against the flu.
Elmwood's operators are trying to educate their staff about the COVID-19 vaccine, Sega, the nursing home's administrator, said. "So we've provided everyone with all the information we've received from the CDC or the FDA,'' he said. "We also had our medical director available for people with questions."
But that may not be enough. The Centers for Disease Control and Prevention reports that Blacks and Latinos in the U.S. are about three times more likely to be hospitalized for COVID-19 than whites. Yet a recent study by the nonprofit Kaiser Family Foundation found that wariness of the coronavirus vaccine tends to be higher among Black and Latino residents.
Health Concepts, Ltd., operates eleven nursing homes in Rhode Island, including Elmwood. And staff vaccination rates among its nursing homes vary widely depending on their location, racial mix and previous outbreaks of the virus, said Kelly Arnold, the company's chief operating officer. Other nursing home operators, she said, are reporting similar disparities. "We talk about it a lot," Arnold said, "and I would say that we're right in the range'' for staff vaccination rates. "The low ranges of 25-30% up to as high as 75-80%.''
The vaccine hesitant staffers include nursing assistants, generally the lowest-paid workers on the front lines of the pandemic. That's no surprise to Lori Porter, chief executive of the National Association of Health Care Assistants, an advocacy group for CNAs. "Fear is the fundamental thing,'' Porter said. "They do not have any trust or faith in the institutions, the government, and they do not have any faith in their leadership. It doesn't make any difference if the administrator gets vaccinated right in front of them. They don't trust that person."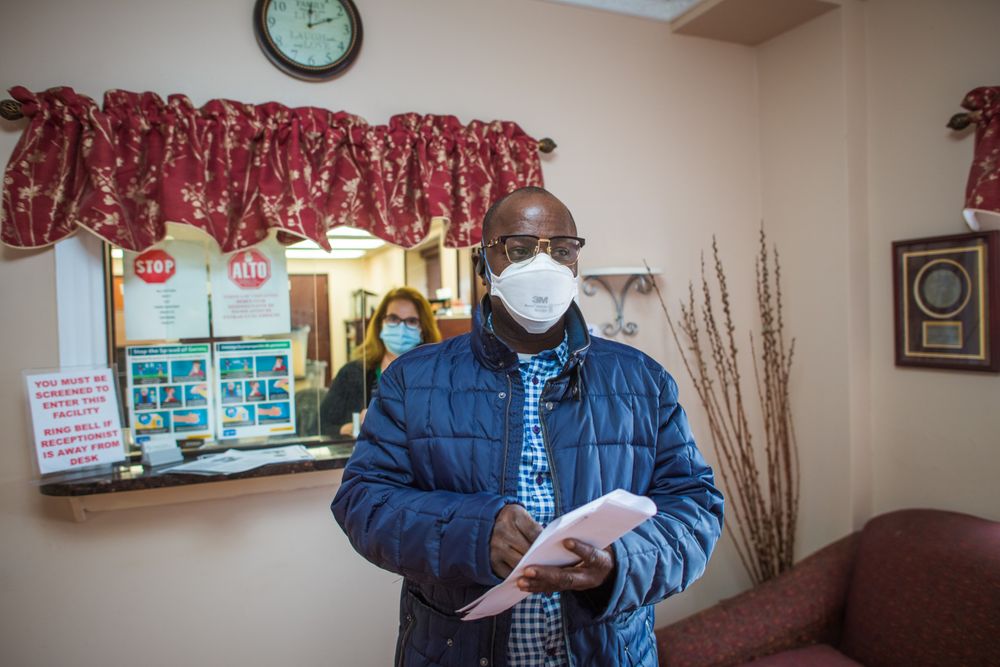 Public health experts say underserved communities need what they call trusted messengers to overcome vaccine hesitancy. Segal, the administrator at Elmwood, said he is hopeful that his own staff will become those trusted messengers. People like Alabede the nurse whose wife didn't want him to get vaccinated.
"I know people are skeptical about it, they are very worried about it,'' Alabede said. "But the bottom line is safety, safety, safety is essential. You get vaccinated, you protect yourself. Not only yourself...but your family, the co-workers, the residents."
So far, the vaccination rate among the state's nursing home residents appears to be significantly higher than the staff; about 60% at Elmwood. But as winter drags on, and new virus strains emerge, the question is whether the unvaccinated staff will be there to care for their residents.
Health reporter Lynn Arditi can be reached at larditi@thepublicsradio.org