When you walk into the new vaccine site at the Rhode Island Convention Center, it's difficult to tell it was put together in a matter of weeks. The vast, bright space glistens with a sense of orderliness.
On a recent weekday, Major Joanne Barrett, the Rhode Island National Guard's Vaccine Officer in Charge, guided me through an atrium with check-in tables to a long aisle of vaccine stations, each cordoned off with curtains. The clinic wasn't open at the moment, but a stream of people would soon be coming through for boosters, or even their first shot.
Opening the additional vaccine site involved many complicated logistics, and it requires a tight ship. But Barrett told me that has been the National Guard's exact strength during Rhode Island's vaccine rollout.
"Everybody that went through was like, 'This is a well-oiled machine. You guys need to run the DMV,'" Barrett said. "We heard that, like, all the time."
Earlier in the pandemic, the Rhode Island National Guard ran five mass vaccination sites across the state. As interest in the vaccine waned, they took them all down, besides the Sockanosset Cranston location. Then cases climbed this winter, and Gov. Dan McKee asked the National Guard to put one back together at the Convention Center.
Now, the National Guard is also administering pediatric vaccines, since the Pfizer vaccine has been approved for children five years and older. Barrett told me the guardsmen have set up a separate area at the Convention Center for those appointments, to give everyone else a little distance from the screaming.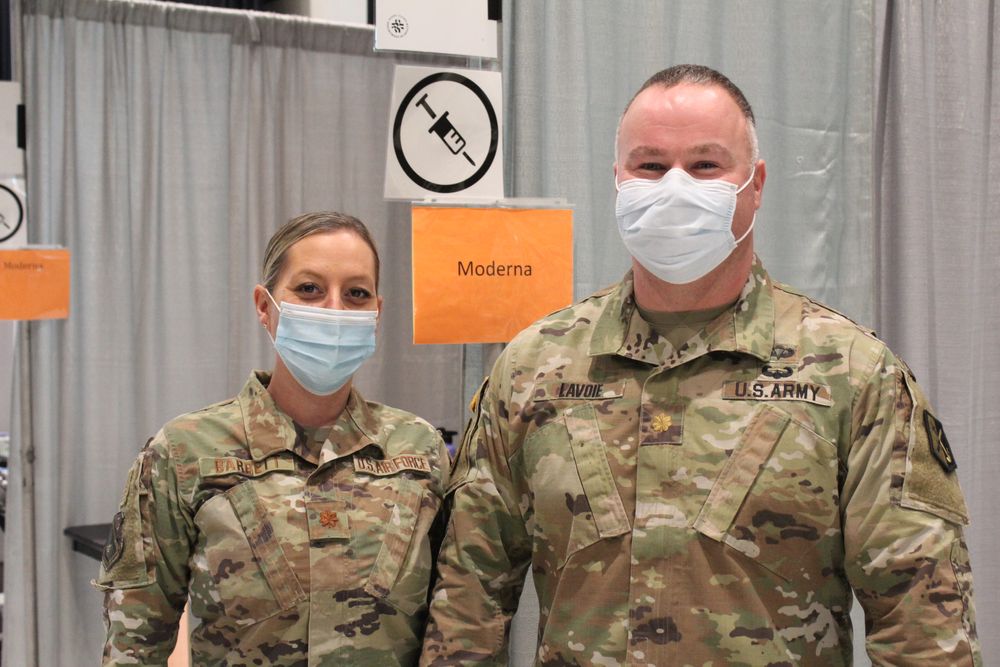 An extended mission
For Major Barrett, launching this new vaccine site is just the latest development in what has become a multi-year effort to immunize Rhode Island. She normally works as a nurse at the Providence VA Medical Center.
Barrett's known as something of a vaccine expert, so the National Guard called her to help plan the state's vaccine rollout in the spring of 2020. She was originally supposed to be activated for only 30 days, but her orders kept getting extended. More than a year and a half later, the Rhode Island National Guard has administered over 370,000 vaccine doses under her leadership.
Barrett says her employers at the VA have been very supportive, but it has been difficult to step away from nursing, especially as she has seen hospitals facing critical staff shortages.
"I feel bad that I'm not at my job that — they obviously need me. [But] they need me here. Obviously, military trumps everything," she said. "I think that's the hardest part is just knowing that the hospital also needs nurses."
Major Matthew Lavoie can relate. He's the Commander of Vaccine Operations at the Convention Center, but he usually works as a critical care physician's assistant in the ICU at Roger Williams Medical Center. When the pandemic first hit Rhode Island, he was responsible for putting in breathing tubes and providing other care to COVID patients. After vaccines finally became available, however, the Rhode Island National Guard called him to help oversee the vaccine site at the Dunkin Donuts Center in Providence.
By chance, that was one of the last places he had taken his young children before the pandemic to go watch Monster Trucks. Once he was activated, he told his kids he'd be working at the Dunkin Donuts Center every day.
"And they're like, 'So you get to see Monster Trucks every day?'" Lavoie said. "I'm like, 'Not exactly…'"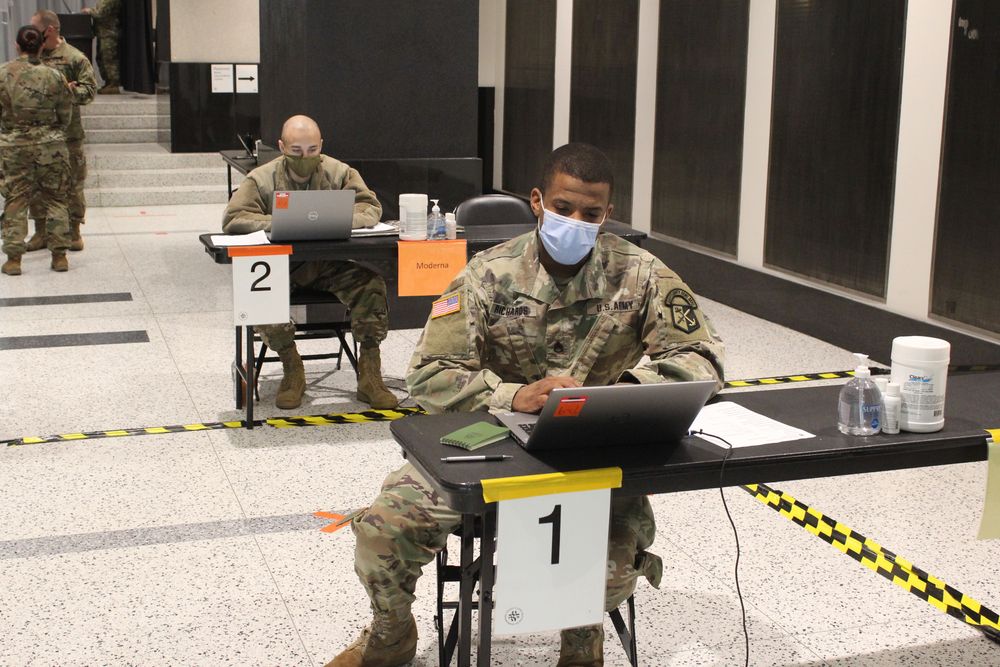 Juggling military duties at home
For Lavoie, this assignment has been a nice change from traditional deployments. He is working in his own state, serving his own neighbors. Still, it's not without sacrifice. In addition to leaving his work at the hospital, he has faced new challenges balancing home and military life.
"It's a blessing and a curse to be home every night in our actual home," he said.
When National Guard members are deployed overseas or somewhere else in the United States, things like food and laundry are typically taken care of. As Lavoie explained, "You do your job and that's it."
"That's all you have to worry about. It's not 'What am I making for dinner? Has the dog been let out? I got to get the kids off the bus.' And it's great to be home, but at the same time, there's different challenges that many of us have never experienced, because we've always been mobilized somewhere else," he said. "So it's almost like you're filling both roles — the parent, the spouse, the dog caregiver, and then also doing the military end of it."
Major Barrett is also juggling life with two young children at home. At this point, the pandemic — and their mom's mission with the National Guard — have taken up a big stretch of their lives. Barrett's work schedule has calmed down, but there was a period during the early vaccine rollout when her team was working roughly 14-hour days. At that time, she said, her husband "was mom and dad for a while."
Barrett has made sure to show her kids around the vaccine site, however, so they understand exactly what she's doing all day — and why it's so important.
"They know that mommy was involved in all the vaccine [planning] and all the education, so they tell me all the time, I'm saving the world. 'Mommy, you're saving the world,'" she said. "And it's funny when, you know, most kids don't want vaccines. But I mean, as soon as they found out they could get it, they're like, 'When are we going to go get our shots?'"
Even though the pandemic has presented this unforeseen interruption in Major Barrett and Major Lavoie's lives, it has also brought their families together in what they both call a "typical Rhode Island story."
Barrett and Lavoie didn't know each other before COVID. She's Air Force, while he's an Army guy. They met for the first time at one of the state's mass vaccination sites.
"Long story short, we're sitting and socializing, having lunch," Lavoie said. "[We] come to find out we live on the same road and we're two houses down from each other."
They both attended high school in Coventry, graduating one year apart. Their kids sometimes play together. And now, almost two years into the pandemic, they're working side by side on the same mission.
Click here for the latest updates from The Public's Radio on COVID in Rhode Island and Massachusetts. Rhode Island residents can schedule vaccine appointments at vaccinateri.org
Antonia Ayres-Brown is a reporter for The Public's Radio and a Report for America corps member. She can be reached at antonia@thepublicsradio.org