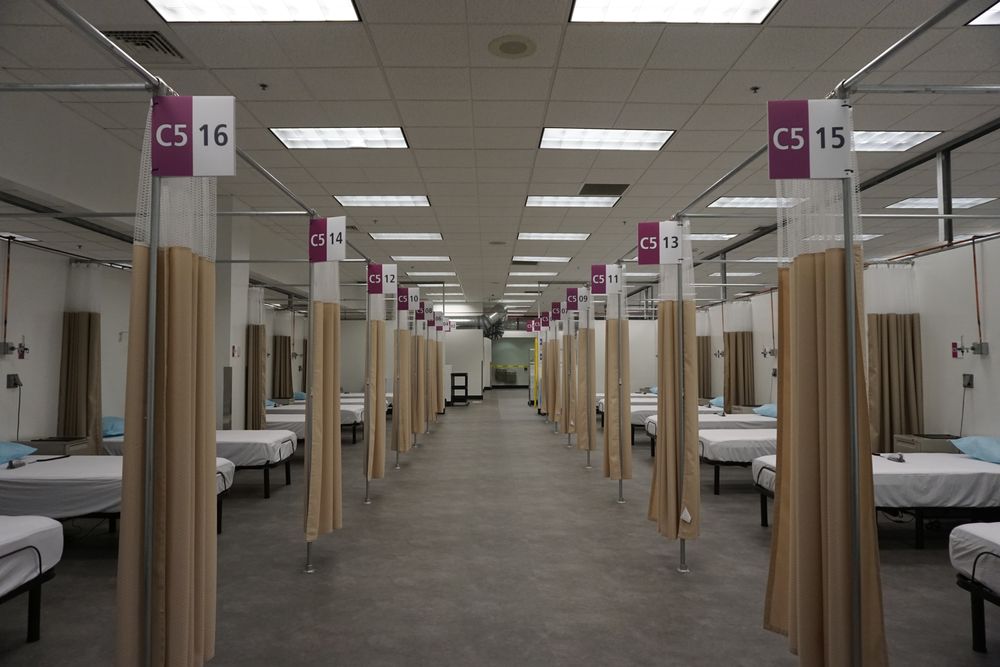 Rhode Island health officials said Monday its hospitals were at capacity and were opening two field hospitals to care for an overflow of COVID-19 patients.
Rhode Island is reporting about 80 coronavirus cases per 100,000 people -- more than double the rate in Massachusetts, which is about 35 cases per 100,000 population, and the highest in New England, according to data from the Centers for Disease Control and Prevention.
The surge in cases has been straining Rhode Island hospitals' emergency departments to the point where patients were temporarily being kept in hallways because there were not enough staffed hospital beds.
The field hospitals -- one in a former bank building in Cranston and the other at the Rhode Island Convention Center in Providence -- are designed to care for COVID-19 patients who are not critical. The field hospitals can provide oxygen, doctors say, but are not equipped to care for patients who need to be intubated.
The 353-bed field hospital in Cranston received its first of two COVID-19 patients shortly after 7 PM on Monday from Kent Hospital in Warwick, Raina C. Smith, a spokeswoman for the hospitals' operator, Care New England, said in an email. The field hospital will be staffed by two nurses and two physicians, she said, one of whom specializes in respiratory care.
The 594-bed field hospital at the Rhode Island Convention Center is scheduled to begin accepting patients on Tuesday morning.
Rhode Island health officials on Monday reported that 364 people were hospitalized with the virus; hospitalizations peaked on Nov. 23 at 381 patients.
At Rhode Island Hospital, in Providence, ambulances were being diverted to other area hospitals due to crowding, Joseph Wendelken, a health department spokesman, said in an email.
State health officials reported 1,628 more residents tested positive for COVID-19 the weekend after Thanksgiving, as Rhode Island entered its first day of a two-week period of increased restrictions to try to curb the virus' spread.
R.I. leads New England in COVID-19 cases
(cases per 100,000 during the last 7 days)
R.I. 80.4
C.T. 44.4
M.A. 35.4
N.H. 30.4
V.T. 10.7
M.E. 10.3
Source: Centers for Disease Control and Prevention (CDC)