Rhode Island is requiring that everyone, regardless of vaccination status, wear masks inside public spaces with a capacity of 250 people or more starting Monday.
Restaurants, retailers, places of worship and other establishments with a capacity of under 250 people can allow patrons to go unmasked, if they show proof that they have been vaccinated against COVID-19.
Offices, factories and other public or private employers with indoor operations must require everyone on their premises to either wear masks or show proof of vaccination, whichever the employer choses.
The new rules, which Governor Daniel J. McKee announced last week, are effective for the next 30 days and designed to blunt the rise in COVID-19 infections, which is straining short-staffed hospitals. The move follows pressure by hospital officials and physicians organizations which last week called for a mandatory indoor mask mandate as emergency rooms backed up following a surge in COVID-19 cases since Thanksgiving.
"This is not a pause," McKee said, referring to last winter's partial shutdown that shuttered many restaurants. "We want to let people know that business is going to continue, and that we encourage people to frequent local businesses, but be safe about it."
McKee said last Wednesday that he also had written to the Federal Emergency Agency (FEMA) and asked for emergency staffing for local hospitals.
The seven-day average number of COVID-19 cases in Rhode Island has climbed more than 200% during the last 30 days, according to data from the U.S. Centers for Disease Control and Prevention. On Wednesday, the state reported 280 people were hospitalized with COVID-19, the most since last February.
More than 75% of Rhode Islanders are vaccinated against COVID-19; about 260,000 of them, or 30% of those eligible, have received booster shots, state officials said. The current level of booster coverage is too low, state health officials said, to effectively prevent the virus spread in the wake of the new Omicron variant that was first identified in Rhode Island last Saturday. A second case of the Omicron variant was identified Wednesday, though details of the case were not yet available, Joseph Wendelken, a Health Department spokesman, said.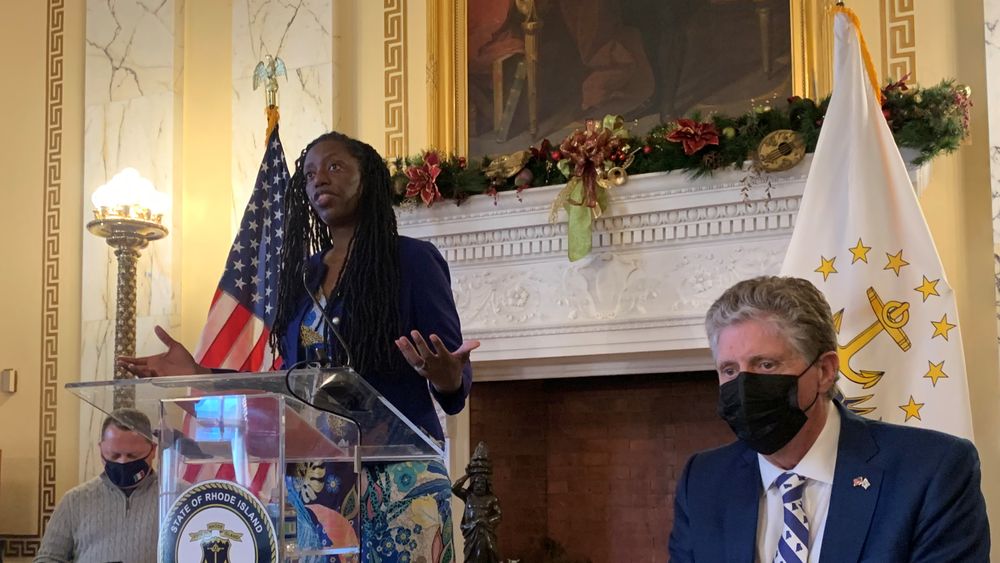 "The booster doses are necessary now for everyone," Dr. Nicole Alexander-Scott, the state's health director, said.

A surge in demand for COVID-19 testing also is causing delays for test results from the state lab. About half of all people who received PCR tests for COVID-19 at state-run clinics in Rhode Island the week ending Dec. 11 waited more than 48 hours to get the results, up from 6% the previous week, according to state Health Department data. That's compared with a 24-hour turn-around time for 96% of the tests at the end of October.
McKee announced several other steps to curb the spread of the virus and expand vaccination and testing, including:
Distributing over 100,000 at-home rapid COVID-19 tests to residents, and asking the FEMA for another one million rapid COVID-19 to be distributed in communities with the highest infection rates;

Distributing over 50,000 K-N95 masks a week into the community, with plans to "double" that amount;

Increasing the current rate of 50,000 COVID-19 vaccinations a week to the100,000 per week level it was last spring;

Increasing the state laboratory's turn-around times for PCR tests for COVID-19 by adding more testing sites and adding lab capacity, which needs to be expanded by about 50% to meet the current demand, said Tom McCarthy, executive director of the state's COVID-19 response.
McKee said that the hospitals will be key in determining whether the new mask mandates will be lifted in 30 days.
Rhode Island is one of eight states - and the only one in New England – to require that most people wear masks in indoor public places, regardless of whether or not they have been vaccinated against COVID-19, according to the AARP. In Massachusetts, some lawmakers have been calling on Gov. Charlie Baker to bring back an indoor mask mandate but so far he has resisted doing so.
This story has been updated.
Clarification: A previous version of this story failed to explain that the new requirements for offices and factories allows employers to adopt either across-the-board indoor masking or proof of vaccination.
Health reporter Lynn Arditi can be reached at larditi@thepublicsradio.org. Follow her on Twitter @LynnArditi