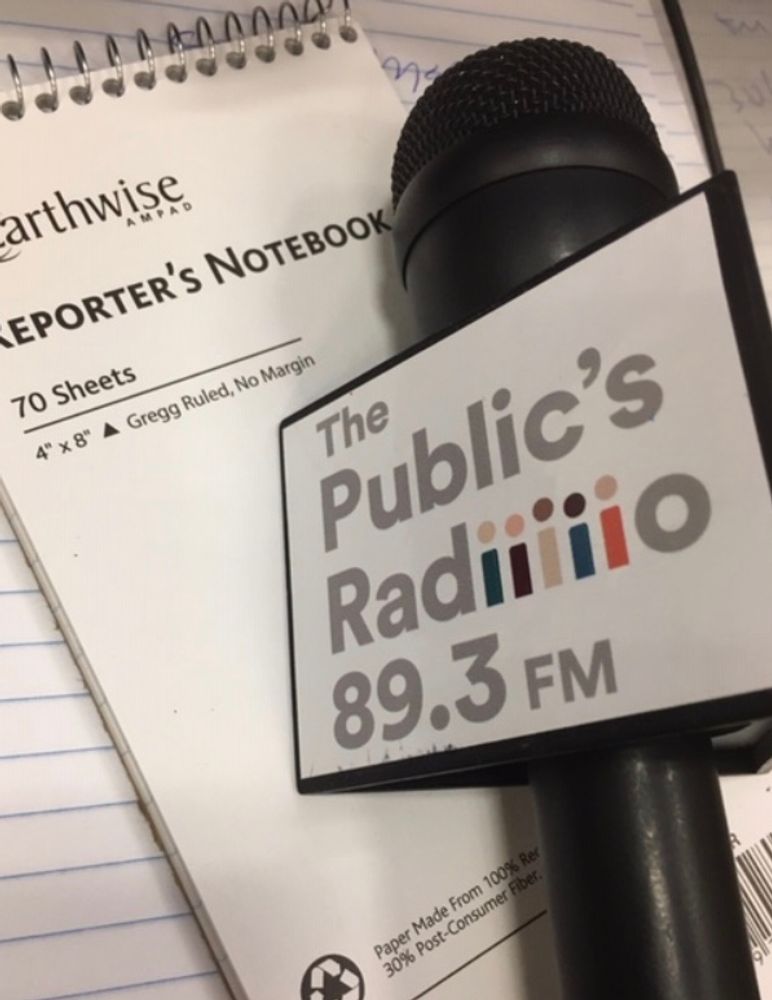 Thanks for stopping by and for following my reporting throughout the year. Your tips and comments are welcome. You can follow me through the week on the twitters. (A quick note: I'm taking some time off for the holidays, so this is my final column for 2021. Barring an unexpected eggnog-related tragedy, TGIF will return on January 7.)
*** Want to get my column in your inbox every Friday? Just sign up right here ***
STORY OF THE WEEK: Over the summer, when COVID cases were significantly down and precautions relaxed, it was easy to think the pandemic was on its way out. Well, so much for that. Things have been trending in a more worrisome direction for months, first with Delta and now Omicron. Under the worst-case scenario, a surge of cases could overwhelm already fragile health systems in Rhode Island and other states. Gov. Dan McKee faced the changing circumstances this week when he announced the imposition of a hybrid masking plan. McKee tried to remain upbeat, saying in part, "This is not a pause. We want to let people know that business is going to continue, and that we encourage people to frequent local businesses, but be safe about it." Some small businesses, though, were less than happy about the news. That's understandable. COVID fatigue has been with us for a long time. But Rhode Island's case rate has shot up like a rocket since Thanksgiving. And maintaining business as usual in a number of other states explains why the pandemic has continued.
SMITH HILL: Some Rhode Island lobbyists are irked about a December 8 letter sent by Westminster Consulting, Mark Ryan's lobbying outfit. The letter, a copy of which was obtained by TGIF, cited how "Nicholas Mattiello, the most recent former speaker of the House of Representatives, joined us this summer and will be available to provide lobbying services for the Executive Branch now and for the Rhode Island House and the Rhode Island Senate commencing in 2022." The letter points to a raft of past and current clients – Lifespan, Narragansett Electric, Gannett, Hasbro and Twin River, among others – adding, "If you are evaluating your lobbying needs for next year, please keep us in mind to supplement your current relationships or create new ones." It's unclear how widely this letter was distributed, and Ryan did not respond to a telephone message seeking comment. Nonetheless, some lobbyists who learned of the letter are upset about what they consider an attempt to poach clients – a forbidden practice in Rhode Island's small political influence sector
HOMELESSNESS: Failure is an orphan and victory has many fathers, or so the saying goes. On one level, concern from different people has raised the focus on helping the homeless in Rhode Island, and that merits notice. But we're on the cusp of an election year, so politics remains part of the landscape. The question of who deserves credit was front and center Thursday. That's when Gov. Dan McKee announced some new efforts on behalf of the homeless. State Sen. Cynthia Mendes (D-East Providence), who is running for lieutenant governor on a Rhode Island Political Cooperative-backed ticket with Matt Brown, responded by declaring victory and ending the protest that, at its peak, featured close to 100 people sleeping in tents outside the Statehouse.
Speaking on Political Roundtable, Mendes said advocates, service providers and others concerned about the homeless began seeking action for 10 months. "And after 16 days of direct action and protest, after hundreds of Rhode Islanders came out in droves and slept out on the Statehouse steps, they started to act," Mendes said. "It is far, far, far too late. It's the middle of December."
McKee rejected the idea that Mendes and her allies lit a fire under the state. "We are listening to anybody who wants to talk about the issue but I think it is a little presumptive to think that any one group got us here today," he told the ProJo. (It's worth nothing, too, that the governor announced on November 3 a $5 million boost to provide hundreds more beds for the homeless.)
FWIW: Mendes did not vote earlier this year for the state budget that included a focus on housing, including the creation of a housing production fund, a new statewide housing director, and "Pay for Success," a program meant to help the homeless. A.J. Braverman, a spokesman for the Brown-Mendes ticket, said she supports those concepts, but opposed the budget "which left the state with a $600 million surplus while failing to address the impending crisis of homelessness and many other important issues." And while Mendes announced plans this week to sponsor legislation to make Rhode Island a "right to shelter" state and to create an eviction moratorium for the duration of the pandemic, the East Providence Democrat was the main sponsor of seven bills this year, none of which specifically related to housing, according to a review of the General Assembly web site.
HOUSING CRISIS: Don't miss my story on this subject, airing Monday during Morning Edition on The Public's Radio, with a longer, more detailed version on our web.
DENNIS' DECISION: RI Senate Minority Leader Dennis Algiere of Westerly, first elected in 1992, is the longest serving GOP legislator in the state. Algiere has served as minority leader in the chamber since 1997 and he's known for his collegial relations with Senate Democrats. That's why it's hard to imagine the Westerly banker transforming into a fire-breathing partisan amid a hard-fought gubernatorial race. Nonetheless, we hear tell that that some Republicans are encouraging Algiere to run. He didn't respond to messages seeking comment; GOP Chairwoman Sue Cienki told me that Algiere and she have not discussed a possible statewide campaign. Chalk this up mostly to how Republicans are still searching for a gubernatorial candidate as we head into an election year. (Former bridge authority chairman David Darlington, who previously expressed interest in running, has not filed a notice of organization as of yet.) When it comes to Algiere, he already faces a re-election challenge from Michael Niemeyer, a Democrat backed by the Rhode Island Political Cooperative.
THE SHERIFF: Speaking of durable elected Republicans in southern New England, it plays against type to think that a robust supporter of Donald Trump would fit in that category. Thomas Hodgson, the sheriff of Bristol County, Massachusetts, has been in the news a lot over the years, for everything from chain gangs to recent calls to close New Bedford's 133-year-old Ash Street Jail. As my colleague Ben Berke reports, critics say the facility is marred by substandard living conditions. Hodgson, in office since the late '90s, fired back with characteristic zeal: "There aren't rats and things running around. Could they get into the building? Of course, they can, and they can get into a school. This is just political hype around progressive leftists who want to shut down the Ash Street Jail." Looking ahead, Hodgson -- for the first time in more than a decade, will face a challenge for re-election next year -- from Democrat Nick Bernier, a lawyer and former prosecutor. The controversial sheriff has faced challenges before ("Hodgson taking his lumps in sheriff race," the Sun Chronicle reported in 2009), but, for now, he remains a hardy survivor.
TREASURY: Former Central Falls Mayor James Diossa was first out of the chute in the 2022 race for RI general treasurer, announcing his run via news release this week. Diossa is well-liked and he can highlight the narrative of bringing Central Falls back from bankruptcy. Former Treasury staffer Andy Roos touted Diossa in a message to his email list, and the firm that employs Roos, GPS Impact, will be the media consultant for the former mayor's campaign. More candidates will likely emerge for the post, and a central question in the Democratic primary will be who's best qualified to manage Rhode Island's $10 billion+ pension fund. The other prospects include RI Commerce Secretary Stefan Pryor, former Cranston Mayor Allan Fung, and RI Democratic Party Treasurer Liz Beretta-Perik. Two other potential candidates, RI Senate Finance Chairman Ryan Pearson (D-Cumberland) and RI House Finance Chairman Marvin Abney (D-Newport) tell me they remain undecided.
MAGAZINER: Speaking of Treasury, Seth Magaziner's case for becoming RI's next governor relies in large part on what he's done during two terms as general treasurer. Magaziner's office shared the following news this week: "[T]he total unfunded liability of the Employees' Retirement System of Rhode Island decreased by $408,597,654 in the fiscal year ended June 30, 2021, and the funded status grew to 63.9%, the highest level since 2008. This is the third year in a row that the unfunded liability has decreased and represents the largest decline in a single year ever …. During Fiscal Year 2021, the pension system earned a 25.6% investment return and ended at an all-time high of more than $10.3 billion in assets. The overall funded status of the pension system, which includes plans for state employees, teachers, judges, state police, and municipal employees, rose from 60.5% to 63.9%."
GINAWORLD: Former Gov. Gina Raimondo has never lacked for ambition. That makes it hard to know what to make of a quote from an unnamed Raimondo associate indicating to the NYT, in a story by aces Jonathan Martin and Alexander Burns, that she was "out of the politics business." Raimondo remained veiled about her level of interest in going to D.C. – until she was named earlier this year as U.S. Commerce secretary. The idea of her running for president has seemed counter-intuitive, not least because of Rhode Island's sparse number of electoral votes. Then again, Democrats suffer from a short bench amid anxiety about what looks like an attempted comeback by Donald Trump in 2024. Raimondo still gets mentioned as a possible candidate for that race. And she continues to get a lot of other mentions in the news, for better and worse, everything from semiconductors, and a clash with progressives over big tech, to how her husband, as the NY Post put it, "reportedly works at a company linked to China."
RI POLI-MEDIA-ACADEMIA PEOPLE ON THE MOVE: Bumper crop … Because it's tough to beat BU talent, ahem, RISD has unveiled Crystal Williams as the college's new president …. As I tweeted Thursday, Nicole Verdi is leaving her role as chief legal counsel with the RI Senate to become senior NE manager of government affairs/policy for Danish wind power giant OrstedUS … President Biden has nominated Michelle Kwan, ex of Clay Pell, as U.S. ambassador to Belize, fka British Honduras … Congrats to Jamie Coelho on getting the nod as top editor at RI Monthly, and to Sarah Francis for 28 years leading the magazine …. Welcome to Weayonnoh Nelson-Davies, signing on as the new director of the Economic Progress Institute … Finally, Tonya King is leaving as director of the Rhode Island Coalition Against Domestic Violence to join the National Network to End Domestic Violence; deputy director Lucy Rios will serve as interim director.
RI PROGRESSIVES: Georgia Hollister Isman, regional director for the Working Families Party, talks in the first half of Political Roundtable about why RI's progressive movement is growing, whether talk of a progressive "civil war" is overblown, how she evaluates President Biden, and more.
UTILITY: My colleague Sofie Rudin reports on the concerns about PPL's proposed $5.3 billion purchase of Narragansett Electric: "A major source of concern is that Narragansett Electric is dependent on National Grid's operations in Massachusetts and New York for everything from engineering expertise to backup equipment during storms. 'PPL must explain how it plans to remove Narragansett Electric from the regional system of synergies National Grid currently provides without creating a burden of additional costs for ratepayers as a result of building new facilities, and providing services that would otherwise have been provided with certain costs shared with New York and Massachusetts,' said Nicholas Vaz of the Rhode Island attorney general's office, which has intervened in the sale. Experts hired by the attorney general's office found that PPL failed to provide adequate financial information, and argued that the sale should not be approved."
KICKER: Enjoy some holiday cheer by checking out this a cappella mashup ("Hamildolph") of Hamilton with Rudolph the Reindeer.
Ian Donnis can be reached at idonnis@ripr.org