Maria Rivera took office as mayor of Central Falls last January, just as Rhode Island's smallest city was fighting the highest rate of COVID in the state. Rivera quickly detected a connection between residents' health and their housing.

"We were having a hard time trying to figure out, how can I have my residents isolate, right?" Rivera said. "The issue, it was housing — because I have two and three families living in one apartment."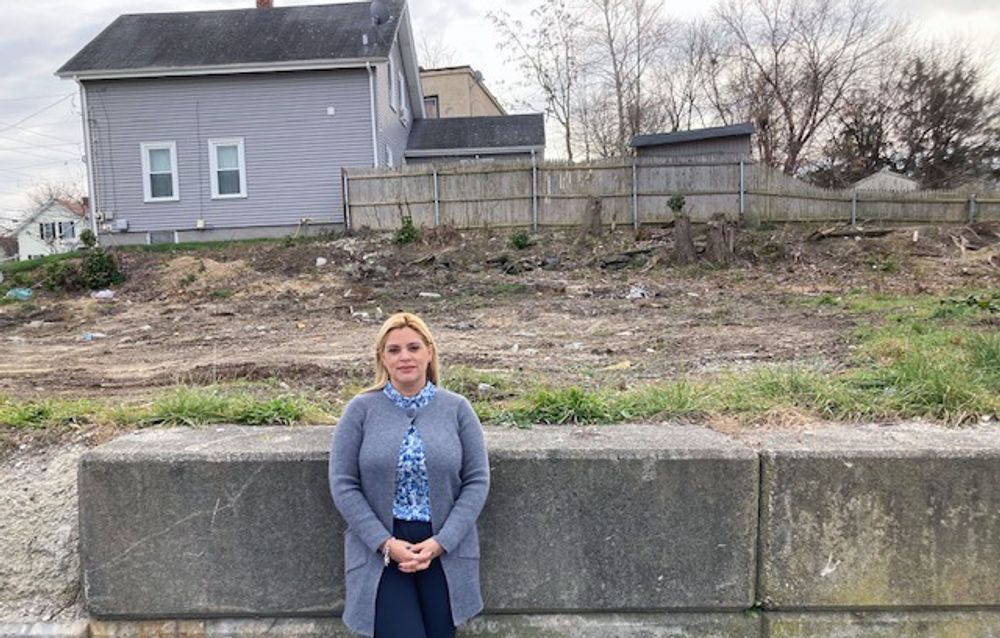 Rivera's team responded by identifying about a dozen sites for affordable housing. One of them, a vacant lot on Lonsdale Avenue, is now in receivership, but Rivera envisions it as six town homes. Things are at a standstill, though, since Central Falls lacks the $150,000 needed to buy the property.
"We would have to get site-acquisition funding, so that we can actually acquire the property," Rivera said. "And that's one of our biggest challenges."
It's one of the biggest challenges because Central Falls did not get a cent from a $40 million housing bond approved by Rhode Island voters in 2016. Rhode Island Housing, the quasi-public agency that distributes this money, said its approach is fair and spreads funding throughout the state. But Rivera said the agency's methodology hurts poorer communities like her city since it favors projects closer to completion.
"I can't help my residents unless the state is going to help me," she said.
The challenge of building affordable housing in Central Falls underscores a big statewide problem.
Homeownership is beyond the reach of people who earn the state's median income, according to the advocacy group HousingWorksRI. Six years ago, the median cost of a house in Rhode Island was under $250,000. Today it's up over $375,000. And for years, Rhode Island has spent less than other New England states to create affordable housing — about $18 per capita, just about one-sixth of what Massachusetts spends.
As rents continue to rise and real estate prices soar, critics say the state's confusing bureaucracy is often slow to implement even the few measures it has at its disposal. Further complicating challenge: the state has yet to spend millions of dollars meant to improve the housing situation.
Proposed Solutions Slow To Take Shape
In response to near-constant calls for more-affordable housing stock in Rhode Island, Gov. Dan McKee's office said the state is trying to chip away at the housing crisis with what it calls an unprecedented level of investment.
During a November news conference celebrating the renovation of 36 affordable apartments in East Providence, McKee pointed to the impact housing has on a host of other issues.
"How can we expect children to learn and succeed in the classroom if they don't have stable housing?" he asked. "How can we expect Rhode Islanders to excel at their careers and be productive employees or own their own businesses, if they don't have stable and affordable housing?"
McKee and top state lawmakers earlier this month announced a plan to spend 10% of Rhode Island's more than $1 billion in emergency COVID aid on affordable housing and helping the homeless. The state also plans to offer site-acquisition money to communities like Central Falls.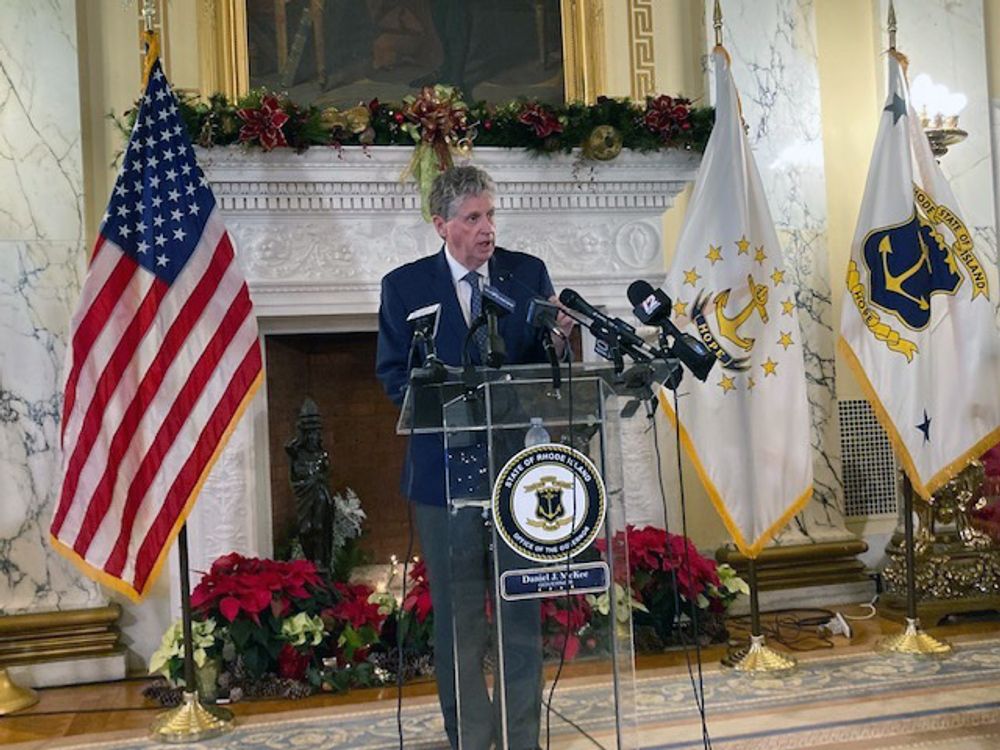 A lot more money could wind up getting spent on housing thanks to the state's windfall of money from the American Rescue Plan Act. The Rhode Island Foundation, for instance, has called for spending $405 million from the state's COVID emergency aid on housing, in part to create 5,000 affordable units.
While the influx of COVID-relief money represents a significant investment in housing policy, the state has often moved slowly on spending the money it already has.
For example, about a quarter of the $40 million from the 2016 housing bond has been committed to projects that have not yet closed. Deputy Director of Rhode Island Housing James Comer said he expects those funds to hit the streets within the coming year. Comer said spending the money approved by voters takes so long due to the challenge of financing affordable housing.
"These are very complex deals and they don't move quickly in the best of circumstances," he said. "Just for the construction piece alone is 18 to 24 months, let alone how long it takes a project to assemble its capital stack, which could be another year, give or take what sources go in it."
In another case, almost six months have passed since the legislature created a new housing production fund to stimulate affordable housing. Although the fund was assigned an initial $25 million in June, the process required to spend the money is just now getting underway.
House Speaker Joe Shekarchi says the delay is unfortunate.
"I wish that that money would have been started sooner and actually gone through a process over the summer time," Shekarchi said.
Now the state will need to put hundreds of millions in new funding to work, as well.
Connecting A Vast Bureaucracy
Back in 2005, then-Governor Don Carcieri created the Executive Office of Housing and Community Development to serve as a focal point for housing.
As The Providence Journal reported at the time, Carcieri told advocates that "the state is working hard to address its housing needs but lacks coordination among agencies that deal with housing. His plan — to create an Office of Housing and Community Development — will provide that coordination, he said, by establishing a central advocate for housing issues and giving those issues a voice in the State House."
The first Housing and Community Development director cited a goal of creating 1,000 new units of affordable housing a year, but the state has fallen far short of that goal, according to Brenda Clement, director of HousingWorksRI.
The McKee Administration says it would like to fix that.
"I think we know historically that we've under-invested in affordable housing in this state," said Kim Ahern, deputy chief of staff for McKee. "That is why we are trying to account for that and adjust."
In previous years, the state's approach has consisted in part on winning voters' support to approve housing bonds — $50 million in 2006, $25 million in 2012, $40 million in 2016 and $65 million earlier this year.
While these bonds have spurred the creation of thousands of housing units over time, they've also run up tens of millions in interest costs for taxpayers. The 2016 bond, for example, carried $30 million in eventual interest costs, according to a voters' guide provided at the time by Secretary of State Nellie Gorbea. (Rhode Island voters have consistently approved bond issues when asked to do so, including the one in 2016.)
The Executive Office of Housing and Community Development shares responsibility for housing issues with Rhode Island Housing, along with dozens of housing authorities across the state. Shekarchi said Rhode Island needs a more efficient approach.
"We have a smorgasbord of agencies all doing God's work, but they're not coordinated with each other," he said.
That's why the legislature created a new post, the deputy secretary of Commerce for housing, also known as the housing czar. McKee selected Josh Saal, who is coming from a job with New York City's housing agency, for the post earlier this month.
Saal's job, in part, will be to work with the Office of Housing and Community Development, which Carcieri created to centralize housing policy, adding another governmental layer to housing in the state.
Yet at least in one instance, the state failed to provide up-to-date information about its approach to housing.
The Housing Resources Commission, a branch of the Executive Office of Housing and Community Development that votes for bond-funded affordable housing projects, featured an outdated membership list on its website.
The site listed as members four former state officials who stopped serving on the HRC, in some cases years ago, including Rebecca Boss, a former director of the state Department of Behavioral Healthcare, Developmental Disabilities and Hospitals, and Michael DiBiase, a former director of the state Department of Administration. The membership list was updated last week after The Public's Radio started asking questions.
Hannah Moore, assistant secretary of the Commerce Department, which oversees the Office of Housing and Community Development, attributed the outdated information to the Housing Resources Commission being "significantly under-resourced for a number of years." She said the plan to spend 10% of American Rescue Plan Act money will build capacity within Housing and Community Development.
When the Housing Resources Commission approved in November the first round of spending from an affordable housing bond last March, the HRC constituted a quorum with two minutes to spare. Failing to meet the quorum would have slowed the process for awarding the money.
Shekarchi says Saal's first priority should be revamping the housing bureaucracy.
"We want Josh Saal, the new director, to do an evaluation and come to the General Assembly and say, 'It's not working and this is how we need to change it,'" Shekarchi said. "That's the whole purpose of the housing czar."
When the General Assembly approved the new housing director post back in June, it called for the director to offer findings to the legislature by the end of December. The Commerce Department plans to provide some preliminary information by that deadline. Saal's recommendations will have to come later, however, since his start date on the job is January 7.
Ian Donnis can be reached at idonnis@ripr.org. Follow him on Twitter @IanDon. Sign up here for his weekly RI politics and media newsletter.