A panel unveiled recommendations Tuesday for how to spend Rhode Island's $1.065 billion in American Rescue Plan Act money, including using almost half of the money to address the state's long-term housing crisis, particularly for low- and moderate-income residents.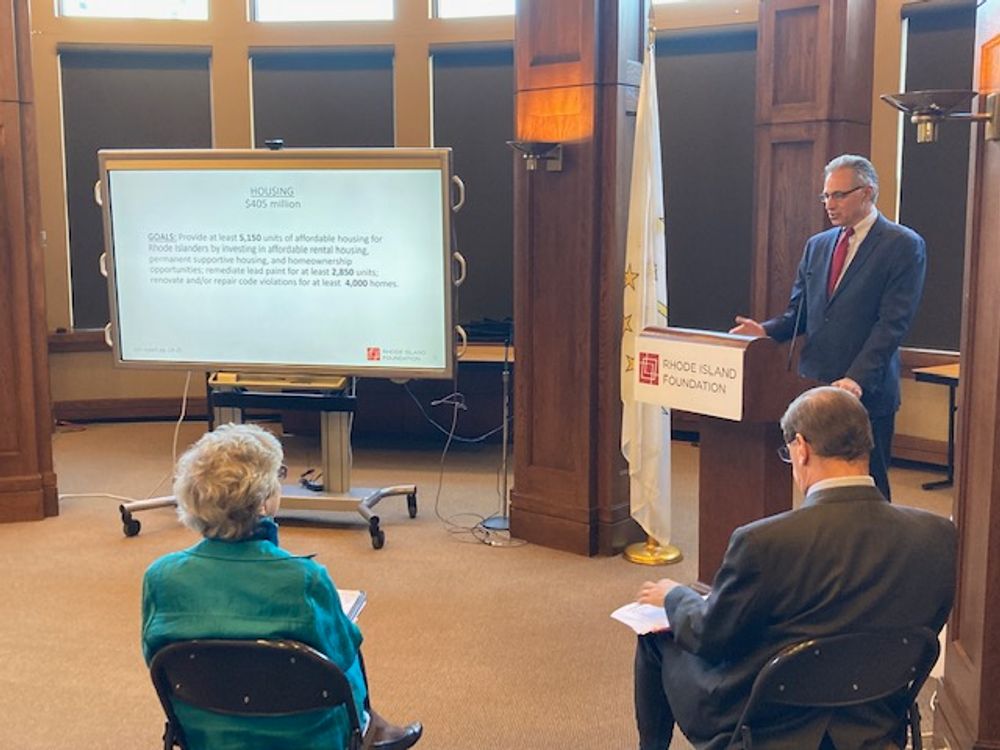 The recommendations were formed by the Rhode Island Foundation, the liberal Economic Progress Institute and the business-backed Rhode Island Public Expenditure Council during a months-long public process. The foundation took the lead in engaging the two other groups to arrange conversations, offer policy analysis, and provide input on how to spend the money.
The executive summary for the recommendations calls the $1 billion windfall "an historic opportunity to address and counter the disparate public health and economic impacts of the coronavirus pandemic, which reflect long-standing inequities based on systemic racism, gender and disability. And, to ensure that investment of these funds supports a genuine recovery that is broad and inclusive, efforts to allocate ARPA funds need to be transparent and accountable to all Rhode Islanders."
On housing, the recommendations cite goals of creating at least 5,150 units of affordable housing, remediating lead paint for 2,850 units, and renovating or repairing code violations at at least 4,000 homes. To do this, the trio of organizations call for spending $405 million from Rhode Island's ARPA money.
The other major areas covered in the findings -- entitled "Make it Happen: Investing for Rhode Island's Future" -- include calling for the use $255 of the American Rescue Plan Act money for behavioral health; $205 million for workforce development; $100 million for small business assistance; $50 million to aid neighborhoods in addressing local concerns; and $50 million "in immediate relief to residents suffering from behavioral health disorders, domestic violence, lack of affordable child care, and economic, food and housing insecurity, exacerbated by the COVID-19 pandemic."
While the ARPA funds do not need to be spent until the end of 2026, and the spending planned until the end of 2024, RI Foundation CEO Neil Steinberg told reporters at a press conference at the foundation that he expects the process to gather momentum next year.
"I would expect without being told that during the next budget cycle, which starts after January, that this money starts to be allocated," Steinberg said. "Hopefully, we put in planning money, so it can be planned. It can't all be used in the first year. It should be planned out what capacity needs to be built and done over that three years. But we're hoping it would get started in the next session."
Steinberg said building capacity to achieve the goals included in the recommendations is a serious issue. In one such case, he said the groups are calling for a new state level housing czar to be a Cabinet-level office, rather than part of the Commerce Department, as approved by the legislature.
Top lawmakers, who say the state Constitution gives them control over state spending, have remained somewhat guarded about specifics on the use of Rhode Island's ARPA money and when the money will be allocated.
In a joint statement, House Speaker Joe Shekarchi and Senate President Dominick Ruggerio said, "We thank Neil Steinberg and the Rhode Island Foundation for their leadership efforts and their collaboration with so many talented professionals to develop insightful suggestions on how to best invest these federal funds. The House and Senate Finance Committees will carefully review all of the proposals in a very public and transparent manner as we ensure our state makes the proper investments for a brighter future."
Ian Donnis can be reached at idonnis@ripr.org. Follow him on Twitter @IanDon. Sign up here for his weekly RI politics and media newsletter.