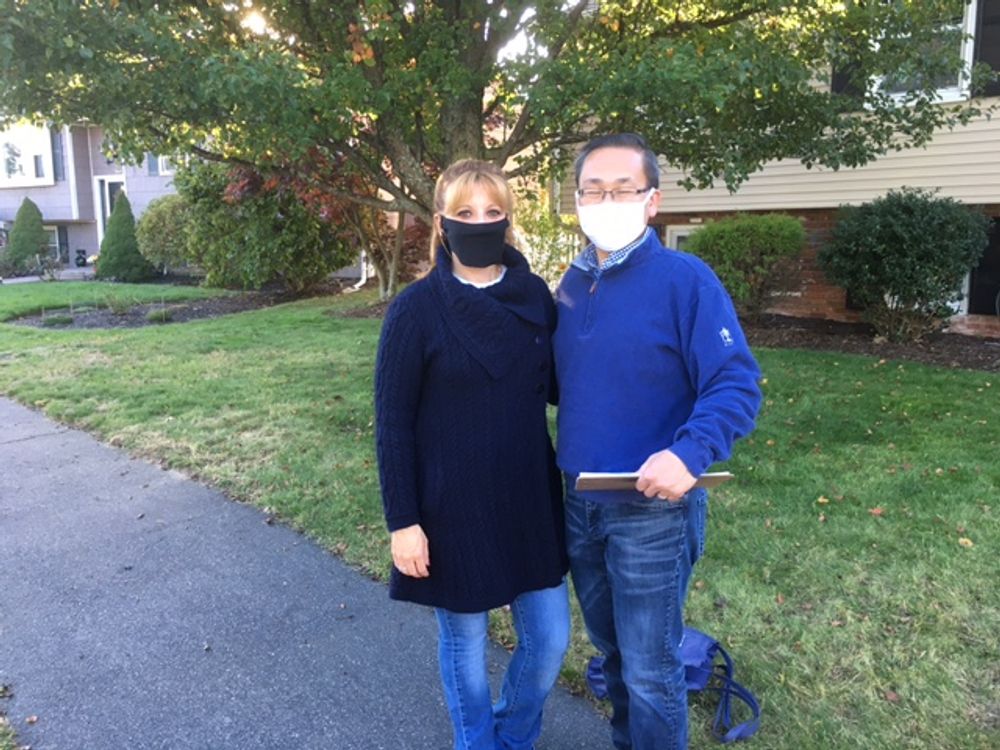 CRANSTON - Republican candidate Barbara Ann Fenton-Fung is hunting for votes in House District 15. She's joined by her husband, the well-liked mayor of Cranston, Allan Fung, who carries a clipboard with a list of registered voters. In a nod to the pandemic, they're both wearing masks. It's late afternoon on a recent weekday and not many residents are home.

But Fenton-Fung finds a receptive audience in Dorothy Provorse.
"I agree with what she's working toward on the healthcare, everything, education," Provorse said. "I have been a full-fledged supporter of Mayor Fung since he first came here. Was it Jimmy's house? We had a get together …."
"That's right!" Fung shouts.
"…. Many, many years ago," Provorse continued. "I believe in what they're doing for the City of Cranston."
This exchange shows how Fenton-Fung's link with her husband, Mayor Fung, is an asset in her challenge for the state rep seat held by Democratic House Speaker Nicholas Mattiello. She's also highlighting a series of controversies during Mattiello's six-year tenure as speaker. These include legal trouble for two former ranking members of the House Finance Committee and the recent money laundering trial of former Mattiello campaign operative Jeff Britt.
"People have told me this is just too much and they want a clean new face," Fenton-Fung said. "They want fresh new ideas and that's where we're going."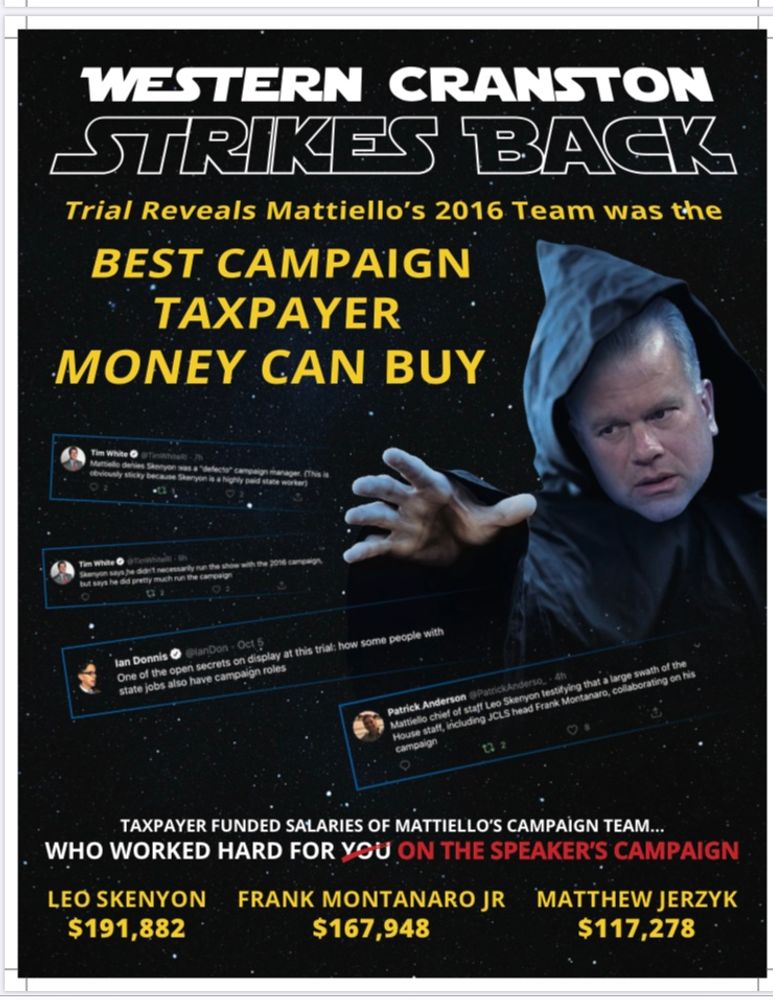 Fenton-Fung is 39, a longtime GOP activist, and she works as a physical therapist. This is her first run for office. If Mattiello is doing such a good job, she asks, why does Rhode Island still place at the bottom of business climate rankings done by CNBC. And she faulted how he hasn't called the House of Representatives to meet as part of the state's response to the pandemic.
"We are really going to struggle come the winter months," Fenton-Fung said, "especially when we talk about our restaurants here in Cranston, unless they get immediate help. And right now, because the General Assembly is not meeting, they are not challenging the governor's hold on that money. We are really struggling in different sectors because the small businesses are at the end of their ropes, and they need a life-life."
If elected, Fenton-Fung says she'd emphasize good government, education and healthcare. About 6,500 votes in suburban western Cranston will decide this race, and it's considered a toss-up. If Fenton-Fung wins, the House of Representatives will elect a new speaker next year.
But it's unclear if District 15 voters want to trade the powerful speaker for someone who would join a small GOP minority in the House, where Republicans now hold just nine of 75 seats.
Fenton-Fung argued there would be little negative fallout for Cranston.
Speaker Mattiello disagreed.
"She wouldn't set any tone," he said, responding to Fenton-Fung's vow to support a different dynamic. "Leadership would change. It would move away from Cranston. It would go to a different community, and she'd be a minority voice in a very small minority party, so Cranston would just lose its influence."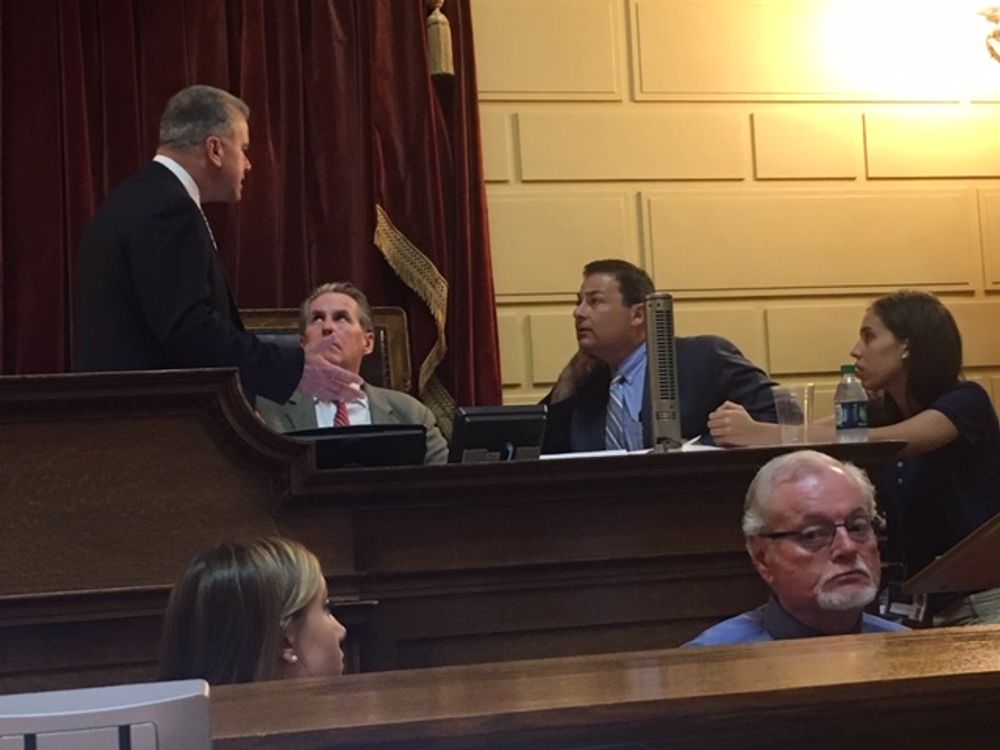 Mattiello declined my request to join him as he knocked on voters' doors. Instead, we spoke over lunch last week at Campanella's restaurant on Oaklawn Avenue.
Mattiello is 57 and a lawyer. He calls himself a pro-business speaker who delivers for Cranston and for taxpayers statewide with his signature issue, the ongoing phaseout of the state car tax. When it comes to lawmakers not meeting during the pandemic, he said it makes sense for Gov. Gina Raimondo to take the lead.
"I'm interested in giving the citizens their right to have the government speak with one voice during an emergency," he said.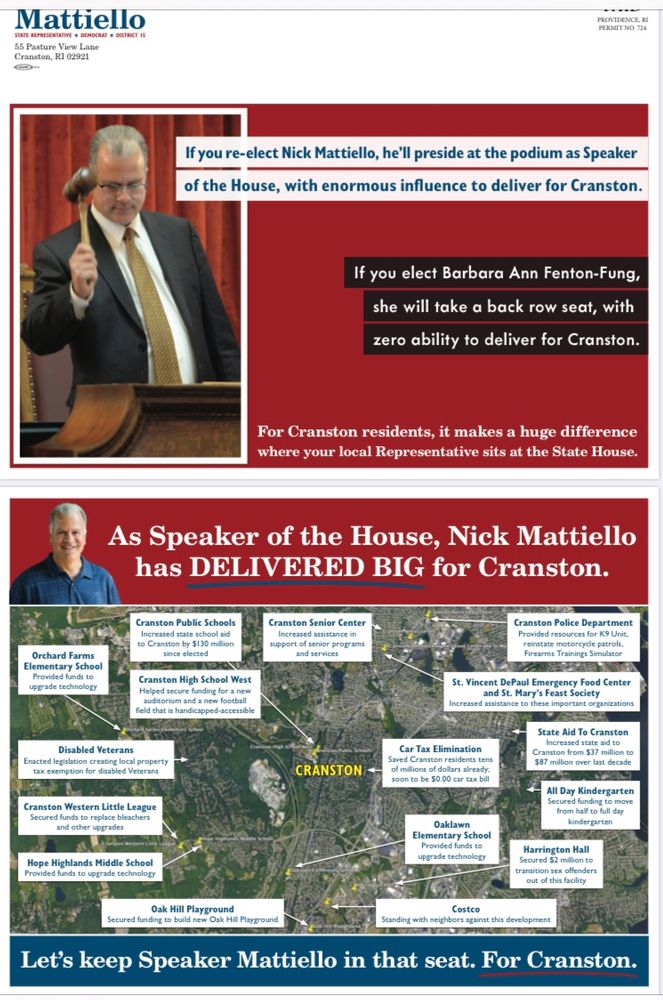 Mattiello said legislative staff is grappling with the economic effects of the pandemic, even if lawmakers are not meeting: "Our fiscal staffs are constantly communicating, I'm constantly communicating with the governor and the Senate president."
The House speaker has a big influence over the state budget, which bills get passed and Statehouse hiring. But legislative leaders generally face more challenges the longer they're in office.
In 2016, Mattiello beat Republican Steve Frias by just 85 votes in a race for state rep in District 15. Two years later, Mattiello won by a wider margin.
Then in 2019, when Mattiello won his third full two-year term as speaker, a group of 19 dissident Democrats didn't vote for him. Last week, The Public's Radio reported on how Rep. Liana Cassar (D-Barrington) is considering a run for speaker, along with a number of other representatives.
Critics say the speaker is too imperious and too concerned with his own power.
Mattiello said he takes a balanced approach in assessing the economic impact of legislation. He points to how Rhode Island has moved up eight slots, to 37th, in the Tax Foundation's business climate rankings since 2014, the year when he became speaker.
"If our economy is good, then our most vulnerable will also be good, because we'll have the resources to address their needs," Mattiello said while preparing to dig into a chicken calzone. "You know, just because I'm a pro-business person doesn't mean that I think we should neglect social services."
Mattiello downplayed the negative headlines from his tenure.
He said it's not his responsibility if other lawmakers, like former Finance chair Ray Gallison or former Finance vice chair John Carnevale, run into legal trouble. Mattiello appeared as a witness in the money laundering trial of his former operative, Jeff Britt, although he was not charged with anything.
The speaker said he's backed reforms like eliminating the master lever, restoring Ethics Commission oversight of the legislature and ending the practice of budget votes that went into the wee hours of the morning.
One wild card in the race between Mattiello and Fenton-Fung is how she has the support of Rhode Island to Life, the state's leading opponent of abortion-rights. Mattiello is personally pro-life, but he infuriated abortion opponents when he allowed the House to vote last year on a bill guaranteeing abortion rights. This issue could swing hundreds of votes in this potentially close race.
Brown University political science professor Wendy Schiller says Fenton-Fung could appeal to voters seeking some balance against how Democrats dominate Rhode Island politics. On the other hand, she says, Mattiello still has a persuasive argument.
"He's got a very strong message in the sense that he's coming back to the fact that he's speaker and he's very powerful," Schiller said, "and he can direct a lot of benefits to his constituents."
Other cross-currents include Cranston's hard-fought mayoral race and the question of whether House District 15 voters, who favored President Trump in 2016, have soured on the president.
This year in our One Square Mile project, we go to Cranston, to explore the issues driving this particularly polarized election year through the stories and experiences of the voters and others. Read more here.
Ian Donnis covers politics for The Public's Radio. He can be reached at idonnis@ripr.org.