The sun was setting over the Rhode Island State House, as hundreds of protesters chanted "Black Lives Matter," and the names of people killed by police. On the steps stood a silent line of State Police officers in body armor and helmets, with National Guard troops behind. Overhead, a helicopter circled.
"220 Providence police officers, 200 to 300 soldiers, 130 state police officers, [it was the] largest public safety contingent in downtown Providence maybe ever, certainly in my tenure of 33 years here at the police department," said Commander Thomas Verdi, Deputy Police Chief for the city of Providence.
Verdi was charged with making decisions, on the ground, about how to respond to the protest. He'd been planning for it all week, ever since a group of protesters Monday night smashed windows, looted stores, and set fire to a police cruiser.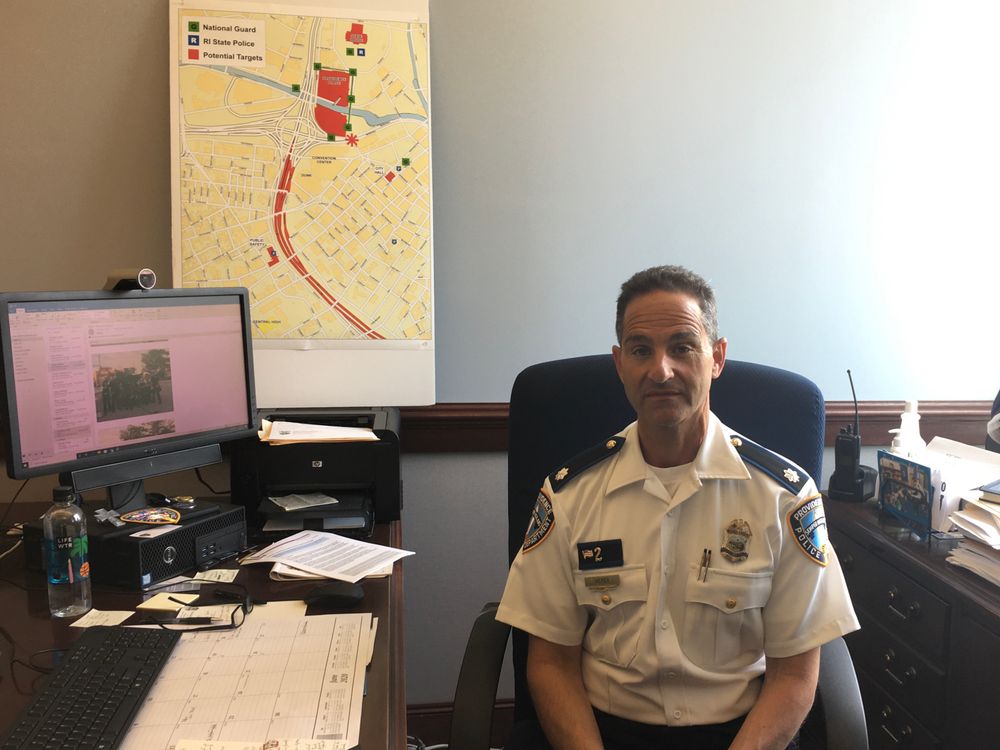 "Myself, my commands, my team leaders, we're working 16 hour days. We knew we had Friday's event. We knew the potential for it to escalate was even greater as a result of what happened Monday into Tuesday."
Four hours in, the city's curfew was approaching. Most of the thousands of protesters had gone home, but a core group remained at the statehouse.
"Things were getting a little hectic as far as the police were concerned," recalled Shaffany Terrell. "And they were asking us to push the people down the-- you know, to guide them off of the staircase. They took the muzzles off the dogs, which is a very scary thing."
Terrell wasn't an organizer, and she'd never led a protest. She's a professional actress and dancer, and when someone shoved a megaphone into her hand, she seized the role.
She and her fellow protesters had no intention of going home when curfew hit.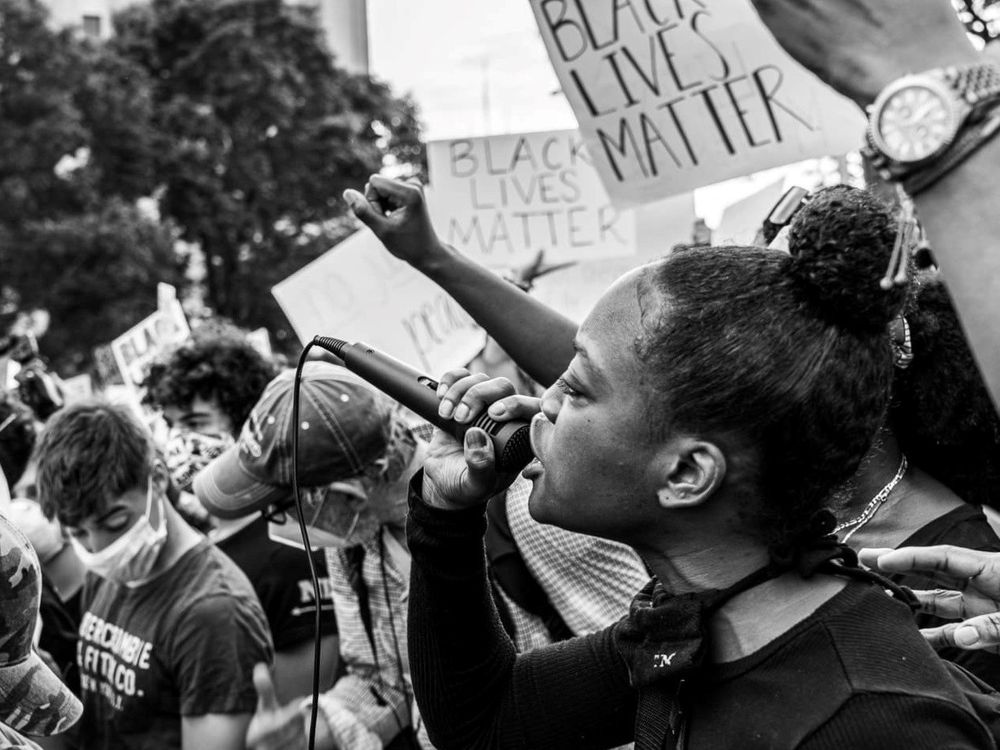 "George Floyd is just the last drop in the cup that made it overflow. So that's why I felt like it was bigger than the curfew," said Terrell. "I'm just like, 'A curfew? Okay, we're still going to protest.' People all over the world are protesting."
Verdi estimated there were still over two thousand people in the city at 9 pm. He called the Police Chief Hugh Clements and they decided -- for the moment -- to allow the protests to continue.
Tensions were still high, Verdi said, "And it absolutely would not have been appropriate to start arresting protesters in the masses. I'm very confident in saying that violence probably would have escalated considerably."
Protesters were leaving the statehouse in waves. After holding a moment of silence in memory of George Floyd, Terrell led a group into downtown Providence.
They circled downtown, passing National Guard troops outside the mall and convention center. Providence Police raced to keep pace with the group, as they continued onto Federal Hill.
"We had people not only going on their porches, but there were even people that joined us, random people that joined us. It was a peaceful movement. Were we loud? Were we raising our voices? Absolutely," Terrell said. "But at the same time, there were police following us. I believe they were circling us around."
By this time, it was dark out. As the group marched up Atwells Avenue, protesters saw the flashing lights of cop cars down many of the side streets.
The protesters turned, and cut over to Broadway, running straight into another line of police officers.
"The police are coming from all sides," Kiah Bryant said as she stepped to the side of the street and started filming the encounter to Facebook Live. "This protest is peaceful but here they come, f---ing full riot gear, batons," narrated Bryant, who leads Direct Action for Rights and Equality. "They've got the paddy wagon out, y'all. They're ready to arrest people."
"The way they swarmed in was really aggressive, like they were pushing people and they were saying, 'Back up, back up.' And it's just like -- you guys have the weapons," Terrell said. "Like my heart was beating. It was definitely like I was having an out of body experience, making sure that no one is getting hurt."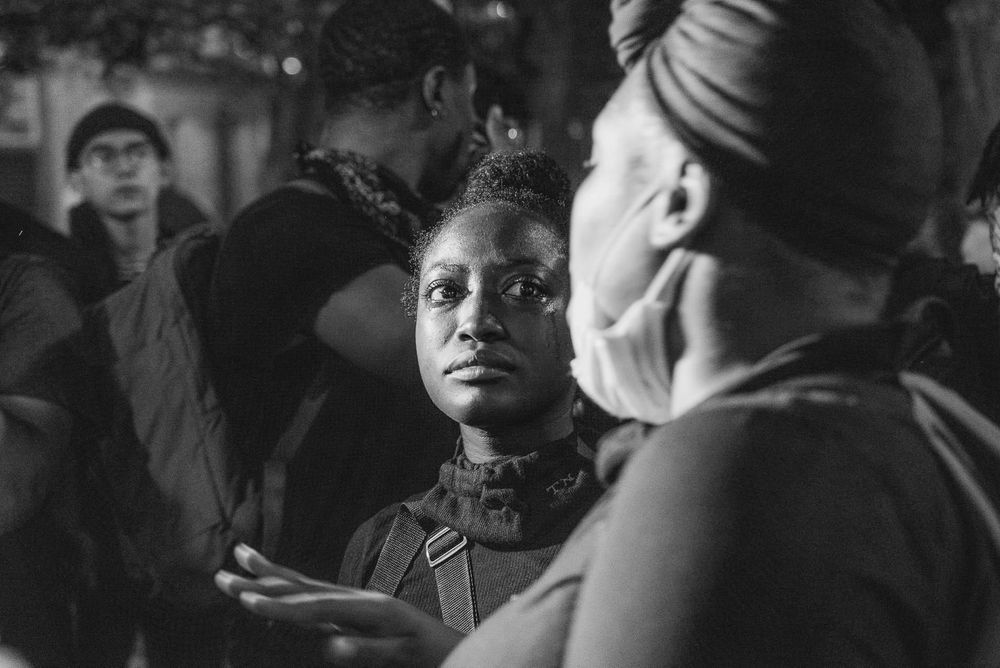 Across the country, police have fired tear gas, pepper balls, and rubber bullets at protesters calling for an end to police brutality. Videos compiled by The Witness Archive in recent weeks show police beating protesters with sticks, and harassing bystanders recording videos.
Terrell felt responsible for keeping her fellow protesters safe. She shouted for people to lock arms, and for white allies to get to the front. She told them not to antagonize police, but to hold their ground.
"We probably would have stayed there and had a staring contest or who knows how it would have ended because we weren't going to move," Terrell said. "Because we had the right to be there."
"Tensions were building," Verdi said. "And my bigger concern was that the organizers cannot control those that just want to really create a violent, volatile environment. Those handful of others can work up the crowd into a frenzy. And then the bottles start and then rocks start, and then within a split second, it becomes a riot."
Verdi was still on Atwells Ave. as the standoff started to develop. Over the course of the night, the police had left at least one road open to the protesters.
"They were never being boxed in, except for that one time," Verdi explained. "It just happened by coincidence at Broadway and Knight. That was not part of this operational plan because it could create a very volatile atmosphere."
Verdi said he was being called by phone and radio.
"And I quickened my pace to get to Knight Street. I was a little winded when I got there. And there were three individuals mostly that I had a conversation with."
Terrell was one of those three.
"And we had a conversation. Basically, what do you need from me, from the police department to make this end peacefully?"
"I was asking him to please let us pass through," Terrell said. "We're not doing anything to harm anybody. We're not hurting anyone. There were other people that were screaming, 'This is a peaceful protest.' At one point, he disappeared like in the back, he clearly had to talk to people. And then Officer Verdi decided to let us move."
The crowd of protesters broke into cheers and applause. As the police moved to the sides of the road, protesters marched forward, chanting, "Whose streets? Our streets." Verdi and Terrell were at the head of the group.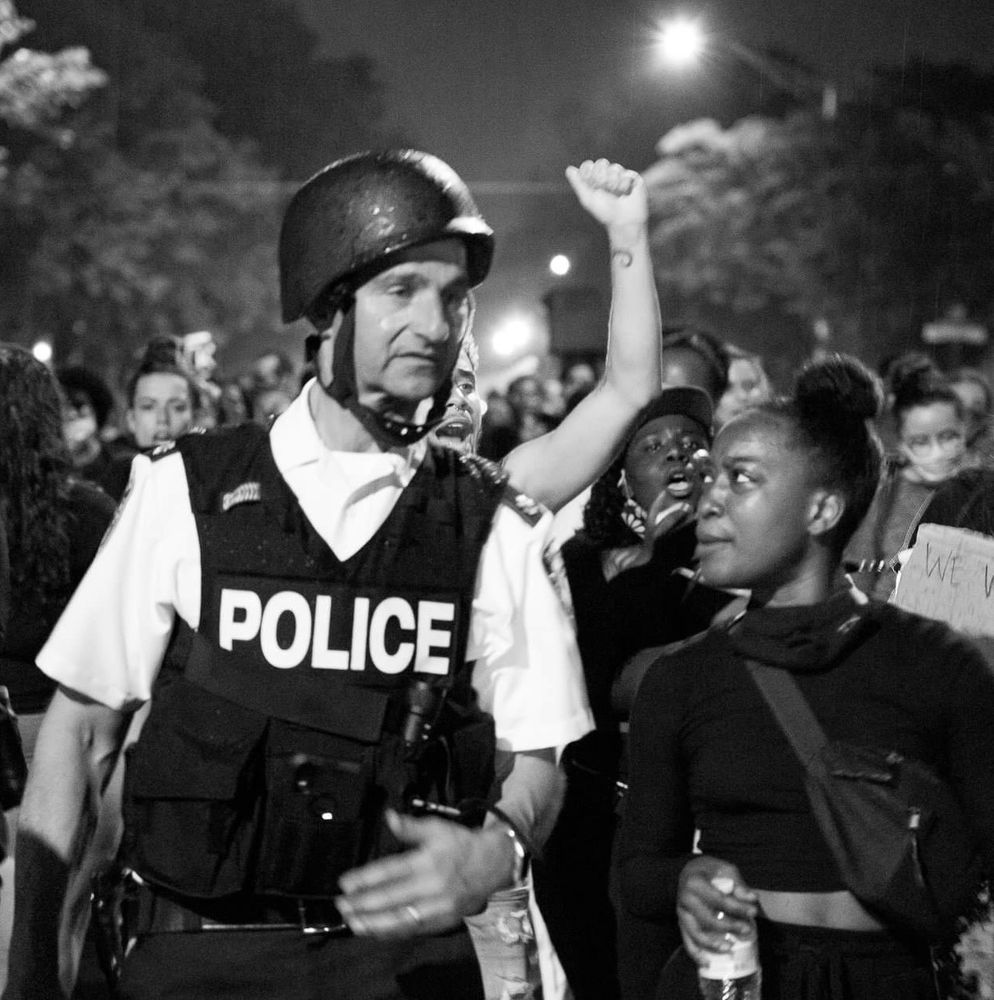 "Some of the police officers were marching with us. Now, as far as if they're marching with us and they're happy about it, I don't know," Terrell reflected. "It's not like he's pro-Black Lives Matter all of a sudden because he's letting us do this. But I do believe that he didn't want anybody to be hurt."
All the way down Broadway, people cheered from their stoops, and cars honked in support. The protest continued on to Kennedy Plaza, and then, peacefully, dispersed.
The audio version of this story recordings by Kiah Bryant.