This is the third piece in a three-part series. Read the first piece about the North End of Newport, and the city's plan for the area's future, here. Read the second piece about efforts to protect North End residents from displacement here.
Since setting out to create a guide for redevelopment in the North End, the City of Newport has vowed that it would be equitable. That the opportunities that go along with redevelopment — jobs, housing, public amenities — would be there for current residents as well as newcomers.
From the beginning, the community was also invited to be involved in the process.
"The idea was to really kind of go beyond the usual suspects, and find the people that live there, and find out what they want," said Planning Board Chair Kim Salerno.
In late 2019, the city hired a team of consultants to draft the vision, called the North End Urban Plan. The team met with hundreds of residents, organizations, and businesses from across Newport to discuss people's hopes for the future of the North End.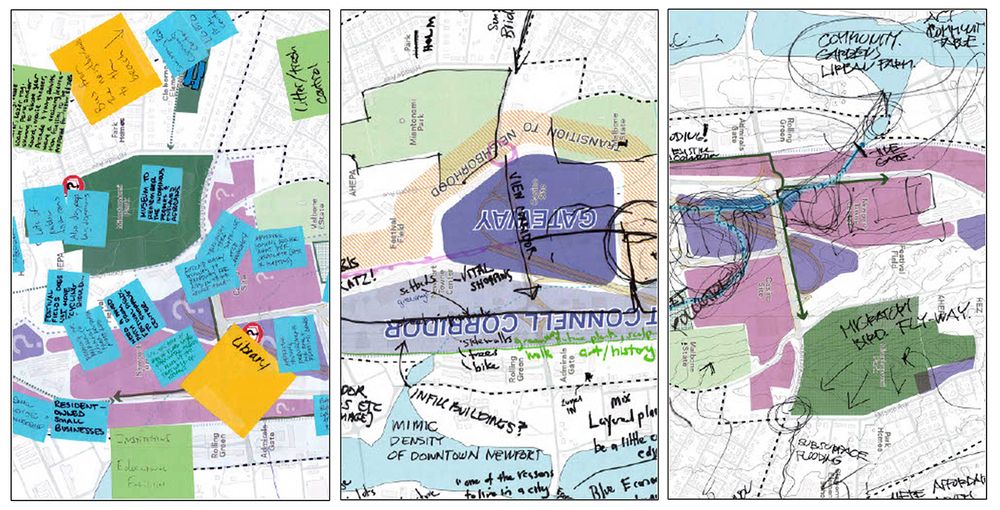 "Everybody, even children, have interests in planning. But not everybody has the tools to engage in a public process. So they had showed us ways to talk to regular people," said Salerno. "And then COVID came, and COVID put an end to all our high hopes about community engagement."
A number of problems soon arose. The city moved most of its outreach efforts online, but many families in the North End do not have computers or wifi at home. The project team tried to reach those households by sending out postcards, and they ultimately received nearly 150 responses to an online survey about residents' aspirations for the area. But the survey didn't ask whether respondents lived in the North End or not.
Residents point to several other barriers as well. Some were disappointed that more planning materials weren't made available in Spanish. And for some locals, the final plan itself — which is over 200 pages and includes technical language — was difficult to understand. Resident Cynthia Moreino tuned into the consultants' presentations, but said she often felt lost.
"You're looking at each other and scratching your head, like, 'What did they just say?' And that's not good, because if you don't know what's going on, you can't object or agree to it," she said.
All of that has resulted in a basic lack of trust among some residents.
The North End Urban Plan is the product of more than a year of work by the city to craft a blueprint for equitable redevelopment. The plan proposes ways to address long-standing disparities and the threat of displacement in the North End, and involve residents in the process.
Some residents, however, still aren't convinced that redevelopment will be equitable in practice.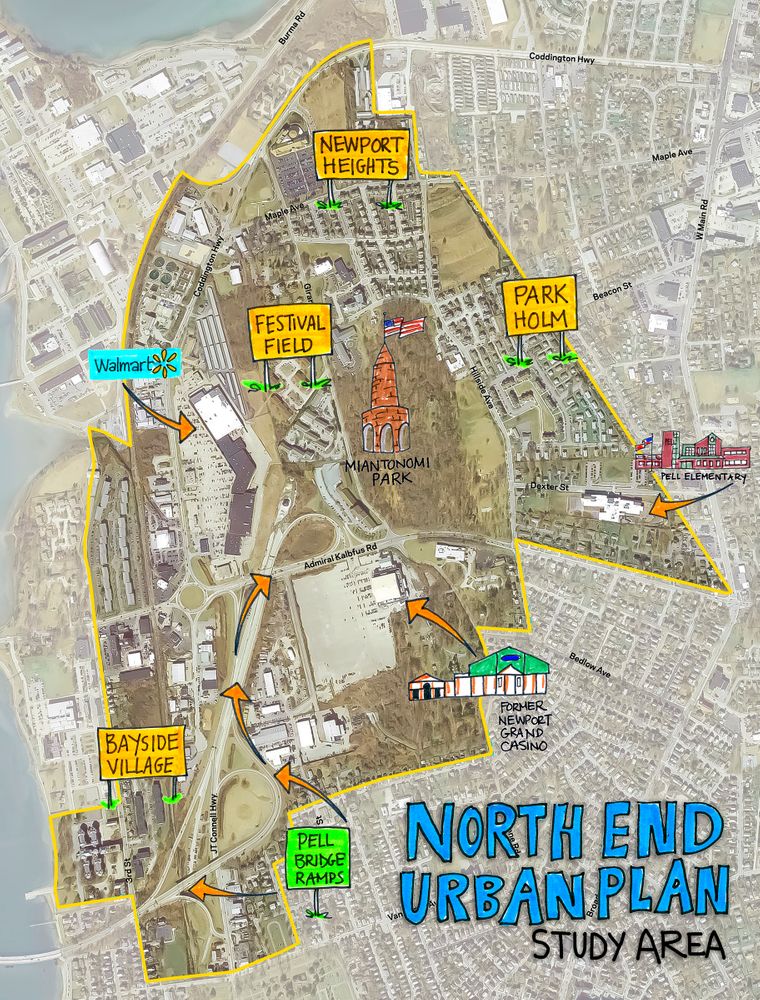 "Some people are of the opinion that the residents are going to say, 'Hey, we want this' or 'We don't want that,' and they're just going to do whatever they want," said resident Nycole Matthews.
That's in part why a coalition of residents took the step of independently hiring a national urban planning organization, Smart Growth America, to create a separate equitable development plan for Newport.
"Smart Growth America really sees the process of developing equitable development plans as a way to sort of rectify historic decisions that displaced and economically disadvantaged historically marginalized communities," said Jessica Walsh, director of the Newport Health Equity Zone, the local coalition that partnered with Smart Growth America.
The idea, Walsh said, is for North End residents not only to have a seat at the table — but also to be "in the driver's seat" of redevelopment in their area.
The 18-month project is being privately funded, so it will not require money from the city. Still, its effectiveness could largely hinge on city officials' openness to its suggestions — which are meant to supplement the North End Urban Plan, not replace it.
"It isn't about saying that we don't want development to happen," said Walsh. "It's that we want to advocate for development that doesn't displace folks, and that actually goes a step further and attempts to improve equity through the process of development."
Last month, the Newport City Council agreed to schedule an initial workshop with the Smart Growth America team. That's just an introduction, however, and where it goes from there is still up in the air.
Mayor Jeanne-Marie Napolitano says whatever direction the redevelopment plan takes has to fit in with the larger needs of Newport, whose tourism-driven economy has been hard hit by the pandemic.
"We need to understand that these are things that have to be negotiated," Napolitano said. "We're not going to like everything maybe that's proposed, but maybe the differential in what they're offering to the community is worth balancing it out."
Napolitano said she is open to different ideas about how to make redevelopment more equitable, like giving North End residents priority for jobs and job training.
"But this is a City of Newport project. This isn't only one neighborhood, and there are a lot of needs in the city that potentially could be addressed by development of the North End," Napolitano said.
After giving the North End Urban Plan its unanimous approval, the Newport City Council will soon review zoning changes. Developers will have the chance to propose projects in the North End, following the city's new vision and design guidelines.
The North End Urban Plan calls for the City Council to establish a committee of North End residents to be part of the process. With the separate equitable development plan underway, Smart Growth America will also be consulting with residents, and encouraging them to take more ownership over redevelopment in the North End.
That's all reassuring to North End resident Ellen Pinnock.
"I do think that if we let up off the gas, though, that stuff could fall back by the wayside," she said. "So I feel like resident voice is important and we have to continue making sure that these things happen in our community."
The plan may be for all of Newport, Pinnock said, but it's talking about an area that has been physically and socially disconnected from the rest of the city for years. And many North End residents anticipate that the neighborhoods and communities the plan stands to impact most are theirs.
It's their lives, their neighbors' lives, their children's lives. It's the streets they traverse, the jobs they hold, and the places they go home to every night. There's a lot at stake, says resident Cynthia Moreino, and a lot worth preserving.
"The saying is, 'Don't fix what's not broken.' And I'm not saying — there's a crack. There are some cracks on the North End," Moreino said. "But we're not broken. We're not broken. We're not a broken community."
The chance to address inequities in this community, residents and city officials agree, is part of what makes redevelopment in the North End so promising. It also means it has to be done right.
Antonia Ayres-Brown is the Newport Bureau Reporter for The Public's Radio. She can be reached at antonia@thepublicsradio.org.