Democrats Matt Brown and state Sen. Cynthia Mendes (D-East Providence) announced Wednesday they are running as a ticket for governor and lieutenant governor in 2022, as part of an effort by 50 candidates -- mostly for the General Assembly -- to stage a progressive takeover of Rhode Island's state government.
"What we're doing this time around is not just to win a few more races, but to win enough races across the state to win a full-out governing majority, get a new Senate president and a new House speaker," Brown said in an interview.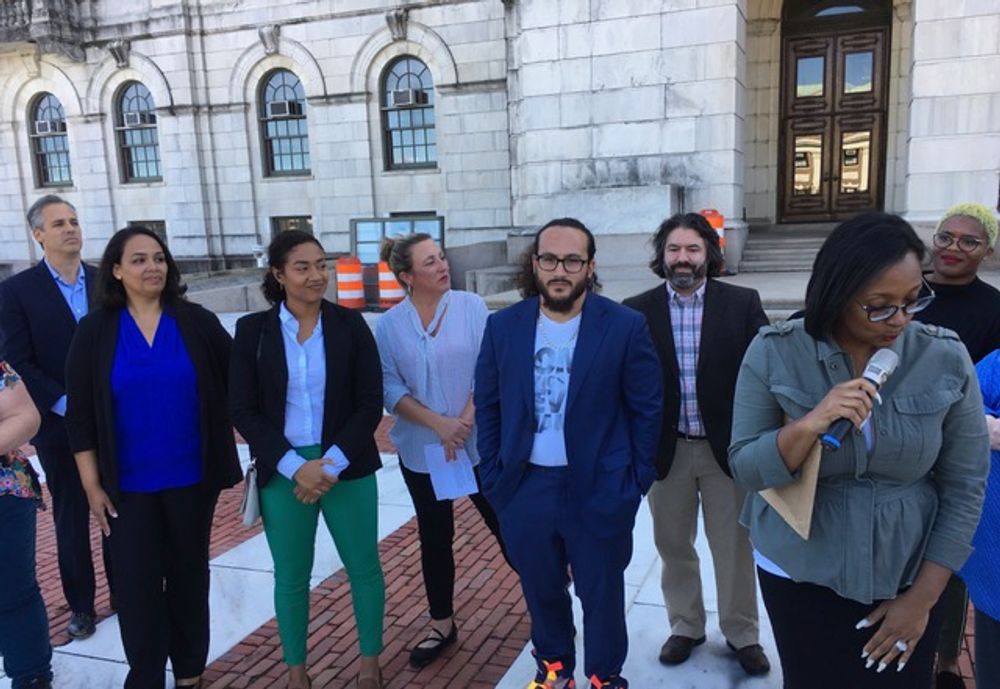 Brown and Mendes are part of the Rhode Island Political Cooperative, a progressive group that picked up a number of seats in 2020, mostly in the state Senate. That continued a gradual shift in recent election cycles to move a legislature traditionally dominated by socially conservative Democrats in a more liberal direction.
With Brown's entry into the Democratic primary for governor, there are now five announced or expected candidates -- meaning that the victor will likely win the September 2022 primary with far less than 50 percent of the vote.
The candidates include Secretary of State Nellie Gorbea, General Treasurer Seth Magaziner, and physician Luis Daniel Munoz. Gov. Dan McKee plans to announce his re-election campaign in January.
Providence Mayor Jorge Elorza announced last week he will not run for governor.
Kate Coyne-McCoy, senior advisor to the Rhode Island Democratic Party, offered this reaction to Brown's entry to the race for governor.
"Two years ago, the voters of RI had the chance to cast a ballot for Matt Brown for Governor -- the voters loudly, clearly, voted no," she said. "It was not close. They said no to his record of lies, ethical lapses and his trail of broken promises. Mr. Brown surfaces during election cycles -- in a vain attempt to get himself elected. Otherwise, he is nowhere to be found. The RIDP will continue to work to elect Democrats who fight for RI families year in and year out- Democrats who embrace RI values."
Liberal voters and grassroots Democrats have more influence in a primary than a general election, creating a potential opening for a progressive message. Yet McKee, Magaziner and Gorbea enjoy some of the advantages of incumbency, including a higher statewide profile, broader name recognition and ongoing fundraising efforts.
In a statement, Gorbea, who worked in Brown's office when he was secretary of state, said, "As someone who has always worked to promote civic engagement, I welcome anyone to the race who has a vision for Rhode Island. However, when I'm talking to Rhode Islanders and they encourage me in my run for governor, they tell me they're tired of the same old politics and want someone who not only has new ideas, but also has a track record of leadership in making government work for them."
Added Magaziner: "I am running for governor to build the strong, inclusive economic future that Rhode Islanders deserve. I look forward to talking with Rhode Islanders over the coming months about improving our schools, creating the clean energy jobs of the future, and turning the page on the old school politics that have held our economy back."
Munoz commented, "Material progress cannot be co-opted. The candidate's association with others who have committed themselves to community work, does not relinquish his own history, as an insider who has used questionable tactics to raise money. Now I have three opponents in this race who attended private schools, and who consistently avoid the marginalized. We're fired up for the fight ahead! We are the people powered campaign, and no one will fight more than those who have nothing to lose."
The RI Political Cooperative identified about half of its candidates, including opponents to Senate President Dominick Ruggerio of North Providence and Senate Majority Leader Michael McCaffrey of Warwick.
Lenny Cioe made a competitive run against Ruggerio in 2020, while Jennifer Rourke challenged McCaffrey. The coop's candidate list (see the end of this story) does not now include rivals to House Speaker Joe Shekarchi of Warwick and House Majority Leader Chris Blazejewski of Providence, although the group indicated that more candidates will emerge later.
The RI Political Cooperative's platform includes a series of things "for all": affordable housing, healthcare, quality education, a green New Deal, a fair economy, equal justice, pandemic protection, and democracy.
Brown, 51, declined to say how much it will cost to create this vision, although he said details will be spelled out in the future and that higher taxes on affluent Rhode Islanders would help pay for the cooperative's priorities.
In a campaign video, Brown asserted that Rhode Island is gripped by the most corrupt political machine in the nation, although he was unable to offer evidence to back up that claim.
Brown served one term as secretary of state after winning election in 2002, and then left Rhode Island for years after a problem-plagued 2006 U.S. Senate run. He fell far short in a Democratic primary challenge to Gov. Gina Raimondo in September 2018, losing by almost 24 points.
Brown then emerged in 2019 as one of the leaders of the RI Political Cooperative. Mendes scored one of the group's most noteworthy victories in 2020, using an aggressive ground game to defeat Senate Finance Chairman William Conley.
Mendes and Brown cited how they are running as a ticket as part of their challenge to the status quo in Rhode Island.
The Sunrise Movement, the youth-led climate group, is aligned with the RI Political Cooperative.
Asked what justifies support for the cooperative after the group made gains in 2020, Brown credited the coop with influencing the legislature to approve a path to a $15 minimum wage.
While the bulk of Rhode Island's $13.1 billion state budget goes for education and social services, Mendes said the legislature has done a poor job of meeting the needs of most of the people of Rhode Island. She pointed to under-performing public schools, a lack of affordable housing, and the number of people who are hungry.
"There's an endless list of their apathies and negligence," she said. ".... What may be the most criminal thing is the way they rob people of hope, the way they rob people of a voice, the way that they turn a blind eye as if they do not work for us."
Here is a list provided by the RI Political Cooperative of its candidates for 2022:
● Tarshire Battle — House of Representatives District 60
● Jeanine Calkin — Senate District 30
● Leonardo Cioe — Senate District 4
● Zachary Colón — To be announced
● Jen Douglas — Senate District 34
● Melanie DuPont — Senate District 22
● Jackie Goldman — Providence City Council Ward 5
● Gregory Greco — Senate District 18
● Marlene Guay — Woonsocket City Council
● Clara Hardy — House of Representatives District 55
● Brianna Henries — House of Representatives District 64
● Jennifer Jackson — Senate District 13
● Maggie Kain — Senate District 37
● Alexander Kithes — House of Representatives District 49
● Damián Lima — To be announced
● Jenna Magnuski — Senate District 12
● Michael Niemeyer — Senate District 38
● Zak Periera — House of Representatives District 22
● Geena Pham — Senate District 3
● Andrew Poyant — Providence City Council Ward 14
● Jennifer Rourke — Senate District 29
● Harrison Tuttle — To be announced
● Adamaris Villar — Central Falls City Council Ward 2
● Charmaine Webster — Woonsocket City Council
This story has been updated.
Ian Donnis can be reached at idonnis@ripr.org. Follow him on Twitter @IanDon. Sign up here for his weekly RI politics and media newsletter.