A group of 15 progressive candidates – most of them running for the state Senate in 2020 – announced Wednesday a new effort that they call a challenge to the political status quo in Rhode Island.
While incumbents hold certain advantages, the insurgents are getting an early start while targeting for removal the second- and third-ranking members of the Senate, the chairs of that chamber's Finance and Judiciary committees, and the chair of the House oversight committee.
The Rhode Island Political Cooperative plans to encourage supporters to back the effort with contributions of $10 a month.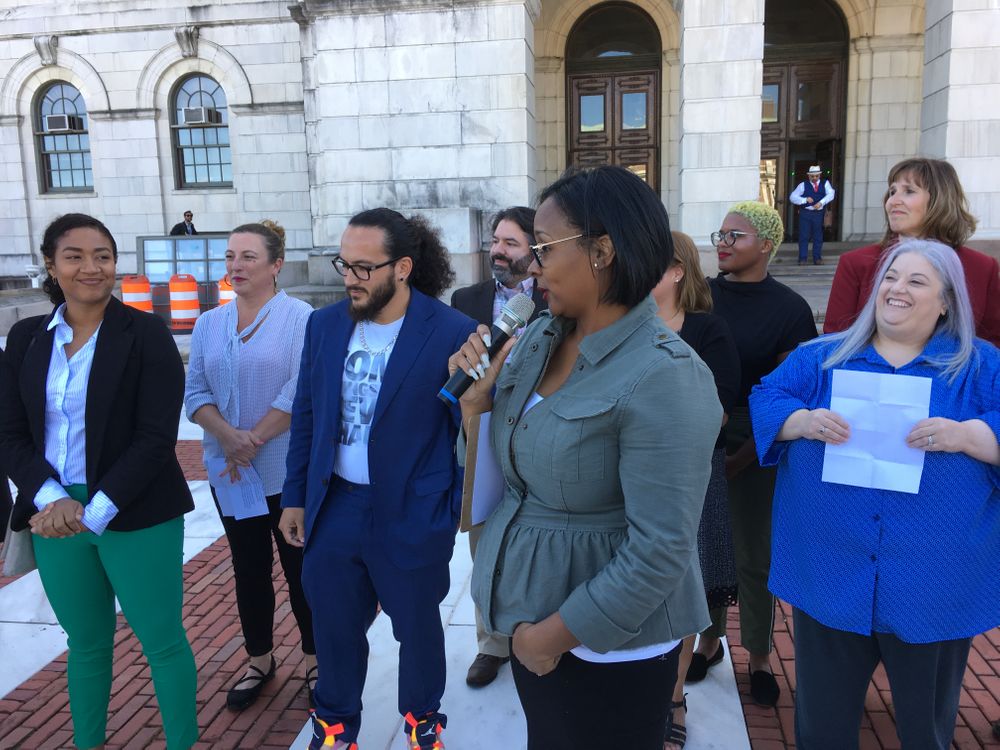 "My hope is that this new initiative makes it possible for people like me who want to serve their communities to have the support they need to run winning campaigns," Jennifer Rourke, who unsuccessfully challenged Senate Majority Leader Michael McCaffrey (D-Warwick) in 2018, said in a statement. "For years, we've had a government that has ignored and silenced the voices of everyday Rhode Islanders and it's time to fight back."
Rourke is co-chairing the effort with former secretary of state Matt Brown, who ran a losing primary fight against Gov. Gina Raimondo last year, and former state Sen. Jeanine Calkin (D-Warwick), who was defeated in a 2018 primary by Sen. Mark McKenney.
The RI Cooperative slate marks the latest skirmish between progressives and establishment Democrats on Smith Hill.
A group of about 20 Democratic state representatives, not all of them progressives, declined to vote for House Speaker Nicholas Mattiello when he won his latest two-year leadership term in January. But they all voted for the state budget in June.
Ten of the 15 initial RI Political Cooperative candidates, all Democrats, are targeting the state Senate, which with 38 members, is the smaller of Rhode Island's two statewide legislative bodies.
The cooperative's platform consists of supporting a $15 an hour minimum wage; "equal pay for equal work"; supporting a Green New Deal and backing 100 percent clean energy by 2030; "affordable housing for all"; "Medicare for all, incluing women's health"; "Equal rights for all, regardless of race, gender or sexual orientation"; "Corporations & the rich paying their fair share of taxes"; "Quality public education for all children & tuition-free public college"; "Money out of politics & ending political corruption"; "Criminal justice reform, including banning for-profit prisons"; and "Common sense gun control."
"The RI Political Cooperative is working to build a grassroots membership movement to make sure our candidates have the support they need to win," Brown said in a statement. "We encourage all Rhode Islanders to join the RI Political Cooperative, support these extraordinary candidates and elect a government that works for all of us at ripoliticalcoop.com."
Asked if the group knows how much it will cost to implement its platform, Brown said. "We're going to put out in the coming months detailed policy proposals."
Members of the Co-op said money can be found in the state budget to fund their platform if the state shifts its priorities.
Brown said he will not run for office in 2020, but is keeping the door open for 2022.
The candidates running as part of the RI Political Cooperative include Calkin, who is staging a rematch against McKenney, Rourke, who is making a second run against McCaffrey, and Kendra Anderson, who is challenging Senate Judiciary Chairwoman Erin Lynch Prata of Warwick
The other Senate candidates are Melanie DuPont, who is making a second run against Sen. Stephen Archambault (D-Smithfield); Cynthia Mendes, who is taking on Senate Finance Chairman William Conley (D-East Providence); Maggie Kain, who is opposing Sen. Sue Sosnowski (D-South Kingstown); Jennifer Douglas, who is challenging Sen. Elaine Morgan (R-Hopkinton); Tiara Mack, who is opposing longtime Sen. Harold Metts (D-Providence); Jonathan Acosta, who is running against Sen. Elizabeth Crowley (D-Central Falls); and Alex Hoffman, who is running for the seat held by Senate Majority Whip Maryellen Goodwin (D-Providence).
The other members of the Cooperative slate are Nicholas Delmenico, who is making a second run for the seat held by House Oversight Chair Patricia Serpa (D-West Warwick), and Michelle McGraw, who is taking on Rep. Dennis Canario (D-Portsmouth). Also running are Monica Huertas, for Ward 10 of the Providence City Council; Zach Colon, for Warwick City Council's Ward 9; and Jessica Vegas, for Ward 5 on the Central Falls City Council.
The Rhode Island Working Families Party, which has helped engineer some progressive victories in the legislature, is not involved in the RI Cooperative effort, RIWFP director Georgia Hollister Isman told The Public's Radio.