To listen to this story, click the orange play button above. Para escuchar o leer esta historia en español, haga clic aquí.
Through the uncertainty of the COVID-19 pandemic, one thing remained constant: the skyrocketing property values on Aquidneck Island.
As people fled crowded cities, Aquidneck Island residents sold their homes at prices that hadn't been seen before. Many who chose not to sell rented their properties at higher rates.
The Hispanic and Latino community has been particularly affected by these soaring prices. Particularly important for the island's hospitality industry — as they make up a large percentage of the cleaners, landscapers and restaurant staff on the island — many in the community find themselves facing eviction notices and wondering whether they can afford to remain on the island or not.
Miguel Lopez has been living in Newport, Rhode Island, for more than 15 years. Originally from Palencia, Guatemala, Lopez moved to the U.S. to give his four sons a better life by working here and sending money back. The Public's Radio is using a different name to protect his identity because he is undocumented.
"I came to this country out of necessity," he said. "It makes me sad to say it, but the truth is I had nothing."
He left his wife and his sons in Guatemala and came to Newport. He stresses that he didn't make the painful decision to leave his wife because he didn't love her, but he felt his only option to make a better life for his children was to give them what he never had: an education.
"I came here to fight for my children," he said. "Thanks to this country I gave them schooling. I gave them what they needed in terms of clothing, everything."
Despite not knowing how to read or write, Lopez made good on his promise. In part thanks to the money he sent back home, Lopez's sons attended school in Guatemala and two of them moved to the U.S. as adults. They both now work in Newport.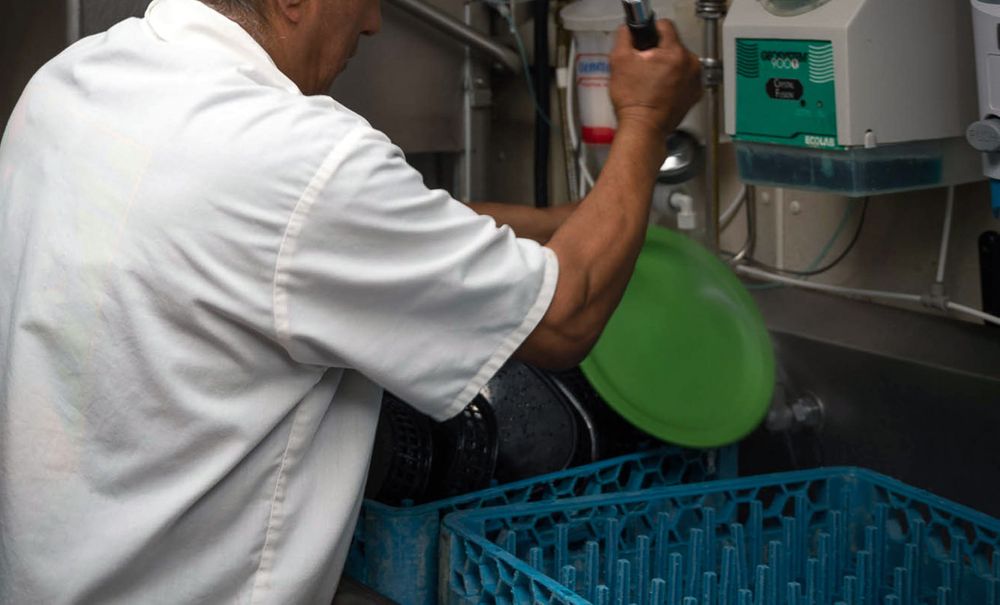 Lopez currently has three jobs. He works at a restaurant, does landscaping and works for a property management company on the island. Though his wife died in Guatemala, he is engaged to a woman who has a 19-year-old daughter he considers to be his step-daughter.
For two years, Lopez, his fiancée and her daughter lived together in Newport. But earlier this year the owner sold the multi-unit home in which the family lived. After receiving an eviction notice, Lopez and his family looked for an apartment to rent, with little success.
"Before, I never had problems finding an apartment," Lopez said. "Now it is very different."
It was different this time because Lopez couldn't find housing priced anywhere near his previous rent: $1,300 plus utilities every month.The apartments he found of a similar size and within biking distance of his work were all over $2,000. So Lopez stayed with his two adult sons and their families, who also work in the Newport hospitality industry.
Lopez' story isn't unique, says Rebekah Gomez, one of the founders of Conexión Latina, an organization in Newport that offers support to the Hispanic and Latino community. Gomez says she has seen a massive increase in the number of families forced out of their apartments due to rising rents and home sales in the area during the pandemic.
"We get calls three or four times a week saying 'I have to leave in a month, I have to leave in two weeks, I have to get out of this apartment,'" Gomez said. "Or 'The house was sold' or 'They are trying to raise my rent by $500 dollars.'"
Many immigrant families that originally settled in Newport because of the demand for workers in the hospitality industry are struggling to find affordable housing within walking or biking distance of work. Many members of this community are under-documented, which makes it even harder to find new housing or buy a car due to credit checks.
"I think the job problems within the hospitality industry are going to get worse," Gomez said, "or at the very least stay the same because people aren't going to be able to live here."
Lopez had no luck finding an affordable apartment for months. Finally, Kerrie Philbin, a manager at a local restaurant, stepped in to help. She found out that Lopez was essentially homeless when she sought out the help of Conexión Latina to translate for a lawyer that was representing Lopezin a legal case. Not long after being evicted from his home, a drunk driver had hit Lopez on his bike and sent him to the emergency room.
"He was just desperate and finally I found a realtor that was really willing to go the extra mile to help." Philbin said.
She found a realtor that was willing to vouch for Lopez's dependability to landlords and help explain to him the need for a bank account and security deposit.
After over seven months of searching and sleeping in the living room of his sons' apartment, Miguel and his family finally found an apartment in Newport. It costs $2,250 a month, not including utilities. While he's not exactly comfortable with that cost, he feels he has no other choice right now.
"With the prices, it's a little hard," Lopez said. "But there is nothing I can do about it because I am not going to go live on the street."
Lopez says that he, his fiancée and his step-daughter will all have to work hard in order to be able to afford their two-bedroom apartment. And he hopes that they will eventually be able to find a place that is more affordable.
"In Providence the situation is better, but I can't go there." Lopez said. "My work is here."
And so is his family. Lopez's wife died many years ago in an accident in Guatemala. The memories are still painful and he hasn't been back since her death. For Lopez, Newport is home.
This story is part of a series on housing and undocumented families on Aquidneck Island.
Pearl Marvell is the Community Producer for Mosaic, The Public's Radio's podcast that explores immigration and identity in Rhode Island and Massachusetts. She can be reached at mosaiccommunity@thepublicsradio.com
Antonia Ayres-Brown contributed to this story. She is the Newport Reporter for The Public's Radio and a Report for America corps member. She can be reached at antonia@thepublicsradio.org