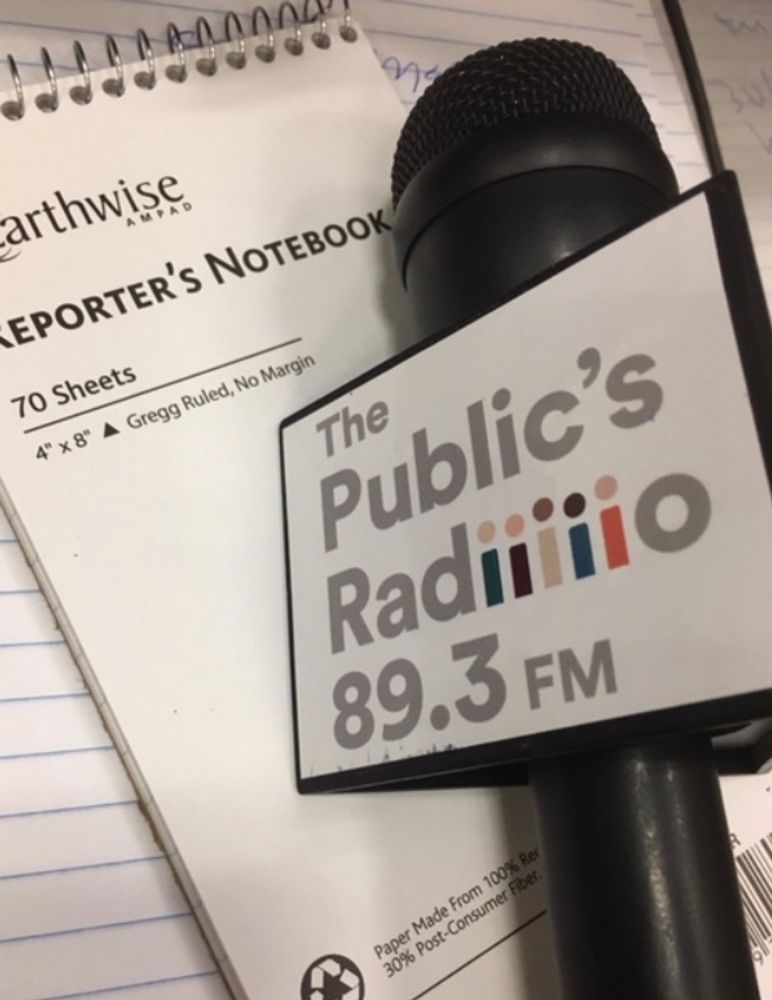 Thanks for stopping by for my weekly column. As always, I welcome your tips and comments, and you can follow me through the week on the twitters. Here we go.
*** want to get my column in your inbox every Friday? Just send an email with the subject line 'TGIF' to idonnis (at) thepublicsradio (dot) org ***
More than 40 of the 73 state representatives present for the supplemental budget debate on Thursday didn't utter a single word during that discussion. Whether that's a good way to approve almost $12 billion in spending depends on your viewpoint (more about that later). In keeping with past practice, those making the arguments fall into four main groups: 1) House Speaker Nicholas Mattiello and members of his team, including but not limited to Majority Leader Joseph Shekarchi, Finance Chair Marvin Abney, and Reps. Arthur Corvese and Grace Diaz; 2) Republican lawmakers, who try to magnify the strength of their 9-member caucus by speaking out; 3) Democratic critics of leadership such as Reps. Teresa Tanzi of South Kingstown and Moira Walsh of Providence; and 4) Rep. Anastasia Williams of Providence, the sui generis persona who chairs House Labor, welcomes the spotlight, infuriated a colleague, unwittingly delayed a widely supported gun-safety measure, and has her own flamboyant speaking style. At any rate, House GOP Leader Blake Filippi said the 48-hour turnaround for the budget from House Finance to the House floor relegated lawmakers to the equivalent of potted plants. But the lack of comment by many reps is a hallmark of budget debates. Why? It probably has a lot to do with the lopsided Democratic super-majority loyal to Mattiello. And how, as a young Theodore Roosevelt realized after serving in the New York State Assembly (per the excellent bio by Doris Kearns Goodwin), most members of legislative bodies are waiting to see which way the wind blows.
2) The even-keeled former GOP leader in the House, Brian Newberry of North Smithfield, said he was flabbergasted by the speed with which lawmakers were being asked to approve the budget, although he acknowledged it might not be able to produce a better spending plan amid the pandemic. A handful of progressive Democratic women echoed Newberry's concern. Speaker Mattiello noted how the budget does not increase state spending, and he said the main difference was the addition of more than $1 billion in COVID-19 response money, mostly for unemployment benefits. In the end, the spending plan passed the House, 60-13, and the Senate, 31-6. The tougher sledding is expected next month, with a deficit of more than $600 million heading into fiscal 2021.
3) Gabe Amo, who grew up in Pawtucket and previously worked for Gov. Gina Raimondo and Mike Bloomberg, among others, has signed on with Joe Biden's Democratic presidential campaign. Via Bloomberg: "Despite the lack of staffers on the ground, the Biden operation has been working with state parties and holding virtual events in battleground states. The campaign is hosting Juneteenth events in eight states on Friday and held dozens more organizing events over the past week. The campaign has also hired Gabe Amo, a former aide to Rhode Island Governor Gina Raimondo and Obama White House staffer."
4) Change is in the air, with growing momentum to eliminate "Providence Plantations" from Rhode Island's official state name and calls to make Juneteenth a holiday. Considering that, it's worth noting how CVS Health, one of the largest private employers in the state, doesn't offer Martin Luther King Jr. Day as a paid holiday. According to CVS Health spokesman Michael J. DeAngelis, "We currently observe Columbus Day and Victory Day in Rhode Island as floating paid holidays. We are in the process of evaluating our paid holiday calendar for 2021. As we did for Martin Luther King Jr. Day and Black History Month in January and February, respectively, we are commemorating Juneteenth this week with a number of employee celebrations, informational/educational events and content on our internal websites."
5) Progressive critics of Speaker Mattiello haven't forgotten how he questioned the existence of white privilege in a 2015 interview with the ProJo. Now, on WPRO (via Steve Ahlquist) Mattiello questioned whether slavery existed in RI and he was unfamiliar with Juneteenth. While this offers more ammunition to the speaker's critics, including Rep. Ray Hull and the RI Democratic Women's Caucus, it's less clear how it will play in Mattiello's Cranston district, which favored President Trump in 2016. Republican Barbara Ann Fenton-Fung, who is running for Mattiello's rep seat, offered this comment via tweet: "I understand people want me to jump all over @RISpeaker for not realizing there was slavery in RI. Let's be better than politics as usual. May I suggest he listen to Keith Stokes & stories from #GodsLittleAcre as told on @ThePublicsRadio." In an email before the WPRO interview, Mattiello spokesman Larry Berman noted how the speaker is supporting Rep. Williams' bill to revise the Law Enforcement Officers' Bill of Rights. Berman cited a TGIF column from 2015 in which I described how it was Mattiello, not the biracial Gordon Fox, "who backed the long-sought racial profiling law and a ban on consent searches of juveniles." Berman also cited the speaker's support for such progressive priorities as eliminating the "tampon tax," passing last year's abortion-rights law, and a law to disarm meant to take guns away from perpetrators of domestic abuse.
5B) Late Friday afternoon, Mattiello's office issued this statement: "Speaker Mattiello is certainly aware of Rhode Island's shameful involvement in the slave trade. He supports placing on the ballot this November the removal of the word 'plantations' from the state's name so that all Rhode Islanders can make their opinions known. As this discussion is evolving, the Speaker is asking Rhode Islanders to join him in learning more about this sad chapter in our state's history. We began the journey in the House last night by passing a resolution calling for all public schools to incorporate African-American history as part of the curriculum."
6) On the law enforcement front: the RI Senate has approved a task force to review the Law Enforcement Officers' Bill of Rights, on a bill from Sen. Harold Metts (D-Providence) with recommendations due next February. The RI House is expected to pass next month Rep. Anastasia Williams' bill revising LEOBOR. And Attorney General Peter Neronha has taken several steps, including the introduction of a new protocol extending the involvement of his office in cases alleging simple assault against police. "Sometimes it is a simple assault," Neronha told me in an interview. "And if we make them here, at the assault level, we may be able to head off a pattern of conduct that could result in something much more serious later. It's serious enough when it's a simple assault, it's obviously much more serious when a death results as happened in Minneapolis. So the sooner we get on top of those cases here and address that behavior, the better off we'll all be - communities and police departments."
7) The burning of the HMS Gaspee – commemorated through the annual celebration of Gaspee Days – is subject to different interpretations. Public historian Joey Quits used a recent ProJo op-ed to call it a reactionary action inspired by slave-owning interests. State Historian Laureate Patrick Conley fired back, accusing Quits of getting it wrong. Less well known is how Secretary of State Nellie Gorbea quietly reappointed Conley, who has an appetite for tax sales, to his unpaid honorary post (which was created by Gorbea's predecessor, Ralph Mollis, in 2012, complete with a news release.) According to Gorbea spokesman Nick Domings, "Secretary Gorbea met with Dr. Conley in February, at which time Dr. Conley expressed his desire to continue in the role of Historian Laureate of Rhode Island. Secretary Gorbea reappointed Dr. Conley as a well-known Rhode Island historian who has published dozens of books and scholarly articles on our state's history. Our office did not send out a release on Dr. Conley's reappointment." Although the laureate position came with a five-year appointment, the relevant law "does not specify what happens at the end of that term …." Domings said. "Reappointment was not discussed until Dr. Conley raised the issue."
8) General Assembly candidates are continuing to come into view, Democrat Paul Roselli, who lost a 2018 primary in northern RI, is running for the seat held by Sen. Jessica de la Cruz (R-North Smithfield). Meanwhile, a run by Tiverton Town Councilor John G. Edwards V, for the seat being vacated by Rep. Dennis Canario (D-Portsmouth), poses the possibility of a father-and-son tandem at the Statehouse, in the same chamber. (Edwards is the son of House Majority Whip "Jay" Edwards. Also running for the seat is Michelle McGaw of the Democratic Political Cooperative, who announced last year.) Elaine and Tom Coderre offer a fairly recent example of a mother and son combination overlapping in different chambers of the legislature (h/t Ray Sullivan). As far as a father and son, historian Steve Frias cites the Bevilacquas, Joseph (a former House speaker) and John (a former senator), who were both elected in 1974. TGIF has yet to establish if a parent-child combo has ever served at the same time in the same chamber.
9) How was Providence able to avoid ugly clashes between police and protestors seen in so many other cities? Check out my colleague Sofia Rudin's story on the aftermath of the demonstration that attracted thousands to the Statehouse earlier this month. As she reports, dialogue and not trapping people in a corner can go a long way in avoiding physical confrontations. (Thanks to MotifRI for letting us publish some of their excellent photos from the demonstration.)
10) The clash on how many signatures are required to get on the ballot for state rep/state senator is headed to U.S. District Court via a lawsuit by the RI ACLU. In the House on Wednesday, Rep. Teresa Tanzi (D-South Kingstown) said maintaining the current requirements (100 for the Senate and 50 for the House) poses a public health risk and disadvantages challengers taking on better-known incumbents. Rep. Brian Newberry (R-North Smithfield) defended the current approach, saying that people running for office should have the wherewithal to get the signatures. The plaintiffs in the RI ACLU lawsuit are Sen. Gayle Goldin (D-Providence) and four candidates running as part of the RI Political Cooperative, Jonathon Acosta, Jeanine Calkin, Tiara Mack, and Jennifer Rourke.
11) Gov. Gina Raimondo said earlier this week that Rhode Island will be forever changed by COVID-19, with a heightened emphasis on such things as tele-health and using virtual work to reduce the expense of maintaining an office. She said the key is trying to make the future better than the past. That sounds good, but restoring the jobs and economic activity wiped out by the pandemic will probably take years. We'll keep an eye out for worthwhile attempts at innovation. So far, DEM has flagged a new online approach for beach passes and some state permits.
12) Some good work from my peers at other news organizations: Eli Sherman reports on the eviction crisis …. Ed Fitzpatrick on reminders of slavery in Rhode Island …. Steve Ahlquist on Providence Councilor Nirva LaFortune's complaint that Councilor John Igliozzi is running with her issue …. and Dan McGowan's look at how the Law Enforcement Officers' Bill of Rights can protect good cops.
13) Via Scott MacKay: "If voting doesn't matter, why do some politicians work so hard to suppress the votes of the poor and left behind? Republicans, from President Trump on down, say that reforms such as increased mail-in ballots will result in fraud. Democrats are more worried about suppression. It's as if both parties are more concerned about winning than whether the voting system runs well. There is scant evidence that mail voting is fraught with fraud. Politicians who rail against dishonest mail elections can't point to any credible cases. In Rhode Island, it's a felony to commit voter impersonation or mail ballot chicanery."
14) Is our current national moment a good time to boost national service in the U.S.? U.S. Sen. Jack Reed has joined with this bipartisan effort (via news release): "The CORPS Act would double the number of AmeriCorps positions available this year to 150,000 and provide a total of 600,000 service opportunities nationwide over the next three years to unemployed youth and others looking to assist their communities. These positions could support a variety of response and recovery efforts based on community needs, including expanding food pantry capacity, mentoring and tutoring at-risk students, bridging health inequities by expanding access to COVID-19 screening and testing, and more. In addition to helping the community and developing new skills, the CORPS Act would provide young people with a living stipend and post-service education scholarship opportunities."
15) Do misleading political ads belong on social media (and if they don't will anything really change)?
16) Congrats to Dante Bellini on his documentary on Ken Burns. Nice write-up via the ProJo's Mark Patinkin.
17) Writing letters is a lost art in the internet age. Now, friend of TGIF Jessica David is looking to do something about that with Dear Rhode Island, a collaboration with the What Cheer Writers Club. Here's a brief explanation from Jessica: "What?: Dear Rhode Island is a community-led project to build connection across Rhode Island using the power of letters. Why?: At a time when many of us are physically distanced and we're missing our usual in-person gatherings, it's still possible to reach out, engage, and exchange. Mail may seem old-fashioned, but is there anything better than spotting a handwritten envelope in your mailbox?" Well said!