Governor Gina M. Raimondo has ordered a series of new restrictions from Nov. 30 to Dec. 13 to try to curb the surge in the coronavirus and keep hospitals from being overwhelmed. The new restrictions include limiting, but not shutting down, indoor dining. But does the two-week "pause" go far enough?
The Public's Radio posed that question to an epidemiologist, an emergency medicine physician, a former health director and the medical director of the new field hospital in Cranston.

William C. Goedel, epidemiologist, Brown University School of Public Health
When Raimondo announced plans last Thursday to cut capacity limits for indoor dining at restaurants, she cited a study from Brown University's School of Public Health. The study found a "very close correlation between increased travel to restaurants,'' Raimondo said, "and increased spread of COVID."
William C. Goedel, an epidemiologist who led the research team for the study Raimondo referenced, has been analyzing data of anonymized traces from about 50,000 smartphones around the country. The study traces how often people visit different places -- including pharmacies, shopping malls, restaurants and bars -- to track how the virus spreads.
"Bars and restaurants were the only venue that we consistently found were correlated with COVID rates in October,'' Goedel said. "It's about a 55% increase in COVID rates."
"I recommended a temporary closure of bars and restaurants,'' Goedel said, "while providing economic supports for bar and restaurant workers while they're closed."
So Goedel said was surprised when Raimondo announced that she was limiting -- but not closing -- indoor dining at restaurants. (The new restrictions limit restaurants to 33% capacity and seating patrons one household per table. Restaurants can only serve liquor to diners at their tables.)
"I felt like we need to go further,'' Goedel said. "I thought that bringing indoor dining capacity down to 33% still isn't enough.
****
Dr. Michael Fine, Rhode Island's former health director
Dr. Michael Fine said it was "a bit of a surprise" that Raimondo did not go farther in shutting down businesses to curb the virus' spread. "The consensus of public health people around the country is that when you get to this level of transmission,'' he said, "shutting down restaurants is an important tool in reducing that transmission."
Allowing restaurants to remain open, Fine said, is not the only risk. "Factories are a place where there's major spread,'' he said. And unlike office workers, factory workers usually cannot work from home.
"The number I've seen cited is that only 10% of people of color can work from home,'' Fine said. "So, essentially we are saying to people of color, that they're going to continue to be exposed'' to the virus.
Delaying the new restrictions until after Thanksgiving, Fine said, also is a bad idea. "I expect that by November 30, we will be looking at 2,000 to 2,500 cases a day'' in Rhode Island, he said, "and it will be very, very, very difficult, if not impossible, to control the disease at that point.''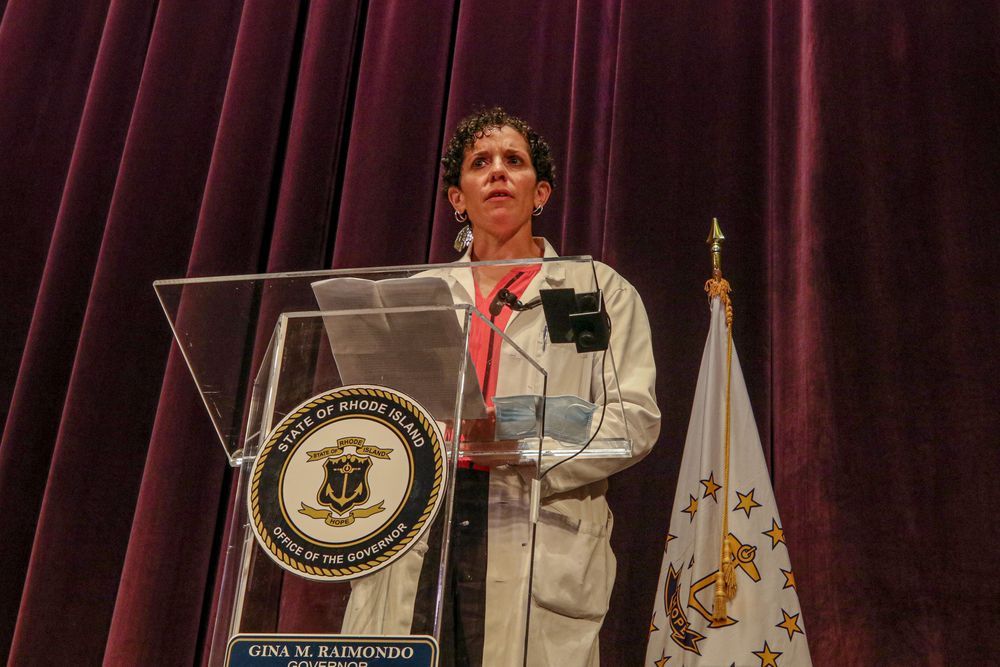 Dr. Laura V. Forman, chief of emergency medicine at Kent Hospital, in Warwick
As medical director of a new 353-bed field hospital in Cranston, Dr. Laura V. Forman will be on the front lines when hospitals become overwhelmed by coronavirus cases. But she understands Raimondo's decision not to shut down more businesses.
"Keeping people out of one another's homes is the quickest and easiest way to stop this virus,'' Forman said, "as opposed to indoor dining, which obviously if you shut that down completely has huge economic ramifications for people.''
The governor, she said, is trying to balance competing interests of the economy and public health. "I think she's done a really incredible job,'' Forman said, "of looking through the data and trying to make the best decision for the state from a very wide perspective."
As for Raimondo's decision to wait until after Thanksgiving to impose the new restrictions, Forman said, "I'm glad that she's moving forward with this, but I think it's reasonable to wait a few more days."
***
Dr. Megan L. Ranney, an emergency physician at Rhode Island Hospital and a Brown University research scientist
Dr. Megan L. Ranney said she agrees with the governor's approach. "Strategic closures absolutely make sense from a public health perspective and are the right thing to do,'' Ranney said. "But I do not envy the governor's position right now where she's also looking at trying to save our community's economic stability."
Ranney also said she thought it was reasonable to wait to impose the new restrictions until after Thanksgiving weekend.
"I don't think that we are too late,'' Ranney said. "We've seen in France that strategic closures, like the ones that the governor just put in place have resulted in a 32% decrease in new infections over the last two weeks. France has bent the curve by doing exactly the types of closures that the governor just put in place."
Ranney said she hopes Raimondo's strategic closures will be enough to curb the spread of the virus in Rhode Island. "And I hope that all of us will make the right decisions..."
Rhode Island last week reported more than 6,300 new cases of COVID-19, an increase of almost 75% in two weeks.
Health Reporter Lynn Arditi can be reached at larditi@thepublicsradio.org