Clara: Did you know that Mommy's gonna adopt me?
Sofia: I did! But tell me more. What's gonna happen when you're adopted?
Clara: Um, Toni's gonna to move into my room
Ally: Hah. We're considering some room moves. Why don't we sit at the table, okay?
It's June. Ally, Matt, and the kids are sitting down to dinner at their home in western Rhode Island. They've got a heap of zucchini from their garden stacked on the kitchen counter, and eggs from their chickens in the fridge.
The family's about two months away from adopting James and Clara.
Ally: Everybody's like aren't you happy you have a date? And it's like yes, but. I'm not in control of who does the paperwork. Like, I haven't planned any parties. I'm hoping it happens then, but I don't know.
Ally's speaking from experience. She and Matt started looking into adoption after their first son, Evan, was born. They've already fostered and adopted two kids: Toni and Serenity.
Clara and James have been with the family for more than three years now. That's years of doctors appointments and birthdays. It's James' first steps and getting Clara ready for her first day of preschool.
For a lot this stuff, it doesn't matter if they're legal parents to the kids. But other things they'd like to do for the kids are still on hold. Especially for James, who has a genetic disorder known as Williams Syndrome.
Ally: There are these saving plans you can do for people with special needs that don't affect their other government benefits. We couldn't open of those until we adopt him. So I feel like we're already three years behind on that, you know. Cus I mean there's a good chance that he may never leave us, which is cool. We were talking about things we could do, right Toni? If you wanted to stay forever, too. We could have an ice cream truck!
They've been pre-adoptive for almost two years at this point. The process has taken about twice as long as it did with Toni and Serenity. And it can feel frustratingly opaque. DCYF doesn't want to promise that an adoption will go through until everything is finalized. That means the family is sometimes in the dark.
Ally: Anytime a foster kid comes to your house, you're told over and over and over again reunification is always the goal, reunification is always the goal.
Ally's talking about DCYF's goal of returning kids in foster care to their birth family, if that family's able to provide a safe home.
Ally: And I understand that. And I would hope that all kids would be able to go back. But at some point, you know, a decision needs to be made. Like, how long does the kid need to wait in limbo, you know? And how long does the family have to wait in limbo? Because it's scary. It's hard enough having a kid with... having kids at all. But then, you know, knowing that they may not stay with you. Obviously you go into foster care with that understanding. But, yeah, it's still hard.
But Ally knows they're through the hardest part. She and Matt and the birth parents agreed to an open adoption. Clara and James will still see their birth parents six times a year, and Ally's happy about that.
Ally: They're gonna be able to know who their birth family is and not have to wonder who they are and make up stories in their head about them. And if they have questions they can ask them. But still you never know what the kids are thinking.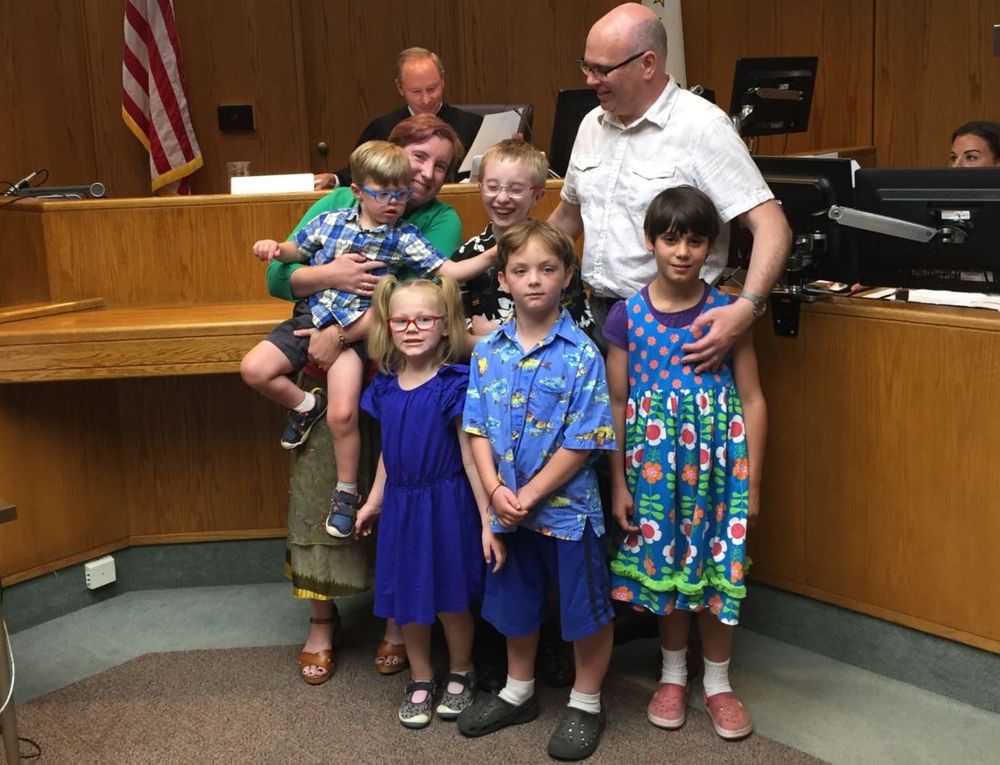 Their adoption moved forward as planned. Two months later, I meet up with Ally, Matt, and the kids again. This time at Family Court. We're here for their adoption hearing.
Ally and Matt sit at one table, with Clara and James on their laps, as their lawyer talks them through the adoption petition.
Lawyer Sue Finke: I am showing you, finally, two petitions. They're the adoption petitions for Clara and James, is that right?
Matt: That's correct.
Lawyers from DCYF sit at the opposite table. And the other kids -- Evan, Toni, and Serenity -- sit with their grandparents in the rows behind.
Sue: And do you consider both children to be an integral part of your family at this time?
Matt: Yes, we do.
Just eight minutes later, it's all over.
Judge Capineri: It is hereby ordered and decreed that from this day hereof, for all legal intents and purposes, these two children shall be the children of Allyson and Matthew. And the petitions may be closed. Open adoption agreement is approved.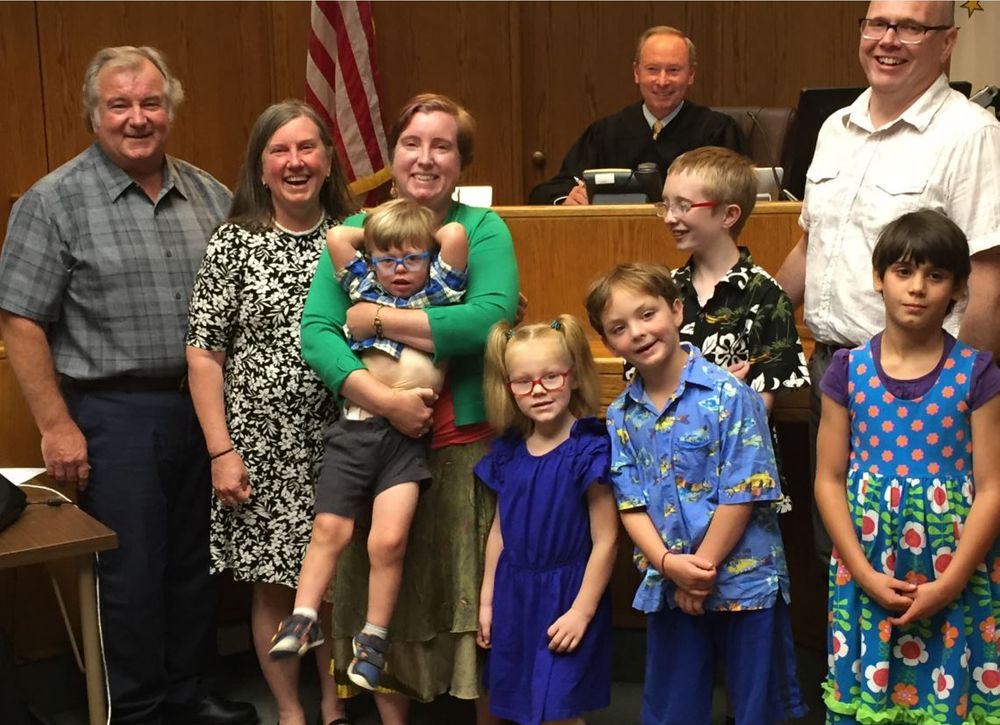 The first part of this family's story focused on how they're working to get James the medical and educational support he needs. You can listen to it here. Next week in our series, Living In Limbo, we'll look at what happens when kids stay in foster care until they grow up and age out.