Ally: Can you say hello? Hello.
James: Hello.
Ally's talking to her foster son, James. He's 3, and he has a genetic disorder called Williams Syndrome. For James, learning to speak is difficult.
Ally: All his words he's gotten through music. Should we sing? A, b, c...
On this summer night, Ally's husband Matt is in the kitchen, washing the dishes after dinner. I met Ally while working on a different story, unrelated to foster care. This summer, she reached out to me again. Ally told me she thought people needed to hear more about what it's like to be a foster family.
Ally: Y and--
James: Zee! Zee!
A: Zee! Now you know!
J: I know!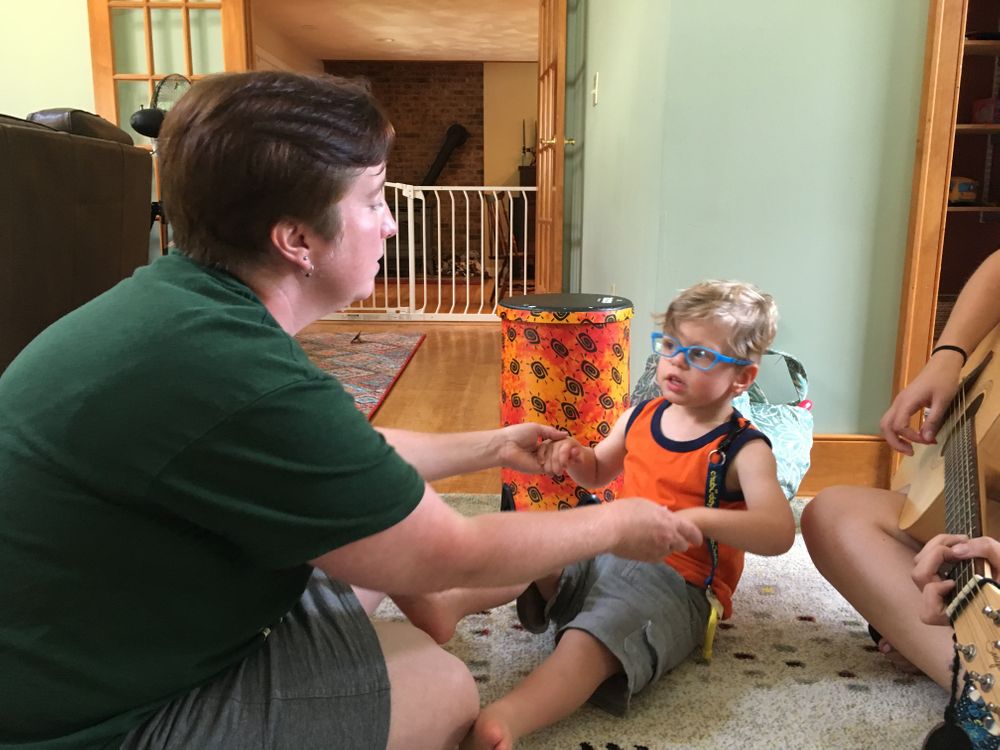 Ally and Matt have been foster parents for almost eight years. When they had their first kid, Evan, in 2008, Ally was told another pregnancy could be risky, so they started looking into adoption. They checked out some private adoption agencies, and eventually decided to go through the foster care system. By Christmas of 2011, they had finished the training and were ready to accept their first foster child.
Ally: Like the ink was barely dry on our foster care license when we got a call about a newborn. It must have been either New Years Day or the day after. Toni had been born, and then he came to us, I want to say 3 days after he was born, so straight from the hospital. That was insane. Having the stork drop off a baby, and you're like, "Oh my God."
Ally and Matt adopted Toni less than a year and a half later, and their family started to grow. They fostered a second child, Serenity, and adopted her too. About 4 years ago, they started fostering Clara. And when Clara's birth parents had another child, James, Ally and Matt brought him home from the hospital.
At this point, they were experienced foster parents. But James would bring new challenges for the family. The first hints of the scope of his medical problems came at a routine checkup.
Ally: His pediatrician heard his heart murmur and then she said, "Well you need to take him to cardiology just to see what it is. Could be nothing but it could be something."
James was diagnosed with Williams Syndrome, a genetic disorder with symptoms that can include intellectual disabilities and heart problems.
Ally: And every time he went to the doctor we would have like three more specialists to go to. It was like this never-ending weird branching off.
This would be hard for any parent. Ally eventually quit her job when juggling work and James' care became impossible. And as foster parents, there were extra hurdles. Procedures like genetic testing had to wait for James' birth parents to sign off. And some doctors offices didn't know how to deal with a foster family.
It all came to a head when James was about 18 months old, and the doctors decided he needed surgery. Ally had been going back and forth with the insurance company to get an out-of-network procedure approved. On the morning of the operation, the medical team called James' birth dad to get final consent.
Ally: The way the anesthesia team works is that they do that like the morning of the surgery which for most people is fine because you're standing right there with your kid on the gurney saying, "Yes, please. I understand the risks. He needs to have the surgery." Well they have to call him and it took like 45 minutes to get him on the phone. Meanwhile James is lying on the bed with a premed in him already all groggy, ready to go, you know. And all the doctors are looking at me like, "Can't you sign off on this?" And I'm like, "No, I can't."
This wasn't the only surgery James would need. Ally's looked to Facebook groups for foster parents, and parents of kids with Williams Syndrome, for support and advice. Doctors visits and hospital stays will continue to be a big part of their life. For now, he's stable. And their focus is on getting him the support he needs to learn.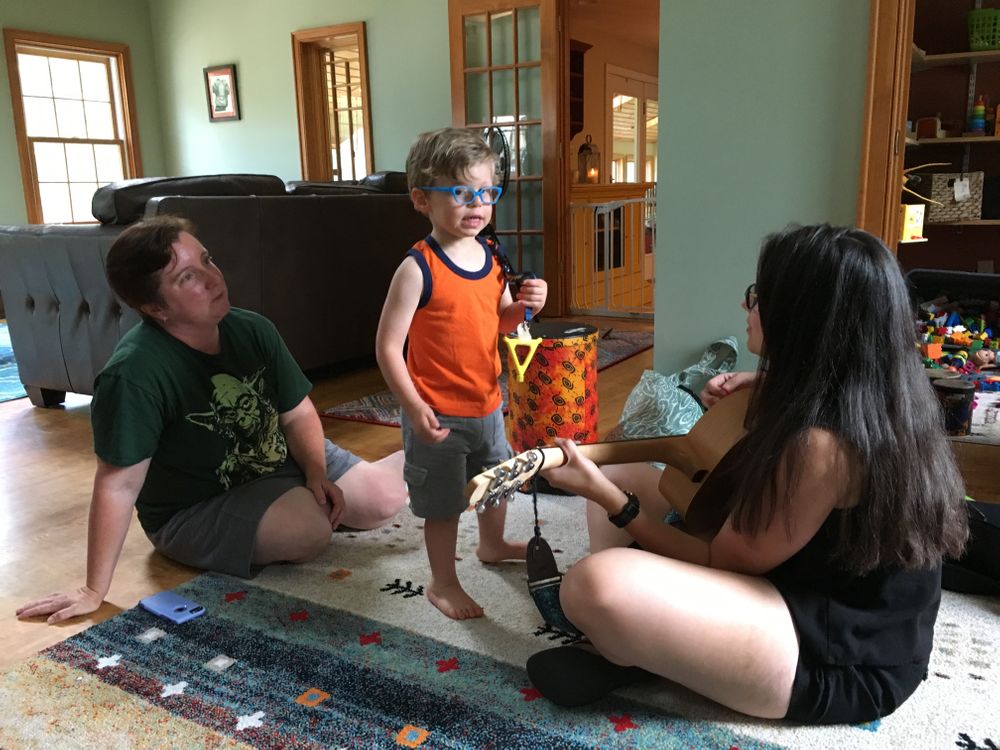 Joanna, James's neurologic music therapist: James you gonna play? [singing] Twinkle, twinkle little star...
James gets physical therapy, occupational therapy, and speech therapy at preschool. But the school isn't including music therapy in his Individualized Education Program (IEP).
For now, Ally and Matt are paying for music therapy themselves.
Ally: I mean it's clinically proven to help kids with Williams Syndrome. It's not like it's a fru-fru thing to do on the side because it's fun, it's something that really helps their brains develop, so.
Joanna: When I first started working with him, it was like a lot of back and forth. He wouldn't move on to the next word until he heard it back. But with that one, "Twinkle Twinkle", that's the first time I've heard him do multiple words at once.
At this point, James and his big sister Clara are in the process of being adopted. Once that happens, Ally and Matt would be able to hire a lawyer to press the school to provide music therapy. That's one of many reasons they're anxious for the adoption to go through.
Joanna: James you almost ready to sing bye-bye? [singing] So long, farewell, to you my friend….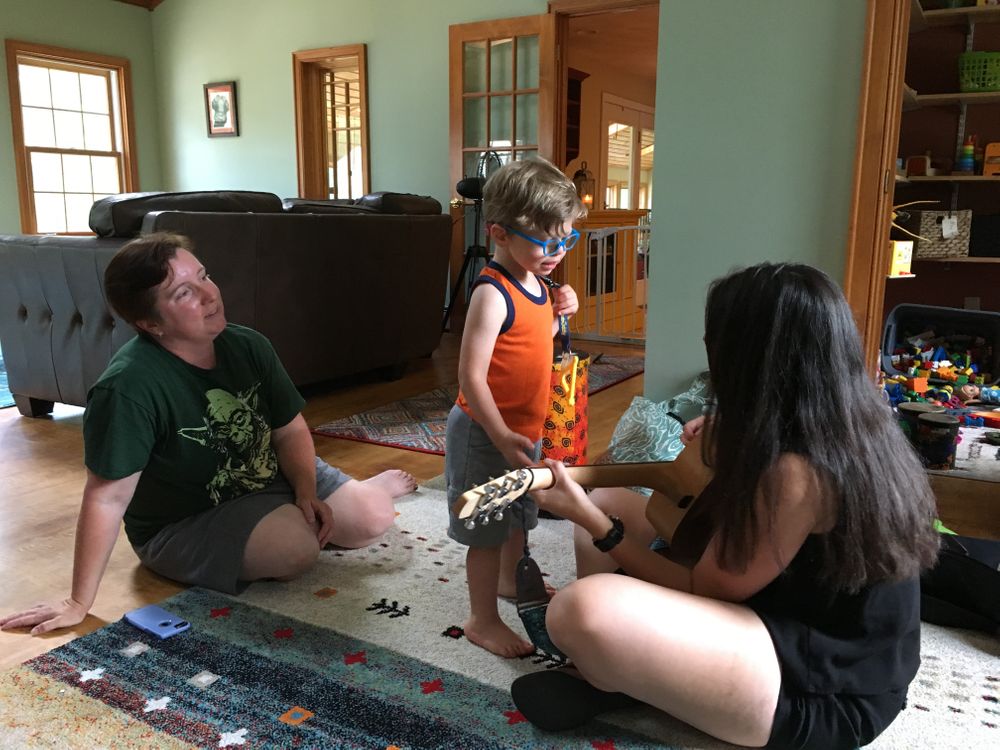 We continue their family's story, as they prepare for adoption.