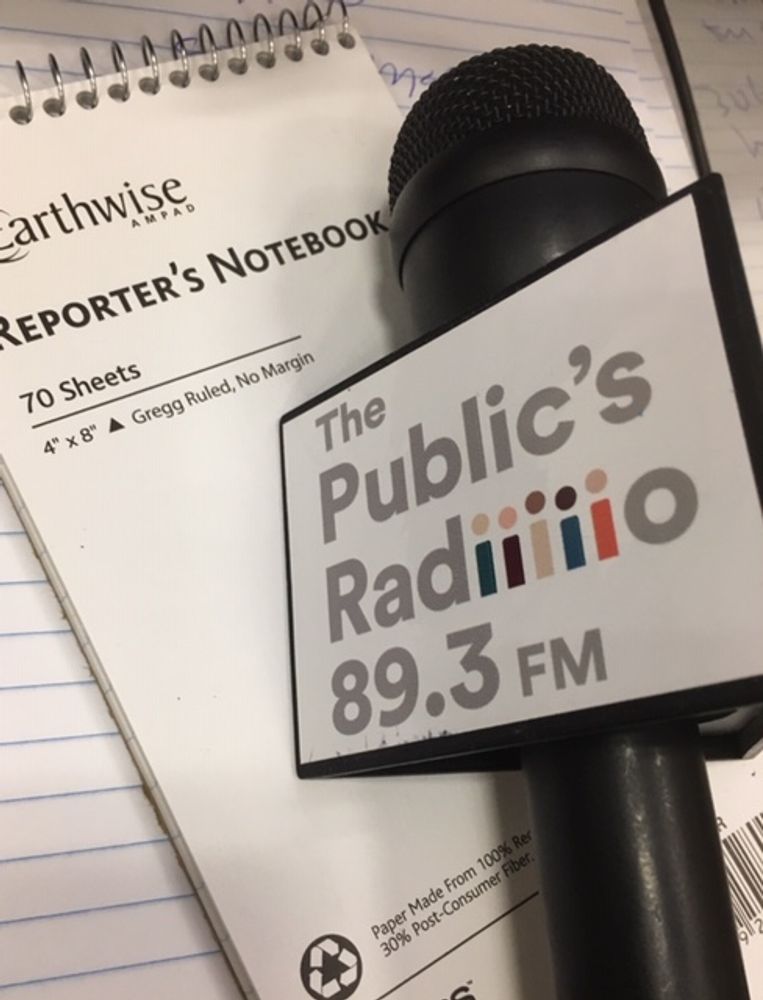 Thanks for stopping by for my weekly column. As always, I welcome your tips and comments, and you can follow me through the week on the twitters. Here we go.
*** want to get my column in your inbox every Friday? Just send an email with the subject line 'TGIF' to idonnis (at) thepublicsradio (dot) org ***
1) The longer it goes, the tougher it gets. While Rhode Islanders have largely complied with stay at home orders, Gov. Gina Raimondo this week delivered what she acknowledged was a bitter pill: parades, festivals and concerts with thousands of people – the kind of staples that signify summer in the state – won't be permitted this year because, she said, the risk of spreading COVID-19 is too great. Wedding attendance will be capped at 50 people for June and July, although that number may be expanded to 100 for August. A wet and cool spring has made the idea of staying inside somewhat easier. But the willingness of Americans to remain socially distanced will be sorely tested in the months ahead. Raimondo is poised to begin a phased reopening of Rhode Island's economy on May 9. Where the state goes from there will depend on whether infections dramatically escalate or stay relatively flat as more people come into contact with each other.
2) The depth of Rhode Island's budget deficits for the current and next fiscal years will come in to sharper focus next Friday, May 8, with the conclusion of the twice-yearly Revenue and Estimating Conference. The House Finance Committee is expected to begin meeting in mid-May, although the full legislature has not shown signs of being ready to return to the Statehouse. Exactly how the budget process will unfold is a bit unclear, since the governor's fiscal proposal from January is a keepsake from a different time. House spokesman Larry Berman said talks are ongoing with the administration about revisions. The state was already facing a $200 million deficit before the pandemic, and a Boston Federal Reserve study cited by RIPEC estimates current-year state revenue has been cut by at least $400 million. Whether federal aid will help to improve things remains an open question. All indications suggest a brutal budget year, with likely furloughs and the wiping out of key priorities of state leaders, and perhaps some changes around the margins of the safety net.
3) While Americans' impatience is on the rise, overcoming the novel coronavirus will likely take a long time, in large part since developing a vaccine or therapy is expected to take more than a year (unless it doesn't). ProPublica talked with experts from Italy, Germany, Spain, Singapore and other countries about what it will take to reopen America. Here's an excerpt from a worth-reading thread: "Don't try to go back to 'normal.' Our goal isn't to get back to a pre-pandemic way of life, but instead to employ whatever tools it takes to keep transmission as low as possible while restarting your economy …. Watch out for the 2nd wave. The initial success stories in fighting COVID-19 — Singapore, Hong Kong, South Korea — all saw a rise in cases in March. Even after getting new cases down, you have to maintain constant vigilance to keep the rate low. What will this take? For starters, a national system tracking flu-like symptoms. Epidemiologists call it 'sentinel surveillance.' It's the kind of system we should have had in the first place…"
4) With the death toll from COVID-19 surpassing the number of Americans killed during the Vietnam war, the issue of government credibility remains front and center. This week, the RI Health Department revised upward its number of hospitalizations, raising the question of whether this was part of a bad week for the state's data or more of a matter of adjusting to an ongoing crisis.
5) As Gannett makes a nationwide series of cuts, two longtime stalwarts of The Providence Journal are among those heading out the door: ace basketball writer Kevin McNamara and editorial page editor Ed Achorn. Both of these men are name brands in Rhode Island -- they've given readers reason to buy and read the ProJo -- so cutting their jobs makes no sense other than as a brutal way to reduce spending. McNamara offered this message via Twitter: "Some personal news: After 30+ years this is my last week @ProJo. Thank you to my bosses/comrades, plus all the coaches and athletes who've made the job (mostly) a dream come true. Welcome opportunity to explore different challenges, some sporting, some not. Stay safe & healthy." In a sign of the goodwill for McNamara, his tweet attracted 1,500 likes, along with tributes from the likes of Ed Cooley and Rick Pitino. Achorn did not respond to requests for comment. He came to the Journal as deputy editorial page editor a bit more than 20 years ago, around the time when Buddy Cianci staged a news conference to announce how a quantity of cocaine lost in police custody had been miraculously recovered. While many Rhode Islanders were amused by the story, Achorn characterized this response as part of a learned helplessness that held back the state. Wielding his weekly column on the opinion page, he inspired cheers and some jeers, with biting observations, like when he compared Rep. John DeSimone's leadership challenge to then-Speaker William Murphy to the Iran-Iraq war. Achorn became a Pulitzer finalist for commentary, wrote well-reviewed books (including his latest, on Lincoln) and moved up to editorial page editor, even as the jobs of other writing members of the editorial board were wiped out over time. Unless he's replaced, the ProJo will need to dramatically change its editorial page, potentially depriving the state of a longstanding voice on public affairs. Gannett officials have not responded to requests for comment. (Update: in a note on the Sunday editorial page, Achorn wrote a goodbye note to ProJo readers, saying in part, Expressing ideas is often a difficult task, subjecting one to personal attacks or worse. But I can never forget the extraordinary kindnesses I received. I feel wonderfully blessed to have won the friendship and support of readers as well as leaders in business, government, and religion here, and to have edited the work of superb journalists and writers, including our intrepid corps of letter writers.") The latest cuts also include the beloved Janet Butler, who worked behind the scenes at the ProJo for 50 years and was planning to retire later this year. And there have been layoffs at Gannett-owned papers in Fall River and New Bedford, further diminishing the resources devoted to local news in southern New England.
6) A bit of homespun wisdom holds that how we respond to things is generally more important than what happens to us. So while COVID-19 will be with us for a long while, consideration is turning to next steps. Asked how RI can help turn the crisis into an opportunity, Commerce Secretary Stefan Pryor tells me he favors doubling down on digital commerce, along with fields like design, bio-science and the composite material sector focused in Bristol: "It's going to become increasingly important that we innovate in the development of composite materials and other materials that are virus-resistant, that we produce materials that are translucent and enable there to be barriers between people and tables and functions." On a related note, Bryant University and the RI Foundation are staging a virtual discussion series on what pandemic economics mean for Rhode Island. The first is set for 10 a.m. May 11, with Gov. Raimondo, Bryant President Ron Machtley, his incoming successor, Ross Gittell, and RIF President/CEO Neil Steinberg.
7) As Rhode Island eventually tries to claw its way back from the economic devastation of the pandemic, the Rhode Island Convention Center is arguably the premier physical embodiment of the quandary. A few months back, the center was at the apex of political intrigue. Now, conventions can't be booked there for the foreseeable future, depriving the economy of business, since the massive structure has been pressed into service as a field hospital. And although hospitalizations are running far below the modeling cited a few weeks back by Gov. Raimondo, she told reporters this week that refrigerator trucks remain on standby outside because of the potential of a future surge in cases (and deaths).
8) Under normal circumstances, Rhode Island would be abuzz with the story of a pending state Supreme Court vacancy, the interest of a well-liked state senator, Judiciary Chairwoman Erin Lynch Prata, from Warwick, and the race to succeed her. But this is not a normal time, so this story has mostly been a topic for hardcore political devotees. In related news, Gov. Raimondo said this week she will not commit to picking a person of color for the vacancy created by Justice Gilbert Indeglia's retirement this summer (SCORI has never had a person of color on the bench), although she said she has a good record in promoting diversity among the judiciary.
9) From Sam Howard's take, "This is not an authoritarian," on the back and forth over the 'angel of hope' created by RISD alum Shepard Fairey, which has been pilloried by conservatives as an image better associated with communism and fascism: "[Raimondo's] track record of privatization, of being a venture capitalist, of cutting state support, is not one that would endear her to communists. As for fascism, that's even more laughable. Raimondo possesses none of the common traits of fascism."
10) While emergency food pantries have been a staple of the American scene for years, you might be surprised to learn it wasn't always this way. The roots of the pantry movement go back to a bruising recession in the early 1990s, when some of them popped up in response. The economy got better, but the need for food for the needy only increased, due to a series of changes. And now due to how the pandemic has left a lot of supermarkets resembling something we might associate with the former Soviet Union, a lot of Americans have heightened appreciation for the food chain, food suppliers, farmers and grocery employees. Meanwhile, the UN is warning of a famine of massive proportions.
11) Is the layoff of as many as 50 workers in Warwick the harbinger of a wave of municipal meltdowns caused by the pandemic?
12) While the General Assembly has been mostly on hiatus, the intrigue never stops. Tim White and Ted Nesi reported this week on how the Joint Committee on Legislative Services, the hiring and spending arm of the legislature, violated public records law when it failed to disclose it did not possess a document related to the Convention Center controversy. A House employee was fired after being charged in a drug case. And House GOP Minority Leader Blake Filippi and supporters of House Speaker Nicholas Mattiello lobbed rhetorical bombs at each other after Filippi was denied ex officio status on the joint task force examining emergency COVID-19 spending.
13) The RI Ethics Commission this week dismissed a GOP complaint against the governor. GOP Chairwoman Sue Cienki calls the decision inexplicable.
14) Will college resume classes this fall? Bryant says, yes. Meanwhile, Brown University President Christina Paxson talks with NPR about her belief that reopening universities should be a national priority.
15) Voting by mail: a sensible response to the pandemic? Secretary of State Nellie Gorbea says, yes. Cienki has concerns.
17) Got word this week that my baseball league might start in July, or August, or never (kidding). Anyway, here's a fun read from Will Leitch (and it involves Yaz!): "The harmless practical joke that changed baseball"