Rhode Island House Majority Leader K. Joseph Shekarchi of Warwick has secured the support to become the next speaker, after 56 of his colleagues voted for him during a open caucus Wednesday evening.
A number of representatives, particularly women, expressed relief and enthusiasm for the new leadership team of Shekarchi and Chris Blazejewski (D-Providence), who is poised to take over the role of majority leader.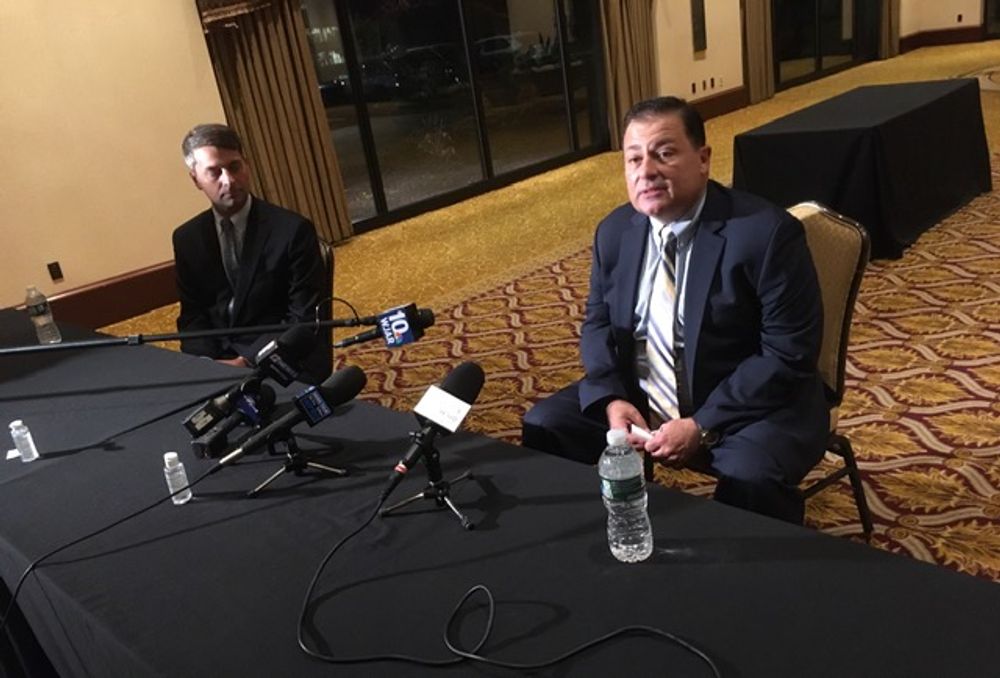 In seconding the nomination, Rep. Katherine Kazarian (D-East Providence) said representatives will no longer be bullied or ostracized. That was a reference to the tenure of House Speaker Nicholas Mattiello, who was soundly defeated for his state representative seat in Cranston this week by Republican Barbara Ann Fenton-Fung.
During a socially distanced meeting at the Crowne Plaza Hotel in Warwick, Shekarchi received 56 votes to become speaker, while a progressive candidate, Rep. Liana Cassar (D-Barrington), got one vote, from herself by proxy. One rep-elect, David Morales of Providence, abstained. Due to some confusion, the initial count of support was 53 votes.
"I am humbled that you have given me the opportunity and you trusted me with the leadership of the House," Shekarchi, briefly choking back emotion, told an audience of lawmakers after the vote. "It means the world to me. I may not have the answers – as a matter of fact, I know I don't have all the answers. But I know all the answers are out there, in all of you."
A formal election for speaker normally takes place in January, in odd-numbered years for a two-year term of what is sometimes called the most powerful elected post in the state.
The General Assembly hasn't met in months due to the pandemic, although the legislature needs to wipe out a current-year deficit of $900 million before the end of the year.
Asked if the formal House vote for speaker may come before January, so that a lame-duck speaker would not preside over the budget debate Shekarchi said, "That is not a decision that I would make. I'd do that in consultation with Speaker Mattiello. It's something that I have not discussed in any great detail with him. I think it depends on when we come back and what we come back for."
Shekarchi said Gov. Gina Raimondo's chief of staff, David Ortiz, called him Wednesday for a meeting, and that he was uncomfortable pursuing that until after he received the support of his colleagues in a caucus.
Shekarchi, 58, had a long career in Rhode Island politics even before winning election as a state rep in 2012 and ascending to become majority leader after John DeSimone lost that role following a 2016 legislative race. His resume includes having managed Raimondo's winning 2010 campaign for treasurer.
Shekarchi is a prodigious fundraiser, with more than $1 million in his campaign account. In the past, he's contemplated running for various offices, including mayor of Warwick, but his rise to the pinnacle of state government is now assured.
The Warwick Democrat has generated enthusiasm in part because of his genial manner, a contrast from the leadership style of the man he is set to succeed.
Mattiello, who became speaker in 2014, described himself as a pro-business speaker. But a series of controversies attracted negative headlines, and a growing number of representatives took issue with how he ran the House and communicated with lawmakers.
In one change from Mattiello's approach, the caucus in which Shekarchi won the backing to become speaker was open to reporters.
Cassar was not present for the caucus. She said attendance was not a good idea due to concerns about COVID-19.
"I, like many of my House colleagues, was surprised to see the e-mail invitation yesterday informing us of an in-person Democratic caucus meeting tonight," she said in a statement. "There is no urgency to the people of RI or the business of the House, that this meeting occurs so soon after the election. There is no reason at all that we cannot meet over Zoom or other web meeting service, as a number of our colleagues have requested and countless people throughout the country and world do quite regularly."
Some of the representatives likely to support Cassar did not attend the caucus and did not send proxy votes to be read during the meeting.
While supporters of the new team of Shekarchi and Blazejewski expected them to bring reform and elevate the role of rank and file lawmakers, Shekarchi said it was too soon to commit to specifics.
"I've been talking to colleagues, I haven't had a chance," to fully vet ideas, he said. "This has been a whirlwind 48 hours. One thing in particular, I met with Gregg Amore," a representative from East Providence, "yesterday, and he made a lot of good suggestions. One of them was when we introduce a bill, the bill stays alive for two years, instead having the bill die and having to be reintroduced again."
Shekarchi said he's committed to hearing the ideas of his colleagues and hopes to make the House more efficient, to focus on more serious subjects.
The Warwick Democrat said he plans to scale back his legal representation of clients in real estate and development cases because of his new role.
Shekarchi said he asked the GOP caucus in the House Wednesday to drop a lawsuit filed over the Joint Committee on Legislative Services, the hiring and spending arm of the legislature, and that Republicans declined the request.
Ian Donnis covers politics for The Public's Radio. He can be reached at idonnis@ripr.org.