GOP challenger Barbara Ann Fenton-Fung has defeated Democratic House Speaker Nicholas Mattiello in the race for his state representative seat in Cranston, sparking a debate over who will succeed Mattiello in what is often called the most powerful elected post in Rhode Island.

Sources familiar with the state of play tell The Public's Radio that House Majority Leader Joseph Shekarchi of Warwick has the support of enough representatives to succeed Mattiello.
"At the urging of many of my House colleagues, I am running for Speaker and humbly ask for the chamber's support," Shekarchi said in a statement. "With the help of my fellow representatives, I am committed to bringing reform to the chamber and empowering its elected members. Together, we will tap into our colleagues' ideas, talent, and experience; work to help our economy recover in a way that it works for all Rhode Islanders and protects our most vulnerable populations; and reform the way that business is done at the State House."
Meanwhile, the RI Democratic Women's Caucus issued a statement supporting freshman Rep. Liana Cassar (D-Barrington), who last week announced her own run for speaker.
"The voters have spoken, and they want a change," the caucus said in a statement. "Rhode Islanders deserve a state legislature that operates as a true democracy--and serves all of us. One that looks like us, and one that represents 51% of our population. The House has the chance to usher in the kind of leadership that our state can take pride in: a Speaker with integrity, a Speaker willing to collaborate, and a Speaker willing to work on behalf of the people. Representative Liana Cassar will bring integrity to our House chamber and bring our legislature into the 2021 session with a fresh, honest perspective."
Cassar said she wasn't prepare to say how many supporters she has, but added, "I know I have support, I know there are people who want a choice," and a change from what she called the transactional nature of Mattiello's leadership.
Shekarchi formally unveiled his run while teaming up with Rep. Chris Blazejewski (D-Providence), who has a more progressive profile. They are staging a caucus at 6 pm Wednesday at the Crowne Plaza Hotel in Warwick.
Shekarchi unveiled a list of support from 19 female representatives and reps-elect. Meanwhile, Reps. Gregg Amore (D-East Providence) and Robert Craven (D-North Kingstown), who had been considering a run for top House leadership, announced their support for Shekarchi and Blazejewski.
"The State of Rhode Island faces significant challenges in the months and years ahead," Amore and Craven said in a joint statement. "These challenges require the efforts of a united Democratic majority. Joe Shekarchi and Chris Blazejewski have committed to a substantial restructuring of House rules and culture that will have an immediate and positive impact on the way the Rhode Island House of Representatives does business. We support their candidacy for Speaker and Majority Leader, respectively, and we look forward to working closely with Speaker Shekarchi and Majority Leader Blazejewski in order to ensure a process of inclusion, transparency, and robust debate as we move forward together to tackle the serious issues before the General Assembly. We are completely confident that this new leadership team is ready to get back to work and solve the economic and social issues facing Rhode Island."
The Associated Press called the race for Fenton-Fung Tuesday evening. A bit later, unofficial resulted showed that, with 100 percent of machine votes in, Fenton-Fung was leading Mattiello 2,525 to 1,327, or 65.4 percent to 34.4 percent.
By Wednesday morning, Fenton-Fung's lead grew to 3,573 votes, or 58.6 percent, compared with 2,501, or 41 percent, for Mattiello.
"People rejected the way that Speaker Mattiello ran the Statehouse, ran his campaigns, and we were looking toward the future and we literally outworked him," Fenton-Fung told reporters Wednesday. "We've been working every night since June, at the doors. We're talking about healthcare reforms, safer and stronger school buildings, education. And those types of messages in a post-COVID era were what people wanted to hear. They want to hear what we're doing in the next two years, next five years, and we were talking about our plans."
The results are still complete, due in part to an issue with a memory stick from Cranston. The state Board of Elections voted Wednesday to process paper ballots instead of trying to recover data from the memory stick.
In a statement Wednesday, Mattiello conceded defeat.
"First, a sincere thank you to the residents of District 15 who have allowed me to serve as their representative for the last 14 years," he said. "To say it was an honor would be an understatement. While I wish last night's outcome had been different, it in no way diminishes the privilege of serving in the House for so long. It's been a good run.
Mattiello continued, "Second, thank you to all of the volunteers who poured their heart and soul into this race. We can all be immensely proud of the fact that we ran a positive, issues-oriented campaign right up until the very end. To my family, close friends, associates and colleagues, thank you for your tireless efforts on my behalf, and for believing not only just in my candidacy, but in the work we have undertaken collaboratively day in and day out to advance the quality of life for the people of Cranston, and beyond."
In her own statement, Fenton-Fung credited Mattiello.
"Every warrior who enters the arena is to be commended," she said. "It is not for the faint of heart, and this battle was certainly bruising on both sides. I'd like to thank Nick Mattiello for being in that arena all these years. I'm obviously thrilled to wake up this morning and hit the ground running to help reform this state. To win this election we formed a fantastic coalition here in District 15, and I'll continue to bring that bipartisan nature up to the State House to knock heads together and get things done. My husband's legacy in Cranston lives on. Fung times are here to stay."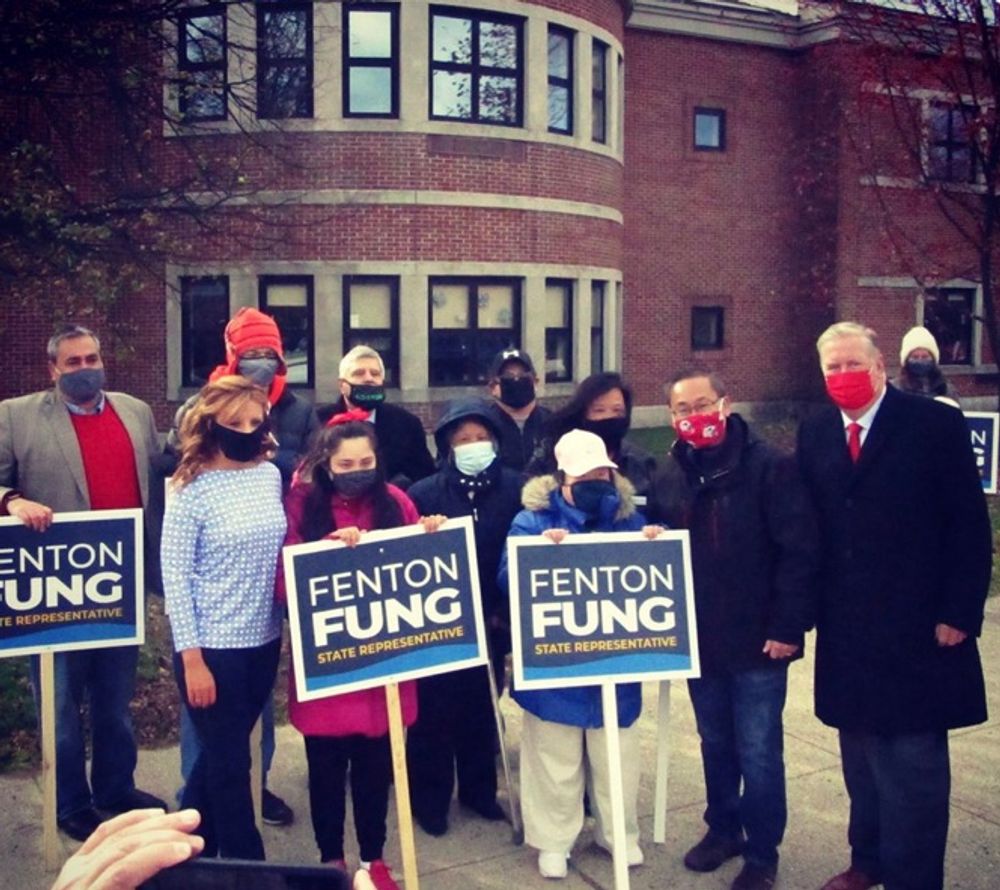 Fenton-Fung's victory marks a sharp rebuke to Mattiello, who presided over the House since becoming speaker in 2014 after the fall of Gordon Fox, who was charged and convicted in a corruption case.
Mattiello described himself as a pro-business speaker concerned about Rhode Island's business climate. He introduced his signature initiative to phase out the state car after a close challenge for his Cranston representative seat from Republican Steve Frias in 2016.
Critics said Mattiello was imperious to people outside his circle, and Fenton-Fung pointed to a series of controversies during his tenure, including the recent money laundering trial of a former campaign operative Jeff Britt, and how former members of his leadership team ran into legal problems.
Beyond Shekarchi and Cassar of Barrington, no other candidates have publicly emerged for speaker this week.
The speakership is sometimes called the most powerful post in state government since the speaker has broad influence over the budget, which bills get passed, and Statehouse hiring and spending.
Ian Donnis covers politics for The Public's Radio. He can be reached at idonnis@ripr.org.