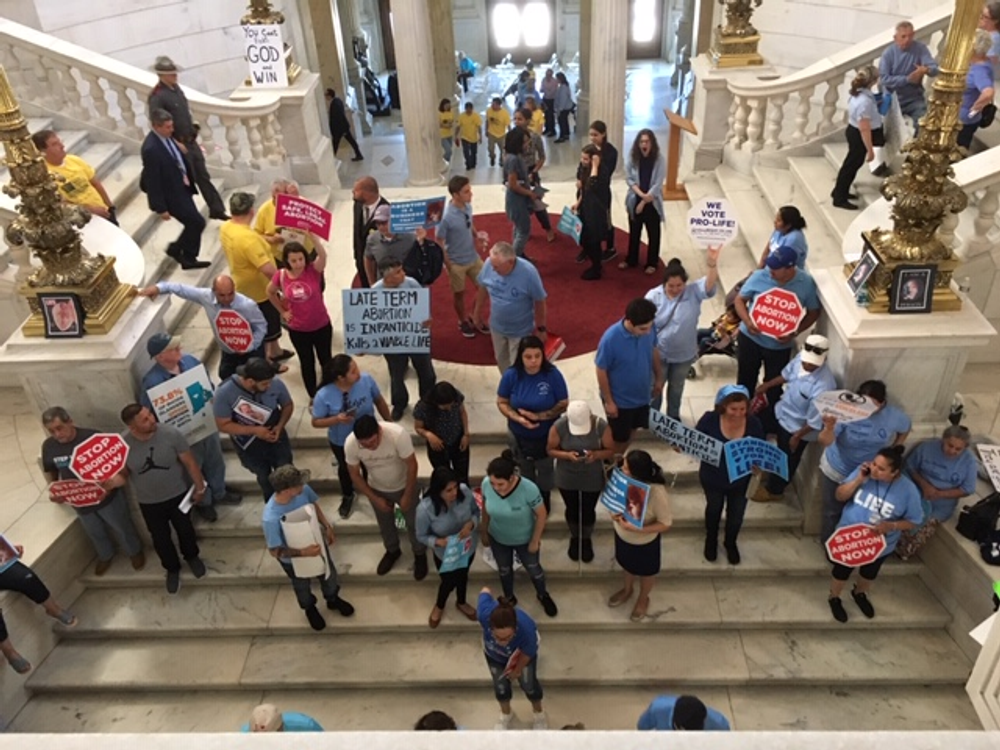 Rhode Island Senate Democrats used an obscure legislative rule Tuesday to stop the chamber's top two Republicans from defeating a bill meant to ensure abortion rights in the state, and to instead transfer it to a different committee, Health and Human Services, that has more abortion rights supporters, for a vote on Thursday.
Senate Minority Leader Dennis Algiere of Westerly and Minority Whip Elaine Morgan of Hopkinton are not standing members of the Judiciary Committee. They were ready to use their ex officio capacity to vote on a revised abortion bill released this week, changing the expected outcome from a five-to-four approval to a six-to-five rejection.
"That is something that is not normal and the usual course for votes," Judiciary Chairwoman Erin Lynch Prata (D-Warwick) said, referring to the ex officio appearance of Algiere and Morgan.
Lynch Prata continued: "I think that it does a disservice to this committee and to the members of this committee and to the people who sat here for 12 hours and listened to testimony, who have received all of the written testimony and have absorbed that, who have discussed with one another where we can go with this bill, to come in in an attempt to then change that vote after changes to the bill had been made to satisfy the standing committee."
For that reason, Lynch Prata said, she was using her authority as chair to use rule 6.14 and transfer the bill to the Health and Human Services Committee.
Morgan tried registering an objection. "There is no appropriate objection, Senator, as is it pursuant to the rule and I have the absolute authority to do it," Lynch Prata said.
"This is a legal murder issue," Morgan responded.
"Senator, this is my committee and I am the chair," Lynch Prata said. "I have made a ruling pursuant to the chair that I am transferring the bill. If there is any objection, it is properly taken up on the floor. Feel free to do so."
Lynch Prata said she made the decision to use the obscure rule after speaking with Senate President Dominick Ruggerio.
In a statement, Ruggerio unloaded on Algiere and Morgan for what he called an unusual move.
"This morning, I learned that Republican members sitting in an ex-officio capacity planned to launch an unprecedented last minute political stunt to torpedo this bill," Ruggerio said.
"Throughout the day," he continued, "I implored Republican leadership not to undermine the hard work of the Senate Judiciary Committee by abusing their powers as ex-officio members. In fact, Democratic and Republican leadership held several discussions this session where we agreed that we would not vote in committee on the bill because we wanted the committee process to take its normal course. The transfer of the bill to our Health and Human Services Committee ensures a path forward."
One GOP member of the Judiciary Committee, Sen. Jessica de la Cruz of North Smithfield, rejected Ruggerio's assertion.
"It's not the correct characterization because all ex officio members have voting privileges in the committee, and if President Ruggerio or Leader [Michael] McCaffrey or Whip [MaryEllen] Goodwin felt so strongly, they could go in in their ex officio capacity and vote as well," de la Cruz said during an interview in a Statehouse stairwell. "But they chose not to."
Abortion rights opponents, upset by the move by the majority Democrats, responded by gathering in the Statehouse rotunda to sing and chant, "No vote!"
Ruggerio personally opposes abortion rights.
During an interview in his office with The Public's Radio, he said he didn't vote in an ex officio capacity in the Judiciary Committee because "this deserves a vote from more than nine people in this chamber …. I could have gone in, I don't know if I would have made a difference. Senator McCaffrey could have gone in, Senator Goodwin could have gone in, but that didn't happen because they didn't feel that it was appropriate to do that at this point in time on this issue."
"I think this deserves a full vote of the Senate," Ruggerio said.
Ruggerio said he supports bringing the bill to a floor vote because of the amount of work that has gone into it and how a compromise was unveiled this week among a majority of Judiciary Committee members.
If approved by the Health and Human Services Committee on Thursday, it will go to the full Senate Tuesday, Ruggerio said.
"Personally, I think that the bill will be voted out of that committee on Thursday," he added. "I don't know what is going to happen on the floor."
Barth Bracy, executive director of Rhode Island Right to Life, which opposes abortion rights, said he believes a majorty of Rhode Islanders oppose the abortion bill.
Asked why Ruggerio and House Speaker Nicholas Mattiello, who is also a personal opponent of abortion, have backed votes allowing the legislation to move forward if that's the case, Bracy said, "Well, number one, if what I say is true it probably won't be reported accurately in the media."
"Number two," he continued, "there have been three separate polls that have contradicted that ridiculous question put together by your radio station, along with The Providence Journal and ABC6, conducted by a polling group that Nate Silver called the second-worst in the nation, the second least-accurate in the nation … I think that they [Ruggerio and Mattiello] are probably creating a narrative to try to justify what they decided they want to do for political reasons."
The poll referred to by Bracy, conducted by the Survey Center at the University of New Hamsphire, found that 71 percent of Rhode Islanders support the idea of a law to ensure abortion rights in the state.