A revised bill meant to ensure abortion rights is expected to win approval Tuesday from the Rhode Island Senate Judiciary Committee, The Public's Radio has learned.
In one significant step, Sen. Stephen Archambault (D-Smithfield) -- who was the swing vote when an earlier Senate version of the legislation was rejected last month -- is now supporting the bill.
"I am pleased we have reached an agreement that accomplishes my goals of codifying Roe v. Wade and ensuring that safeguards are built in to limit late-term, post-viability abortions," Archambault said in a statement. "I am grateful to [Judiciary] Chairwoman [Erin] Lynch Prata for her principled leadership and ability to work towards common ground."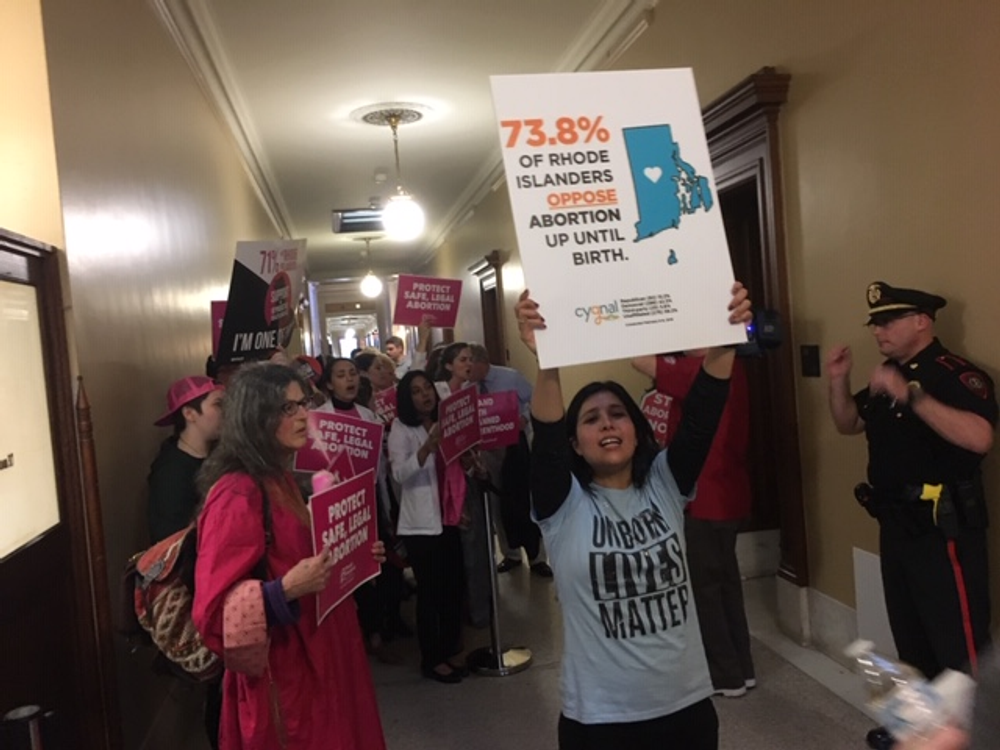 The momentum for the legislation can also be seen in this statement from its House sponsors, Reps. Anastasia Williams, Chris Blazejewski, Karen Alzate, Jean Philippe Barros, and Evan Shanley: "If these are the changes needed for the bill to pass the Senate Judiciary Committee and the full Senate, then we support the changes and urge Senators to vote 'yes' and join our House colleagues in standing strong to protect women's freedom, privacy, and reproductive health."
Meanwhile, the RI Coalition for Reproductive Freedom, the main group lobbying for the bill, also signaled its support via statement: "This is a monumental moment in Rhode Island. It has been more than a quarter century since the 1993 version of this bill passed out of the House of Representatives, but failed to be acted on in the Senate. With states around the country passing abortion bans intended to create a Supreme Court case to challenge abortion rights -- the RI Senate is poised to make history by passing the Reproductive Privacy Act (H5125B). We call on the Senate Judiciary Committee to vote this bill out of committee and send it to the Senate floor for a vote by the entire Senate."
Asked how many of the Judiciary Committee members who rejected the Senate version of the abortion bill on a 5-to-4 vote on May 14 will now support it, Lynch Prata said, "That I can't say." (During that same hearing, Judiciary Committee members held for study the House version of the bill, meaning that it could still be resurrected.
But Lynch Prata (D-Warwick) said she's hopeful the legislation will win passage and move to the Senate floor
She outlined three changes to the House version of the bill, known as the Reproductive Privacy Act.
-- A doctor who performs an abortion after fetal viability will be required to record the basis for why it was necessary for the the life or health of the woman.
-- An assault by another person on a pregnant woman resulting in the loss of a fetus would be specifically considered a felony assault. That would not pertain to medical professionals operating under the bill known as the Reproductive Privacy Act.
-- Finally, the bill omits an expansion of the type of family members who could offer consent for an abortion for a minor
On the whole, Lynch Prata said, "We're trying to make it more clear that we're codifying the status quo. You know, nothing more, nothing less. We're not looking to expand and we're not looking to restrict any rights that women have or that doctors have in terms of their treatment of their patients."
The revised bill was developed through weeks of talks between some Judiciary Committee members.
In response to a question, Lynch Prata said a concern is posed by how a ranking Republican in the Senate, Sen. Elaine Morgan, who is an abortion opponent, could vote in the committee in an ex officio capacity. "My hope truly is that we can bring this forward to the floor," she said. "It has been my opinion all along that I don't think nine or 10 people who sit on the Judiciary Committee, whether it's standing members or ex officio members, should make this decision at this point for the entire state. So I'm very hopeful it's going to move forward."
Asked whether Senate President Dominick Ruggerio and Majority Leader Michael McCaffrey might use their ex officio capacity if Morgan does, Lynch Prata said, "That's something you would have to have ask them."
Supporters and opponents of abortion rights have maintained a Statehouse presence in recent months. Their dueling arguments have centered on what supporters call an increasingly hostile national climate for abortion rights, and how opponents say that abortion is morally wrong.
Meanwhile, abortion-rights supporters signaled after the May 14 vote that lawmakers who didn't support the bill would be targeted in legislative elections next year.
The earlier version of the House abortion bill was passed on a 44-to-30 vote by the House in March. If passed by the Judiciary Committee and then the full Senate on Thursday, it could return to the House for consideration next week.