---> Lee esta artículo en español
On Easter Sunday, a 29-year-old fish plant worker woke up in her New Bedford triple-decker with a fever. Maria felt dizzy and couldn't smell anything. (We're not using her full name, to protect her privacy.) Her two young daughters were sleeping by her side. Maria went to the kitchen, poured herself a cup of tea, took some Tylenol, and vitamin C.
The next day, Maria got a ride to Eastern Fisheries where she's been cleaning codfish since February.
"I went to work and my boss told me, 'You're feeling bad, right?'" the Honduran-native said in Spanish.
"You can't work like this," her boss said. "Go to the clinic."
At the time, Maria said, workers didn't wear masks, temperatures weren't taken, and additional disinfecting measures weren't in place but workers tried to maintain their distance.
Maria soon found out she tested positive for COVID-19.
She quarantined for 22 days and thought she had recovered. Maria went back to work, sticking labels on packaging away from other workers.
Eight days later, on a Tuesday, "[the company] sent us to do the coronavirus test," Maria said.
"They called me and said I tested positive, again."
Maria has been out of work for over a month. She said her fever has gone down, but coughing, a lack of appetite, and sleepless nights are still a daily struggle.
"When the afternoons come I feel like crying," Maria said, yearning to be with her mother in Honduras. "This is an ugly thing that hits you."
Maria is one of at least 45 essential fish plant workers in southeastern Massachusetts found in an analysis by The Public's Radio to have contracted or been exposed to the coronavirus. At least one is dead.
Early action likely limited spread of COVID-19
Throughout the pandemic, workplace advocates worried that New Bedford, home of the country's largest seafood processing industry, would follow the meat and poultry processing industries, predominantly in the Midwest, which has seen at least 14,200 workers infected or exposed and 65 dead, according to the United Food and Commercial Workers International Union which represents these workers.
So far, it hasn't happened. And worker safety experts say new COVID-19 safety measures implemented by New Bedford last month could help protect workers and set a standard in the national food processing industry, if properly enforced.
"This emergency order is a great model for others around the state and across the country," Jodi Sugerman-Brozan, executive director at the Massachusetts Coalition For Occupational Safety And Health (MassCOSH) said.
"It sets very clear health and safety standards that were created in partnership with workers and reflects their demands."
The move to protect workers in New Bedford began in mid-April after fish plant workers wrote a letter to nearly 30 companies that workplaces were unsafe during the pandemic. There were complaints of a lack of personal protective equipment and disinfectants as well as overcrowding in facilities.
"In this area we work very closely," Mirna Pacaja, a fish plant worker at Atlantic Capes Fisheries said in Spanish. The facility has a plant in nearby Fall River. "[The company] is not giving us the six feet space that is recommended."
Pacaja, 38, left her job packaging scallops in late March. She said, at the time, workers weren't provided masks or getting their temperatures taken.
"If they make changes and fix the current conditions they can save the lives of the workers," Pacaja said. "And not only the workers at the facility but also the general public."
About 15-percent of New Bedford's population works in manufacturing and nearly 20-percent are Latino, a group that is disproportionately impacted by the pandemic. These groups are often in crowded living conditions, with family members sometimes working at different facilities.
Some of these workers started getting infected. Since April 1, New Bedford temporarily shutdown eight companies due to COVID-19 outbreaks, including three at fish processing plants.
Work advocates and city health officials were also receiving calls from fish plant workers complaining about the conditions. The health department received nearly 30 workplace COVID-19 related complaints in April compared to five complaints the previous month. And the state Attorney General's office got involved, reaching out to employers to make sure they were providing paid sick time and appropriate PPE to all workers.
On May 6, mayor Jon Mitchell and the local health department issued two emergency orders directing companies to report confirmed or suspected COVID-19 workers to the health department and requiring industrial facilities to adopt safety procedures to fight the spread of the coronavirus.
"We looked at the experience of the meatpacking industry in the Midwest," Mitchell said. "And we wanted to make sure that we were doing everything we could to avoid an outcome like we saw there."
The measures require all factories, including fish processing plants, to have a COVID-19 health and safety officer to record temperatures of all workers at the beginning of every shift. Other measures include social distancing rules, company-issued personal protective equipment, and regular cleaning and disinfection of workspaces.
Companies that fail to comply with the orders could face fines of up to $300 a day per violation and possible legal action.
Workers feel safe under new rules
The emergency orders have been in place for over a month, but local health officials are already seeing positive changes.
The most notable change is the health department is seeing a decline in COVID-19 workplace complaints. Since the orders went into effect on May 11, there have been seven complaints made to the department compared to nearly 40 complaints received in April and early-May.
"In my work I feel that everything is being done with the correct hygiene," Camila, a fish plant worker at North Coast Seafoods said. (The worker's name was changed for this story to protect her identity.)
Early in the crisis, she was scared of infecting her child and elderly parents and hoped the facility would close. But, Camila said, she feels more secure in her job now. Workers receive appropriate PPE equipment, temperatures are taken daily, and the facility, including cafeteria tables, are disinfected constantly.
"For me, it's safe," Camila said.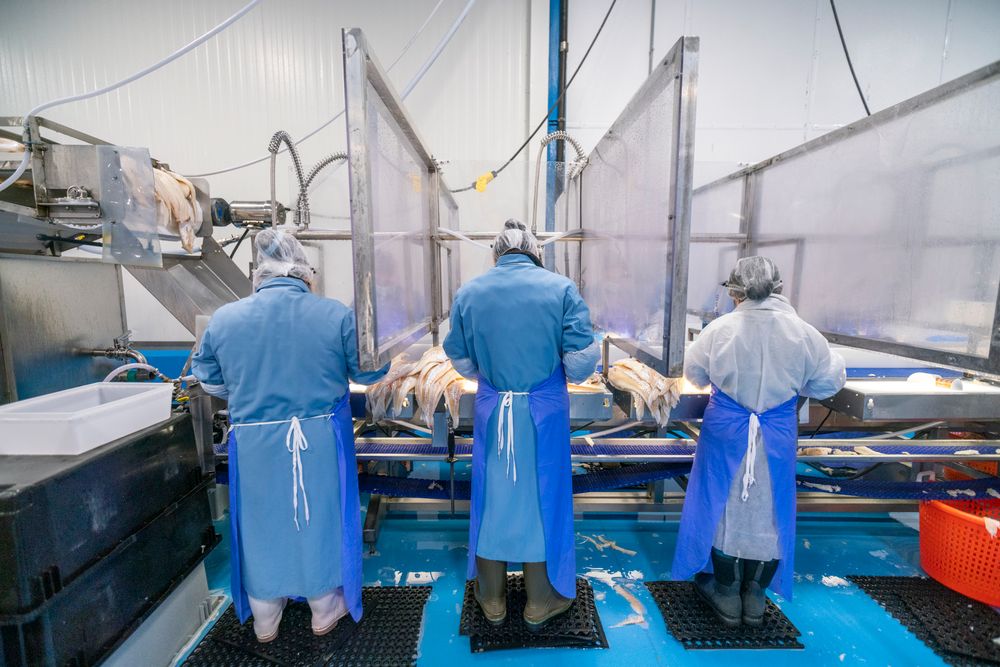 Additionally, employers, and temp agencies that place many fish plant workers in jobs, are now obligated to take the lead in preventing outbreaks. That means workers are no longer responsible for things like bringing their own masks or taking their temperature before coming to work.
Damōn Chaplin, health director of the New Bedford Health Department, said the shift in responsibility has helped provide a layer of protection for facility workers.
"We had several different industries, doing different levels of cleaning and levels of workplace practices," Chaplin said. "And we wanted to make sure we had a standard level of performance across the board."
The emergency orders combined with a greater availability of PPE and access to testing is what has reduced the number of complaints, Chaplin said.
Industry still faces challenges
In the absence of enforceable federal guidelines to address industrial worker safety during the pandemic, cities have been forced to do what they can with the resources they have to control the virus.
Marcy Goldstein-Gelb, co-executive director of the National Council for Occupational Safety and Health (National COSH), said New Bedford responded in a unique and ambitious way by implementing its emergency orders.
"I've been looking at municipal orders from around the country," Goldstein-Gelb said. "Combined, [these orders are] definitely the first of its kind to have these provisions."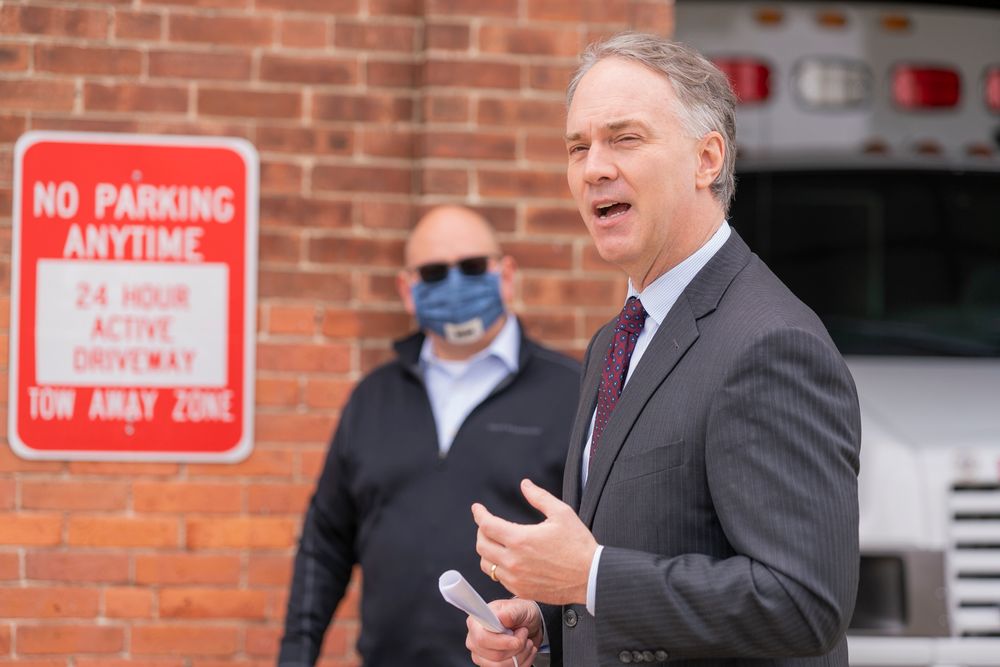 But the state's seventh largest city is also wrestling with issues that underscore the challenges facing a single municipality trying to tackle a national crisis in its own community.
Tracking is one of them. Positive cases of fish plant workers aren't tracked at the local or state level. (The Public's Radio, in an attempt to get this information, had to rely on data collected from the Community Economic Development Center, a local non-profit serving the city's immigrant community.)
New Bedford, a city where Latinos account for nearly half of all COVID-19 cases, has many fish plant workers who don't speak English and some who are undocumented.
Stephanie Sloan, deputy director of the New Bedford Health Department, said this demographic has made it difficult to track infected fish plant workers.
In some cases, fish plant workers don't know the name of the facility where they work or simply tell contact tracers they work at a fish house or provide the name of the temp agency that placed them in the facility.
"We're not always getting a complete answer there," Sloan said. "And then for the people that we aren't able to contact we obviously don't have that information for them."
Because there isn't clear occupational data, the city depends on temp agencies and facilities to report cases to the health department so that outbreaks can be prevented. The orders require that facilities designate a health and safety officer to do the job.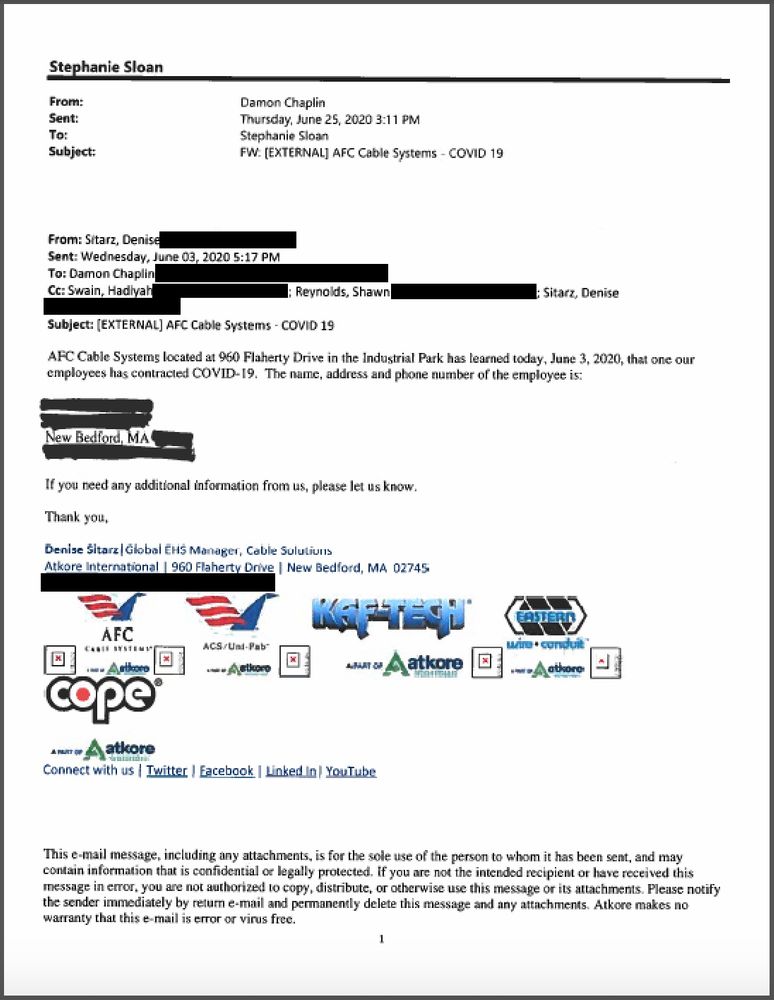 And there's still a reliance, Sloan said, on workers reporting safety violations to the health department, especially now, as the state is reopening and fish processing season begins.
"As long as we're all communicating," Sloan said. "We can put the pieces together and find out what's going on."
New standards put strain on city inspectors
In addition to tracking issues, New Bedford is struggling with enforcement. Health inspectors are already under a heavy workload because of the crisis.
Before the pandemic, the city's eight inspectors were responsible for auditing over 500 food establishments and responding to general sanitation complaints from city residents.
Now, these same inspectors are responsible for enforcing these guidelines at all 23 fish processing plants, as well as 40 other manufacturing facilities. That doesn't include the city's 12 nursing homes which were put in place in an earlier order.
Gail Joseph, lead inspector for the New Bedford Health Department, said the hardest part of the job right now is trying to get a routine inspection schedule. The team has finished the first round of COVID-19 inspections and the goal is to conduct one follow-up a week.
But Joseph said it's unachievable.
"I don't care how many people you give me," Joseph said. "There is no way we're going to get everything done in a routine manner. Things change too much."
The inspectors were like first responders before this crisis began. Residents filed a complaint -- be it a housing, sewer, or rodent issue -- and inspectors responded to them.
They're also frontline workers now, Joseph said, and despite the constraints she feels good about what the department is doing to stem the virus.
"It's my responsibility to get out there and help protect the public," Joseph said. "[Facilities] have received the help and have been appreciative of it and I'm glad we could help."
When the pandemic hit, there was an expectation that the federal government, which had been issuing guidelines for workplaces, would provide the resources necessary to implement those guidelines.
"In an ideal world, this would all be taken care of by the federal government," mayor Mitchell said. "But I play the hand that I'm dealt and what we saw before us was a potentially hazardous situation."
Towns and cities question state response
At the state level, Massachusetts governor Charlie Baker released reopening guidelines for manufacturing facilities which follow many of the recommendations made by the Center for Disease Control (CDC).
But MassCOSH executive director Sugerman-Brozan said the governor's COVID-19 plan has put too much of the onus on cities to handle inspections.
"[The state] basically passes the buck of enforcement to local boards of health and municipalities," Sugerman-Brozan said. "Many of them have very little capacity to be able to do the work that needs to happen to inspect and enforce these regulations across their entire city."
The city of Chelsea, about an hour drive from New Bedford, has the highest rate of COVID-19 cases in the Commonwealth. Nearly 40,000 predominantly Latino residents live in the 1.8-square-mile Boston suburb. It's home to the largest meat processing plant in New England and the country's second largest produce facility.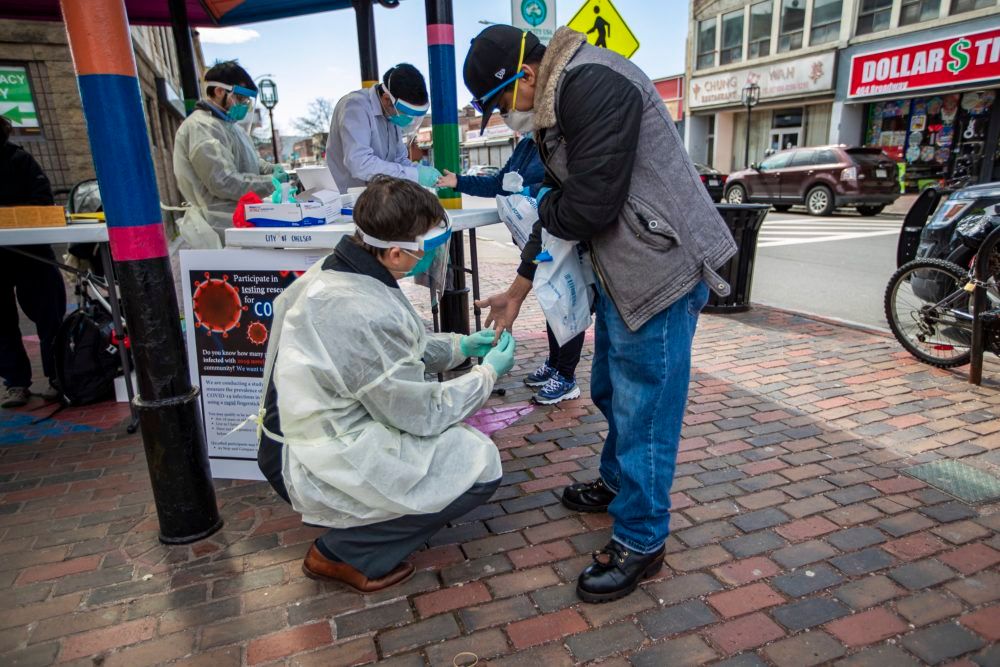 The city has two food inspectors who were reassigned during the crisis; from auditing restaurants to ensuring essential businesses were following COVID-19 safety protocols introduced through a local enforceable order.
City manager Thomas Ambrosino said it was a manageable task at a time where there weren't many businesses open. But now, as the state approaches its third phase of reopening, inspectors, Ambrosino said, are being dealt an impossible task.
"In a non-COVID year, we barely reach our restaurants for the mandatory annual reviews they need to get," Ambrosino said. "With everything reopening in the city we have less capacity to do that now."
A lack of enforcement power has become a national problem. Cities are grappling with the economic impact of the pandemic while at the same trying to contain the virus.
"Cities need additional inspectors to ensure businesses are complying with guidelines," the National League of Cities said in a statement.
"These increasing costs and decreasing revenues are why cities need direct, flexible relief from the federal government. Cities are essential to getting our economy back up and running and keeping it running safely."
'We are the cavalry'
Keeping a constant stream of communication between all parties -- fish plants, temp agencies, and workers -- has been an ongoing challenge for the department, health director Chaplin said.
"We're going to do the best we can," Chaplin said. "We want everyone working together to help notify us when a cluster is happening so that we can respond."
The department is trying to minimize the workload by making communication and education a critical part of every interaction. That way, facilities will slowly become more compliant, which in theory, will result in catching facilities doing something right more often than wrong.
For now, it's all the city's got.
"We can't wait for the cavalry and that's just been the [mayor's] mindset from the beginning," Chaplin said.
"We are the cavalry."
Nadine Sebai is the South Coast Bureau Reporter for The Public's Radio. She can be reached at nsebai[at]ripr.org.