The basketball court inside the East Greenwich Swift Community Center these days is covered by ten folding tables. Red, white and blue banners hang from a railing around the gym. At each table sits a pair of volunteers, equipped with gloves, cleaning supplies, a sharps container, and one small vial of the Moderna coronavirus vaccine.
On six days over the past three weeks, firefighters, police officers, school nurses, and home health and hospice workers arrived at this small brick building to get their shot.
"This is an emergency activation unlike we've ever had," said East Greenwich Town Manager Andrew Nota. His emergency management team is used to dealing with hurricanes, flooding, power outages and nor'easters.
"Once the event is over, you solve it and you rebuild. This is different."
Every municipality in Rhode Island has a plan to distribute vaccines or medication in an emergency. According to state health officials, these Point of Dispensing (POD) plans were created in response to the anthrax attacks in 2001, and have previously been used to distribute the H1N1 vaccine. And they form the backbone of the five regional COVID-19 vaccination sites set up in Providence, Smithfield, Bristol, Narragansett, and East Greenwich.
Setting up a mass vaccination clinic is a big undertaking for a small town, even a wealthy town like East Greenwich.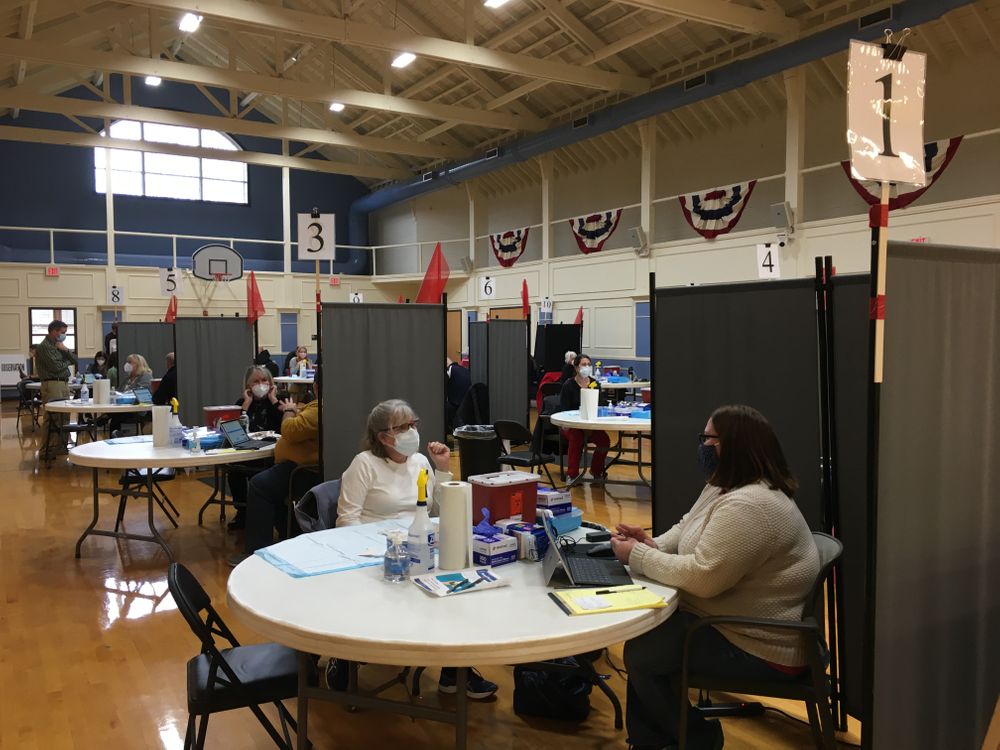 "Everybody started with no experience," said Jonathan Faucher, Deputy Fire Chief for the city of Warwick, one of the municipalities included in this mid-state regional POD. "The first day was kind of shell shock. Some of the paperwork wasn't quite ready from the state yet. And so we managed on the fly."
Warwick helped staff the distribution site twice during the initial six days of vaccination, gaining experience that Faucher said would help the city set up municipal vaccination sites in the future.
He was feeling optimistic. Already a handful of Warwick firefighters who got one dose of the vaccine have been exposed to COVID-19, and Faucher said they all tested negative.
"Anecdotally, I've already seen the benefits of this," Faucher said. "This is switching from defense, which we've been playing for the last 10 months. This is the offense."
Inside the community center, people moved quickly through check-in, vaccination, and into the observation area. An ambulance was standing by outside, but no one had needed serious medical attention. The vaulted ceiling echoed with the quiet murmuring of volunteers waiting for their next patient.
Standing off to one side, the clinic's medical director, Dr. Herbert Brennan was happy with what he saw.
"It's been just terrific," Brennan said. "We didn't know that from the start. Because this hadn't been done before. Obviously, a novel virus, novel process, very difficult supply chain with the temperature [storage requirements] and so forth, limited amount of vaccine."
"So all of those were challenges to doing it, let alone doing it right."
There have been hiccups with the registration software, and with people sharing the sign-up link, Nota said. But the biggest challenge has been filling the available slots. Based on the Department of Health's initial planning, each regional POD was set to vaccinate at least 2,000 people.
"When we opened, just before we opened, we were not seeing the registrations in the system in any of the regions that were going to get us to that number," Nota said. "And I think probably a good portion of it is just apprehension."
By opening day, Nota estimated that just 750 people had signed up to be vaccinated at the site in East Greenwich. At that point, only EMS-licensed first responders, hospice and home health workers were eligible to sign up.
"So what you saw happen after that is there was quite a conversation between the regions, and DOH officials. And clearly this was on their mind as well."
"A lot goes into setting these up," Nota continued. "And they immediately opened it up to fire and to other healthcare providers and to law enforcement, State Police, sheriff's office, everybody. And we continue to open it and we're still in round one."
By the end of the six scheduled vaccination days, the East Greenwich site inoculated 1,718 people.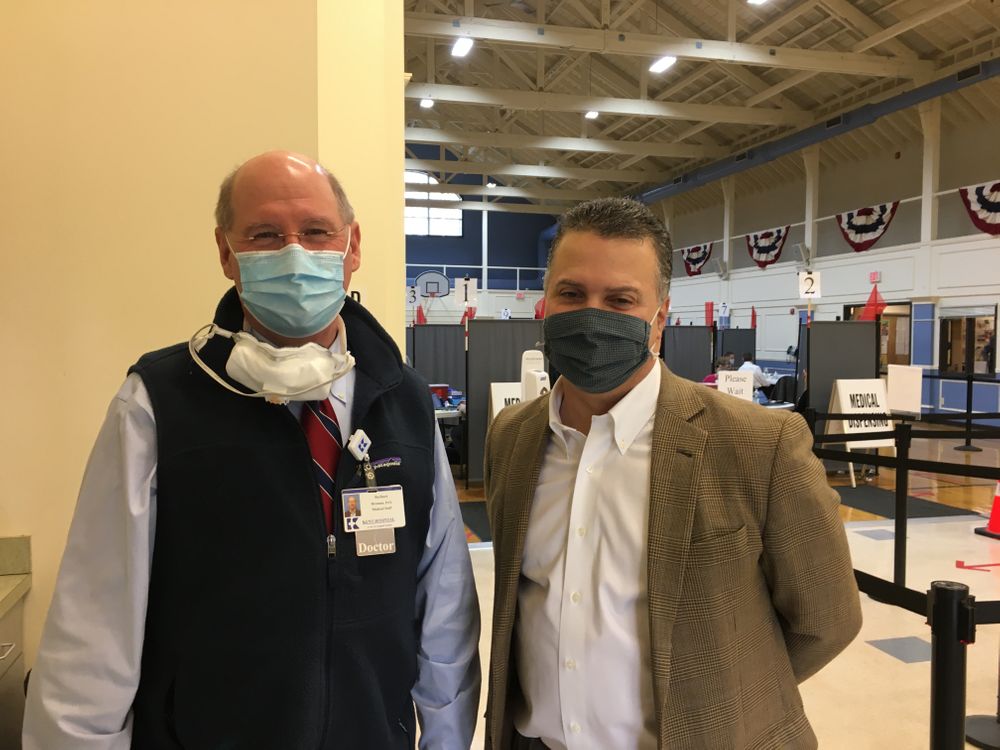 Health officials have repeatedly said that supply shortages are slowing Rhode Island's vaccine delivery. Across the country, people are lining up, and camping out, to get their shot. Some have even skipped the line.
Yet Nota's headache at the end of each day is the reverse: how to ethically use up extra doses.
"At the end of each night, there's always some vaccine left," Nota said.
The vials of vaccine come in a cooler with dry ice. If they stay in the cooler, they can be returned, refrigerated, and used later. But once a vial is taken out and opened, it cannot be returned.
Nota said the Department of Health delivers just enough vials to vaccinate the number of people registered. But some people have to cancel at the last minute and sometimes vaccinators can get an extra dose out of the vial, so the number of shots never exactly matches the number of appointments.
As some vials are polished off, the volunteers stop opening new ones and consolidate until just one vial remains.
"And we are clearly not going to dispose of any vaccine, that's just not going to happen. It's too valuable to everybody," Nota said. "And the goal is to have everybody vaccinated. But we also need to respect the process, right, and we need to respect who is in the priority listing."
Nota and his team have a single goal: find a few people who are eligible to get the vaccine and can come get it right away. They canvas the people working the vaccination site, to see if any of the volunteers are still waiting to get their shot. And they go to the phones.
"We then start calling other people we know that are registered, who might be in the area to race over so we can give them their vaccine now, and we remove them from the schedule for another date."
Nota or his deputy also call anyone on the registration portal waitlist and people who were registered but canceled their appointments.
Alysia Mihalakos, who heads the health department's Center for Emergency Preparedness and Response and co-leads the state's COVID-19 vaccination program, said the process follows state protocol. If no one in the eligible groups is available, vaccinators are told to reach out to local dentists or outpatient providers who are in the next priority tier.
"We're trying to not turn it into like any person, you know, could get vaccinated and therefore then they have a very unsafe situation during COVID, like a line of people standing outside the door hoping to be one of those four people at the end of the night," Mihalakos said.
At his site, Nota said, they haven't given doses to anyone outside the Phase 1 groupings. But finding someone to give the doses to can be a scramble.
"So what we're trying to prevent from happening is you don't pick up the phone and start calling your family and friends," Nota said. "And you and I both know that probably has happened someplace. We're trying to make sure that doesn't happen in our region."
At the end of the night, it's up to him and his team to make sure that each precious dose of vaccine is used, and used correctly.
Reporter Sofia Rudin can be reached at srudin@thepublicsradio.org and 401-302-1057.