Rhode Island health officials said Tuesday that the limited supply of coronavirus vaccine is the biggest challenge in the state's vaccination effort.
"One of the biggest obstacles we're facing right now is that we're just not getting a lot of vaccine," commented Dr. Philip A. Chan, a consultant medical director for the state health department.
"We're receiving roughly 14,000 doses a week of vaccines in Rhode Island. And to put that in context, that's enough to vaccinate roughly 1.5% of the population," he said. "So definitely it's going to take a while to reach the whole state."
That amount is lower than the 17,000 doses per week that health officials were anticipating a month ago, said Alysia Mihalakos, co-lead of the health department's COVID-19 Mass Vaccination Workgroup. "But we are waiting very patiently and listening as carefully as possible for any hints that that might change in our favor," she said.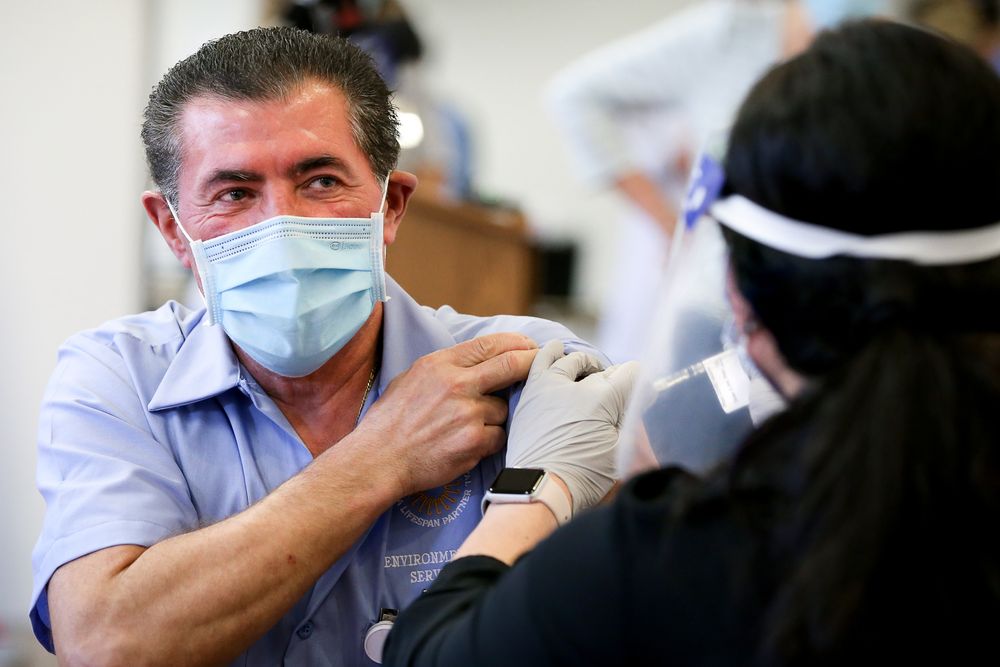 As of Tuesday morning, 25,763 Rhode Islanders had received the first dose of either the Pfizer or Moderna vaccine, and 400 were fully vaccinated with a second dose. Chan said that there have been no unexpected adverse reactions to the vaccine in the state.
The state has received approximately 46,000 vaccine doses, and an additional 18,525 doses to be used specifically in nursing homes. Officials cautioned that there is a lag time between federal allocation, delivery to the state, redistribution to smaller vaccination sites, and vaccine administration.
Some, including Dr. Ashish Jha, dean of the Brown University School of Public Health, have suggested addressing the supply constraints by giving as many people as possible a first vaccine dose and not withholding a second dose to be administered after several weeks. But Chan said the state health department will continue to follow the two dose regimen approved by the federal Centers for Disease Control and Prevention and the Food and Drug Administration.
"I think that we always reserve the right here in Rhode Island to be a little bit nimble and flexible," Chan said. "But I think that we want to be very careful in doing that. And at this time we are following the best guidelines and recommendations and science and evidence."
In the three weeks since vaccinations began with hospital workers on December 14th, the vaccination effort has expanded to include nursing home residents and staff, first responders, high risk correctional officers and inmates, school nurses, and other medical professionals. And the state last week began making the vaccine available to communities with especially high rates of infection, beginning with residents of Central Falls.
Amid a supply shortage, health officials said several hundred people who were not yet eligible to receive the vaccine used a forwarded link to register for appointments, causing headaches for the vaccine providers.
"Those links were offered only to the eligible employers with language that said, 'Please do not share these links beyond your employees," Mihalakos said. "Somebody went in and saw, 'Hey there are extra slots that are not filled. Health care workers must not want it.' And therefore invited all their friends and family."
"So it is laborious, it is heartbreaking, and it is taking time and attention away from our primary mission, which is to get out prioritized groups vaccinated."
Mihalakos said the health department took the link down and canceled appointments of those who'd registered. And she said the state is adding warnings to the online registration portal, telling people that they will need a workplace ID proving they are part of an eligible group in order to get vaccinated.
"The demand for a vaccine is clearly very high, and people are willing to push others aside in order to get themselves or their loved ones vaccinated," Mihalakos said, citing the limited amounts of vaccine. But she emphasized that the eligibility phases have been carefully designed in consultation with medical experts and ethicists.
Mihalakos urged people to wait their turn: "We really call upon the good will of Rhode Islanders to ensure that they're following the rules."
Reporter Sofia Rudin can be reached at srudin@thepublicsradio.org or 401-302-1057.