All Rhode Islanders ages 50 and older will be eligible for a COVID-19 vaccine starting on April 5.
Residents ages 40 to 49 are expected to be eligible to sign up for a shot the following week, state officials said at a weekly briefing Thursday.
Two new state-run mass vaccination sites are scheduled to open this weekend -- on Saturday in South Kingstown and on Sunday in Woonsocket. Rhode Islanders also can now pre-register for vaccine appointments on portal.ri.gov or by calling 844-930-1779.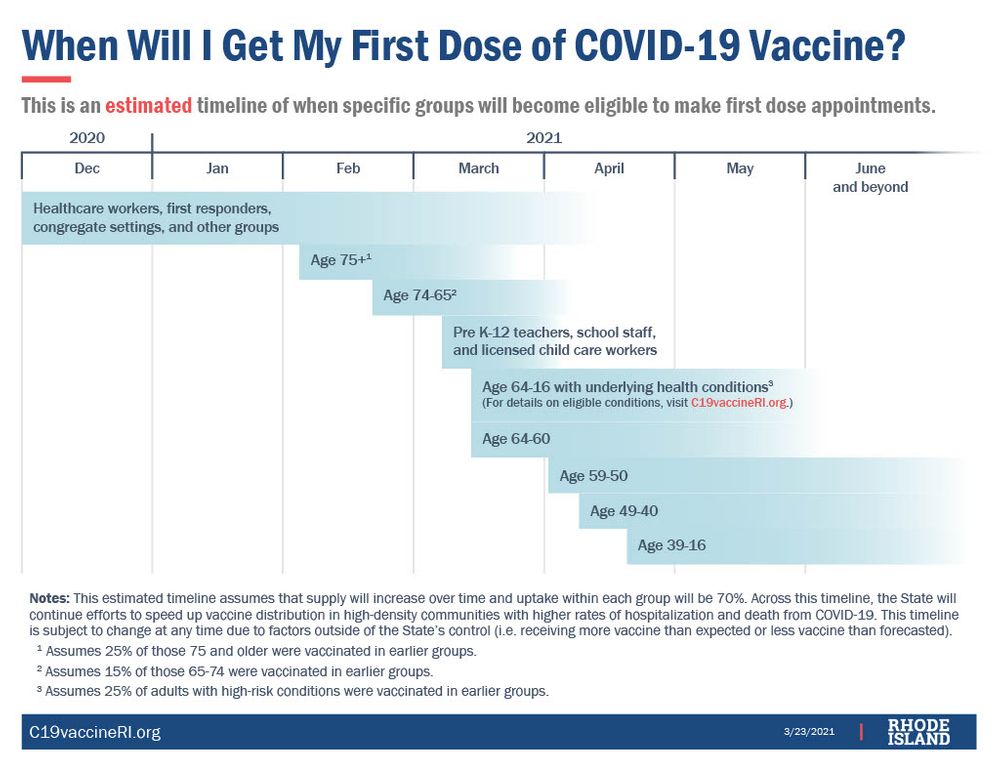 Rhode Island's more aggressive opening of vaccine eligibility marks a shift from just over a week ago when state health officials said they were unlikely to meet President Joe Biden's goal of making all adults eligible to be vaccinated by May. Gov. Daniel J. McKee then announced last week that all Rhode Islanders will be eligible for a shot by April 19.
On Thursday, McKee said that he and Dr. Nicole Alexander-Scott, the state health director, spoke with the White House this week and they have requested an additional 50,000 vaccine doses per week to meet the earlier timeline.
If Rhode Island can "get the vaccine supply we need," McKee said, "we can achieve and beat" the president's goal.
Rhode Island last week received 73,000 vaccine doses, 12,000 more than its previous week high, Thomas McCarthy, director of the McKee administration's COVID-19 Response Team, said at the briefing. The state currently has the capacity to administer about 100,000 doses, he said, and that number will increase next week to more than 165,000 doses per week.
"We are being told to expect much more vaccine(s) in the coming weeks and months," McCarthy said.
In some of Rhode Island's hardest-hit zip codes in Providence, residents 18 and older already are able to sign up for a vaccine through VaccinatePVD.com or by calling the Providence mayor's office at 401-421-2489. In Pawtucket and Central Falls, all residents 18 or older are eligible for a shot.
Alexander-Scott urged residents to remain vigilant about getting tested, masking and social distancing, saying that the state's positivity rate "has plateaued," which suggests a "significant presence" of the more contagious staring of COVID-19 in Rhode Island. About 40% of the state's COVID-19 cases, she said, are the more contagious strain of the virus found in the United Kingdom.
-- Health reporter Lynn Arditi can be reached at larditi@thepublicsradio.org