As Rhode Island State Police continue to probe why 1,400 people of color received false cancellation notices for a state-run vaccination clinic at the Dunkin Donuts Center, state health officials confirmed this week that about 900 other people received erroneous messages that their vaccination appointments at a state-run clinic in Middletown were "missing."
The error occurred when one of the administrators at a clinic located at a former Benny's store at 1400 West Main Rd., Middletown was "trying to submit a help ticket," Health Department spokesman Joseph Wendelken said in an email. Instead, roughly 900 people were sent messages that read "patient appointment missing." The messages, which identified each recipient by name, said that "they are not on [the] registration list for appointment this day."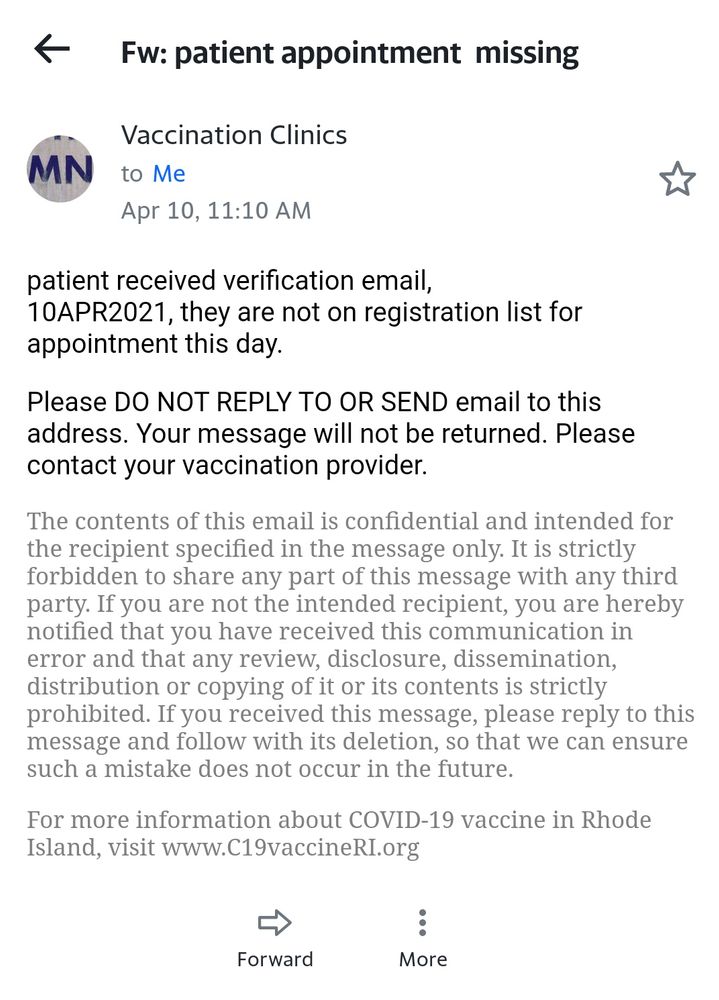 "That message may have been confusing,'' Wendelken said, "but it was not a cancelation notice."
The department is unaware of any more false cancellation notices sent beyond those for Dunk clinic on April 10, Wendelken said. The event, organized by community leaders, marked the first mass-vaccination drive for people of color in Rhode Island.
Operating problems with the state's appointment software, PrepMod, have been reported in Massachusetts and across the country. The troubles include links that can be shared with people who were not yet eligible or those not the intended target communities, as happened at Clinica Esperanza in Providence.
Among those who received messages about missing vaccine appointments in Rhode Island were several clients of state Sen. Alana M. DiMario (D-Narragansett), a mental health counselor in private practice. "For the clients that I treat...typically, anxiety is one of the issues,'' she said. "To then get that email saying no, actually, you're not registered, there was a lot of feeling of like...Have I missed my chance? Are they going to turn me away?"
DiMario says she coached two of her clients as they called the state's COVID-19 vaccination hotline to try to find out what to do. She said the people who answered seemed unaware of any problems and advised the callers to just go to their previously scheduled appointments.
That's what Susan AnderBois says she decided to do. She is 37 and lives in the 02906 ZIP Code in Providence. When the state announced residents in her ZIP code were eligible for a vaccine, AnderBois signed up for a shot. Her appointment at the Providence Career and Technical Academy was scheduled for last Saturday morning. But less than 24 hours before her appointment, she received an email saying "your vaccination appointment detailed below has been CANCELED by your vaccination provider."
"There was no information about who that (provider) was or anything,'' AnderBois said, "So that just seemed weird."
She logged back onto the website to see if the clinic had more openings. The Saturday morning slots were booked, she said, so she signed up for another appointment in the afternoon. Then she wrote about it on Twitter.

"Anyone else in #RhodeIsland have their vaccination appointments randomly canceled?" she Tweeted. "I was able to reschedule mine for later in the day, but had an appointment set for 927am and got a weird cancellation email an hour ago."
Sen. Tiara Mack (D-Providence) replied to AnderBois, sharing a Tweet from Sen. DiMario. "Yes, several people I know have," DiMario wrote, adding, "unless it's J&J the advice from DOH seems to be to disregard it and go anyway."

So that's what AnderBois did. On Saturday morning at the time of her original appointment she lined up outside the Providence Career and Technical Academy clinic on Fricker Street in Providence. People were spaced apart, she said, and it took just 10 minutes or so before she was inside. When her turn came she didn't mention the cancellation notice.
"I didn't want to ask and have that and risk them being like, 'Oh, no, you were canceled."
AnderBois' cancellation notice "does not sound like a system issue," Wendelken, the Health Department spokesman said. "No one has contacted us about cancelled appointments." He said that even though she and other residents of the 02906 ZIP were eligible at the time, the state had instructed clinics in the more densely populated communities "to prioritize appointments for people from the hardest hit areas." And the 02906 ZIP code is considered a "tier 2" area, which is next in line after those in "tier 1."
"It is possible that this person's appointment was canceled by the Providence Emergency Management Agency,'' Wendelken said, "or the pharmacy managing the clinic for that reason."
AnderBois, who formerly worked for the state, said she is just happy to get her shot.
"I just know that they're working so hard,'' she said. "I wasn't upset or anything. I was just like, I want my appointment!"
But DiMario, the state Senator from Narragansett whose clients received the "missing" appointment notices, said the state could do a better job of letting residents know about these errors.
"I think that it could be helpful to just do some of that proactive messaging," she said, "like put a banner up...on the COVID-19 website, just saying, 'If you received a cancellation email, that was an error, please go to your appointment."
-- Health reporter Lynn Arditi can be reached at larditi@thepublicsradio.org Follow her on Twitter @LynnArditi