Rhode Island Governor Daniel J. McKee has asked the State Police to look into why some 1,400 people of color who had registered for last weekend's COVID-19 vaccination clinic at the Dunkin' Donuts Center in Providence were sent false cancellation notices.
Several community leaders had raised concerns to The Public's Radio about whether the cancellation notices might have been sent intentionally by someone trying to undermine efforts to prioritize vaccinations in Rhode Island to people of color.
"We're going to find out how it happened and why it happened,'' McKee said during a press conference outside the Dunk on Saturday. "And then we're gonna let people know. But I just don't want to jump to any conclusions until we actually know what happened."
The McKee administration is taking the issue "very seriously,'' he said. In addition to community leaders' concerns about whether the cancellation notices "might have been intentional,'' McKee said, "we cannot afford to have any issues that get in the way of getting vaccine into peoples' arms.''
State health officials said last week that the false cancellation notices were sent due to a "glitch" in the registration system. On Wednesday, health officials said that they were working with their community partners to notify everyone who had received the erroneous notices that their appointments were valid.
"There was panic when we got that cancellation notice,'' said Eugene Monteiro, whose wife was among those who received a notice. Monteiro is a security consultant and community leader who has worked as an investigator for Providence's police oversight board. He said that the Mount Hope Community Center, of which Monteiro is a board member, fielded more than 500 phone calls from people who had scheduled vaccination appointments only to get notices from the state saying that their appointments were canceled.
"We called back every single person,'' Monteiro said. "We were scheduling people up until like 11 o'clock" last Friday night.
More than 3,300 people were vaccinated at the Dunk on Saturday, state health officials said, the largest single-day vaccinations at the site. A breakdown of the people vaccinated by race and ethnicity was not immediately available.
Despite the confusion created last week by the false cancellation notices, roughly 85% of those who registered for appointments at the Dunk showed up to be vaccinated on Saturday, according to preliminary data compiled by Dr. Luis Daniel Munoz, a member of the State Equity Council who helped organize the event.
"What we've done in a matter of eight, nine days is outstanding,'' said the Rev. Howard M. Jenkins Jr., of the Bethel A.M.E. Church in Providence. Jenkins, who also serves on the state Equity Council, has helped lead the registration drive.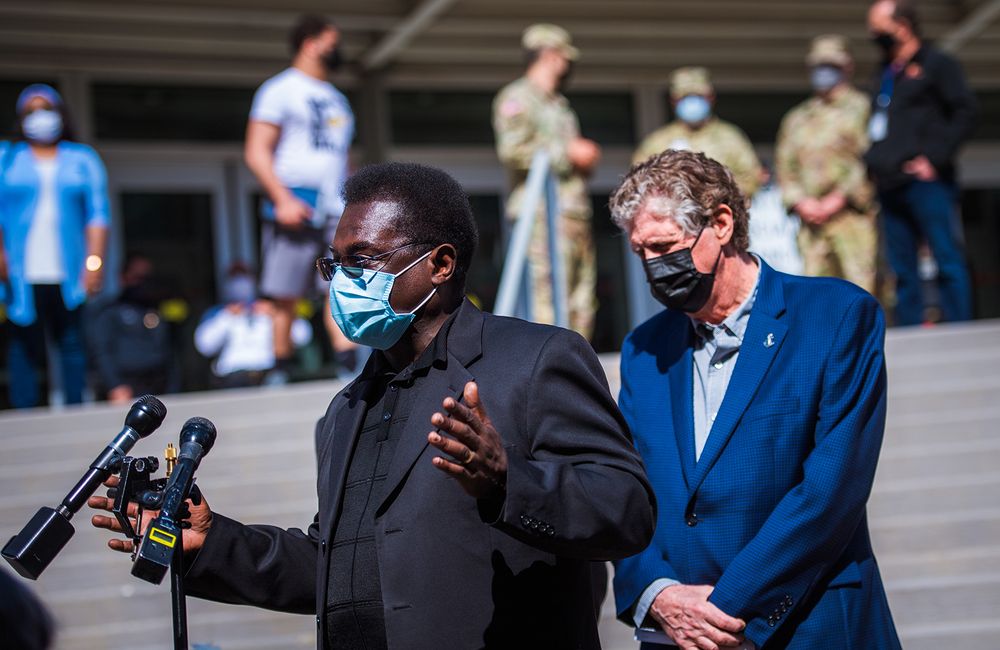 The state had set aside 6,000 vaccination slots -- 3,000 for the Dunk and 3,000 for a two-day clinic in Woonsocket -- for community leaders to register people of color, who have disproportionately lower vaccination rates than white residents. The number of people registered by community groups for the the Woonsocket clinics was far lower than expected, Munoz said. As of Friday morning, he said, fewer than 300 people had registered for the two clinics in Woonsocket.
State health officials said Monday that just over 3,300 doses were administered at the Dunk on Saturday, and more than 2,300 doses at the Woonsocket clinics on Saturday and Sunday. Those include walk-ins and people who were able to register for vaccinations starting last Friday at 5 p.m., after the state opened registration to the general public to fill the remaining slots.
The drive to prioritize people of color for vaccinations in Rhode Island follows efforts by the state to target residents by ZIP code and by population density, which has generally correlated with higher rates of COVID-19 infections, hospitalizations and deaths.
But efforts to indirectly prioritize people of color have been undermined when white residents from more affluent areas have registered to get vaccinated at clinics in hard-hit neighborhoods.
In Rhode Island, as in much of the country, hospitalizations and deaths related to COVID-19 have been higher among racial and ethnic minorities. The hospitalization rate for COVID-19 among Latino residents in the state is 4.6 times higher than among white, non-Hispanic residents, after adjusting for age. Similarly, the age-adjusted hospitalization rate among Black residents is 2.6 times higher.
Latinos account for about 17% of the population in Rhode Island and 30% of coronavirus cases. But just 9% of vaccine doses have gone to Latino residents, according to data compiled by the Kaiser Family Foundation. Almost 6% of the Rhode Island's population is Black, but less than 4% of shots have gone to Black residents.
updated 3:37 PM Monday
Health reporter Lynn Arditi can be reached at larditi@thepublicsradio.org. Follow her on Twitter @LynnArditi.