This is the second-part of a two-part story. You can read the first part here.

An important vote was looming in early March on a controversial inpatient rehabilitation center proposed in Johnston by Alabama-based Encompass Health.
That's when Patricia Rocha, a Providence-based lawyer for Encompass Health, sent a letter to John Sepe, a member of the panel considering the proposal. Rocha called on Sepe to recuse himself because, she said, she did not think he could be fair and impartial.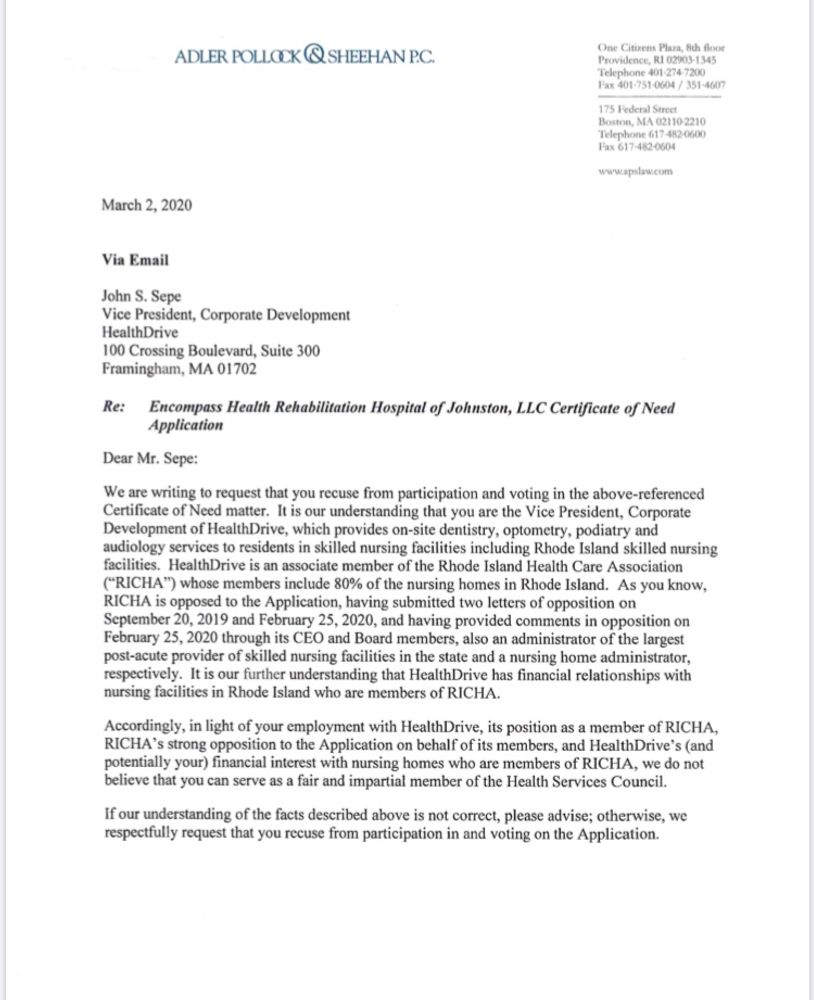 The letter had its intended effect. Even though Sepe rejected Rocha's argument, he recused himself due to what he called an abundance of caution.
One week later, On March 10th, the state Health Services Council recommended approval of the Encompass Health proposal. The recommendation passed by a single vote, three to two, with four council members recusing themselves.
The decision of whether to approve the project now rests with state Health Director Dr. Nicole Alexander-Scott.
It's hard to know if Sepe's vote would have changed the outcome of the Health Services Council's vote. He did not respond to a written request asking how he would have voted.
Regardless, head of the non-partisan good government group Common Cause of Rhode Island John Marion said what happened in the run-up to the vote is pretty unusual.
"Rarely do you see someone opposing a project, try to essentially knock someone out of vote prior to the vote, especially immediately prior to the vote," Marion said.
The vote could have big consequences.
Johnston officials say Encompass Health's plan for a 50-bed rehab center for people with conditions like hip fractures and traumatic brain injuries would be good for the town and the state. But as The Public's Radio reported last week, a consultant for the state says the project is not needed. And opponents say it would further destabilize hospitals and nursing homes still dealing with fallout from COVID-19.
To explain how we got here, let's wind the clock back to early March.
Rocha's letter to Sepe is dated March 2. That was one day before a meeting of the Health Services Council and a possible vote on the Encompass proposal. The Public's Radio got a copy of her letter.
Rocha cited two factors in calling on Sepe to recuse himself.
She said HealthDrive, the Massachusetts company for which Sepe is an executive, is part of an association representing nursing homes in Rhode Island. She said HealthDrive has financial relationships with nursing homes in Rhode Island that are part of that association.
Sepe categorically rejected the basis for Rocha's request.
In a written notice, he said his employer, HealthDrive, is not part of the Rhode Island Health Care Association, (although it is listed as an associate member on the association's website). Sepe wrote that HealthDrive does not have any direct financial interest with nursing homes in Rhode Island. Despite that, he said he recused himself, to be extra cautious.
Sepe said it was unfortunate that he was "left without a real choice otherwise," since Rocha's letter did not allow him time to seek an advisory opinion from the Rhode Island Ethics Commission.
So, is there anything wrong about how Rocha, the lawyer for Encompass, effectively blocked Sepe from taking part in the vote?
"It's not necessarily wrong," said Common Cause of RI's John Marion. "It's particularly hardball, however. And if they purposely did it right before the vote, to deny Mr. Sepe the chance to seek an Ethics advisory opinion, then that's just not fair play, so to speak."
Marion said even with limited time, Sepe could have called the Ethics Commission for informal advice.
Rocha did not respond to requests for comment. And a spokeswoman for Encompass Health did not return a request for comment.
The Health Services Council's March 10 recommendation of Encompass Health's proposal was unusual for another reason.
Just five of the 11 members serving on the council at the time participated in the vote, due to four recusals and two absences.
Why so many recusals?
Council Chairwoman Victoria Almeida said she recused because she (like Patricia Rocha) works as a lawyer for Adler Pollock & Sheehan, the firm representing Encompass Health. It's one of Rhode Island's largest law firms. Almeida declined further comment.
Council member Edward Quinlan, the former president of the Hospital Association of Rhode Island, said he recused because he's on the board of CharterCARE Health Partners, whose holdings include Fatima Hospital in North Providence, which has an inpatient rehabilitation center. He declined to identify how he would have voted on the Encompass proposal.
Council member John Barry said he recused because he works for the Roman Catholic Diocese of Providence, which operates the Villa at St. Antoine, an assisted living facility. He declined to say how he would have voted on the Encompass proposal.
Two other members of the Health Services Council did not attend the meeting on March 10.
Stephen Boyle said he was dealing with a health issue. One of the most recent additions to the council, state Insurance Commissioner Marie Ganim said she had been preoccupied with the response to COVID-19 and didn't feel she had sufficient time to get up to speed on the Encompass proposal.
Opponents still dispute whether the quorum was properly constituted when the Health Services Council voted on Encompass Health's proposal. If the proposal is approved, opponents may take their case to court.
Ian Donnis covers politics for The Public's Radio. He can be reached at idonnis (at) ripr (dot) org.