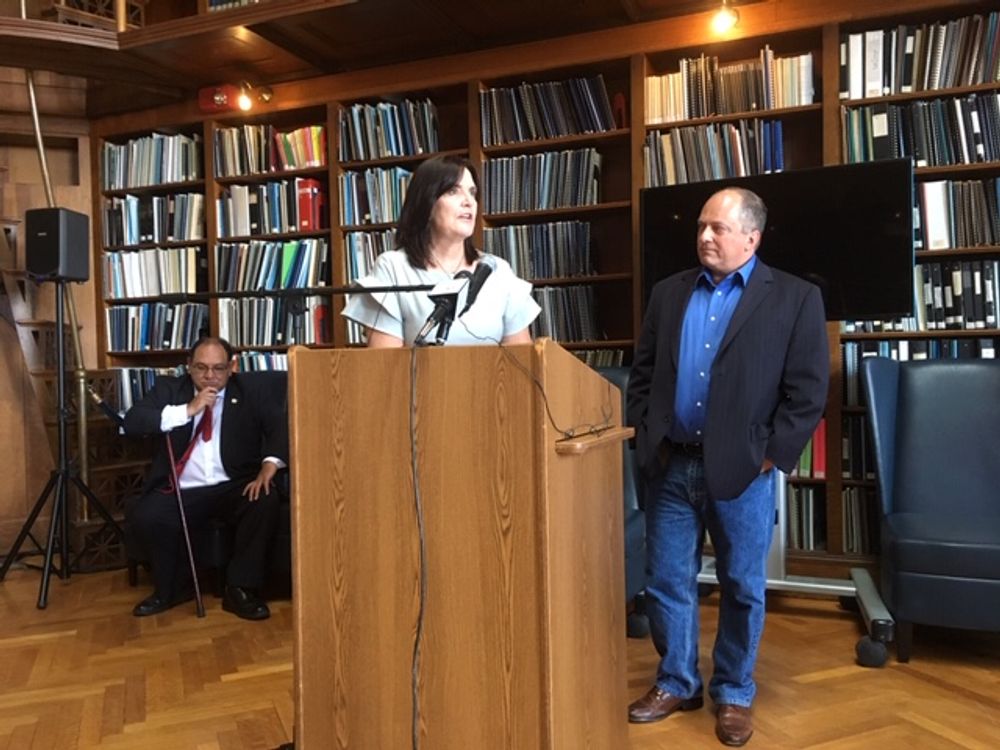 Two Rhode Island Republicans say the case of Cranston chiropractor Dr. Victor Pedro underscores a lack of transparency in the state budget process, and they vowed to continue hammering the issue to inform voters ahead of legislative elections next year.
"The Finance Committee never knew about Dr. Pedro from the documents that they had been working with," former GOP gubernatorial candidate Ken Block said, referring to how $1 million in planned funding for Pedro was not specified in budget documents until after House Finance quickly approved the budget, shortly before midnight, on June 14.
"Our budget process needs to be much more transparent and it needs to be slowed way down, as the process to finalize it and vote upon it begins," Block said during a Statehouse news conference on Wednesday. "The public should be able to defend itself against bad spending and we are cut out from the ability to do that right now."
Block was joined by state GOP Chairwoman Sue Cienki in calling for significant changes, including the creation of a line-item veto.
Block said Gov. Gina Raimondo's budget proposal each January includes a large amount of detail that is not made public. But Brenna McCabe, spokeswoman for the state Department of Administration, noted that a technical appendix released each year includes further detail and a breakdown of line items.
Block charged that House Speaker Nicholas Mattiello favors a veiled process to maintain more control over spending for things like the money initially meant for Dr. Pedro.
"As the speaker makes changes to those detailed spending plans, including removing or adding things like Dr. Pedro, those changes should also be publicly disclosed before House Finance votes to approve them," Block said. "In fact, those changes should be available so the public can testify about those to the House Finance Committee before that committee votes to approve the budget. We are missing a key element of the review process that cuts the public out from being able to see the spending items in our budget."
Mattiello has rejected charges that the budget process is not transparent. He has also defended the money meant for Dr. Pedro, saying that he has a successful record of helping some of his patients. The speaker supported cutting the funding after it became controversial.
In a statement, Mattiello said a line-item veto could lead to overspending by a governor.
"Governor Raimondo is expressing opposition to Article 2 of the House-passed budget which reins in overspending by her departments and she is actively lobbying her allies against it," Mattiello said. "If she had a line-item veto, she would strike out this provision and her departments would continue to overspend by tens of millions of dollars."
Raimondo supports creating a line-item veto.
Cienki said that Rhode Island's $9.9 billion budget is bloated, and she charges that a lack of transparency in spending is part of what's wrong with the state.
"There are systematic issues in our budget process that hamstring anyone that has an interest in acting in a responsible way with taxpayer money," she said. "It is simply unacceptable that the [Finance] committee would have a mere 28 minutes to review a $10 billion budget before passing it along to the General Assembly for a vote."
Block said lawmakers have shared misgivings with him about the budget process, but have not mustered the will to use their numbers to make changes.
"We need heroes in the legislature who will dedicate an entire session to forcing through the reforms that will open up our budget process and provide better stewardship of taxpayer funds," he said. "This is what every legislator has been elected to do. Do your job."
This story has been updated.