Rhode Island House Speaker Nicholas Mattiello unveiled the House version of the $9.9 billion budget to a gaggle of reporters on June 14. It was close to 10 pm on a Friday night. Mattiello called it a tough budget year, but he said he was proud of the spending plan.
"If you look at our investments, if you look at where we are without raising taxes, we're investing very heavily in education, we are investing in our communities," he said.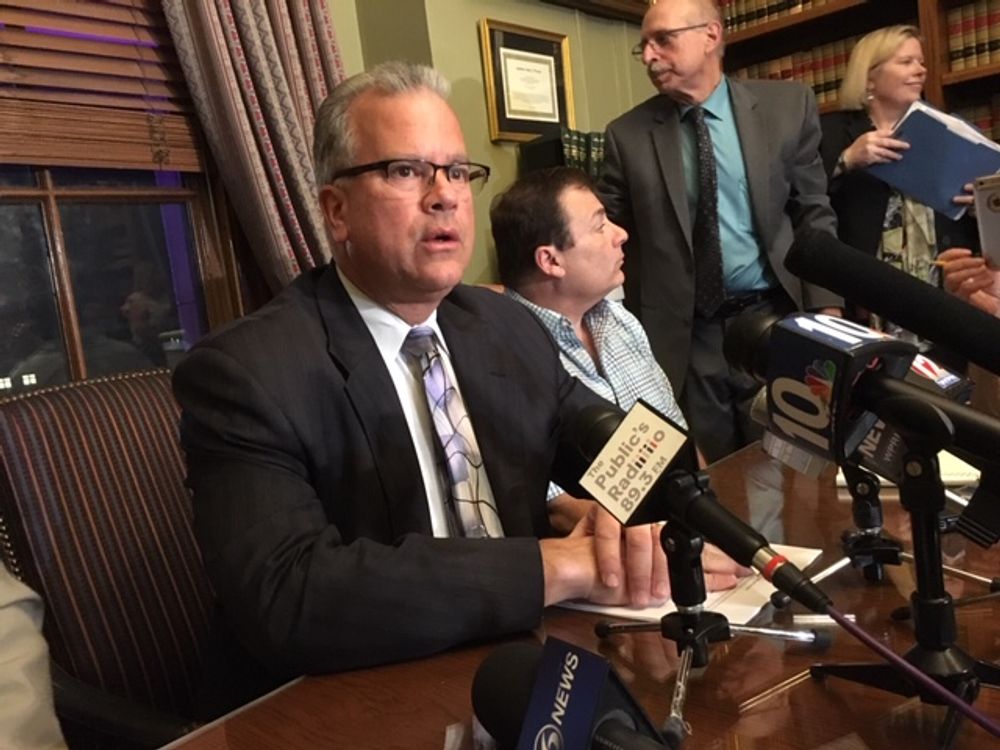 But questions about the budget emerged a week ago today. That was just two days before the spending plan was set to go to the House floor.
Independent reporter Steve Ahlquist revealed on his Uprise RI web site how the budget included $1 million for a Cranston chiropractor, Dr. Victor Pedro, and an alternative form of medicine he pioneered called cortical integrative therapy for treating disorders of the central nervous system.
As WPRI.com reported, medical experts have expressed doubts about cortical integrative therapy, Medicaid has declined to pay for it, and even though two governors have tried to cut the funding, state lawmakers have steered almost $1.9 million to Pedro and his practice since 2004. This year they wanted to give him another million.
But on Friday, June 14, there was no trace of the million in funding for Dr. Pedro when the House Finance Committee approved the state budget shortly before midnight on a party-line vote.
"A million dollars for the chiropractor in Cranston was rolled up into a $93 million appropriation," said John Marion, executive director of the non-partisan good government group Common Cause of Rhode Island John Marion.
Marion said the situation reflects how there's a lack of specificity in Rhode Island's state budget.
"There's a culture of our budget is not as itemized as some are in other states," he said. "So if you look at some budgets in other states the bill that they vote on is thousands of pages long because they itemized more. They break the numbers down into finer and finer increments."
The latest $1 million in funding for Dr. Pedro and his alternative therapy was outlined in a supplemental budget document distributed and posted online three days before the spending plan moved to the House floor.
Speaker Mattiello continues to support Pedro and his practice of cortical integrative therapy, but he cut the latest $1 million in funding after it sparked controversy. He defends the budget process, saying there's enough transparency.
"Absolutely," Mattiello said. "People that understand the budget process understand it. That's been in the budget for a while."
But the $1 million for Dr. Pedro flew under the radar until just days before the Rhode Island House began debating the budget. So some people wonder if there's other questionable spending.
"We don't know the scope of the problem," said Common Cause's John Marion. "Maybe this is it. Maybe this was the one sort of dubious spending item in the $9.9 billion state budget. But maybe not."
For her part, Gov. Gina Raimondo points to how her budget proposal goes through months of scrutiny after she submits it in January. But she does think a line-item veto would produce a better budget.
Raimondo said she would have used the line-item veto to cut the latest $1 million funding for Dr. Pedro.
"I would have used the line-item veto last year had I had it," the governor said. "Instead, what I did I submitted a budget this year without it included. So we're one of only three or four states without a line-item veto and this is just another example of how line-item veto could provide maybe more transparency, but also better taxpayer accountability."
Democratic legislative leaders have shown little desire to create a line-item veto. That's despite a one-man fight by former GOP gubernatorial candidate Ken Block to get the state to adopt the veto. (Block said it has hardly been a one-man effort, pointing, he said, to how 6,000 people have emailed the legislature in support of a line-item veto and hundreds more have come to the Statehouse in support of it.)
But Rhode Island's budget process would need to change for the line-item veto to have a meaningful effect. That's because different buckets of tens of millions of dollars in spending are grouped together in the budget. So it would be impossible to separate individual parts of those individual buckets. And despite the controversy sparked by the $1 million initially planned for Dr. Pedro, no significant changes are expected for Rhode Island's budget process.