Former Fall River mayor Jasiel F. Correia II was found guilty on Friday of 21 criminal charges, including the extortion of marijuana vendors seeking his approval to open in the wake of the drug's legalization for recreational use in 2018.
The charges, which spanned five years Correia spent in and out of City Hall, also included the defrauding of investors in a startup Correia founded before taking office at the age of 24.
Correia, now 29, went on trial in April after a long delay caused by the coronavirus pandemic. He faced a total of 24 criminal charges, and was found innocent of three.
Correia was not convicted of accusations that he stole nearly half the salary of his chief of staff, Gen Andrade, who pleaded guilty to the same charge this winter. He was also exonerated of taking a Rolex watch from a landlord seeking to connect his building to the city's water system free of charge.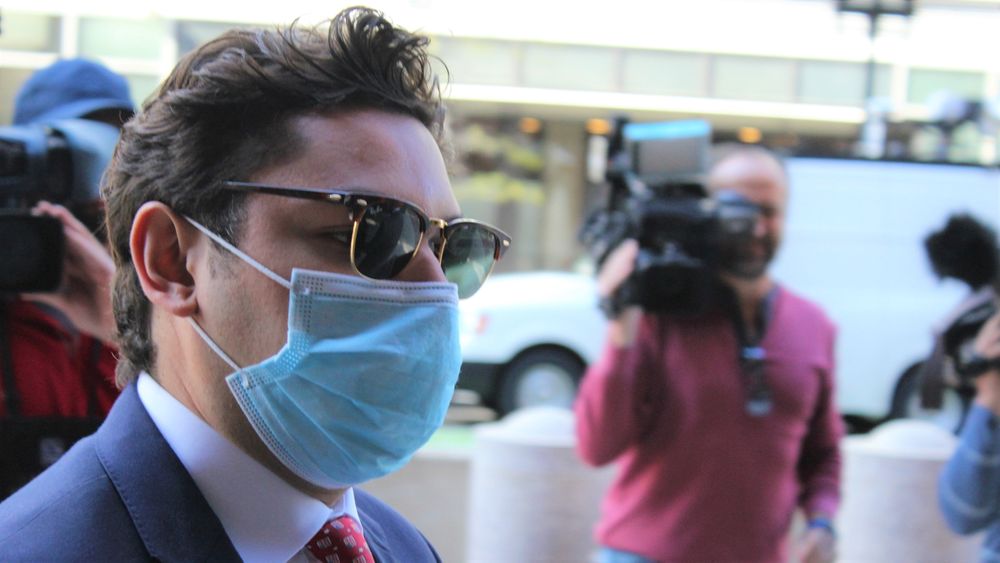 More than 30 witnesses testified during the four-week trial, which was the first high-profile case heard in Boston's federal court since the coronavirus pandemic began.
Collectively, the testimony offered a detailed account of Correia's rise from 20-year-old shoe salesman to a mayor who made history two times over: in 2016, as the youngest mayor in Fall River's history; and again in 2019, when Correia was recalled from office and re-elected to replace himself on the same ballot.
Correia's criminal trial opened with arguments about the management of SnoOwl, a company Correia founded shortly after graduating Providence College in 2013.
A software developer named Christopher Mello testified that he joined the company after visiting the Nordstrom where Correia worked. He'd gone in to purchase shoes, but Mello would soon lay the foundation for SnoOwl's smartphone app, which aggregated businesses' Facebook posts to populate a feed displaying local deals and products.
The company was supported by nearly $400,000 in investments Correia culled from a mix of friends and local businessmen.
One witness, Stephen Miller, testified that he met Correia at a waterfront bar in Fall River after docking his boat for appetizers. By dinner time, he was sold on a concept to which he would eventually invest $50,000 in exchange for 5 percent equity, amounting to a $1 million valuation of Correia's startup.
"I thought he was a boy wonder," Miller said.
Another witness, an orthodontist named David Cabeceiras, said he invested $145,000 because of the good will Correia established mentoring Cabeceiras' son in high school and college.
An IRS investigator later found that Correia spent nearly two-thirds of the company's money on himself, enabling a lifestyle that included a new Mercedes, a second apartment in Newport, R.I., and hundreds of purchases at casinos, designer clothing stores and high-end restaurants.
Money also went toward Correia's political campaigns, which began with a run for city council that he won in 2014.
Correia's star grew quickly after he went public with a disputed account of an encounter with Fall River's then-mayor, William Flanagan. The two emerged from a late-night drive around Fall River with conflicting stories of why the mayor pulled out a gun.
Correia told police Flanagan was trying to intimidate him amidst a popular recall campaign that would eventually oust the mayor from office. Local prosecutors dismissed the complaint, but Correia, suddenly a well-known figure in Fall River, announced his run for mayor ten months later.
On the campaign trail, Correia pointed to his management of SnoOwl as the experience that qualified him to lead Fall River's government at age 23.
During a debate that prosecutors would later quote from in their closing arguments, Correia said, "I'm running for mayor because I'm going to take your tax dollars and I'm going to invest them in the right places."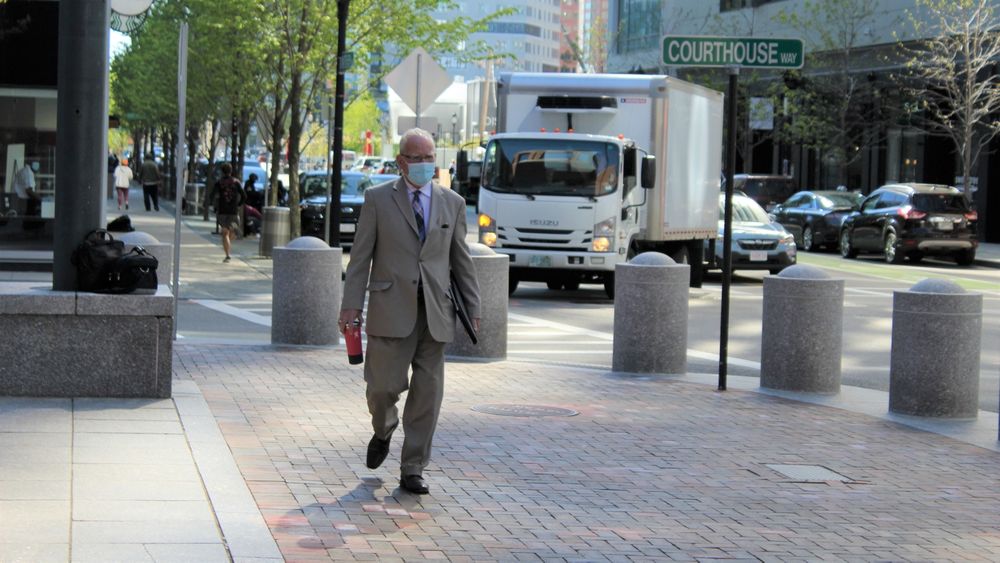 In an upset election, Correia defeated the district attorney whose office investigated Correia's complaint against Flanagan.
Correia's first term as mayor overlapped with the legalization of recreational marijuana in Massachusetts, where newly written laws granted mayors almost complete control over a form of local approval dispensaries needed before applying for a state license.
Four businessmen testified at Correia's trial that the young mayor demanded cash payments that sometimes exceeded $100,000 in exchange for his approval.
One of the marijuana vendors who testified, Charlie Saliby, said he handed the mayor $75,000 in cash and received the approval letters for his proposed dispensary on the spot.
Correia was arrested twice while in office, refusing calls to step down on both occasions. In 2019, he defeated a lawsuit from the city council seeking his removal from office, though he agreed to step aside from his mayoral duties later that year.
Since July, Correia has worked at a steakhouse and oyster bar near Fall River's City Hall that is owned by his fiance's family.
During the trial, witness testimony at times turned deeply personal. Correia's ex-girlfriend, Natalie Cleveland, took the stand to offer details about dates, gifts and weekend getaways that were paid using SnoOwl's bank account.
Years worth of purchases made on the company's card were publicized as evidence, from his favorite brand of cologne to an itemized list of sex toys ordered on Amazon.
Several of Correia's closest associates, including two former members of his administration, have pleaded guilty in exchange for cooperation agreements.
On his way out of Boston's federal courthouse on Friday, Correia vowed to appeal his convictions.
"Unfortunately, there was a couple things that didn't go our way that were technical today, and that's what will be our grounds for appeal," he said. "And we'll win that appeal and I will be vindicated. My future will be very long and great."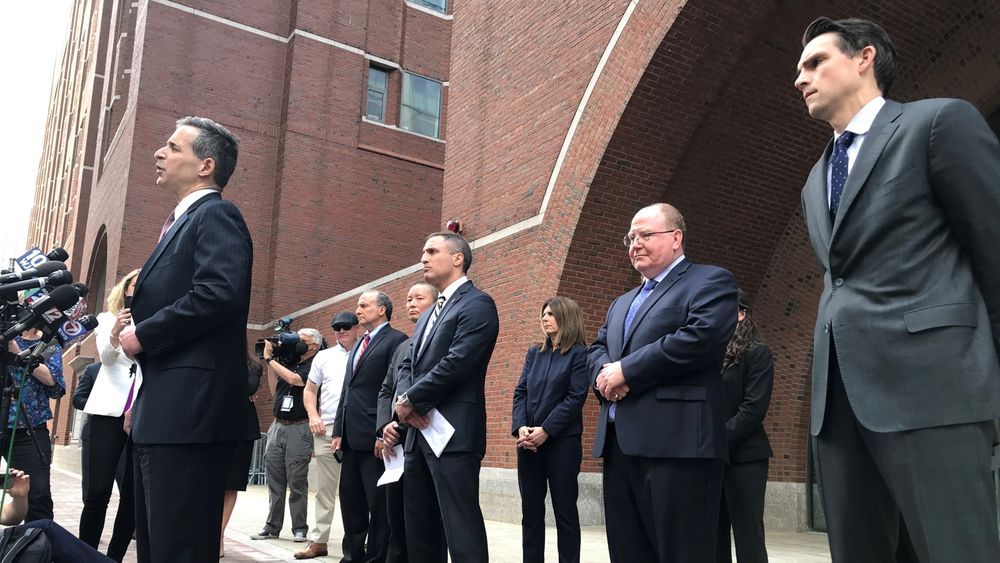 Federal law enforcement officials applauded the jury's decision at a press conference.
"Today's verdict makes it clear that you can't trade on your office, embrace a culture of pay to play and get away with it," said Joseph Bonavolonta, special agent in charge of the F.B.I.'s Boston Division.
Correia faces a maximum penalty of 20 years in prison, though his sentence will not be decided until at least September, as court officials review aspects of the case and Correia's history that could affect his sentence.
Until then, the ex-mayor is free to return to Fall River on a $250,000 secured bond.
Ben Berke is the South Coast Bureau Reporter for The Public's Radio. He can be reached at bberke@thepublicsradio.org.