The Rhode Island Senate passed the revised abortion bill on a 21 to 17 vote after a little more than two hours of debate.
Republican lawmakers unsuccessfully tried to blunt the support with five amendments. Some lawmakers, like Sen. Mark McKenney (D-Warwick), said they personally oppose abortion, but felt compelled to back the bill due to the national political climate.
"I don't know whether Roe versus Wade will be overturned, but I do know many people, women especially, were extremely fearful and concerned, given the makeup of the Supreme Court and the makeup of the executive branch at the federal level," McKenney said. "So in the face of a potentially contrary U.S. Supreme Court decision, I intend to maintain the status quo."
Twelve Democrats joined five Republicans in voting against the legislation.
Senate Judiciary Chairwoman Erin Lynch Prata (D-Warwick), who helped to shepherd the bill after a different version was defeated in committee, called the legislation a strict codification of the status quo for abortion rights in Rhode Island. She was joined by some supporters in saying that state lawmakers should act to protect that without waiting for a change to the national landscape.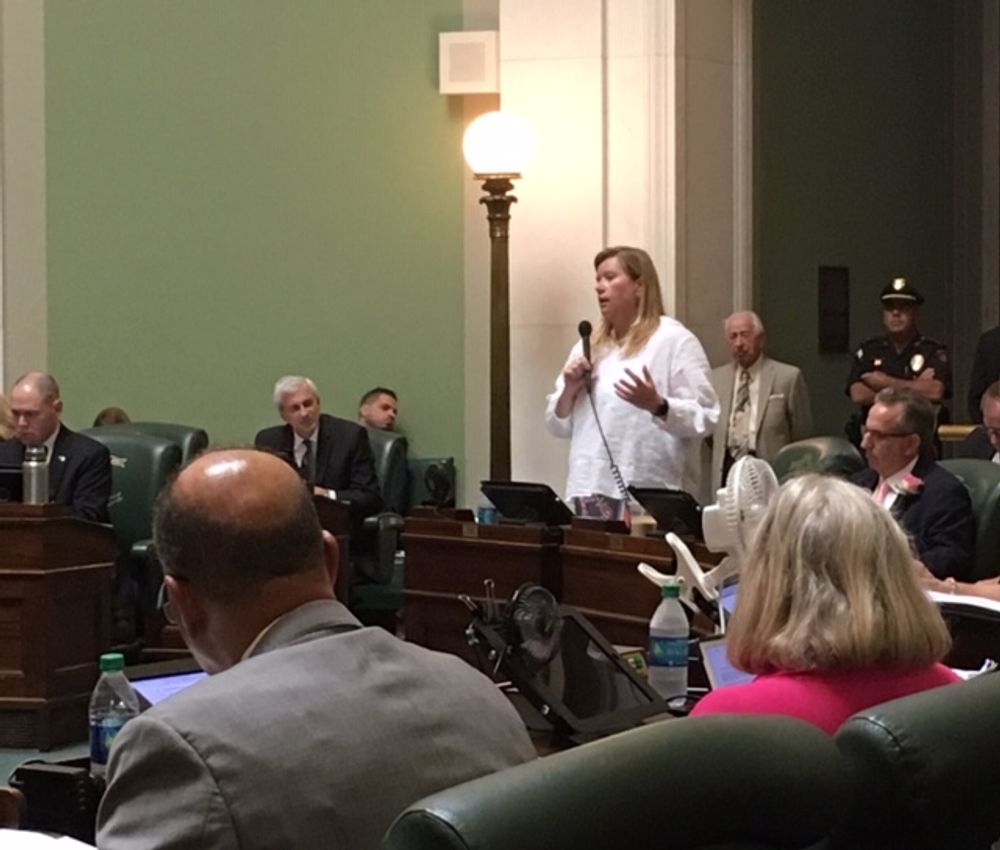 But two GOP lawmakers, Sens. Jessica de la Cruz (R-North Smithfield) and Elaine Morgan (R-Hopkinton) led the charge in calling abortion an abomination.
Rejecting assertions that pro-life lawmakers don't carry about needy babies once they're born, Morgan said, "And I care about a woman's choice, but I want to see safe choices. And – all of you could you not vote for a woman, for a baby, to be ripped apart in the womb. That's hideous."
In an unusual move, the abortion bill won approval in the Senate even though the top three Democrats who control the chamber, President Dominick Ruggerio, Majority Leader Michael McCaffrey, and Majority Whip Maryellen Goodwin, all voted against it. House Speaker Nicholas Mattiello, who, like Ruggerio, let the bill move forward, also voted against it.
The last attempt to create a standalone abortion rights bill in Rhode Island cleared the House in 1993, but it died in the Senate.
After approving an earlier version of the legislation in March, the House approved the revised bill on a 45 to 29 vote before sending it to Raimondo's desk.
Supporters were overjoyed.
"With access to health care and reproductive rights under constant attack, tonight we can celebrate Rhode Island's commitment to advancing reproductive freedom," Amanda Skinner, president/CEO of Planned Parenthood Votes! RI, said in a statement. "As states across the country continue to pass extreme, harmful, and unlawful abortion bans with the intent of challenging the protections of Roe v. Wade in front of Trump's Supreme Court, Rhode Islanders can be assured that the fundamental right to abortion is guaranteed in their state, no matter what happens at the federal level."
Opponents expressed disappointment and said they hope to elect more lawmakers who oppose abortion rights next year.
The passage of the bill in the Senate was not a surprise. Statehouse observers believed for months that the toughest hurdle was getting the bill out of committee and to the floor.
When two Republican senators were prepared to vote in the Judiciary Committee in an ex officio capacity to defeat the bill, Democrats invoked an obscure rule to send it to a committee with broader support, Health and Human Services, where it easily passed.