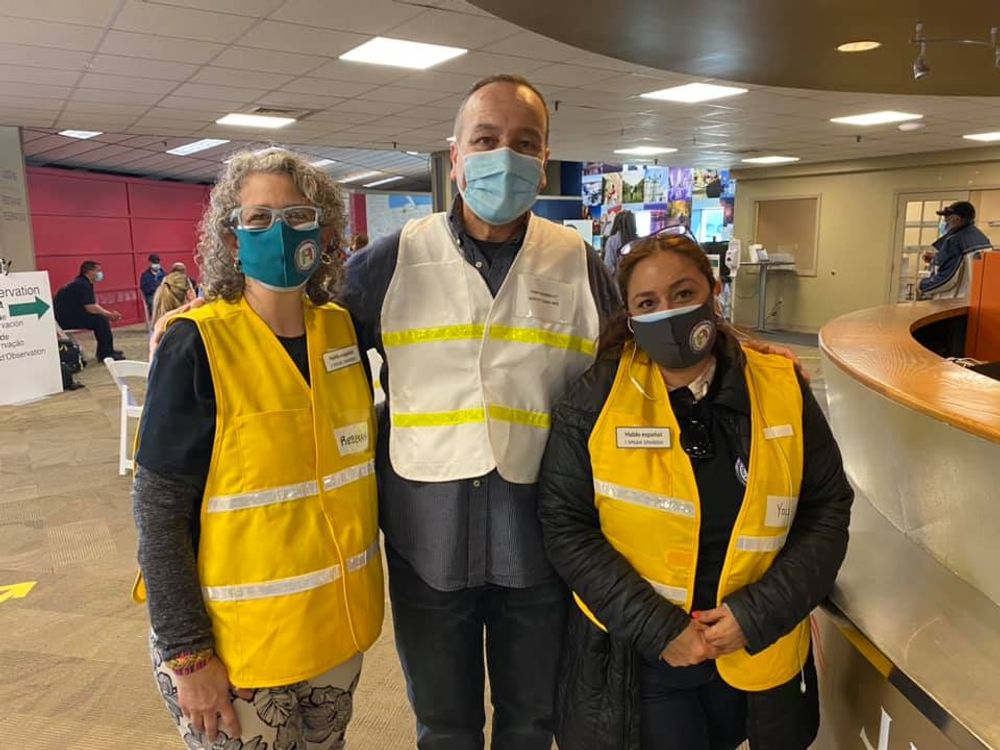 Just before lunchtime on Wednesday, a line had formed outside the Gateway Visitors Center in Newport. A mother waited with two children. Another man walked up dressed for work, in safety boots and cargo pants. They were all there to get vaccinated at a pop-up clinic for residents of color.
The timing couldn't be more pressing, said Rebekah Gomez. Gomez is one of the co-founders of Conexión Latina Newport, an organization that supports and advocates for local Hispanic families, who make up about 10% of Newport's population. She said the city's Latino community has been shaken by an "outbreak" this month in COVID-19 cases.
"We have a test clinic on Tuesdays, and it'll be quiet, we'll go outside, and we'll go, 'Hey, you want to come get a test?' They'll come in and get a test. And they'll be positive, and they had no idea," Gomez said.
Gomez said that in recent weeks, the percent positivity at the weekly clinic has reached 18%. That's while Rhode Island's overall percent positivity on COVID-19 tests remains just over 2%.
As is true statewide, Hispanic and Latino residents, as well as other communities of color, have also received a disproportionately low share of vaccine doses. According to state Department of Health data from April 20, Hispanic and Latino residents have made up over 20% of the reported COVID infections in Newport, but only 6% of residents who have received a vaccine shot are Hispanic or Latino.

Understanding that discrepancy makes it clear "where we need to put our energies, which is what today is all about," said Carmela Geer, the executive director of Newport's Edward King House Senior Center and the volunteer coordinator at the pop-up clinic.
Many of the volunteers at the clinic were Newport locals, already familiar faces for the families getting vaccinated. Geer said that's important, since language barriers and a lack of trust among some Hispanic residents contribute to lower vaccination rates. The pop-up clinic is Newport's first vaccination event specifically dedicated to reaching this community.
"We've had our arms raised for quite a while now that, you know, 'We need it down here! We need it down here!'" Geer said.
As part of Rhode Island's vaccination strategy, the Department of Health particularly focused on several "hard-hit communities," ZIP codes across the state that have been most impacted by the coronavirus. Newport has only one ZIP code outside the Navy base, and the city was not in the first or second tiers of communities prioritized for these early vaccination efforts.
Citywide, Newport has maintained fairly low COVID-19 infection numbers throughout most of the pandemic. But some locals describe Newport as a city that contains multiple cities. Within a couple miles of sprawling properties, many families, particularly in communities of color, live in densely populated housing — often in multigenerational homes. Some community advocates worry that sharing a ZIP code masks the higher risk facing residents in lower income neighborhoods.
Newport City Manager Joe Nicholson said you have to look within the context of a ZIP code, neighborhood by neighborhood.
In an email, Health Department spokesperson Joseph Weldelken said concerns that the state's ZIP code strategy left behind high-risk populations in places like Newport are "fair", and that "there is often a lot of diversity within ZIP codes." Vaccine eligibility is now open to all adults, and Wendelken said the state is working on initiatives — like free public transit to and from clinics — to promote vaccine access, regardless of geography.
And earlier this month, the state also held weekend vaccination clinics in Providence and Woonsocket for communities of color, which Wendelken said were aimed at helping reach those who live outside the priority ZIP codes.
Those clinics were hard for Newport families to travel to, however, and they conflicted with many hospitality workers' busiest days. Nicholson said that's why Newport decided to hold its pop-up clinic on a Wednesday.
"It was a command decision that was made to have it today, as opposed to on the weekends," he said. "Just so, you know, that respective worker who has to work on the weekends and the long hours that the hospitality industry demands, so they wouldn't lose their hours."
At the Newport pop-up, Yolanda Macías, who also runs Conexión Latina Newport, watched families trickle in and out of the clinic doors.
"I'm just gonna say in Spanish — 'Si lo crees, lo creas.' And we believe. We believe that we can do this and here we are," she said.
By the end of the day, 375 people were vaccinated at the pop-up event. Another clinic is scheduled in a few weeks for everyone to get their second shot.
Several Newport community groups are collaborating on an outreach campaign, and Newport officials are preparing to take on future initiatives, like a mobile clinic or another pop-up event.
Antonia Ayres-Brown is the Newport Reporter for The Public's Radio. She can be reached at antonia@thepublicsradio.org