In March, as the coronavirus took hold of the country, Devra Levy joined a Providence-area mutual aid group on Facebook. Within a month, the group had almost 3 thousand members, and was flooded with posts asking about stimulus checks, mask patterns, food delivery, and how to get tested.
More than anything else, people were asking for help getting unemployment insurance. The state's unemployment rate jumped from 3.4 percent in February to 18.1 percent in April. Nearly 100,000 people were out of work. And Levy knew there must be tenants struggling to pay rent.
"When the pandemic started, I and a couple other people that I knew -- other housing organizers, but also just my roommates, my friends, people I met on Facebook -- were really concerned about the lack of protections for renters," Levy said, "because we pretty immediately recognized that a lot of people were not going to be able to pay their rent and their mortgages."
They organized a new group, called Tenant Network RI, and began calling for an eviction moratorium and compiling lists of resources for tenants.
At the start of May, Rhode Island launched its first rent relief program, allocating $1.5 million toward helping renters affected by the COVID-19 emergency.
"Of course, I was excited about the fact that there was money out there," Levy said. "But I think pretty quickly it became clear to anyone who was working directly with tenants that it was a really lengthy and complicated process to actually get that money."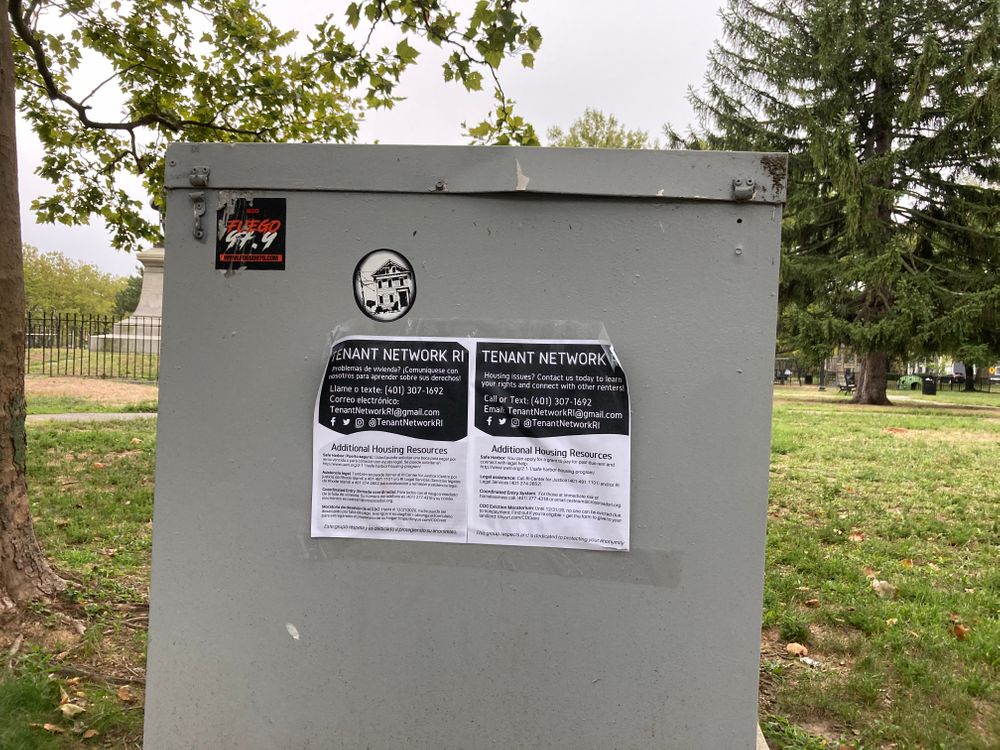 Within the first month, over 4,200 families applied for aid through Crossroads Rhode Island. But the Housing Help RI program was almost immediately bogged down by logistical problems.
"There was a lot of hurry up and wait," said Brenda Clement, director of HousingWorks RI.
Clement said the first hurdle administrators faced was getting clarity from the federal government on how the money could be spent.
The funds used to set up this first COVID-19 rent relief program came from the federal Emergency Solutions Grants Program.
"And that's really not a rental subsidy program," Clement explained.
In order to qualify for these funds, tenants need to prove they're facing an emergency, and that typically means they need an eviction notice in hand.
But the state District Court put all non-emergency evictions on hold from mid-March through the start of June. So while many tenants were falling behind on rent, they hadn't actually received an eviction notice.
"And so, we've had to try to kind of reconfigure the program to be able to use some of this funding and money to prevent evictions and to prevent people from getting into a big black hole of rental payments that they can no longer make," Clement said.
As of last week, the program had distributed aid to just 89 households.
The challenges in distributing aid efficiently have cropped up in other programs aimed at helping low income tenants weather the pandemic.
In July, the state dedicated $7 million in CARES Act funds to an eviction diversion program run by the United Way of Rhode Island.
"We're receiving somewhere between 30 and 50 applications, new applications a day," said Kyle Bennett, Director of Policy and Research at the United Way, in a phone call earlier this month.
Bennett, who has been running the Safe Harbor Housing Program for the past two months, added, "It's a daunting task, not only this workload that's more and more demanding every day, but also the need continues to grow. And that's really our bigger concern."
He and his team of six have been flooded with over 1,500 applications. As of last week, the program had paid out aid to 22 families.
"The people who need this program the most, they find the most difficulty in accessing it."
They've run into the same challenges that stalled the Housing Help RI program, namely chasing down the extensive documentation required by federal aid programs from both tenants and landlords.
Bennett said it's especially tough for people who get paid in cash, or who don't have a bank account.
"We're using traditional standards based on those highest of income earners, and it's not necessarily the best measure of determining income for folks that are unbanked, for folks that work in a cash economy," Bennett commented. "So the people who need this program the most, they find the most difficulty in accessing it."
His team is working to streamline the process, and he's hopeful that they'll be able to pick up the pace. But he says a better way of getting money into the hands of tenants in need would be to centralize housing aid distribution to avoid duplicating the same income checks performed for unemployment insurance and programs like SNAP.
"This begs the need for the reevaluation of our housing programs and structure in the state," Bennett said. "The exacerbation of need during the pandemic has made everyone more acutely aware of the need to find a new design."
Advocates say the current system of rent relief distribution is leaving the most vulnerable tenants behind.
"The folks who have been on SSI forever and can't afford a $50 rent increase, or their landlord is looking to cash in on a student rental, they're more likely to be low income people of color and more likely to be elders," said Christopher Samih-Rotondo, co-director of Direct Action for Rights and Equality.
The programs only help tenants who've lost income to COVID-19, Samih-Rotondo pointed out. And they rely on landlords to cooperate.
"People are waiting on papers that their landlord has to provide, that they won't get the funds without. And the landlords are saying, 'Well, I'd rather just push you out.' So I think making this opt-in for landlords really puts tenants at a disadvantage," Samih-Rotondo added.
DARE and other activist organizations continue to push for a complete moratorium on evictions and foreclosures to keep people housed for the duration of the pandemic.
The federal Centers for Disease Control and Prevention this month moved to freeze evictions for non-payment of rent until the end of December. But, as with previous programs -- it contains no relief for tenants who are being priced out.
With the state facing a critical shortage of affordable housing, some renters are asking themselves where they will go.
Reporter Sofia Rudin can be reached at srudin [at] thepublicsradio [dot] org or 401-302-1057.