The Beacon of Hope uses one of the braziers you may know from the WaterFire installation in downtown Providence. The large metal grates sit in the middle of the Providence River and hold a blazing stack of firewood. This brazier is inside at the WaterFire Arts Center, so it contains just a simulated fire. But behind it, there's row after row of luminaria - small candles in paper bags. Each evening, shortly after dusk, Barnaby Evans lights one or more candles, rings a modern version of a Tibetan singing bowl and reads a quotation related to candles and light.
Barnaby Evans (from ceremony): "Look at how a single candle can both defy and define the darkness" - Anne Frank
On Tuesday evening, there were 995 luminaria - one for each Rhode Islander who had died from the pandemic. Every weeknight, Barnaby adds a candle for each person whose death was reported that day. On Tuesday, he added just one.
James Baumgartner: It's easy to forget the individuals as we see the numbers come every day and then, you know, we settle into a routine of seeing these numbers and then we see "Oh, just one person." Well, that person had a family.
Evans: Exactly, that was a person. And that was a person who is sorely missed, and who won't be properly celebrated at this point. I think many families are planning celebration of life events in the future. But this interaction of taking a moment right in the middle of our period of loss - that's a very human process of recognition, of respect, of reconciliation of processing of grief, sharing of grief. Those are all very important functions that we're doing here.
At the beginning of the pandemic, the WaterFire staff set up the brazier with the faux fire and shared it with the community by a live video feed. The Beacon of Hope started out as a way of looking forward to when the pandemic would be over.
Evans: but we realized as people began to die from COVID-19, they were not allowed to be with their family or with their religious guides or you know pastors or rabbis. And in fact they had a certain anonymity because of HIPPA laws and regulations. So we were learning of these numbers of people we'd lost. And so we started to feel we should be marking those people in some way in a sort of public way.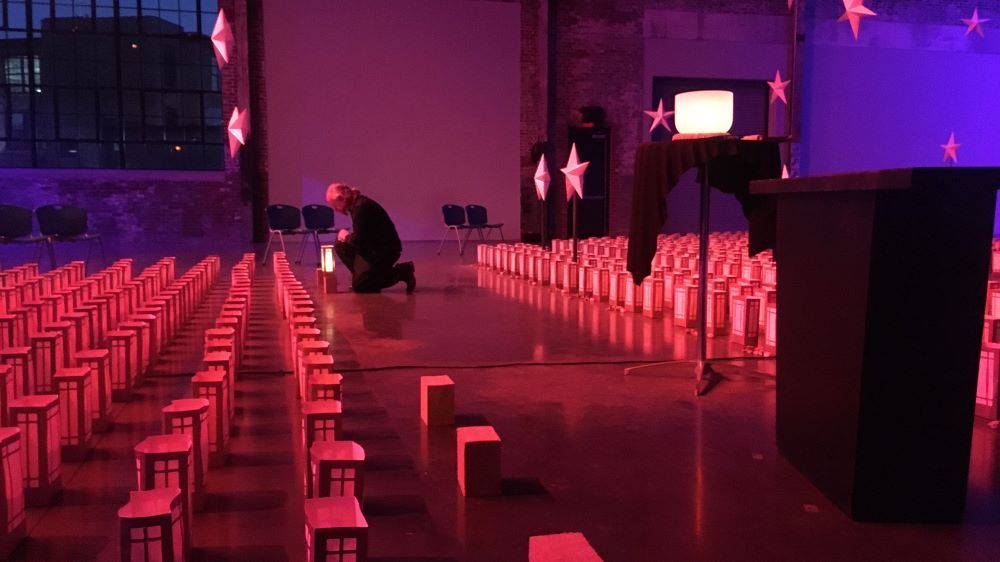 Barnaby and the WaterFire staff worked out a ritual for lighting each luminaria near the Beacon of Hope and then slowly carrying it to the last row, kneeling, and placing it with the hundreds of others.
Evans: And it's that moment where it may be a minute or a minute and a half where I and those who are assisting me will really focus on that one person who is somewhere in our state of Rhode Island who we've lost, who otherwise would be alive. Since we don't know their names, we don't know their religious identification, we had to come up with a set of symbols that really dealt with the core symbolism of WaterFire about fire being a symbol of life. And there are many metaphors of a candle being a symbol of life.
Evans (from ceremony): "One can forgive a child who is afraid of the darkness. The true tragedy is when grown men are afraid of the light."
Evans: We're really looking forward to that day when we have no losses that we need to mark.
Baumgartner: Probably likely that after that day of no losses that we'll have losses again.
Evans: Yeah this is a long battle. Too often our nature is to discount the challenge and pretend we've got a victory. And it just will bite us. You've got to follow the science and you've got to be cautious and you've got to be respectful of how much we don't know about what's actually happening.
The Rhode Island Department of Health announced four additional deaths on Thursday due to COVID-19. There are now 1,001 luminaria at The Beacon of Hope. During Thursday night's ceremony, Barnaby Evans and others plan to ring the singing bowl 1,001 times. The public is invited to view The Beacon of Hope in-person tonight, and next Wednesday and Thursday. The ceremony begins at 8:30 PM. You can also view The Beacon of Hope through July 31st, 24 hours a day at Waterfire.org