State Rep. Rebecca Kislak (D-Providence), who was first elected in 2018, is our guest this week on Political Roundtable.

Joining me on the panel are Patrick Anderson, Statehouse reporter for The Providence Journal, and Maureen Moakley, emeritus professor of political science at the University of Rhode Island.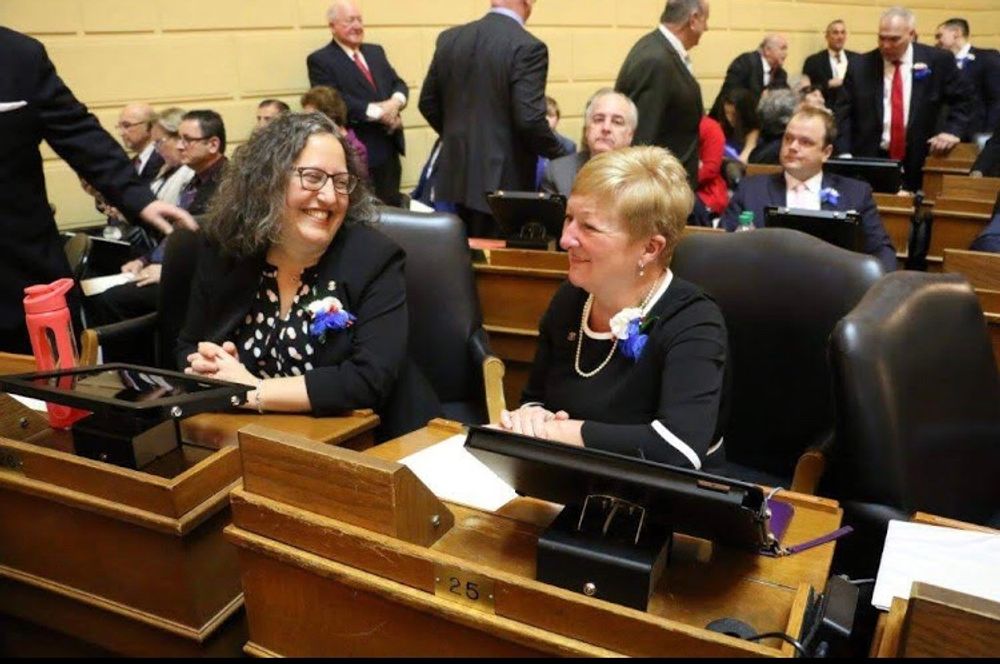 Here's a lightly edited transcript of our conversation:
Donnis: Rep. Kislak, let's start with the revised IGT-Bally's legislation introduced this week. This is the agreement that would govern gambling services in the state over the next 20 years. And it's a big deal since gambling is Rhode Island's third-largest source of state revenue. Speaker Shekarchi calls this an improvement on an earlier version of the bill. Critics still question whether it makes sense to give this contract out on a no-bid basis. Do you support this revised legislation?
Kislak: I'm really grateful for the speaker's work to get us a better deal. And just generally, my values are that I'm always concerned about giving decades-long contracts with no competition. So I'm looking forward to really digging into the details here. I think that there's a bigger issue for state, though, that this presents, and I think we need to really think about what it takes to be a world-class state and a world-class capital city in our state, so that we can attract world-class companies to come here. And one of the things that I'm really concerned about are our schools. And if we have world-class schools in Providence, then the attracting large companies is just going to be that much easier.
Donnis: We'll talk more about schools in a bit. But just to nail that down, you're undecided on the bill for right now?
Kislak: I haven't read the details yet. So I need to spend some time with it. Yes.
Donnis: To shift gears a little bit, you're a supporter of what you call tax equity, the idea that there should be fairness in who pays taxes and how much. There are some like-minded lawmakers who are ramping up their efforts to increase taxes this year on upper-income Rhode Islanders. How do you respond to the counter-argument -- that Rhode Island has traditionally had a weak economy, a less-than stellar-business climate, and that would it would be disadvantageous for the state to raise taxes on upper-income people?
Kislak: I think that we all need to pay our fair share and to invest what we are able to in a thriving state and economy. So I think that it is fair and important to talk about what tax equity looks like, whether we're seeking contributions from the nonprofits in our beautiful city or from high-income Rhode Islanders to pay our fair share.
Anderson: Representative, marijuana legalization -- always a big topic. And right now, it seems like there's a increasing possibility that with no agreement in place, even though most folks in the legislature, in theory, support legalization, there's a chance it doesn't happen with people on the left wanting more equity and not wanting a couple of insiders to corner the market. And some folks who were on the center-right never were particularly thrilled with legalization in the first place. So for you is a status quo where we go another year without legalization -- Is that acceptable? Or would that be a bad outcome?
Kislak: Yeah, I think the status quo is a real shame. I see every time I come out of the Vets after session a big sign advertising cannabis in Attleboro. I know that nobody who has the income to purchase cannabis, and the will to drive 15 minutes, 20 minutes to Massachusetts …. everybody who wants to purchase it legally can -- it's not legal to drive it over the border. But we really need to regulate and tax the cannabis here in Rhode Island. And we need to do it through an equity frame. And what I mean by that, and I think there's a lot of agreement that folks who have past convictions for marijuana should have those convictions expunged. And we should really think about ways that we can make sure that folks from the communities that have suffered the most from the so-called war on drugs, that they can have an equal footing in the cannabis industry here in Rhode Island. I think that we should be able to come together to do that.
Moakley: This week's visit from Vice President Harris and Gina Raimondo was certainly inspiring particularly for women. How do you count for the remarkable success of women elected to the General Assembly in such a relatively short time? We went from a paltry few elected representatives to now -- we are nationally one of the top-10 states having numbers of women in state legislatures. How do you account for this? And also, studies suggests that women are consensus builders. Do you find that true in the House?
Kislak: Thank you for that question. And I haven't heard all of that data, and it's really heartening. I, for a while was saying that we should aim for 50-50 representation by 2020. And we got there in the Rhode Island Senate, but not in the House. And immediately before I decided to run for office, I was the president of Rhode Island NOW. So I've been thinking a lot about gender equity and our legislators -- legislators here in Rhode Island's and around the country. I think that we are consensus builders, and the more of us who run, the easier it is for the next group of women to run. And so as more of us are running, women run, and women when then it will be easier and easier as we move forward.
Donnis: Representative Kislak, one of the side effects of the pandemic is that it's complicated efforts to improve the Providence public schools. You have two sons in the Providence public schools. I wonder what your observations are on how things are going with efforts to improve the schools, whether this is happening urgently enough, and where things go from here?
Kislak: Thank you for that question. I spend a lot of time both as a parent and as a legislator on the Education Committee thinking about the Providence schools and the Providence school takeover. I know from watching my own children and in their schools that there is good -- there are good things happening in the Providence schools all the time. And also, there is so much room to improve and our students in our communities definitely deserve better. I think that the takeover is an opportunity or should be an opportunity for some transformative change here in Rhode Island, and it should be community-based and focused on the students and we need to, with all government and also our schools, be really listening to the communities and supporting them in their educational goals and needs.
Moakley: I just like to follow up on that. How does that fit with the growing opposition, for example, to the moratorium on charter schools? Increasingly now we see a lot of pushback, particularly from minority communities. Given your interest in the public schools how do you see this playing out as far as charter schools? We know the commissioner thinks the charter school movement should go ahead. Where do you stand now on this issue?
Kislak: Well, I continue to think that we need a plan. And we deserve a plan for 100 percent of our students. And I'm incredibly concerned that we are faced right now with in Rhode Island an unprecedented expansion of charter schools, for up to 25 percent of our students, which would move a quarter of our kids at about $80 million a year out of the traditional public schools. We still haven't seen budgetary information or plans for what happens to the 75 percent of the Providence kids who are left. I'm not saying that charter schools aren't a part of a system that is well-run and high-functioning for all of our kids. What I am saying is that things that work in charter schools, like more teachers and smaller classes and longer school years, might be things that we need to really invest in for 100 percent of our kids, not just a quarter of them.
Moakley: So do you support the moratorium?
Kislak: I do. I think that until we have full information for all of our children, and that we can plan together as a community, that we really should take a pause and think about what it is that we want for our schools in Providence.
Anderson: Moving to climate change …. Representative, this week we just saw the introduction of a Transportation Climate Initiative bill and that's a bill that would enact the plan that Gov. Raimondo was putting together that would have a charge on wholesale fuel to combat climate change. Now, Gov. McKee has been less than enthusiastic about it, though he hasn't said either way whether he supports it. Do you support the Transportation Climate Initiative? And what do you say if you do about concerns about the price of fuel?
Kislak: I support it. I think and hope I'm a co-sponsor of that bill. I think I signed up this week, I think it's an important piece in what we need to do to really support climate resilience and supporting our Ocean State in this really challenging time. I'm glad we passed the Act on Climate. I am opposed to expansion in the Port of Providence of fossil fuel infrastructure. And we need to keep doing more and more. And here's another place where I think that government should be focused on communities, and what communities need and are asking for. I think this is related to [how\ Providence keeps asking to maintain public transportation hub in Kennedy Plaza or nearby -- don't split up the buses. I think that's really important. The folks of Providence have been loud and clear about that. And we have a climate action plan in Providence that was developed with a lot of input from stakeholders in the city. And we should keep implementing that and supporting TCI, and the Act on Climate and more in order to foster an environment that we can continue to live in.
Donnis: Representative Kislak, I reported last week on how there were some new financial questions about the owner of the CharterCARE hospitals, Roger Williams Medical Center in Providence and Our Lady of Fatima in North Providence. The parent company then pulled out of a proposed change to its ownership structure. And they're fighting with Attorney General Peter Neronha about whether his report on them should be released. What do you see as the best potential outcome here? And do you think it was a mistake for state regulators to sign off on the sale to Prospect Medical Holdings back around 2014?
Kislak: Well, I think it's more helpful to look forward than back. It is, however, always concerning when healthcare becomes a for-profit business. Healthcare should be focused on the community healthcare needs. And I am really glad and incredibly optimistic that our attorney general has stepped forward to exercise his regulatory authority, and to say, if you come here and you invest in healthcare in Rhode Island, you can't then just pull up and leave -- that you're here to stay. And I think that that's really important. And I think it presages a good process for the pending hospital merger of Lifespan and Care New England, which would give us a near-monopoly here in Rhode Island of healthcare -- which I'm not saying I'm necessarily opposed to it; could be not really a monopoly because it would be well checked by large healthcare systems in Boston, Southeast Massachusetts, and Connecticut But also, it if we have regulators who are empowered and use their full regulatory authority to make sure that the healthcare system is focused on community healthcare needs, and not on the business interests of the hospital system, then I think we'll be okay. And I'm looking forward to seeing that.
Donnis: We have time just for a quick final question. We're coming up on an election year next year, who are you inclined to support in the race for governor?
Kislak: It's early yet for that and we have some great candidates running. And I am looking forward to seeing how that race plays out and jumping in a little bit later.
Ian Donnis can be reached at idonnis@ripr.org. Follow him on Twitter @IanDon. Sign up here for his weekly RI politics and media newsletter.