In her first detailed comments on the subject as a gubernatorial candidate, former CVS Health executive Helena Foulkes said she moved quickly to change the giant retailer's approach to dispensing opioids after learning of potential problems.

During an interview at The Public's Radio, Foulkes blamed Purdue Pharma for being dishonest with CVS and other retailers.
"They lied to all of us in this business," Foulkes said. "And I very much feel like pharmacists were put in a terrible position. They were getting valid prescriptions, and, and, and just got so caught in the middle of all those lies. So what I can say to you is, as soon as I saw what was going on, I jumped into action. And I feel very proud of what I did, actually, we made some operational changes, to go after the pill mill doctors."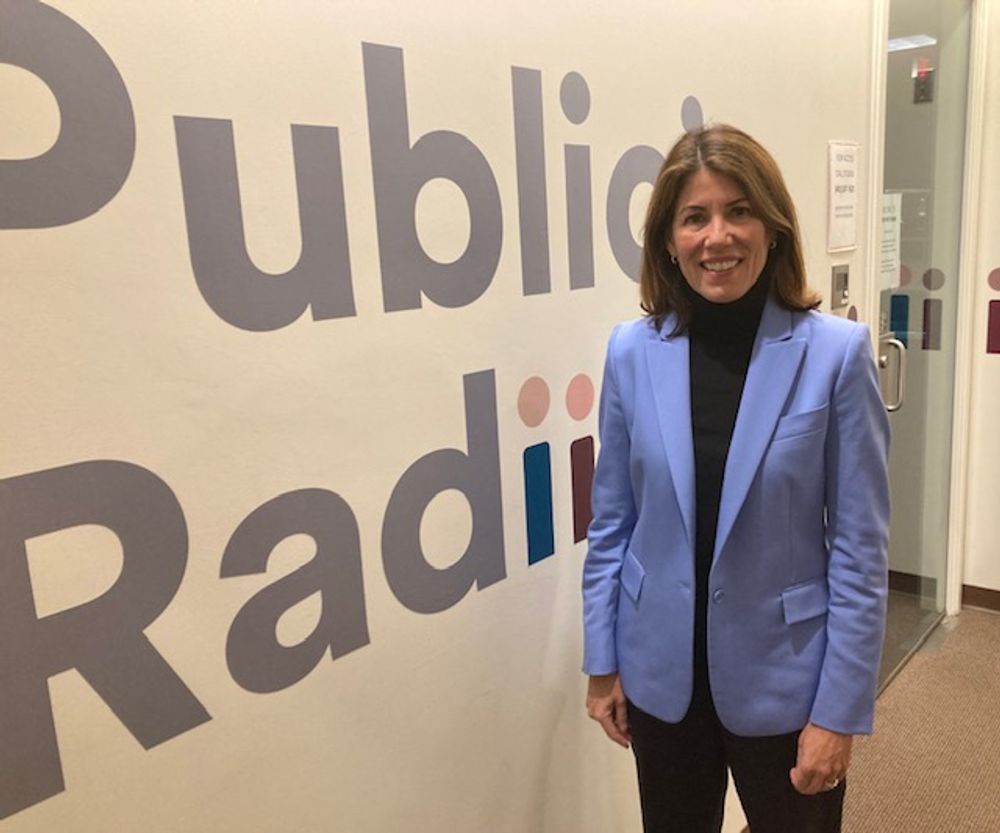 Foulkes declined to say whether she thinks CVS Health did anything wrong in its approach to dispensing opioids
If she could do it over, Foulkes – who left CVS in 2018 after 25 years, including time serving as president of CVS Pharmacy – said of the opioid crisis, "I wish we had all seen it sooner. I mean, it was just a crisis that we all missed."
A federal jury in Cleveland found last month that CVS Health and two other large retailers contributed significantly to the opioid crisis in two Ohio counties. The case is under appeal.
Foulkes is making her first run for public office. She is one of six announced or expected candidates, along with Gov. Dan McKee, activist Matt Brown, Secretary of State Nellie Gorbea, General Treasurer Seth Magaziner, and activist Luis Daniel Munoz.
During an interview at The Public's Radio, Foulkes was also asked about her past political contributions, whether she backs a proposed hospital merger in Rhode Island, and whether she talked about running for governor with Gina Raimondo, now U.S. Commerce secretary, among other topics.
Here is a transcript of the interview.
Ian Donnis: Let's cut right to the chase. What makes you a better choice for governor than Dan McKee or the four other Democrats in the running?
Helena Foulkes: Well, you know, I never thought about running for office before, Ian, and I absolutely love this state. And I only really thought about jumping in because I've been very worried in the last year. And when you think about the last 40 years, there was a fair level of stagnation in the state. And I think we started to turn the corner in the last six or seven years, but COVID changed everything. I think women took a big hit and our communities of color. And so I thought to myself, we really got to get going again. And I need to help all Rhode Islanders. So I'm running, because I think I'm a problem-solver. And I see myself as someone who can jumpstart our state jumpstart our economy. My whole life, what I was really good at was pulling people together, making hard decisions, and helping people. And so I think that's what I really bring to the party. A little bit about myself, I come from a family that was very focused on community involvement. My grandparents, my parents have grown up in Rhode Island my whole life -- I love it. And I learned a lot from my family about the importance of community.
Donnis: You're known in large part for your work at CVS Health. You spent 25 years there, including working as president of CVS Pharmacy before leaving in 2018. A federal jury in Cleveland found last month that CVS Health and two other large pharmacy chains substantially contributed to the opioid crisis in two Ohio counties. Do you think CVS Health did anything wrong in connection with that?
Foulkes: Well, I just want to start by saying I have been so devastated by this opioid crisis. And I, my heart goes out to everyone who has been affected by this. I look at families, mothers, fathers, brothers, sisters -- it is just absolutely devastating. But I also feel angry. I'm angry at Purdue Pharma, they knew exactly what they were doing. They lied to all of us in this business. And I very much feel like pharmacists were put in a terrible position. They were getting valid prescriptions, and, and, and just got so caught in the middle of all those lies. So what I can say to you is, as soon as I saw what was going on, I jumped into action. And I feel very proud of what I did, actually, we made some operational changes, to go after the pill mill doctors. And I think most importantly, what I led …
Donnis: What time frame was that?
Foulkes: Hmm, sometime when this was all happening, as soon as it happened, as soon as we saw it. And and I'd say that the other thing that I did is, I pulled the other drugstore leaders together, because this was something you couldn't solve just within CVS. And so together, we started working on legislation across the nation.
And in 2016, in particular, Rhode Island changed its legislation. And what we did, which is really important for people to know, think about it, when it when you leave the dentist office, let's say, for a root canal. In the old days, people were leaving with 28 pills, they had excess pills then in their medicine cabinets. That's how a lot of kids get got hooked on opioids. We were able to change the legislation. So across the country, Rhode Island in particular in 2016, we reduced the number of pills people could get after surgery. So I'm proud of what I did. I'm devastated by these families. But I really think that this experience would actually make me a better governor, because I know a lot about this crisis and the importance of it, and all the mental health issues that have come up with COVID pn top of it
Donnis: On the question of whether CVS Health did anything wrong in connection with that? Your answer is …
Foulkes: I'm not a CVS spokesperson. I'm just going to tell you what I did during this period. And I feel very passionately that as soon as we saw what was going on, we jumped to action. And I am proud of the leadership I took.
Donnis: If you could do that all over again, would Is there anything you would have done differently?
Foulkes: I wish we had all seen it sooner. I mean, it was just a crisis that we all missed. And the sad thing is a lot of people got addicted to those medicines. But I go back to Purdue and my anger towards them. This was an effort that they undertook where they duped us all. And I do wish we had found it sooner because we could have saved lives.
Donnis: You contributed $500 to Mitch McConnell back in 2014. That was around the time when he was trying to kill Obamacare. Was there any linkage there?
Foulkes: Mitch McConnell is really a terrible person and there's nothing that he has done that I support, but you're right, in 2014 when I was part of CVS, we were working with people on both sides of the aisle and we were trying to save the Affordable Care Act. So it was important to us that we were working with both sides of the aisle. I do regret it. But it was part of that effort to be helpful around health care.
Donnis: You have a strong Democratic pedigree. You're a niece of former US Sen. Chris Dodd of Connecticut, and the granddaughter of another former Connecticut senator. At the same time, when you were working for CVS, you contributed tens of thousands of dollars to political action committees that in turn funneled money to Donald Trump and Senate Republicans. For Democrats who consider those kinds of contributions a deal-breaker, what do you say?
Foulkes: I go back to what I was really trying to do, which I think every governor has to do, too, is work across the aisle. I had to work with everyone in my CVS role to make things happen, especially around healthcare. So the lion's share of my personal donations all went to Democrats. But as part of my work I was, I was, working with both Republicans and Democrats to make things happen for people in this state.
Donnis: Let's talk a little bit more about healthcare. There's a proposed merger between the state's two largest hospital groups, Lifespan and Care New England, with Brown University. Some people say this would be good for Rhode Island. Other people have concerns about monopoly power. Do you support that merger?
Foulkes: This is an area that know a lot about. I think it could make a real difference for Rhode Island. And I think this is a big moment for us to reimagine the future of healthcare in Rhode Island. And the way I would focus on this is, this is an opportunity for us to put the patient at the center. And so, I think if there are the right guardrails put in place and the right controls, this could be a really a moment where we reimagine healthcare. And COVID, if anything, has taught us that we don't have an end-to-end system that really serves all the patients of this state. Both of those systems today are failing on their own. So there are certainly regulators and the AG who are looking at it. But unlike the current governor, who is passively sitting by, I would throw myself into this. I see this as an opportunity to move the state forward and do something very different for the people who live in this state. And ultimately, I think we could have more people serving more patients in Rhode Island and benefit from it, if it were designed appropriately.
Donnis: If I hear you correctly, you support the merger, if the appropriate guardrails are put in place.
Foulkes: Yeah, I really think that it could be a force for good and change. But again, all the right controls have to be put in place. The FTC has to approve it, the attorney general, the Department of Health, so I don't want to get in their way. But if they're moving in this direction, I would want to play an active role in shaping healthcare. It's the largest industry we have. We need to be self-sufficient. We have 1.1 million people we're serving. And I think that we could be a model for the country in terms of how healthcare is done
Donnis: On jobs in the economy. If you win an election as governor, how would you focus your approach toward that?
Foulkes: This is a big issue for me, because I care a lot about social issues. They're very important to me, they're important to Rhode Islanders, we need much more in the way of education and affordability. But I think all of this comes from having a really robust economy, one that's growing, one where the business climate feels positive, where our current businesses feel supported, where we can attract and retain small, medium, large businesses.
So I would throw myself into growing this economy. And in particular, I would focus on the green and blue sectors. Climate change is real and devastating. But we are in a unique and very admirable position. If you look at wind, we were the first state in the whole country to have a wind farm. And I would want to use that position of strength to make Rhode Island a place where more manufacturing is done around wind, where solar is omnipresent because it matters so much to the environment. I also see life sciences as a place that we can grow and thrive. And that I think there are so many regulations around businesses that could be freed up so that we can help businesses grow and really create good, great jobs for the future. And that's ultimately how we help people prosper in this state and reach their full potential.
Donnis: Gina Raimondo -- obviously now U.S. Commerce secretary, previously, governor for Rhode Island; did you and she talk at all about the possibility of you running for governor before you decided to do that?
Foulkes: I had lots of conversations. I thought really hard about this. I won't talk about any one conversation with any individual, but I did not go into this lightly. I really needed to understand if I could have an impact. And and and what the opportunity was in this state. And I will say to you that it's been seven weeks since I announced and I feel a level of conviction, confidence, excitement. That's even greater than when I announced because I'm having now so many conversations with he people all over the state and I really get a sense for the opportunity and where I could make a difference for people.
Donnis: Why not talk about whether you and former Governor Raimondo talked about this?
Foulkes: I don't have conversations about any of those conversations that I had privately. So I'd rather just focus on what matters to people in Rhode Island, I think, which is, what difference can I make for everyone in the state?
Donnis: Another key issue for the future of the state is the public schools. It seems like everyone is concerned about this. There's more talk about this, but not a whole lot has really changed. Is there anything that you would do differently from the current officials in Rhode Island?
Foulkes: Yeah, I'm devastated about the state of education I mean, most importantly, for our parents and kids. You look at our test scores, and they are not where they need to be. In the state of Rhode Island, 80 percent of our kids are not meeting their math scores, and 67 percent of our kids are not meeting the English scores. So just very objectively, we're far behind even our neighbor in Massachusetts. And this is what I feel really passionately about.
I don't have all the answers. I think it's a good example of what I do know how to do, which is have great talent, put people around the room. And most importantly, focus on what the critical metrics are, and what are the things we need to keep shining a light on so that we could really make a difference and holding everyone accountable. When I look at what we have done, we have reams and reams of data. But we don't have a simple scorecard of how we're doing. And there's so much that we need to do to invest in our kids and our future. This is not just for them, it's also to have a thriving economy. Businesses need to be able to hire these children as they're graduating and and allow them to prosper and grow. So we're very committed to that. And I think that my experience as an executive would allow me to just approach it differently approach it from the perspective of key metrics, great team and accountability.
Donnis: When you left CVS Health in 2018, it was for a job leading Canadian retailer Hudson Bay Company. News reports indicate your initial compensation was something along the lines of $30 million a year or close to that. People might wonder, can you really relate to the lives of regular Rhode Islanders given that kind of stratospheric compensation? What do you say?
Foulkes: Well, I don't know that the particular numbers are right, but here's what I would say. I started working at CVS in 1992. I had a very mid-level job right out of college. And I, my first job by the way, I was actually in charge of how we laid out our seasonal aisles for Christmas or Easter or beauty. I had many, many jobs over the years at CVS.
But along the way I also had four children, I had four kids, in four and a half years. When my youngest child was just one year old, I found out I had cancer. And I had surgery, and then a few months of real recovery. And it took me a long time to sort of get back on my feet. And at that point in my life, I was not making a lot of money. And my husband and I were working very hard and very worried about our future. It's one of the reasons I'm running, because I realized I was lucky to work for a great company that had where I had health insurance, where I knew I'd have my job when I came back. I had a wonderful boss. And that's what motivates me. And I think when people get to know me, they'll see me as someone who cares deeply about them. And that's why I'm doing this.
Donnis: Helena Foulkes, I've saved the toughest question for last. What is your favorite restaurant in Narragansett or nearby?
Foulkes: Oh, this is very dangerous. It's like when you have four kids, you should never, ever name your favorite. But let me just say last weekend I was at Matunuck Oyster Bar. And it is a fabulous restaurant. I'm sure most of your listeners have been, but if they haven't, they should head on down. It's not only gorgeous, but it is absolutely delicious. And I was there with my husband and my four kids. They're all in their 20s. We were here together all together because of Thanksgiving and we had a really great time.
Ian Donnis can be reached at idonnis@ripr.org. Follow him on Twitter @IanDon. Sign up here for his weekly RI politics and media newsletter.