Painted murals on sheets of plywood ring a parking lot in downtown Providence, facing out to the sidewalk. The paintings feature portraits as well as slogans like "Black Lives Matter" "We shall overcome" and "We demand sustained action." I talked with Michele Fontes who was helping with the work.
FONTES: After the riots happened last Monday, a lot of the businesses had boarded up their broken windows. and businesses that didn't have broken windows boarded up theirs to prevent… I believe to try to prevent any broken windows.
She's talking about the looting and vandalism that happened last week, resulting in smashed windows across downtown Providence.
FONTES: So walking around downtown, navigating this new world of plywood and vacancy, I think it was heavy and it felt alone. Which if you know downtown, it's always busy, it's always vibrant. And I think the artists of this city felt that.

A few days after the plywood went up, the first paintings started appearing downtown. AS220, the DIY arts incubator, used their social media feed to feature Kendel Joseph painting a portrait of George Floyd, the Black man who died while restrained by a Minneapolis police officer. Over the weekend, more artists came downtown to paint on the plywood. Milka Aquino and Martin Paiz were among the artists at the event.
AQUINO: We were just strolling around on Saturday night and saw other artists and I wanted to do the same thing. So I approached them and they said it was kind of free range anybody could do anything. So we talked to the owners of Craftland because their store was boarded up and we just decided to create something.
Their mural is geometric in design: lines criss-cross over the space creating different shapes that are filled with different colors. To my eye, it looks like a stained glass window.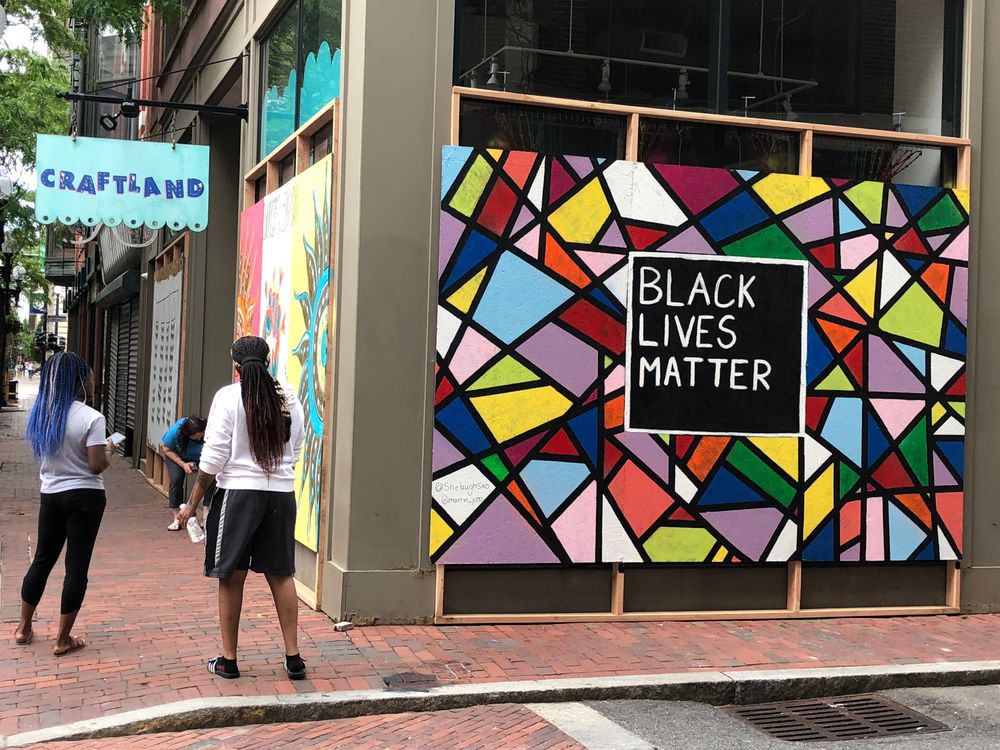 AQUINO: And for me it's kind of representative of different backgrounds, different races, different ethnicities coming together for one purpose which is stated in the middle, which is right now "Black Lives Matter"
PAIZ: Yeah, our goal with doing art in general, doing any kind of art is to bring advocacy, especially in the public eye. So when we have the opportunity it was definitely something we couldn't turn down.
BAUMGARTNER (at scene): It's kind of a little weird to see the buildings of our city boarded up, right? It's a little frightening in a way? And…
AQUINO: Yeah and the artists took advantage [laughs]. We saw... People saw wood and we saw canvases.
Jason Suggs and Candace Moran create art together as "Two Birds" They heard about the opportunity to paint and rushed downtown. Jason described the feeling he had when all of the artists were downtown working on their paintings at the same time.
SUGGS: The mural came up out of the spur of the moment. It was just spontaneous. We didn't have an idea when we showed up, but we just let our minds flow. The whole inspiration and vibes that was in that area just fueled our energy to make that art. It was the togetherness, the growth and protection, the inspiration of Black Lives Matter and everybody is just having a great time and being peaceful, being loving, sharing their materials, their art.
MORAN: It was a great sense of community.
SUGGS: Yeah for sure.

Their painting features a fist raised in protest, with leafy plants on either side and the words "Protect Black Lives" painted below.
MORAN: It's basically part of human nature to be a protective community, to be behind each other, to uplift each other. And that was the feeling there and we really wanted to embody that.
SUGGS: We are here to build and grow together and that's what my main thought for the piece we created was.
WHITE: The reason that I wanted to bring people together today, well is for our sister Breonna Taylor.
Nafis White is the community membership manager at AS220. She helped organize the event earlier this week. She's talking about the woman shot by police while they were executing a no-knock warrant in Louisville Kentucky back in March.
WHITE: I've been interrogated by police, I've been stopped by police, my family has you know. I've had a lot of experiences (as many do) with systemic racism of all kinds. And I just felt compelled because I felt that...her death is, you know. It could have been me.
A large mural of Breonna Taylor is featured in the row of paintings. The social media notices about the Tuesday event billed it as a celebration of Breonna's birthday which was the Saturday before.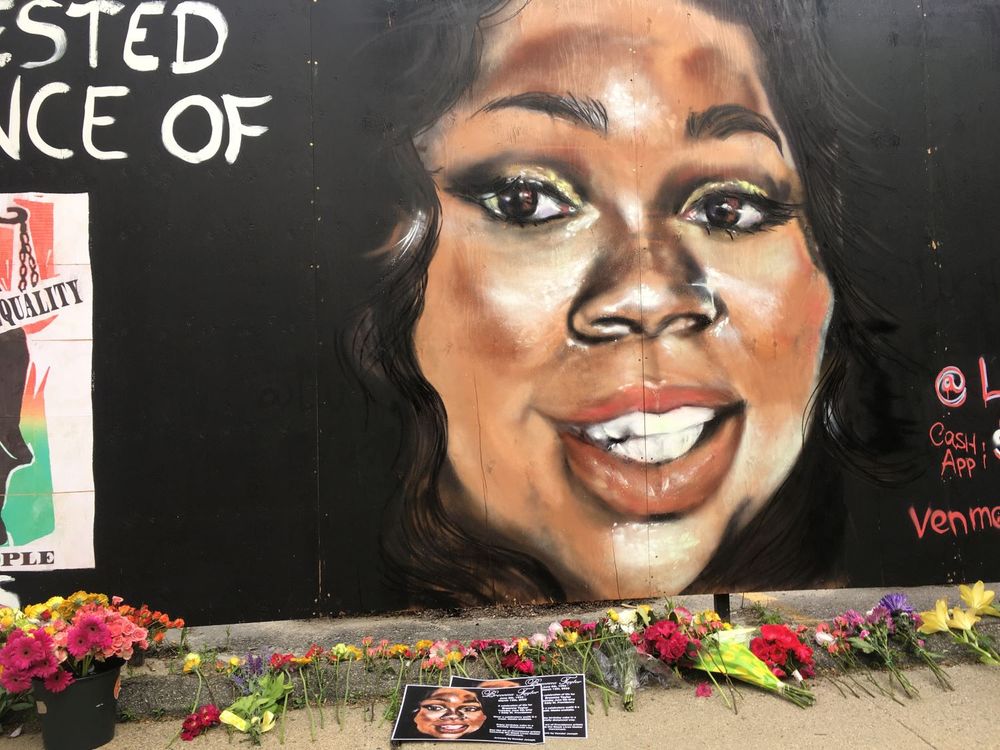 WHITE: So she is the centerpiece of this and bringing us together and then we have DJs, we're going to move, we're going to dance, we're going to lay flowers, we're going to lay a wreath. And really celebrate the fact that all of these murals were saved from Westminster that Cornish Associates held on to them, that artists - a lot of us were up early this morning building the backing so they could be mounted. And here we are!
Nasif White tells me that the paintings should be up for a few weeks, possibly the rest of the summer and then she hopes they will be preserved by a local arts organization. You can view the paintings at the corner of Eddy and Fountain streets in Providence.