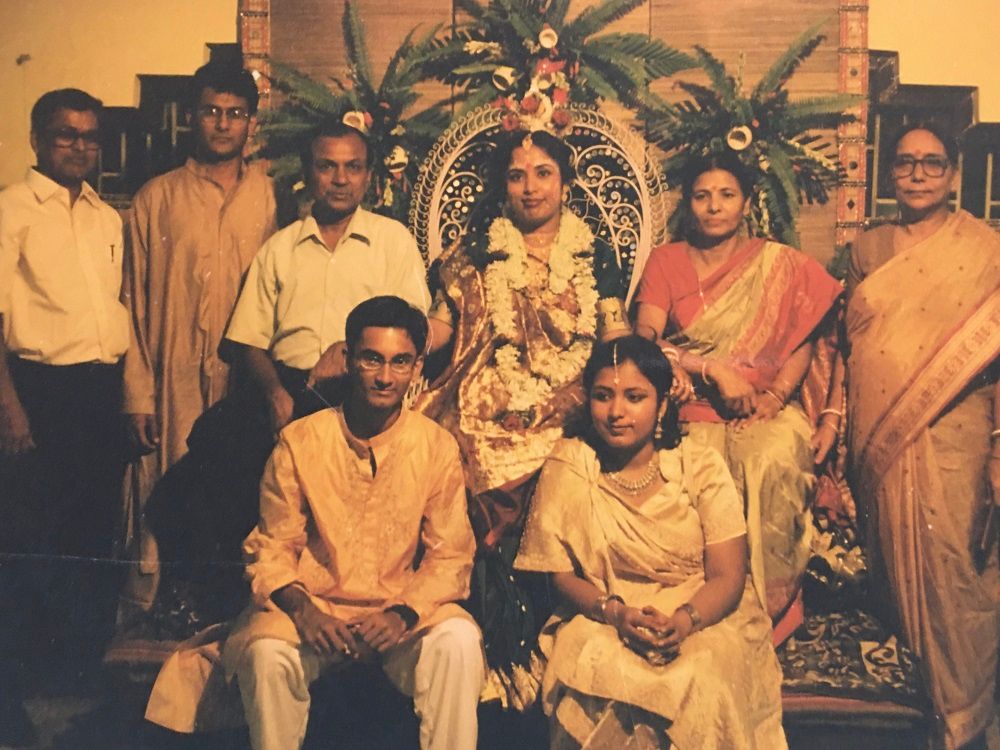 Subscribe to Mosaic on Spotify, Stitcher, or Apple Podcasts
GONZALEZ: Hey, everyone. I'm Ana.
NUNES: And I'm Alex. You're listening to Mosaic.
GONZALEZ: Alex, has there ever been something in your life that you really wanted to do, but you felt like you couldn't because of, you know, life?
NUNES: Oh yeah, I mean, when you have kids, so much of your life is dedicated to them. Like, I used to love going to the movies, but now, if I'm lucky, all I get to see are Disney films.
GONZALEZ: Ooof, but it could be worse. For a lot of people, the daily grind of bills and families and all of our obligations can go beyond watching Toy Story 4 on infinite loop. These obligations can actually prevent you from living the life you really want. Which is what Rupa went through when she wanted to dance.
RUPA: And my dad was like, well, this is just a hobby. Because it's Indian family and home. You aim for academics. Singing, dancing, sports are hobbies.
GONZALEZ: In this episode of Mosaic, we meet Rupa Datta, a Indian woman who's able to find the courage to commit to her dreams..
GONZALEZ: Dance Connection in Johnston, Rhode Island has bright pink walls covered in dance team photo collages. It's really cold when I step into the studio and meet Rupa. But she doesn't let that dampen her energy. She turns on the heat and plugs her phone into the sound system.
Tonight is the second week Rupa has taught her classes in this space, and she loves it. It's perfect for her Masala Bhangra classes, which are kind of like Indian Zumba. "Masala" means "spicy" in Hindi, and Bhangra is a really athletic, Punjabi folk dance.
Rupa moves to the middle of the floor and starts leading a warm up. I follow her because she told me the best way to understand dance is to do it. So, I'm doing squats and jumping side to side with my arms over my head, feeling extra awkward. But Rupa reassures me: there are no mistakes, just unique solos.
The main step starts in the shoulders, with a shrug for every beat. Then, you raise your arms up and bend your elbows in time with your shoulders. And then the feet hop from side to side as your shoulders, arms, and hands propel you across the floor. You're always in motion and ready to switch steps in perfect synchronization with the people around you.
After an hour of nonstop dancing, I'm sweated through. But Rupa is smiling and ready to teach her next class.
RUPA: If I try to diagnose myself, I think I fall in the category of like, hyperactive. Because I want to do a lot of things. I cannot sit quiet for a long time.
GONZALEZ: Rupa grew up outside of Kolkata, India, in a middle class family. It's traditional for the kids in her town to learn how to sing and to practice every morning. But, Rupa knows that's not for her. At age 6, she asks her dad for dance lessons.
RUPA: So me and another friend from my school, we started taking those lessons, and it was a classical dance class. It's called Kathak.
GONZALEZ: Kathak is one of 8 classical dance traditions in India. It's from Northern India and is inspired by middle eastern Islamic dances. It's rooted in Sanskrit texts and ancient drawings of dancers performing for deities. The movements can be slow and statuesque, with angled arms and dancers moving as mirror images of each other. Or, it can be blazing fast and accompany dazzling, complex drumming and singing. It tells stories of love, worship, and drama. 6-year-old Rupa loves it.
RUPA: When I found dance, I think I found it's like a meditation for me. I don't know how to say this, but I just had it in me. It brings me joy. It brings me peace. The knowledge of other things came later, but just the feel of dancing, you know like footwork because Indian dance has a lot of footwork. And the hands. And it's like for me, I am trying to create a sculpture. Right. But it's a moving sculpture.
GONZALEZ: Rupa begins dancing more and more and performing at community festivals and recitals. And she starts getting noticed.
RUPA: I got a lot of praises from the community about dancing and people then. Over the time and I've been to middle school people started like, talking about how I can be in that group. And these are like college-going kids, coming to my house and saying, "We are doing this program, and Rupa should be there."
GONZALEZ: But at this point, Rupa's in 9th grade. In 10th grade, there are national exams in India that all high schoolers take to determine their academic path. And to Rupa's dad, school is more important than dance.
RUPA: And my dad was like, "Well, this is just a hobby because it's Indian family and home. You aim for academics. Singing, dancing, sports are hobbies. No. This is 9th grade. She can just practice at home. And, you know, she can do like little programs here and there but no major, which requires a lot of practice, a lot of time." And that really was heartbreaking for me. I still remember the dress, like you know, attire I was wearing. I was so heartbroken because I really wanted to dance in that show.
GONZALEZ: Despite her heartbreak, Rupa follows her father's orders. She stops dancing and focuses on her studies. She graduates from high school and makes it all the way to her senior year of college without dancing at all. And even then, she dances with a group a few times, but soon shifts her gaze onto grad school.
NUNES: During this time, does Rupa miss dancing at all?
GONZALEZ: So much. It's not like she's mad about where she is in her life: she really enjoys her work in environmental planning. But every time she sees someone dancing, she gets a pang of jealousy and thinks: I can do that.
NUNES: So why doesn't she? Is it just her Dad's voice in her head?
GONZALEZ: A little bit, but it's now an internal struggle.
RUPA: I think it was more like: Who are you? Like there's so many other dancers, so many. You might think that you're good but you might not be good enough for them.
GONZALEZ: This fear prevents Rupa from dancing as much as she could in college, but soon she's accepted into a PhD program in Norway. And she leaves some of that insecurity behind.
NUNES: She starts dancing with a group of fellow Indian grad students. She even does a solo dance. But things have changed.
GONZALEZ: Yeah, this is around the same time that Rupa reconnects with an old friend from her hometown online. Sparks fly. He becomes her boyfriend, and then, they decide to get married.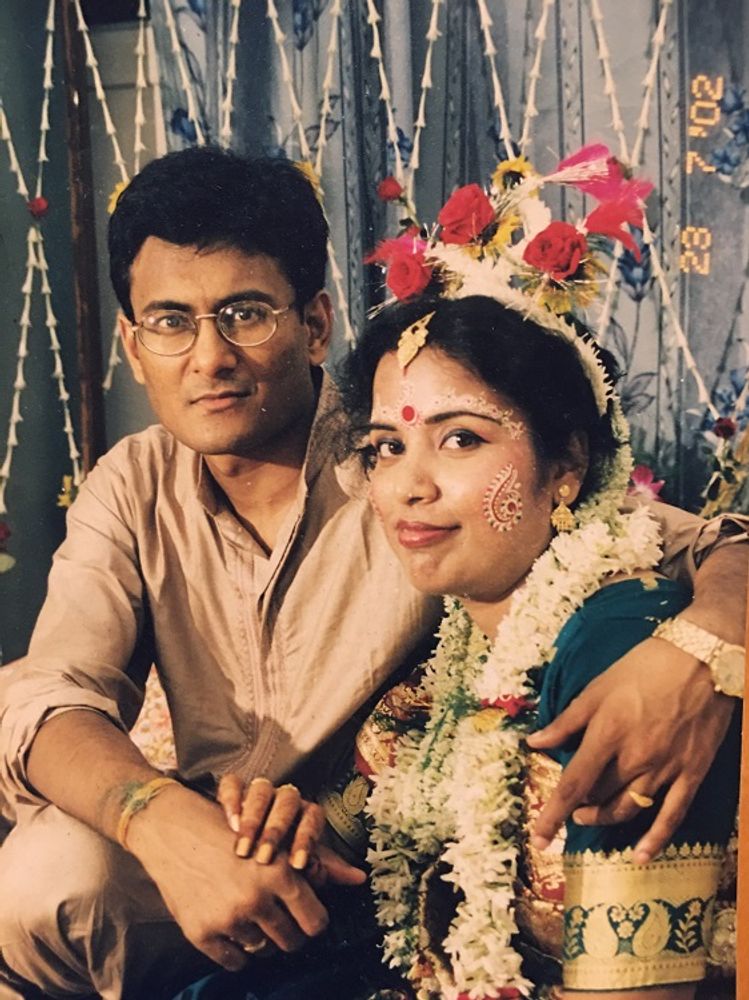 RUPA: Majority of people, majority of my generation still got arranged, like it was arranged marriage for them. And there was conflict, but it makes a lot of difference when your husband says, "I marry her, or I marry nobody."
GONZALEZ: So, Rupa and Dibyendu get married in a big Bengali celebration back in India. It's three days of celebration with hundreds of people singing, dancing, telling jokes, and eating incredible food. After it all, Rupa goes back to school to finish her degree with a newfound focus on getting out of Norway and joining her husband in the United States.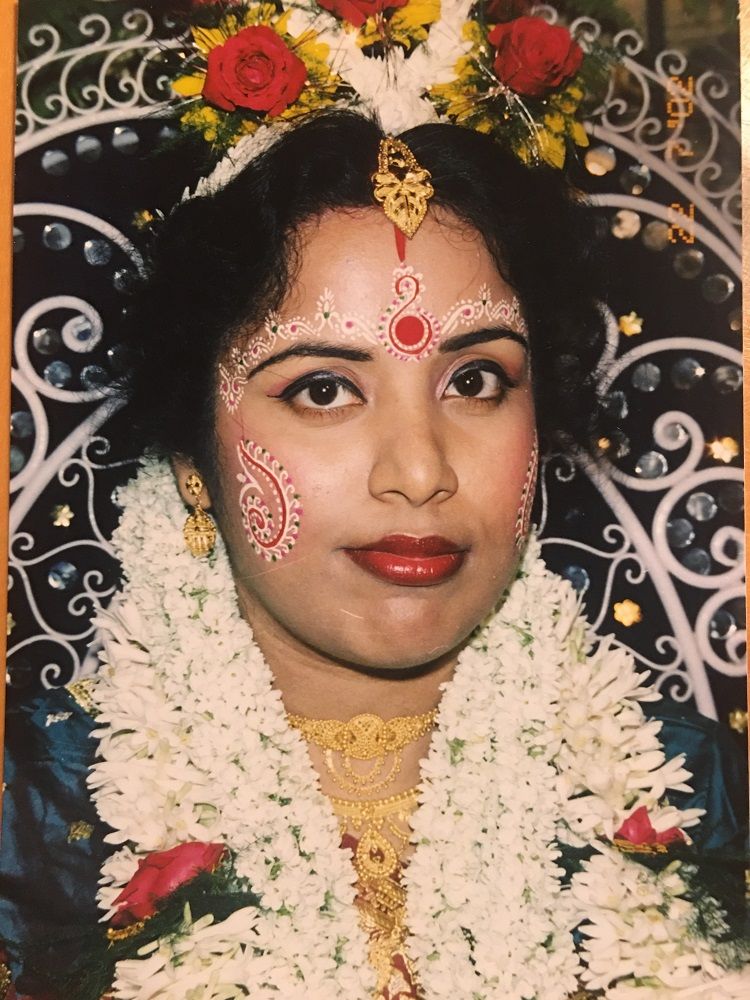 RUPA: No dancing, no dancing and like I just forgot. All this transition and wedding. I was busy with my thesis, you know, ending my thesis. Getting here and joining my husband and starting, like, you know, living together.
GONZALEZ: In 2005, Rupa finishes her degree and joins Dibyendu in Texas. He gets a job in Rhode Island the next year, and they move to West Warwick. A year after that, their son, Reyan, is born.
NUNES: So, Rupa's in a new country living with her husband for the first time, and now, she's a mom. That's a lot of change.
GONZALEZ: Yeah, and for the first years of her son's life, Rupa not only doesn't dance, but she's not active at all. She's not working out, she's not involved in the Indian community in Rhode Island, and she doesn't feel like herself. But once Reyan starts school and Rupa starts working full time, she realizes she needs to make a change.
RUPA: I was like, I need to start working out. But I also need to find something which is not expensive, which I can afford, and which I can like. And one of my friends like, "Hey, you keep saying that you like dancing. So you might like Zumba."
NUNES: Zumba is an exercise program developed in the 1990s by a Colombian aerobics instructor. And it explodes in the US just around the time Rupa is getting back into the world of working out.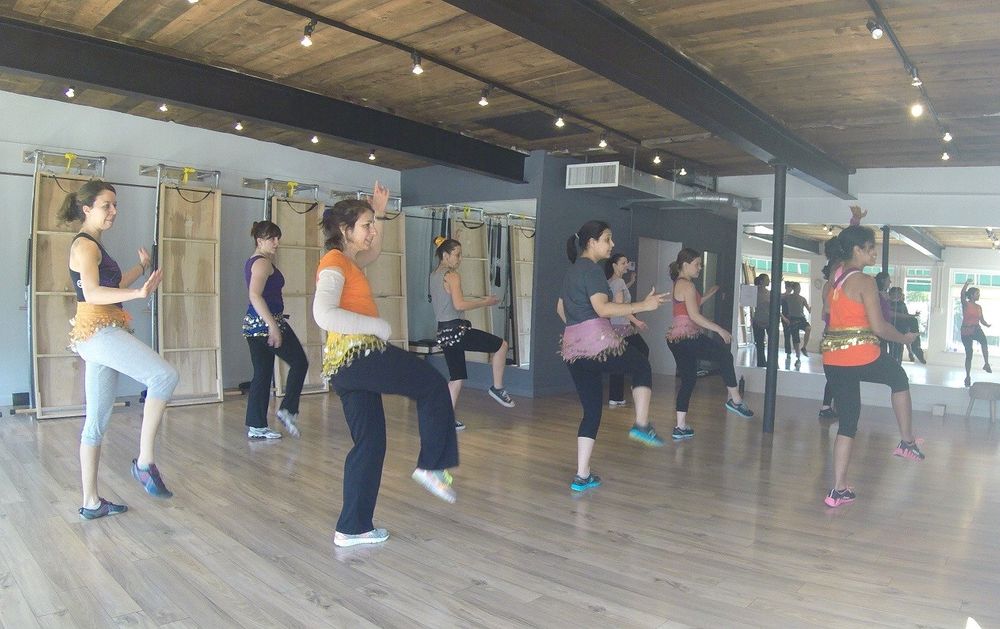 GONZALEZ: And Zumba is all about dance. Instructors teach their classes different dances from around the world to a custom playlist. Rupa's friend takes her to a class close to her West Warwick home, and she absolutely loves it.
NUNES: She goes every week for a year. One day, her instructor asks her to co-lead the class. She's nervous, but she does it anyway.
GONZALEZ: And around that same time, one of her friends is training to be a life coach. He needs people to practice his life coaching on, so Rupa volunteers.
RUPA: So one night, actually it was October 2012. I clearly remember that. We were sitting down, I had no idea what life coach is. But anyways, one question he asked me: Rupa, What is it that that one thing you'd like to do if there were no time constraint? No family constraint, no money constraint. Nothing. What is that one thing you'd like to do? And the other questions I took a long time to answer. That one question, just before even blinking I said, "Dance. And I want to teach dance." "And so what is stopping you?" And I said, "It's a lot of money to get, you know, $300 is not easy for a day training for becoming Zumba instructor." He's like, "Have you talked to your husband about this?" And I'm like, "No, this is the first time I actually talked about it with somebody."
GONZALEZ: Days later, Rupa tells her husband about this conversation. And he says, "Just do it."
NUNES: Not long after that, Rupa completes her day-long Zumba training.
RUPA: That training, looking back, I still remember the whole day of my training. It was amazing training. It gave me so much confidence, the way the teacher trained us. I call her my Zumba mama.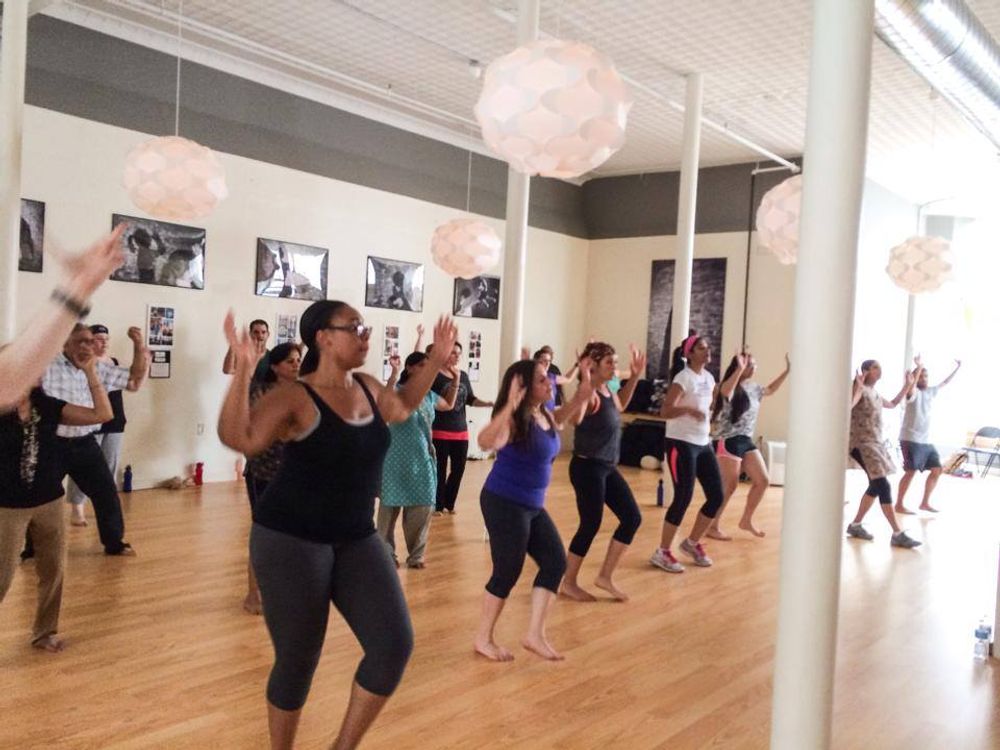 NUNES: With a new certification and confidence, Rupa starts teaching Zumba two nights a week in North Attleboro. And the more comfortable she gets teaching, the more she adds in Indian dance moves. But not necessarily the ones she grew up learning.
GONZALEZ: Rupa grew up dancing classical Kathak style, which is very rigid, like ballet. But Bollywood dance, inspired by Bollywood movies, is simpler and looser. It's a much better fit for Zumba.
NUNES: Bollywood is the biggest movie industry in the world, and its dances are insanely popular because they're fun and accessible to almost anyone. Once Rupa introduces Bollywood steps into her Zumba choreography, people start coming to her classes just to dance to Bollywood music and learn the moves.
GONZALEZ: One day, the gym where she started taking Zumba classes almost 2 years before approaches her with an idea.
RUPA: They said, Hey, Rupa. Let's do a Bollywood night? I said, "Yeah, sure. Let's do a Bollywood night." The room could take 50 and I think we were like 45 people in that room. It was crowded. That workshop definitely gave me the idea that people like Bollywood, are interested in Bollywood.
NUNES: At the end of the night, one of her friends comes up to her and asks if Rupa could give her daughter private lessons in Bollywood dance.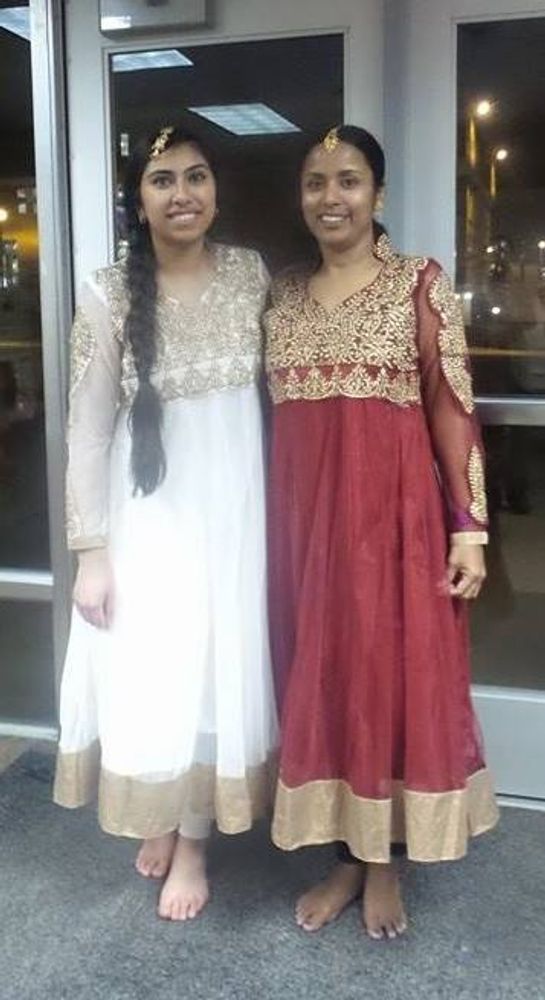 RUPA: Like all these little little things start boosting my courage and confidence. When you see a group, Bollywood dance in a group, the synchronization, the dazzling of costumes, the vibrancy, all these things is so beautiful, you know, mesmerizingly beautiful. I want people to experience that. You know, for me, it's sharing my love, passion that has my roots, too, cultural roots as well. And I think it's kind of fun way to bring people to appreciate it.
GONZALEZ: So, Rupa gets certified to teach Masala Bhangra, another dance workout program, but this time, it's all Indian dance. And more of her fellow Indian moms ask her to teach their kids dance as a way to both have fun, but also get closer to their cultures.
NUNES: Soon, Rupa's teaching multiple Zumba classes a week on top of Masala Bhangra classes in her basement. But the classes are small, 4 or 5 people at a time, and there's not much money coming in. Her husband asks her about it.
RUPA: And he's very supportive. And he's the one who kept you know, challenging me all the time. I used to, kind of, not like him when he's like asked me all these questions like: What's next? What do you want to get out of it? You know, there's, you're giving this time but there's no money coming in. Like, how do you want to do this? I understand this is your dream, but teaching just 4 people? It needs to be bigger than that. He used to challenge me all the time. And that's when I started thinking about actually starting a Bollywood-based dance school.
GONZALEZ: It's January of 2016. And Rupa decides to commit to her dreams. She stops teaching Zumba and, with the help of her friend and fellow dancer, Rutuja, she starts her own business: Dance Bollywood Fitness Fusion, or Dance BFF.
RUPA: The intention was always simple. We love dancing. We want people to dance with us. We want people to know about Indian dancing. I want to go beyond Indian community. Yes, it's important for Indian community to accept us and, you know, embrace us. But it's even more important to go beyond that for us. We wanted Rhode Island to fall in love with Bollywood.
GONZALEZ: Rupa and Rutuja start by teaching classes in Rupa's basement, then they rent a studio space in Providence. Soon, they are teaching dozens of people, both Indian and non-Indian. And they're performing all over the state.
NUNES: And Rupa's doing all of this while still working full-time and raising her son, right?
GONZALEZ: Yeah, I have no idea how she does it. Her husband is incredibly supportive, and her son is a true delight. But she still feels guilty about spending so much time away from her family to follow her passions.
RUPA: But one day, one of his teachers, he was in first grade said, "Hello, Rupa. So I understand you danced last weekend? You had a performance last weekend?" I was like, "How do you know?" It was a Monday evening. Said like, "Oh, in the Mondays circles, Reyan, we were sharing like, what was the best part this weekend? And he said, 'When I saw my I watch my mama dancing on stage and people applaud. And I felt really proud of my mom.'"
RUPA: Yes, come on in. I'll show you.
GONZALEZ: Rupa is leading me down to her basement. It's where she taught her first Bollywood dance student outside of Zumba.
RUPA: I put some IKEA mirrors here, nice mirrors. There, some of them fell…
GONZALEZ: The wall-to-wall carpeting is perfect for the non stop jumping and powerful footwork in the dance Rupa teaches. Off to the side, there's a walk-in closet.
RUPA: I have one more place to show you. This used to be his play area when he was little. It became my costume area. I know it's all disarranged now, disorganized now because we have the show tomorrow. So a lot of things were unpacked, taken care of.
GONZALEZ: Lots of sequins and bells.
RUPA: Yeah, these are called Ghungroos.
GONZALEZ: Oh cool.
RUPA: In classical dance, Indian classical dance, we tie them around our ankles. And you will actually see us doing that tomorrow. Because we are using Kathak.
GONZALEZ: The show Rupa is talking about is Rhode Island's annual Diwali celebration. This will be Rupa's 7th year dancing in the show, and her third year dancing with Dance BFF.
I'm sitting in the auditorium of West Warwick High School waiting for the Diwali celebration to start. There are hundreds of Indian Rhode Islanders filing in and finding their seats, dressed to the 9s in gorgeous saris and kurtas. I'm one of only a handful of non-Indian audience members. The emcee takes the stage.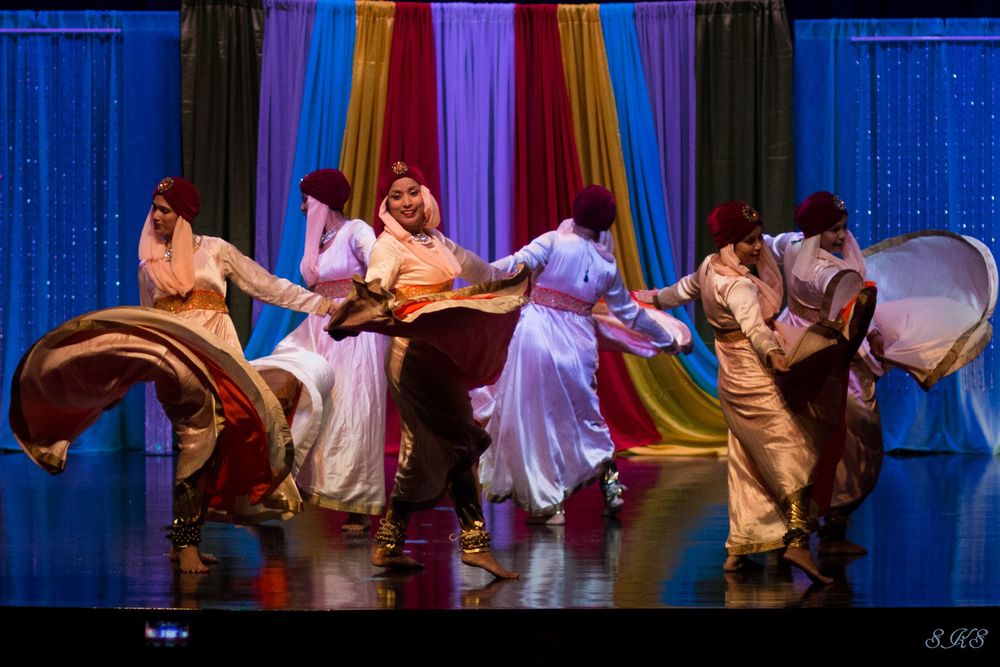 EMCEE: Diwali, as we know, is the festival of lights. And express joy and happiness. Diwali is also told as victory of the good over the evil. So, come, and let's join and celebrate these little kids as they wish happy Diwali in our welcome India performance. [Applause]
GONZALEZ: About 15 kids timidly walk out in front of the crowd holding LED tealights in their palms. They sway and sing and pose for pictures. Then, it's on to the next group. I sit through a couple of performances like this before the main event.
EMCEE: How many of you have heard Dance BFF? Most people in Rhode Island who enjoy performing or watching dance, especially Bollywood dance, know Dance BFF. It's almost synonymous now. Here's a performance from them entitled, "Aayat-E-Sajda". The choreographers are Punja Patel and Rupa Datta. "Aayat-E-Sajda" is an exquisite blend of Kathak and Sufi. It's an artful contribution from the BFF choreographers. With a tone of peace and love and soulful melody, experience how these dancers bring actual sculptures to life.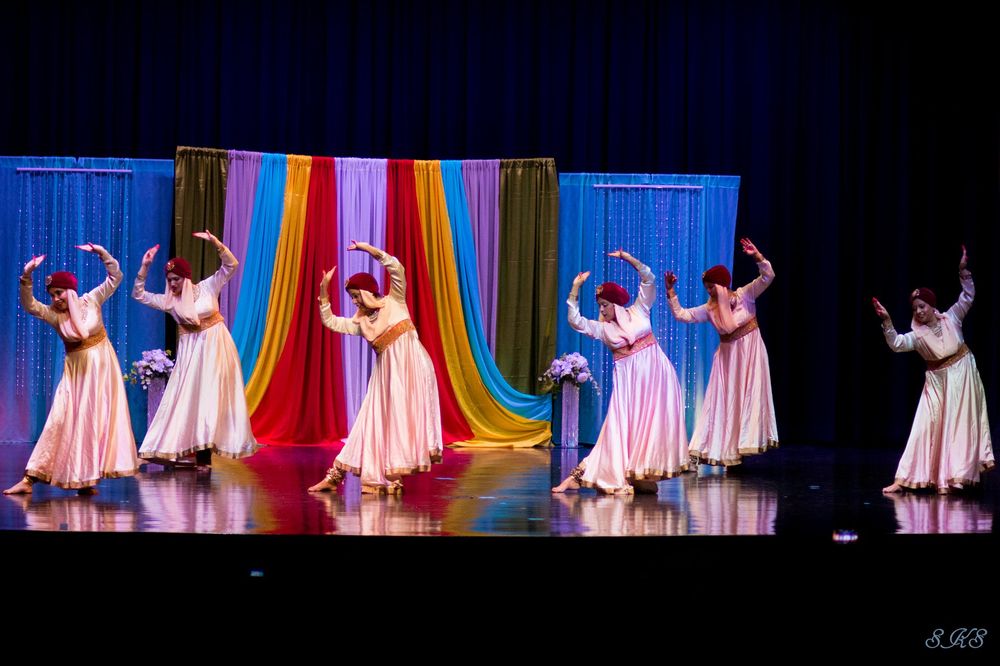 GONZALEZ: Six women are posed onstage in seated positions, with white silk skirts lapping the ground. Their arms are bent to mirror each other. Some heads are bowed, others are tilted up under maroon headwraps. They begin to move across the floor. With each step, the ghungroos tied to their ankles shake. Rupa is left of center, poised, confident, and proud, dancing steps she's known her whole life.
NUNES: Mosaic is a production of The Public's radio. Edited by Sally Eisele. WIth production help from James Baumgartner and Aaron Selbig. Our original music is by Bryn Bliska. A special thanks to Akshaya Avril-Tucker for her dance research on this episode. Torey Malatia is the general manager of The Public's Radio. I'm Alex Nunes.
GONZALEZ: And I'm Ana González. Thanks for listening.
Support for this podcast comes from Carnegie Corporation of New York, supporting innovations in education, democratic engagement, and the advancement of international peace and security at Carnegie.org.