→ See more of our coronavirus coverage, including community resources and personal stories.

Erika Martinez had family ready to travel from as far as Alaska and Puerto Rico for her wedding in Connecticut this September. The pandemic changed everything.
"Beyond frustrating," Martinez said. "After two years of planning and it finally being months away and almost over, we're back to square one."
Martinez and her fiancé decided to reschedule their big day to July 2021 instead. But that also came with a lot of phone calls, coordinating, and headaches.
"We've had to reach out and reread our contracts for everyone and make sure that changing the date was something that was even possible," she said. "This was never, ever expected."
Wedding venue owners and vendors are already seeing the pandemic's effect, including a steep drop off in applications for marriage licenses.
According to the Rhode Island Department of Health, municipalities issued 884 licenses in March and April of 2019. This year, they only issued 162 during that same timeframe, including just 28 last month.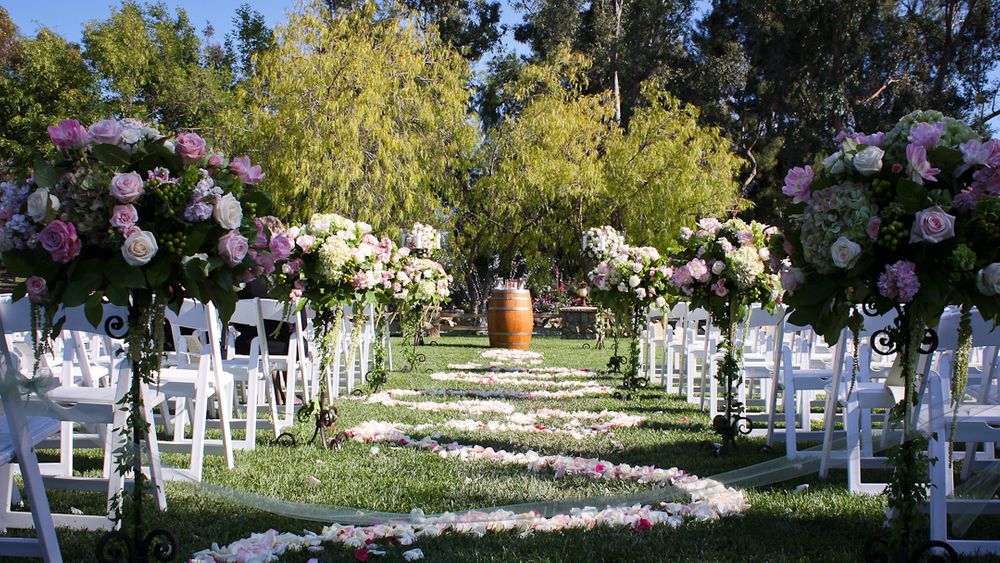 Aldo Segama, owner of Aldo's Formals and president of the Rhode Island Wedding Group, which promotes businesses in the industry, said the consequences of all those canceled weddings and rehearsal dinners are serious.
"We're talking about dollars, taxable money, jobs that will be lost from this," Segama said. "And it's more than that."
Last year, more than 6,500 couples got married in Rhode Island. Consider that the average Rhode Island wedding costs nearly $50,000, according to an estimate by theknot.com, and it's clear that a much-diminished wedding season could mean many millions of dollars in lost revenue.
Gov. Gina Raimondo has said that weddings of up to 50 people may be allowed in the near future, although larger weddings won't happen until at least August. But Segama said venues and vendors need more specific guidance, if they're going to salvage what they can of the 2020 wedding season.
"If someone from the state is willing to sit down with me or even anybody in my industry and say, 'Alright, guys. How can we fix this? What can we do and vice versa?' it can get done," Segama said. "None of us are saying, 'Let's have some party, and no masks, and let's just dance in the middle of the streets.' No, no. We're not saying that."
"Realistically, there are businesses that probably, most likely, will not survive this," said Mark Garofalo, owner of Fire Works Catering in Providence. "That's really an awful thing."
Garofalo said businesses will have to rethink more than just how they put on a wedding. They'll need new sources of revenue to weather the COVID-19 storm. In his case, Garofalo's started curbside take-out.
"It looks like for the next year there's going to be a lot of innovation," he said.
Valoree Longo, owner of the Tamarack Lodge in Voluntown, Conn., is doing everything she can to adapt to the COVID-19 crisis.
In a normal year, she holds nine-hour weddings for up to 200 people on her rustic 28 acre property just over the Rhode Island border. But the usual large-scale wedding is out of the question right now.
"Sometimes you're faced with things. I want to actually bury my head in the sand sometimes like an ostrich and not think about it," Longo said. "But sometimes it pushes you up against a wall to where you have to start to fight back a little bit and figure things out."
Longo is shaking things up and trying something entirely new: drive-in weddings. For $757, couples get an hour-long ceremony, justice of the peace, photographer and photo library access, and popcorn for their guests.
"It will be like a drive-in movie," Longo said. "You will be outside. They will be compliant, because they will remain in their car, or right outside their car but stay with their car."
If drive-in weddings work, Longo said, she might try more novel ideas, like drive-thru weddings on quads, or couples paddling out on the pond in canoes to exchange their vows.
Not exactly fairy tale weddings, but occasions to remember in a wedding season no one's likely to forget.
Alex Nunes can be reached at anunes@thepublicsradio.org.