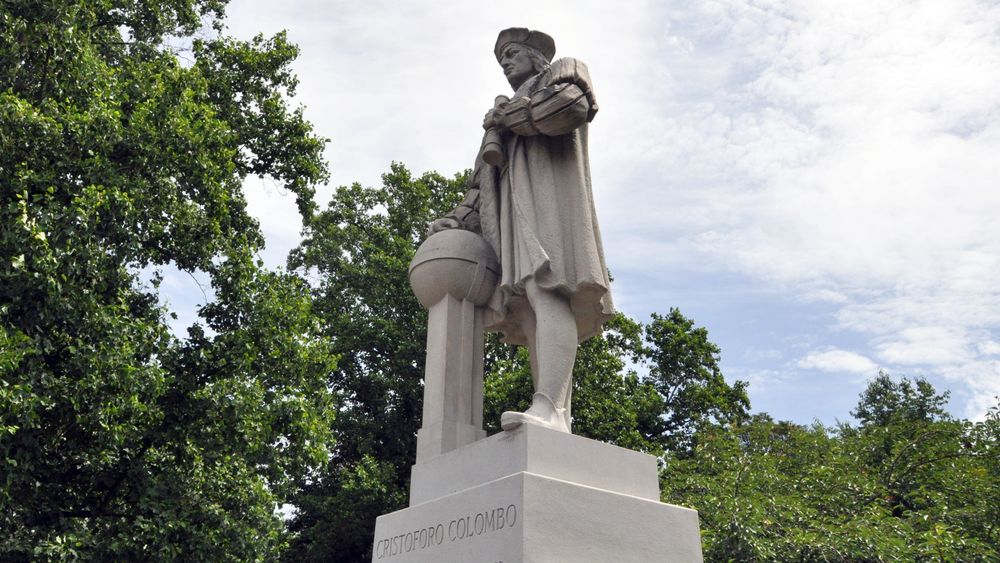 Standing in Wilcox Park in downtown Westerly recently, John Coduri said you don't have to go far to see signs of Westerly's proud granite history. Just look across the street, he said, for reminders of the companies and workers who helped build numerous landmarks around town.
"Smith Granite Company—Christ Episcopal Church," he said. "New England Granite Works—the Town Hall. The Industrial Trust Building, if you look at the Corinthian capitals—New England Granite Works."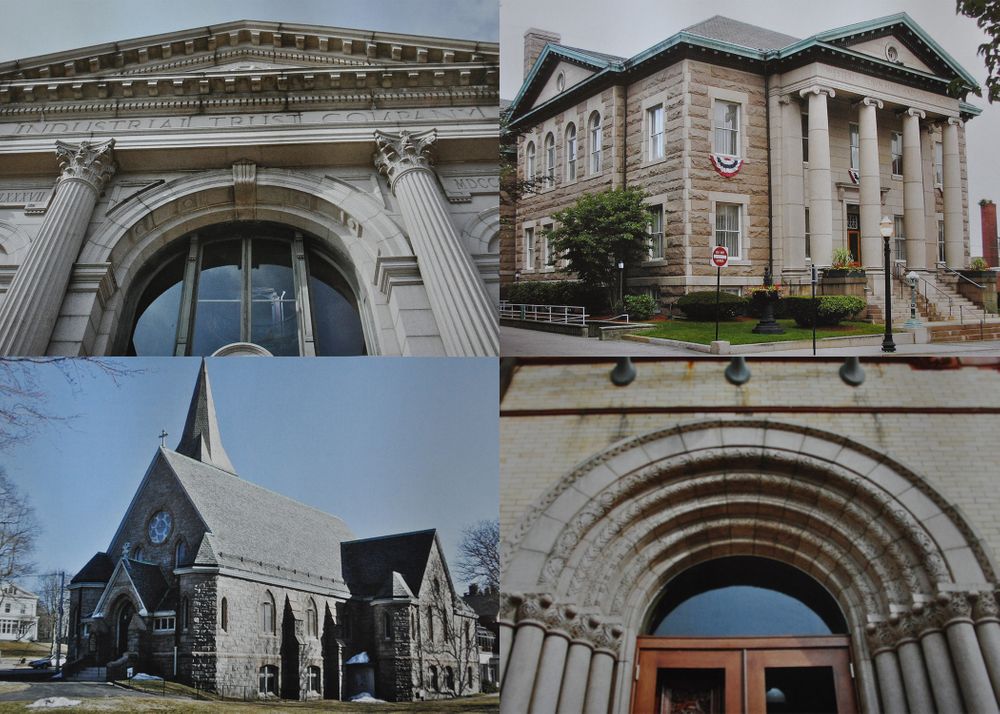 Westerly blue, grey or pink granite can be found all around town—from the foundations of homes and retaining walls, to the public library's impressive entrance and archway, to the statues, gravestones and mausoleums in Riverbend Cemetery.
And, in recent weeks, there's one monument in Westerly that's been getting extra attention.
"It says, 'Joseph Coduri Granite Company, Westerly, Rhode Island, dedicated October 12, 1949,'" Coduri said, reading a plaque on a 15-foot monument to Christopher Columbus, carved of blue Westerly granite by the company his grandfather founded in 1916 and father ran from 1940 until its closure in the early 1960s.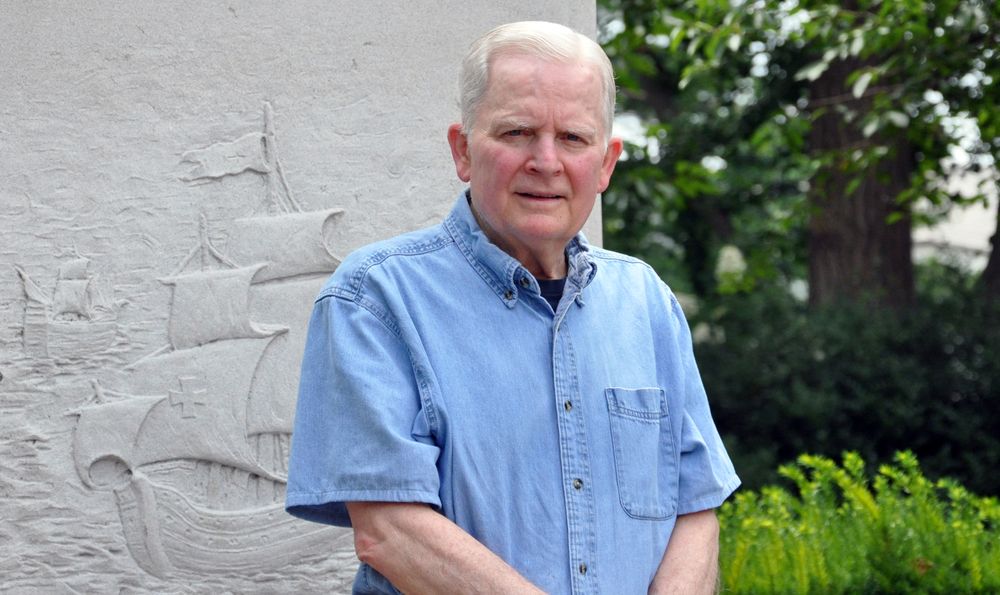 The statue depicts Columbus larger-than-life, standing poised atop an elevated base, with one hand on a globe and the other clutching a telescope. Coduri said the monument has personal significance to him as well as special meaning to his town.
"I feel very proud about the Columbus monument," he said. "This is a representation of the fine, quality artistic work that was done here in Westerly, in the granite industry, at numerous companies."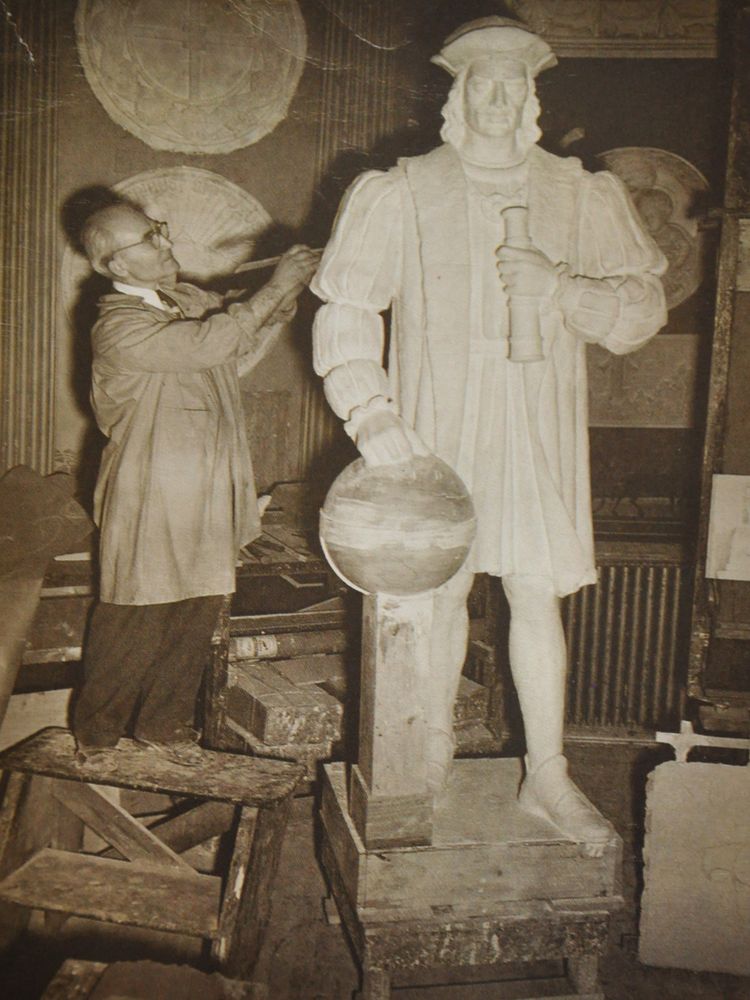 When the statue was dedicated more than 70 years ago, company owners and workers wanted to commemorate the quarrymen and fine artisans who helped build landmarks and structures around the country—from the Bethesda fountain in Central Park, to the iconic Travelers Tower in Hartford, to the intricate base of a statue commemorating Confederate general Stonewall Jackson in Charlottesville.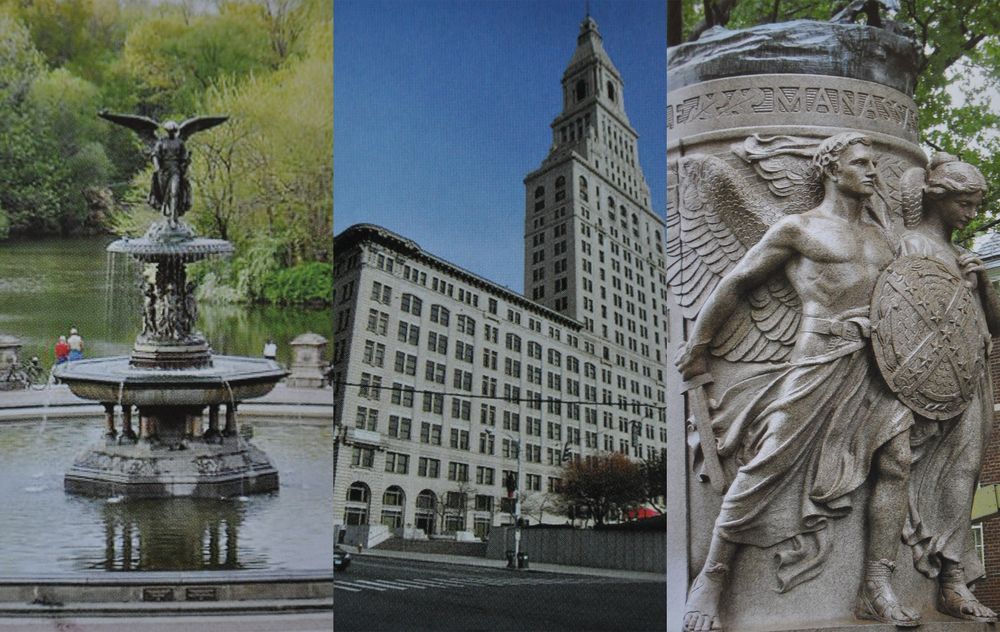 They also wanted to recognize the town's large Italian population, which helped build the granite industry. Back then, Christopher Columbus, seemed like an appropriate figure to memorialize. But, today, many people say he isn't—and the statue needs to go.
"I don't believe that he's a figure worth glorifying," said Nanci Fiore-Chettiar.
Growing up in Westerly, Fiore-Chettiar said, she never thought twice about the Columbus statue. But after going to college and learning about the explorer's complicity in the enslavement and killing of indigenous people, she thinks differently about the monument.
"If we continue to commemorate Christopher Columbus and celebrate what folks call his achievements," she said, "we are celebrating genocide and we're celebrating the death, rape, enslavement of indigenous people."
Fiore-Chettiar is among the more than 320 people who've already signed an online petition calling for the statue's removal. She's contacted the public library, which owns the park where the monument stands, and rallied other people through social media.
Linda Chaffee, who comes from one of the town's original granite families and co-authored a book on Westerly granite with Ellen Madison and John Coduri, said Census records show that, in 1900, some 50 to 60 percent of Westerly residents had a connection to the granite industry, and the Columbus statue helps preserve that history.
"Put a sign next to it and explain it, put it in context," Chaffee suggested as a way to keep the statue and address concerns that have been raised. "Let's put it out there. Let's accept the past as history, and let's learn from it."
The public will get a chance to weigh in on the future of the Columbus statue when the town council takes up the issue at its meeting this coming Monday. Westerly Town Manager Mark Rooney said council members intend to take an official stance on what should happen to the statue after hearing input from residents.
But it's a sensitive subject, given the town's history. Right now, neither the town nor the library is claiming ownership of the statue and the tough decisions that will have to come along with it.
Alex Nunes can be reached at anunes@thepublicsradio.org.