CRANSTON - State officials urged Rhode Islanders to complete their hurricane preparations Saturday and then to ride out the storm by staying at home and off the roads until Monday morning.
"We urge you to stay home and stay safe," Gov. Dan McKee said during an afternoon briefing at Emergency Management Agency headquarters.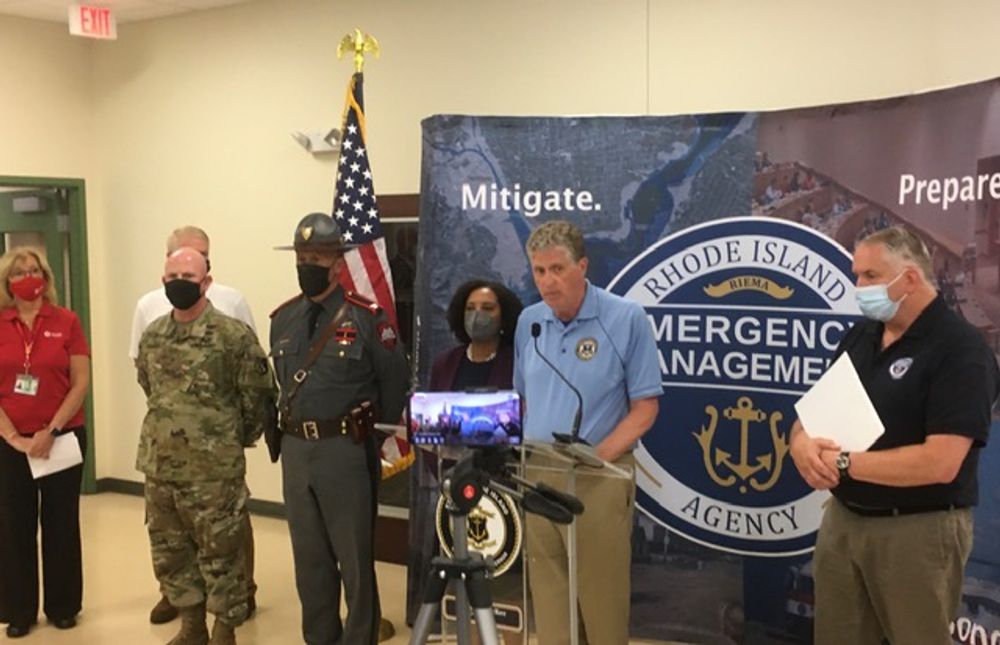 While Hurricane Henri has tracked to the west -- and further changes are possible -- McKee said statewide power outages are expected due to heavy winds.
"Rhode Island is expected to see damaging winds, significant flooding, storm surge and extended power surges -- many outages are going to be realized," McKee said. "People are going to be out of electricity."
McKee was among a group of Northeast governors who spoke with President Biden about the impending storm. McKee said he asked for the federal government to be ready to help Rhode Island during and after the storm.
The governor said state agencies are in close communication to aid in Rhode Island's response, and that Rhode Islanders should try to stay informed through the news and by following the governor's office and RI EMA on social media.
Northbound traffic on I-95 was heavy Saturday afternoon, although Col. James Manni of the Rhode Island State Police said that many people, contrary to the wishes of police, were flocking toward coastal areas. He said State Police and municipal departments will restrict coastal access as the storm moves closer.
McKee said the American Red Cross is opening five temporary shelters around the state to aid people who lack a safe refuge during the hurricane.
He urged Rhode Islanders to complete their preparations before midnight Saturday, by securing lawn furniture, charging electronic devices, having batteries and food available and checking in on older relatives and neighbors.
RI EMA Director Marc Pappas said the storm will intensify in Rhode Island at dawn Sunday, with the height expected around 11 a.m.
Terry Sobolewski, president of National Grid Rhode Island, said the recovery from statewide power outages will take time.
"This will be a multi-day event, which means it will take probably a good 12 to 24 hours to get through our damage assessment before we can even begin to post estimated times of restoration," he said. "And then after that, we'll be deploying both internal and contractor or out of state resources that we have procured to make sure that we're ready to respond to the storm."
The U.S. Army Corps of Engineers is planning to close the region's three hurricane barriers in Providence, New Bedford, and Stamford during the storm.
Eric Pederson, Chief of the the Operations Division of the USACE New England District said high tide, wind speed, and wind direction all factor into the decision to close the barriers.
"These three hurricane barriers are operated by the New England District a lot more frequently than people would imagine," Pederson noted. "These barriers operate anywhere between 10 and 25 times per year, for events ranging from hurricanes to tropical storms and nor'easters, to astronomical high tides."
According to the USACE, the last time the barriers were closed for a storm of similar magnitude was in 2012 during Superstorm Sandy.
The USACE also maintains 33 dams throughout the region. Pederson said the Corps has been releasing water slowly over the last few days to make sure that all the dams will be able to accommodate the heavy rainfall that's projected.
Sofie Rudin contributed reporting.
Ian Donnis can be reached at idonnis@ripr.org. Follow him on Twitter @IanDon. Sign up here for his weekly RI politics and media newsletter.