→ This story is the first part of a series on sea level rise in Rhode Island. Explore here.
Growing up, John LaCroix spent every possible moment at the beach.
"I've been blessed to spend 60 some odd years near the beach," he reflects. "Sixty-eight years of sunsets and sunrises. It's kind of a great thing to have."
I'm standing with him across the street from the wood-shingled beach cottage his parents bought in the 50s. We're leaning against a gate, peering between two ocean-front cottages. In the distance, you can just see Block Island through the haze.
"Matunuck Beach, went out a good 50, 60, maybe 70 feet. It was like a sand plateau that went out," LaCroix recalls.
But today, waves crash just a few dozen feet from where we're standing, tumbling pebbles as they go. Beachfront restaurants jut out over breaking waves, supported by a lattice of thick wooden struts.
"During the storms -- nor'easters, hurricanes, etc -- that was all swept away," LaCroix says. "And whether it's this home that we're near, The Ocean Mist, The Pub, the houses to the left here, they're facing the water at high tide every day."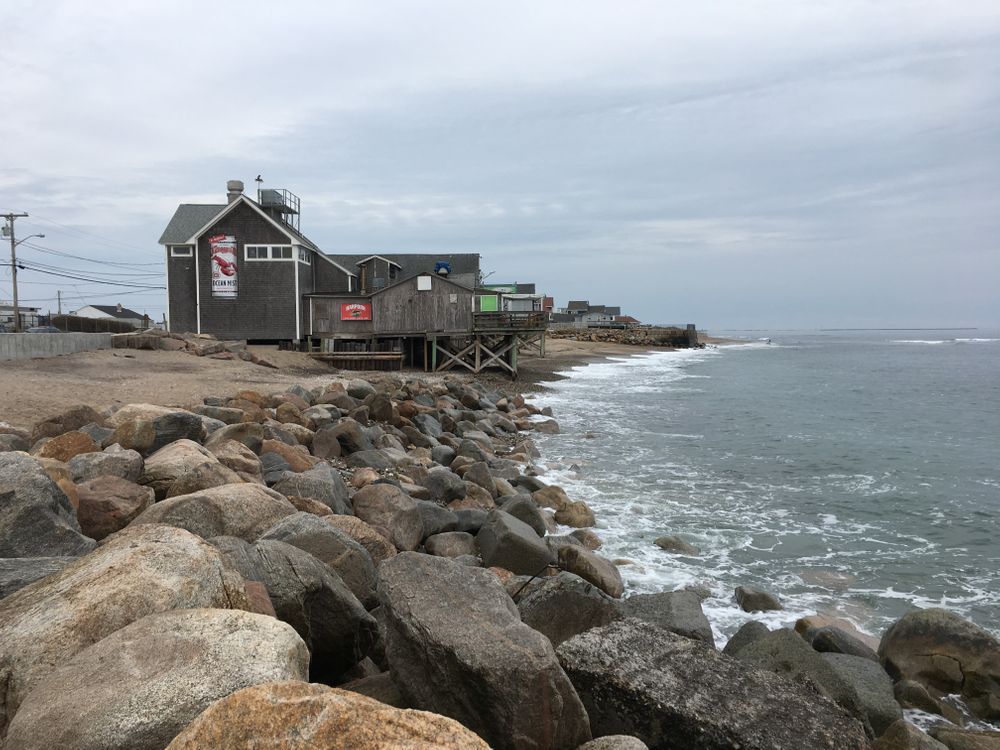 Climate change is accelerating the natural erosion of the shore. Sea level rise and intensifying storms are pushing the beach inland, threatening the safety of this community.
How long will the town be able to protect its coastal infrastructure? That question is an urgent one.
"We expect three feet of sea level rise in 30 years," says South Kingstown Planning Director Kaela Gray. "Thirty years is the life of a mortgage. But it's also the road designs; we try to think about 30 years out on those. Bridges have a 50 year lifespan. That infrastructure for us starts being impacted now."
And, Gray adds, "You don't make those large investments in your infrastructure very often. It's something you need to sort of get right."
Already, the town has taken modest steps to move infrastructure away from the coast, including moving the town beach pavilion a couple hundred feet inland.
But just down the road, the town is taking a different strategy. It's building a seawall to protect Matunuck Beach Road, which curves into the heart of this beach-front village and is the only access route for 240 homes.
I checked it out with David Prescott, an environmental advocate with Save the Bay.
Standing on the shoulder of Matunuck Beach Road, near the stocky, waist-high concrete wall, Prescott says, "We're maybe not even 100 feet from the water. There's a road that provides access in and out of here. And as you can see, it's very, very vulnerable."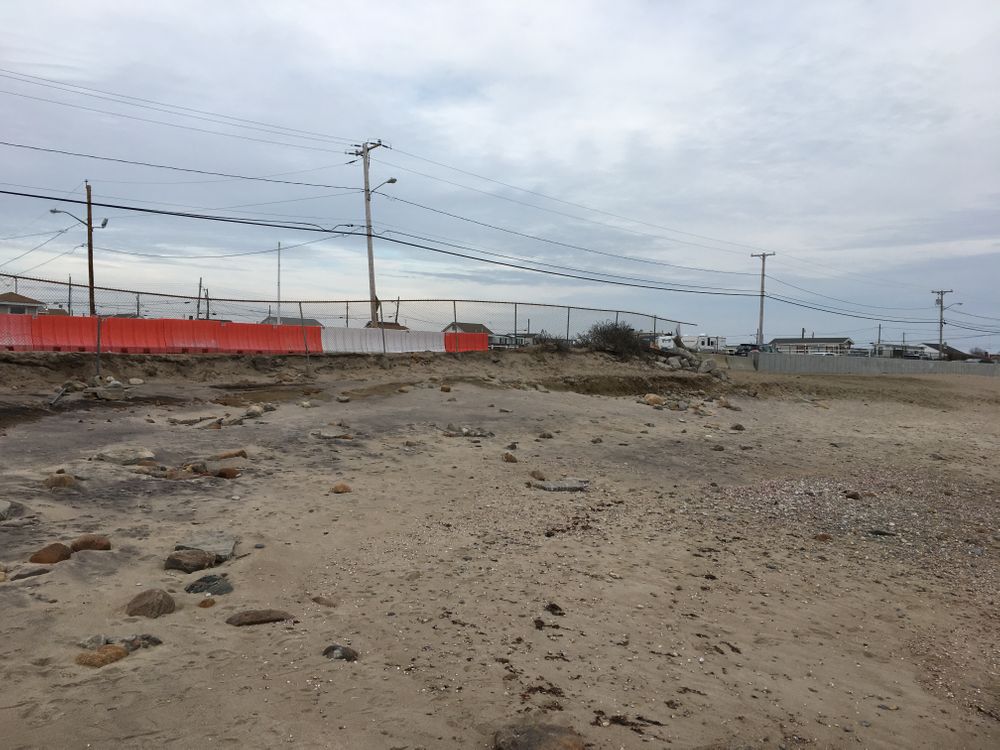 Prescott points out the latest storm's damage. The edge of the pavement is crumbling into the sand. A chain-link fence built along one part of the road hangs suspended, where the asphalt has been eaten away. Orange and white plastic buffers act as a guardrail in a stretch where the town is planning a $3 million extension of the seawall.
It's been controversial. Prescott testified against the wall at a Coastal Resources Management Council permitting meeting last fall.
"Building these walls is more of what we see as a band-aid approach that really doesn't look to the long term," Prescott says.
Where seawalls are built, erosion continues to wash the sand away until the beach is lost, leaving a concrete drop-off in its place. And the energy of waves refracting off a seawall speeds up erosion on either side. You can see this in action on many stretches of Rhode Island's coast, including Conimicut Point and Watch Hill. When the beach goes, it becomes impossible to walk the shoreline, and public access is lost.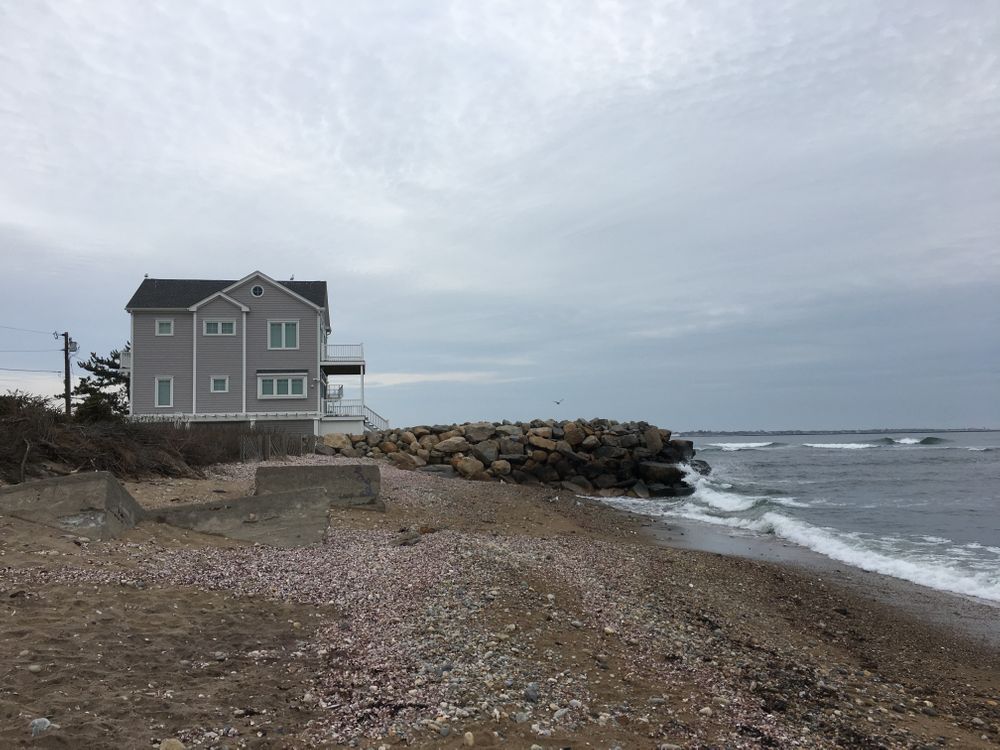 Prescott argues, "If you're gonna spend several million dollars on these sections of road, then why not really weigh out the benefits of keeping things where they are and trying to hold back nature, or actually trying to live with nature and move infrastructure away."
South Kingstown Planner Kaela Gray says the town did look at other options for Matunuck Beach Road, including relocating the road. Ultimately, she defends the decision.
"Matunuck Beach Road is the heart of Matunuck. And so, the town made a decision that that was an area where we wanted to protect" Gray explains.
This decision was partly about residents' safety -- making sure that first responders could still reach people in Matunuck. The town's manager says that for the next couple decades, this is the town's strategy: protect infrastructure in place along the coast.
But the debate over Matunuck Beach Road is just a taste of the dilemmas to come. It's fast becoming unrealistic to protect every low-lying road. In 30 years, the town projects that 13 miles of road would be flooded by a major storm, breaking down the asphalt and requiring costly repairs.
And Gray says, protecting this infrastructure isn't just about catering to the town's richest taxpayers. It's also about the economy of a small town and the jobs these seaside businesses create.
"As we see more erosion on beaches, we have less sand there," Gray says. "We have to actually think about what it means to stay a tourist economy as our coast changes, as we start looking at pulling things away. What does it mean to be a beach town when your coast is one of your scariest features?"
John's house is one of the 240 that the seawall is designed to serve. But he's decided he can't stay in Matunuck. He and his wife are selling the beach house he grew up in. The rising cost of flood insurance is pricing them out.
"It's a tragedy," LaCroix says. "Really, it is. It's a tragedy for the people that grew up here, and because of time and tide are slowly being forced out. I don't know if there's a solution to that. I think that's part of the new reality of living along the coast."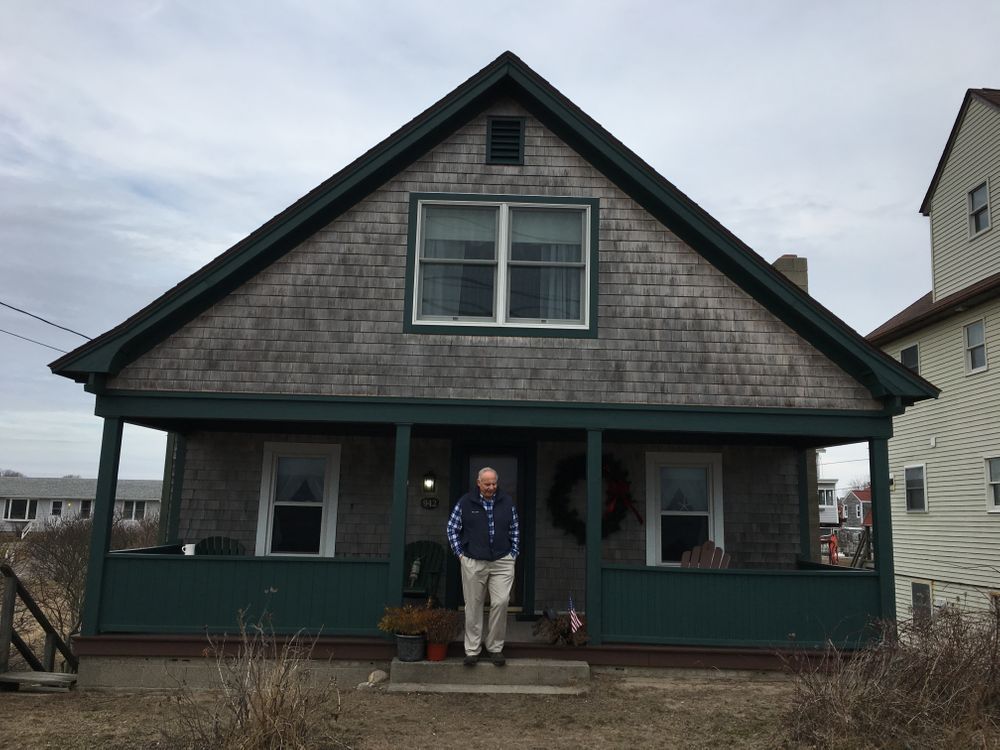 The wall isn't a solution for John, and it won't be for many of his neighbors.
While the wall might protect a couple hundred feet of road, there are tens of thousands of feet of roads that snake through the salt ponds and marshes of South County. The people who live on those ponds are just as threatened, and there's no way to build a wall for them.
This story is the first part of a series on sea level rise in Rhode Island. Explore here.