House Speaker Joe Shekarchi has decided against running for an open seat in Rhode Island's 1st Congressional District, a choice likely to encourage more candidates to jump into the race to succeed outgoing U.S. Rep. David Cicilline.
"I gave it very serious consideration," Shekarchi told The Public's Radio, after going back and forth and finally making up his mind on Wednesday. While the political indicators pointed to a viable campaign, "It was a personal decision."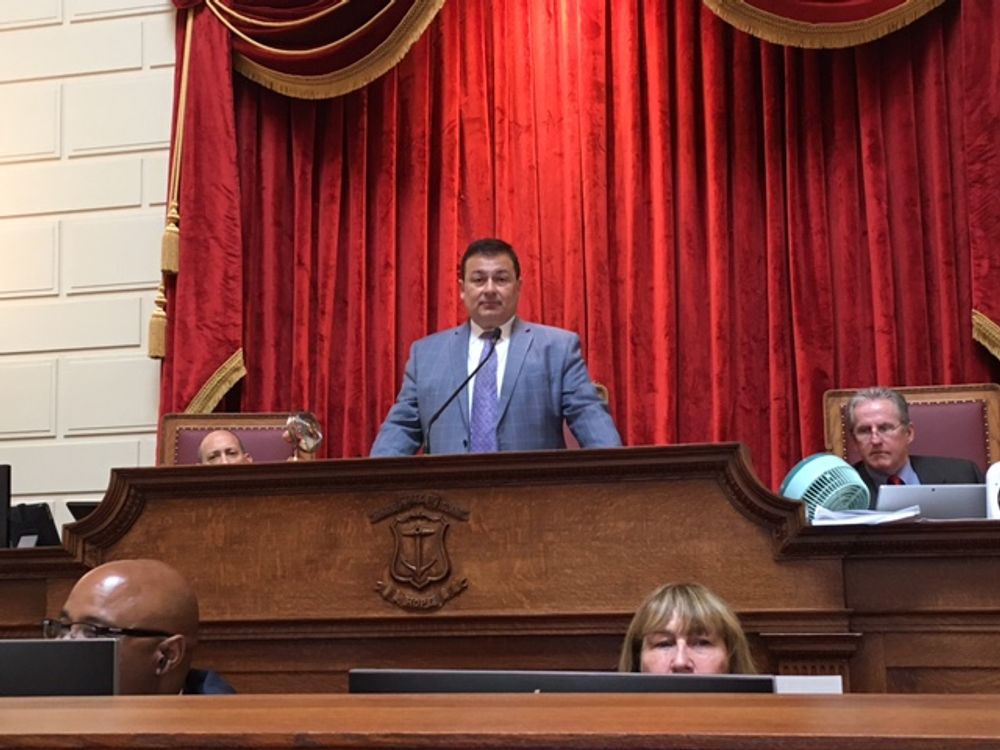 Shekarchi said his choice was based on three factors: he didn't want to give up his role as speaker, often called the most powerful political job in the state; he was not prepared to unwind his private law practice; and he didn't want to spend time out of state due to how his father is 97.
Among the people Shekarchi consulted was U.S. Sen. Jack Reed, during a meal at the International House of Pancakes in Warwick last Sunday.
"He refused to tell me to run or not run," Shekarchi said, although the state's senior senator reinforced the point that if elected in CD1, Shekarchi would shift from someone who can get things done on Smith Hill to a low-ranking and marginal member of the minority party in the U.S. House.
Since the special election in CD1 is taking place in what is not normally an election year, Shekarchi could have run without risking the loss of his current post, but pursuing a campaign "didn't feel 100% right," he said.
The speaker said he discussed the issue with other members of the state's congressional delegation during a recent Washington, D.C., fundraiser.
Shekarchi, 59, resides in Warwick -- outside the 1st District -- although he was seen as a strong potential candidate because of his support from labor and the state's political establishment, strong communication skills, and the presence of close to $2 million in his campaign account.
He said he repeatedly changed his mind about whether he would run or not for the open congressional seat.
With the primary election expected to take place in August or September, only one prominent Democrat, Lt. Gov. Sabina Matos, has so far announced a campaign in CD1.
Potential candidates include former gubernatorial candidate Helena Foulkes, White House aide Gabe Amo, state Sens. Sandra Cano of Pawtucket and Dawn Euer of Newport, Pawtucket Mayor Don Grebien, Providence City Councilor John Goncalves, and state Rep. Nathan Biah of Providence.
Foulkes' spokeswoman Audrey Lucas said Foulkes will announce her decision early next week.
Shekarchi said he told Foulkes of his decision and he said she is still making up her mind about a run.
Cicilline revealed last month he is stepping down from Congress to become the next head of the Rhode Island Foundation.
Shekarchi has been involved in Rhode Island politics for decades. He managed Gina Raimondo's 2010 campaign for general treasurer and was first elected as a state representative in 2012.
He is serving his second two-year term as speaker, after succeeding Nicholas Mattiello in 2021, and said he plans to seek re-election to the House next year.
As speaker, Shekarchi has significant power over the state party endorsement process. Asked if he's committing to supporting a Democratic woman, considering how Rhode Island has never sent a Democratic woman to Congress, he said, "You've got to look at the whole person and all the issues."
Ian Donnis can be reached at idonnis@ripr.org. Follow him on Twitter @IanDon and sign up for email delivery of his RI politics newsletter.