The seamy side of campaign politics in Rhode Island remained on display Tuesday, during the second day of Jeff Britt's money-laundering trial, as one witness supported the state's case and faced a tough cross-examination from Britt's defense lawyer.
In another key development, Superior Court Judge Daniel Procaccini – who will decide the verdict in the case – said he may not make his decision until four to six weeks after the trial ends.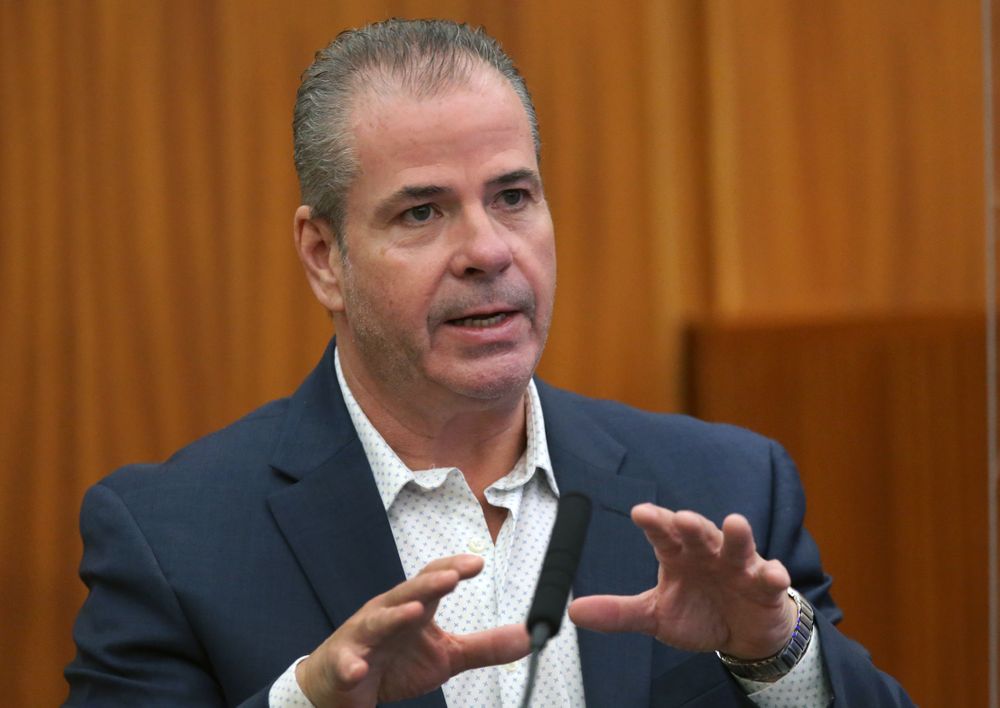 Procaccini said that is due in part to how the use of the money laundering charge in this case appears unprecedented in Rhode Island.
That could push the verdict past November 3, the last day for voters to cast ballots in the marquee event of Rhode Island's general election, the battle in House District 15 between Democratic Speaker Nicholas Mattiello and his Republican opponent, Barbara Ann Fenton-Fung.
In a sign of how the case could still influence that race, and possibly a new fight for the speakership, there was immediate reaction from private investigator Vic Pichette's testimony that he surveilled Mattiello's GOP state rep opponent in 2016, Steve Frias, including taking pictures of guests and a visitor log at a Frias campaign event.
"At times, I suspected I was being followed, but I did not know for sure," Frias said in an email to reporters. "My wife just told me she finds it creepy that the Mattiello campaign was watching our home. This is just another example of how the speaker ran a low-life campaign, which reflects the type of person he is."
Mattiello's campaign spokeswoman, Patti Doyle, said the speaker was not aware of the surveillance of Frias when it happened.
"The speaker learned about the type of surveillance and opposition research employed by Mr. Britt after the fact, when a report was presented to him," Doyle said in a statement. "He did not request this. To that point, the Speaker has never engaged in this sort of activity prior to or after the 2016 campaign. Said simply, this is how Jeff Britt operates."
Pichette's testimony dominated the second day of Britt's trial in Kent County Superior Court.
Britt, a longtime political operative, faces a felony charge of money laundering and a misdemeanor of making a prohibited campaign contribution.
A private investigator who has done opposition research for campaigns, Pichette testified that Britt asked him to contribute $1,000 toward a mailer endorsing Mattiello by Shawna Lawton. She's the candidate who lost the GOP primary to Frias in House District 15 in 2016.
The state has provided Pichette and Lawton with immunity, provided that their testimony is considered by the state to be true.
Pichette said he told Britt that he didn't have enough money to make the contribution, adding that Britt gave him $1,000 in cash to cover the cost. Pichette said Britt asked him to make the donation since it wouldn't look right if he made it himself.
The mailer sent on Lawton's behalf cost $2,150 to produce and mail, although she lacked the money to do so in her campaign account at the time.
Britt's lawyer, Robert Corrente, sharply questioned Pichette's credibility.
For example, Corrente highlighted how Pichette, in earlier testimony to a grand jury, wasn't able to pinpoint in his bank statement the $1,000 given to him by Britt.
Corrente: "That's what you told the grand jury -- you didn't know what that corresponds to. That's what you told the grand jury, right?"
Pichette: "If that's what you say."
Corrente: "And that was true."
Pichette: "It's partially true."
Corrente: "It's partially true?"
Pichette: "I don't recall every single aspect of looking at a bank statement five years ago and having a clue."
Tuesday's court hearing also featured testimony by Brad Dufault, the owner of Checkmate Consulting, a political consulting shop that did work for Mattiello's 2016 campaign and continues to do work for the speaker.
Dufault testified that it was Mattiello's campaign – not Lawton's – that contacted his firm to do a mailer featuring Lawton. He also said the lead contact from Mattiello's campaign was Matt Jerzyk, at the time the legal counsel for the speaker.
Britt's trial is slated to continue Wednesday with testimony by Rick Thornton, campaign finance chief for the state Board of Elections.
Ian Donnis covers politics for The Public's Radio. He can be reached at idonnis@ripr.org.